Are Quartz Countertops Stain Resistant?
February 24, 2020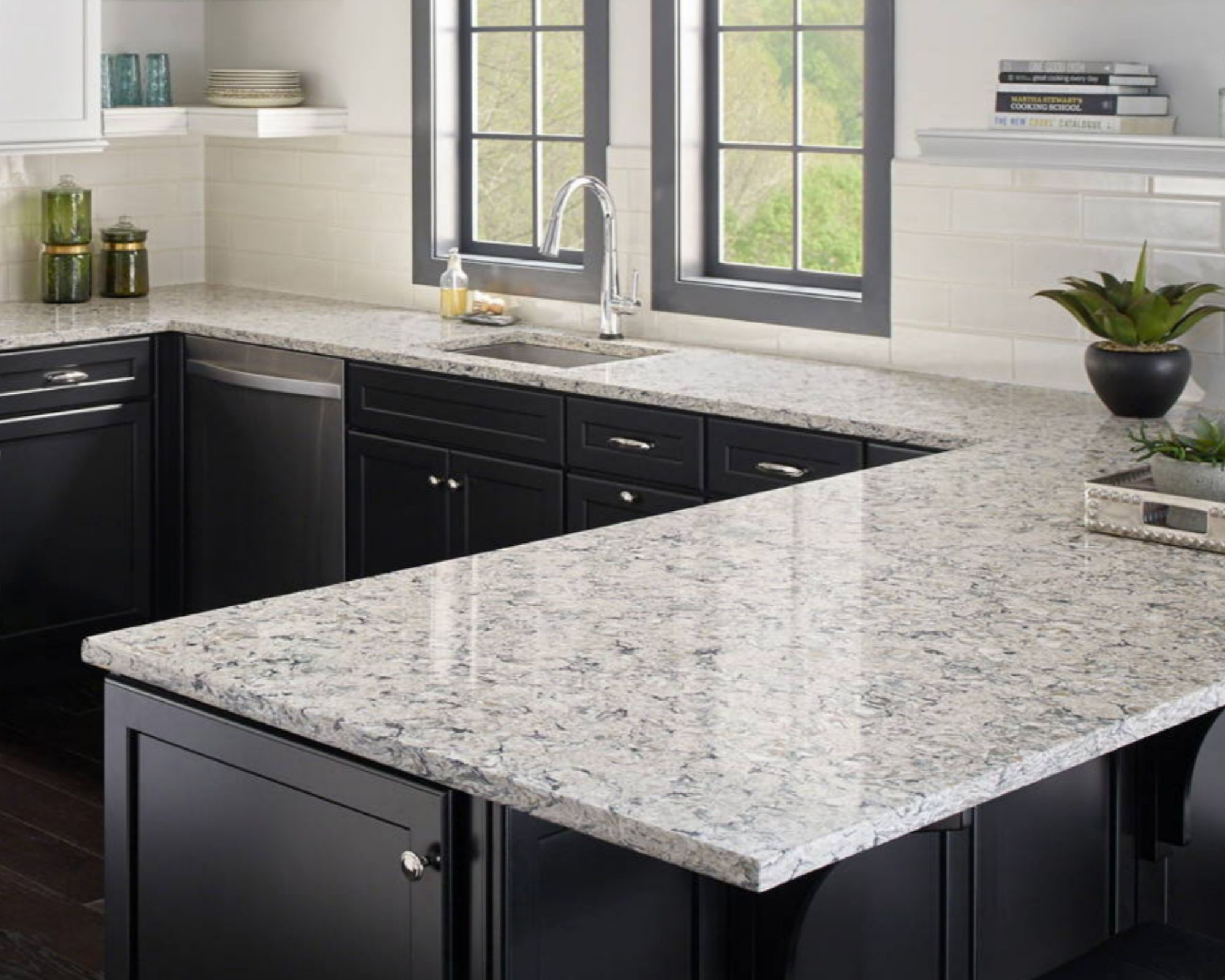 Twenty or thirty years ago, we essentially had three choices for countertops: laminate, wood, or tile. Natural stone countertops started to rise in popularity because of their natural beauty and durability. Over the last decade, engineered quartz countertops have emerged, and for some are the front runner for kitchen and bathroom countertops. Quartz is promoted as a more durable and carefree option than natural stone—is it true?
The quick answer is yes—and no. Indeed, quartz countertops don't require sealing or ongoing maintenance, and that quartz is resistant to chips, scratches, and stains. But quartz is not impervious to damage caused by chemicals, dyes, abrasive particles, or extremely high heat—no countertop material is! However, the advent of new manufacturing technologies and new "recipes" for engineered stone have created an outstanding, high-end surface suitable for both homes and businesses.
For most projects, quartz will remain a beautiful surface for decades to come. Let's dive a little deeper into what makes quartz durable, countertop cleaning tips, and how quartz compliments styles from traditional to modern.
What Makes Quartz Countertops Stain Resistant?
Most natural stones are porous, meaning they absorb substances left on the surface. The most porous (not including gemstones) are sandstone, limestone, onyx, and marble. Porous stone can still be used as a countertop—and they often are—however, they do require routine sealing to make it more difficult for stains to set in. Quartz countertops are different; while they are made from stone, adding resin and the compression of the compound creates a nonporous surface.
The vast majority of spills won't harm quartz. Marble-look quartz gives you a nonporous surface with the glamorous look of natural marble. Even close-up, no one will know that it is quartz instead of marble. This kitchen island crafted from our Carrara Mist is ready to host whatever event is on your calendar. The creamy white background is complemented by the misty gray veins that subtly meander across the design. The look is refined and elegant, and the countertop ties the entire space together by mimicking the marble fireplace surround just steps away.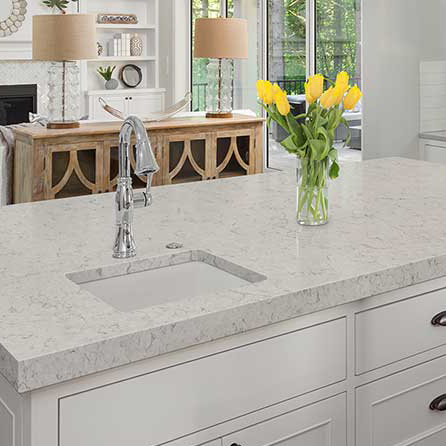 Carrara Mist
What Foods May Stain Countertops?
Even though quartz is nonporous and resistant to stains, discoloration may occur if certain foods are left on the surface for an extended period of time. Nonetheless, a quartz countertop island is an ideal surface for buffets, meal prepping, science projects, and everyday life as it is maintenance-free and nonporous. Here are a few natural elements that can cause discoloration on any countertop material:
• Food dyes
• Certain color-rich spices like turmeric, curry, and paprika
• Pollen from lilies and other flowers
One of our favorite designs is a white kitchen partnered with a white countertop! And one of our favorite looks for is our marble-look, Marbella White. In this sun-soaked kitchen designed for entertaining, the dual kitchen islands invite family and friends into your kitchen to be a part of the action. Gather and celebrate without the worry of accidental spills. If you are coloring Easter eggs, have a bouquet of lilies, or love a morning cup of turmeric tea, be mindful and wipe up any spills promptly to avoid the potential of discoloration.
What Chemicals May Stain Countertops?
Most damage to countertops doesn't occur due to natural substances—most surface damage can be attributed to chemicals. As quartz countertops are nonporous, it is crucial to understand that discoloration of quartz is not due to a substance "soaking in" but more often due to a chemical reaction with the resin. Chemicals that have the potential to discolor a quartz surface include:
• Drain cleaner
• Bleach
• Acid-based cleaners
• Paint stripper
• Degreasers
• Oven cleaners
• Beauty products including hair dye
• Toothpaste and tooth whitening products
• Acetone
Bathroom countertops are routinely exposed to harsh chemicals in both cleansers and beauty products. If you spill, or if a container leaks, wipe up the spill as quickly as possible. Then, wipe the entire surface down with a fresh cloth dampened with clean water. To protect the surface, take a cue from this beautiful bathroom vanity and don't store chemical products on the countertop when not in use. Our Sahara Beige quartz countertop has a clean parchment-like look without dramatic veins or inflections. The overall effect of the tone-on-tone cream and white palette is calming, and it is easy to identify any spills quickly, making it perfect for busy family bathrooms.
Tips for Keeping Your Quartz Countertop Looking Good
Harsh chemicals are found in kitchens too. And, one of the biggest threats to a countertop is household cleaners. Quartz countertops don't require sealing to maintain their tough surface. However, some common cleaners can damage the surface. Even some sponges made to remove stubborn stuck-on foods can damage the surface of any countertop. The key to protecting the finish while keeping the counter clean is to use soft sponges, warm water, and mild dishwashing soaps. Things to never use or set on your counter include:
• Red or green Scotch Brite sponges, or any sponge with aluminum oxide
• Abrasive cleansers including Comet and Ajax
• Drain cleaner
• Paint stripper
• Products containing hydrofluoric acid, methylene chloride, or trichloroethylene
Islands are great for adding workspace in large kitchens, but in smaller homes, a peninsula may be a better option. In this smaller kitchen, our Calacatta Trevi takes center stage, setting an inviting tone. This quartz's beauty comes from the wispy charcoal veins that echo the gray of the backsplash and the silver of the appliances. The look is cohesive, and most definitely family-friendly.
How to Choose a Countertop Material for Your Home
If you watch design shows, you know there is still an ongoing debate of quartz vs granite. Granite is durable and heat-resistant, but it does require annual or semi-annual sealing to make it virtually impervious to discoloration and staining. Quartz, on the other hand, never requires sealing. If you prefer care-free surfaces, quartz may be a better solution for your project. In addition, if you are still on the fence, consider these points:
• Q Natural Premium Quartz countertops are nonporous
• Most foods won't discolor the surface
• Most discoloration is caused by household cleaners containing harsh chemicals
• Quartz is manufactured to mimic porous natural stone realistically
Dramatically veined marble quickly becomes a showstopper in any design. Our Blanca Arabescato is a perfect example of quartz mimicking the grace of marble. The swirls of cream and white are accented by the charcoal veins that give the slab depth and character. Of course, gray and white are an iconic duo that stands the test of time. Today, you may want a more classic look, and tomorrow you may want to opt for something more contemporary—with classic white and gray quartz countertops, you can easily update your style by swapping out accessories to get the look of your dreams.
Answering the original question—yes, Q Premium Natural Quartz counters are dramatically more resistant to staining than other counter materials. The manufacturing process fuses natural quartz stone and resin together to create a finely crafted surface that retains its beauty for decades—without sealing. Explore all of our Q Premium Natural Quartz countertop colors, including some beautiful black quartz options to find the one that will remain beautiful for decades to come.
More About Quartz Countertops
What are the Pros and Cons of Quartz Countertops
Move Over Concrete Counters This is a Job For Quartz Countertops
7 Must See Quartz Countertops That Look Like Natural Stone
Best Ideas for Quartz Countertop Vanities
You May Want to Choose a Quartz Countertop Over Marble After Reading This