In Stock And On Trend Granite Countertops Make A Statement
July 15, 2020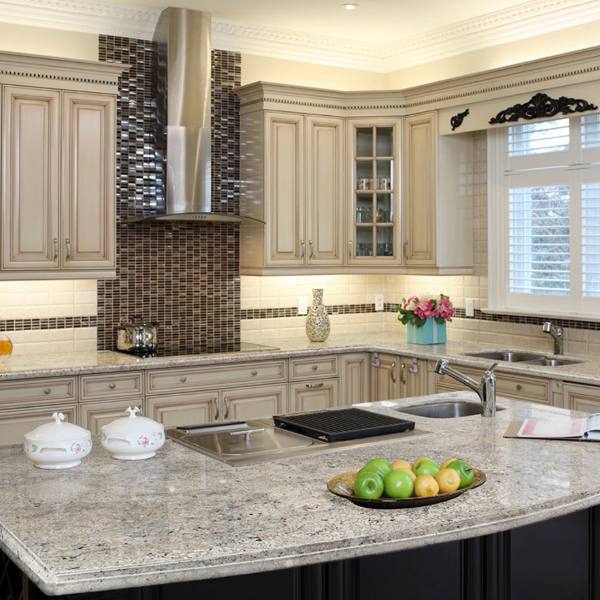 Once you've decided to give your kitchen or bathroom a makeover, you can't wait to get started—and you can't wait to get finished, too, so you can start enjoying your new upgraded space. It can be frustrating when the materials you want are on back order or otherwise unavailable. On the other hand, you certainly don't want to sacrifice quality or beauty just to get your project done faster. That's why these are our top picks for in-stock and on-trend granite countertops.
What makes a granite countertop "on-trend" and what does that mean? It's stylish, something you will see in the latest decorating magazines and model homes. Granite is a countertop material that will never be out of style, because of its timeless natural beauty. It's available in a range of colors from subtle to exotic and bold, but the neutral shades featured here have been favorites for many years and continue to be popular today.
Granite countertops are so easy to match with many other decorative elements, such as cabinetry and flooring. They are also compatible with a range of decorating styles, such as traditional, contemporary, cottage, rustic, and more. If you should decide to change your kitchen or bathroom décor or wall color, the countertop will look just as great. That's especially important, considering that granite countertops are a long-term investment, perhaps the last one you'll buy!
Because granite is anatural material, all colors and patterns will add an inviting warmth to the room, even black or white granite.With granite countertops, "neutral" never means boring. Granite is multidimensional, with the appearance of depth and movement.
If eco-friendly products are important to you, granite countertops should be at the top of your list. One reason is that, as mentioned earlier, granite counters can last a lifetime. After all, one of the best ways to minimize our impact on the environment is to simply buy less stuff! Since granite is so tough, if you should one day decide to remove it from a bathroom or kitchen, the granite slab can be repurposed and used elsewhere. Move it to an outdoor kitchen or bar, have it fashioned into a tabletop — the possibilities are endless.
Perhaps granite's best feature, however, is its uniqueness. No two slabs are the same! If you are deciding between quartz vs. granite, that is one important benefit of granite. You may find granite countertops with similar color and movement, but even the subtle variations between them may make a difference. Because of this, you can choose the exact slab you want to install. Since MSI is one of the nation's largest suppliers, finding the slab that you'll fall in love with is very likely.
MSI makes it efficient and simple to find the right color and pattern for your home by providing online tools to design, customize, and check stock of their chosen slab:
The Countertop Visualizer allows you to try on different colors in your own room before you even step into a showroom. Just select a countertop, snap and upload a photo of your room, and admire the result! Compare your favorite countertop colors with a variety of cabinetry, flooring, and more.
With the Countertop Edge Tool, you can compare up to 12 of the most popular edge profiles and see how they look on a kitchen island. Customize your granite countertop edges and make them uniquely your own.
Selecting the perfect granite countertops can be frustrating if the one you love isn't in stock. Check out MSI's Slab Inventory Tool to see what's currently in stock at our nationwide distribution centers. With locations throughout the U.S. and Canada, there's a good chance the perfect slab is nearby and waiting for you.
Consider these top granite colors—you'll love them in your home, and if you should sell your house, prospective buyers will love them too.
Stream White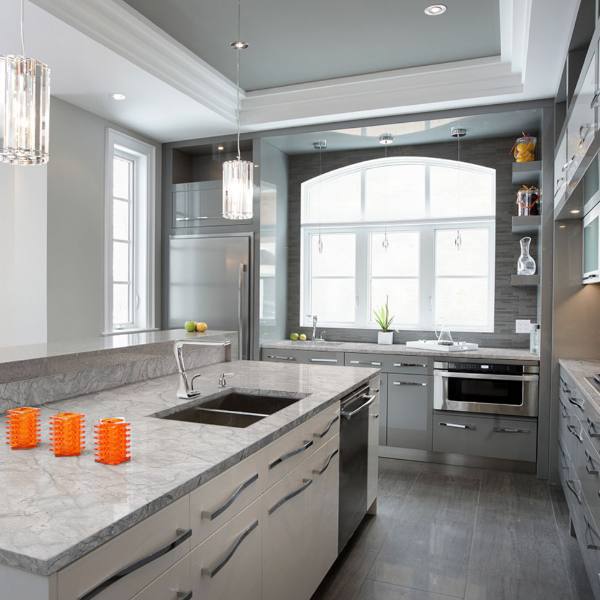 Stream White granite features shades of soothing gray with darker gray veins, reminiscent of marble. It's hard to imagine a kitchen or bathroom that would not be enhanced with this granite color as a countertop or backsplash. As shown here, it's an ideal transition between white kitchen surfaces and darker flooring.
Astoria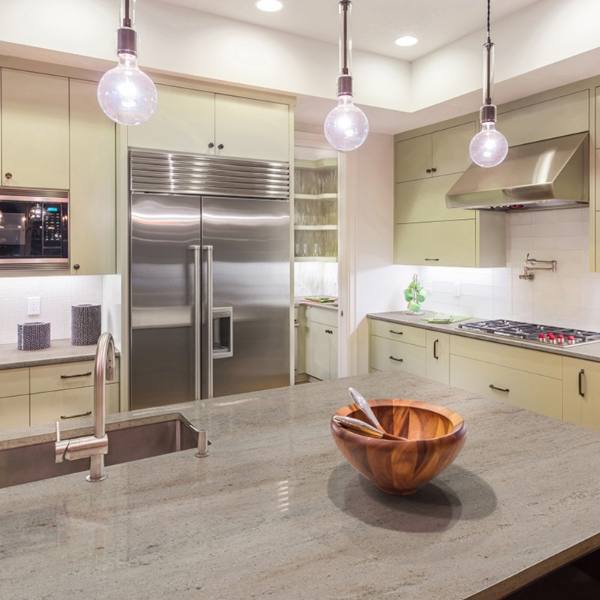 Today's contemporary-style kitchens often contain appliances of gleaming stainless steel, but it can be difficult to find a countertop color that is complementary. Astoria is a speckled combination of cream, brown, and gray shades. It's the gray that makes the stainless steel look so great, while the cream and brown shades add a cozy warmth.
Giallo Ornamental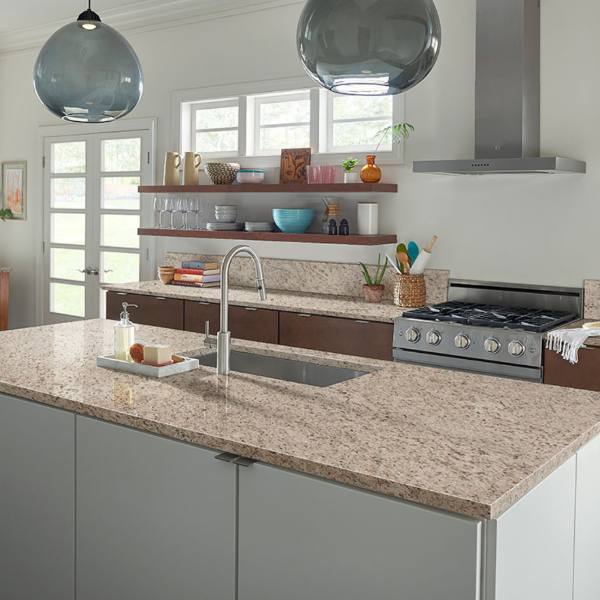 The minimalist, uncluttered style continues to be a trend, but it tends to be a bit softer now, incorporating natural elements such as the wood shelves in this contemporary kitchen. Giallo Ornamental features veins and flecks of brown and dark gray against a creamy beige background, with a pattern full of movement and depth. It's the ideal companion for the clean, simple look—but it would look great anywhere.
Venice Cream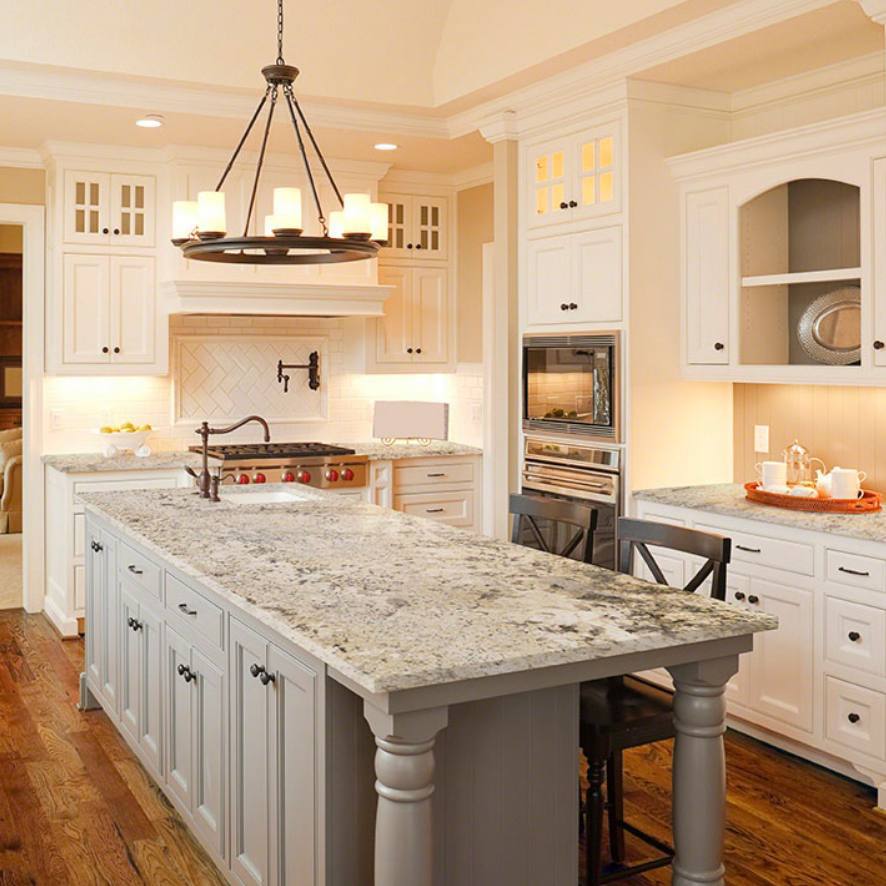 When you're looking for a countertop with bold visual interest that still has a versatile appeal, Venice Cream is a great option. A range of shades from beige to deep brown dance across a soft white background. As with the other granite countertops featured here, the combination of gray with beige and brown shades make it easy to match with cabinetry, flooring, and paint. This is one granite slab you'll be glad to pick out in person.
Verde Butterfly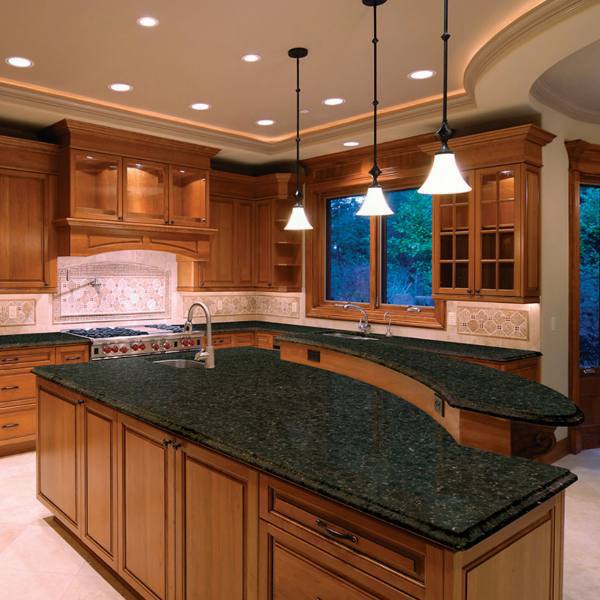 There's nothing more dramatic than a dark kitchen countertop, particularly when it's Verde Butterfly with its sparkling shades of green, gray, and white on a jet-black background. Whether you choose it for the slim side countertops or a central focal point, this black granite is an instant classic.
The popularity of the granite colors featured here mean they're easy to find in stock. Are you ready to see how they can enhance your home? Be sure to check out MSI's online tools, such as the Countertop Visualizer, Countertop Edge Tool, Slab Inventory Tool — these make it quick and easy to design the kitchen of your dreams.
Learn More about Popular Granite Colors
9 Popular Black Granite Countertops
Why Granite Tile Is a Popular Flooring Choice
The Latest Marble & Granite Countertop Trends
On-Trend and Timeless Natural Granite Countertop Colors
READ MORE ABOUT GRANITE COUNTERTOPS
How to Save Money On A Granite Countertop
How to Seal A Granite Countertop
Installation Tips For Your New Granite Countertop
Is It Worth It to Install Granite Countertops Before Selling My House?