The Different Types Of Vinyl Flooring
May 12, 2021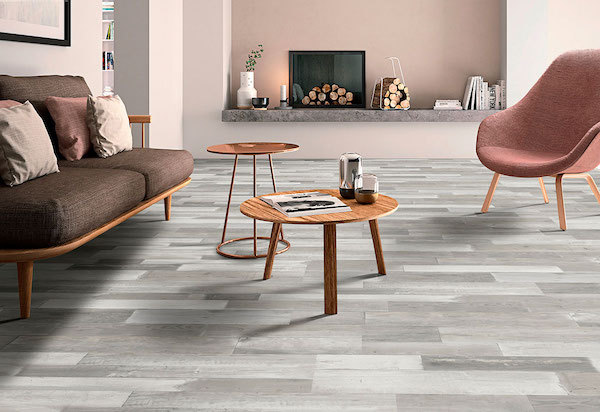 At first, it may appear that vinyl is all the same, but the various types of vinyl flooring boast some similarities as well as differences. After all, this durable material looks realistic, is easy to clean and maintain, and comes as a more affordable alternative to its natural counterparts. And with today's technology, there seems to be an endless variety of luxury vinyl tiles, vinyl sheets, and luxury vinyl planks that resemble tile, natural stone, or authentic hardwood. But, things like core, print designs, and installation methods are just some areas where you'll see the differences. Let's explore which vinyl product is best for your next project.
Luxury Vinyl Tile Flooring
While luxury vinyl tile (LVT) may commonly refer to natural stone or ceramic look products, it's more commonly used to refer to both luxury vinyl tiles and wood-look planks, one of the most popular luxury vinyl tile trends. LVT comes in a wide range of colors, patterns, and textures to mimic the look and feel of natural stone and authentic wood. Because these floors are 100% waterproof, they can be installed in any room and any level of a home or business, including wet areas like bathrooms, kitchens, and laundry areas. One of the biggest benefits of luxury vinyl tile is that you'll have a super durable floor that won't swell or buckle after exposure to water spills or splashes.
There are two main install types: click-float and glue-down. Click-float is an easy installation process that even DIYers can tackle, as the vinyl planks click together and float on top of the wood or concrete subfloor. A glue-down installation is better suited for professional installers since the floors need to be super smooth and level before gluing the product directly onto the subfloor. Since the adhesives used in glue-down applications might not be waterproof, this type of LVT may not be waterproof like the click-float kind.
LVT features three to four layers: wear layer, print layer, vinyl core, and backing. The wear layer provides protection for the printed pattern and varies from 4 mil to 40 mil in thickness. The core can consist of polyvinyl chloride (PVC) or a combination with another plastic composite. The backing, which is sometimes included depending on the manufacturer, offers better sound absorption and comfort underfoot.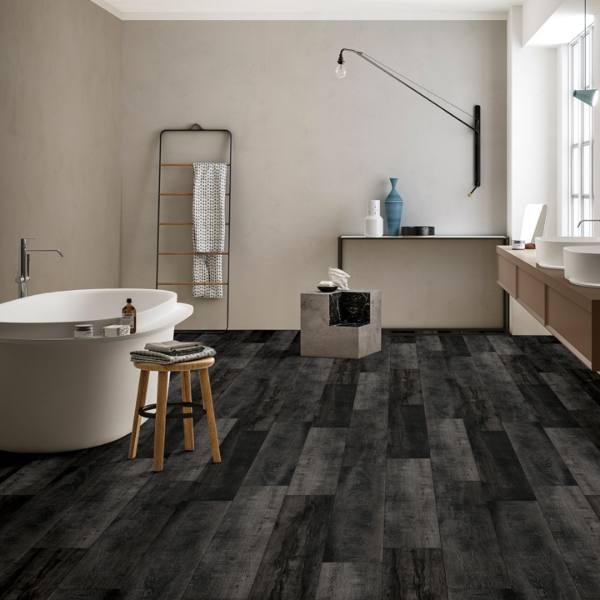 One of the most popular types of click-float luxury vinyl floor tile is rigid core, an engineered product that's more stable than traditional vinyl because it combines a stone or wood plastic composite with the PVC vinyl. Because of this addition, you get more solid tiles that don't flex as much as regular vinyl.
With all of its pluses, there are some downsides to vinyl. It can fade in the sun, so it's best to have some sort of window coverings or tint for protection. It also can get damaged from dents or cuts, and that's why it's best to pick out the thickest wear layer possible, especially if you have an active family or pets.
Check out the video below for more information about LVT:
Vinyl Sheet Flooring
A more affordable option is vinyl sheet flooring, which comes in large 6- or 12-foot rolls and is cut down to size. The solid surface is one of the oldest vinyl flooring materials available and is installed as a single sheet. It comes in wood looks to grouted stone styles, such as slate, sandstone, and limestone. It can be installed in various areas, including kitchens and bathrooms that are more prone to moisture.
The thinner sheet vinyl can be glued down or installed as a type of loose lay depending on the type of vinyl sheet product you have. However, if there is damage, then the entire roll or section needs to be replaced. It's also more sensitive to sun, so be more careful if you get a lot of direct sunlight. Additionally, it can get damaged from extreme temperatures, which is something else to consider depending on your climate.
Luxury Vinyl Plank Flooring
Known for its realistic wood-look design, luxury vinyl plank flooring (LVP) mimics the qualities of real hardwood, including the colors, grains, and textures found in the various wood species. The results mean planks that look and feel like real traditional wood, reclaimed wood, or brushed wood but without the worry of high maintenance.
LVP is constructed similarly to LVT with its three-to-four-layer construction and 4-mil to 40-mil wear layer. It's the design print film as well as the textured engraving on the wear layer that gives these planks realism. While LVP flooring is more durable than non-luxury vinyl planks, it isn't waterproof. However, vinyl plank products with a rigid core construction are 100% waterproof and extremely durable. They can be installed in any room, including those with high traffic areas or moisture-prone locations like kitchens, bathrooms, or basements because of its waterproof properties. LVP can be installed in a click-float or glue-down method, with click-float products having less give than a more flexible glue-down plank.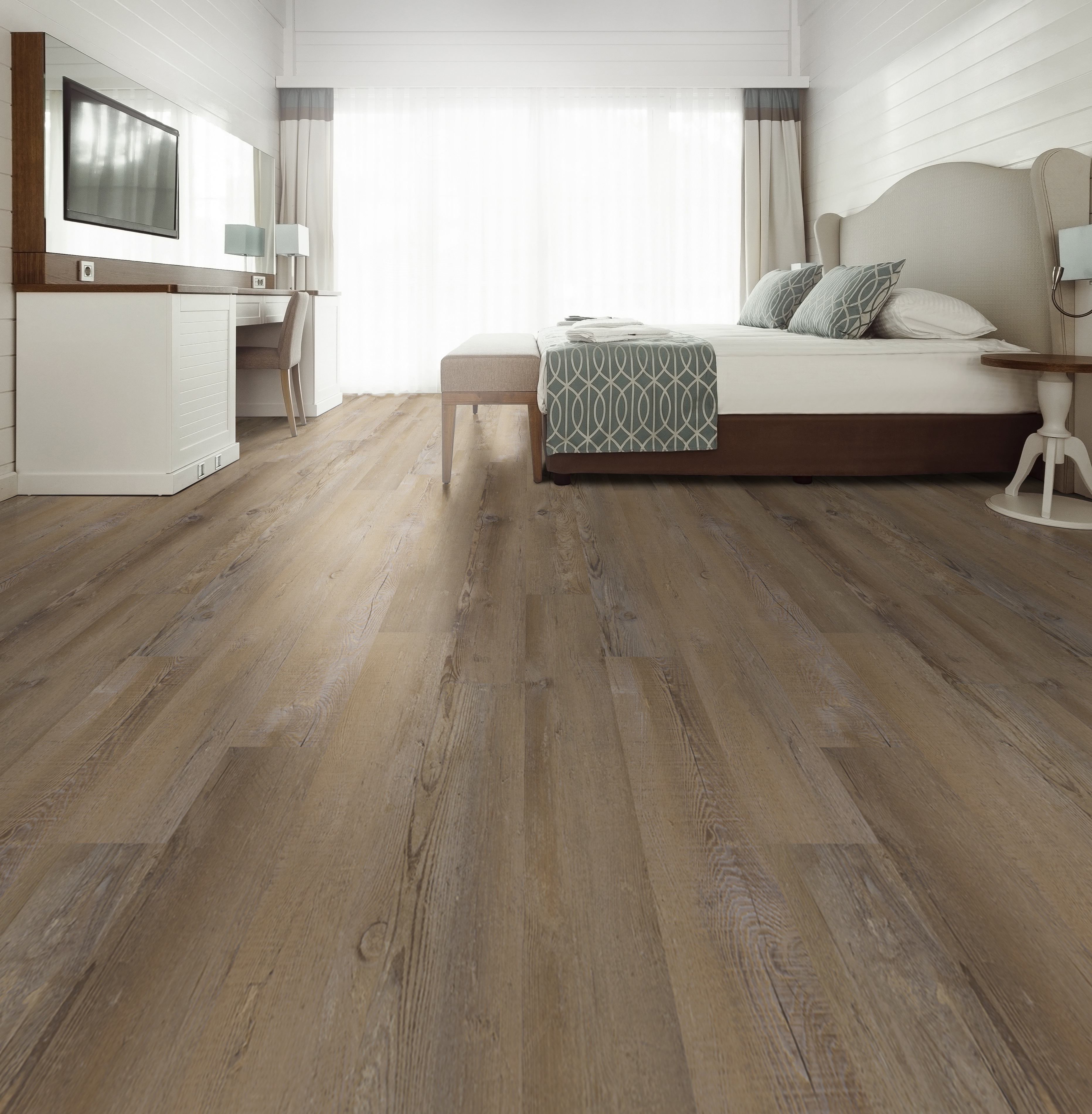 Indubitably, there will always be those homeowners or designers who prefer natural hardwood to LVP citing feel or sophistication as some of their reasonings. The vinyl planks can't be refinished like natural wood can, and the glued-down planks can be difficult to remove if you need to replace them.
Which Vinyl Is Right for You?
The look and budget will really determine which floors you choose, whether you desire a luxury vinyl tile that resembles natural stone or luxury vinyl planks that look like maple or hickory. Of course, sheet vinyl is a more affordable option, but it won't quite offer the same look and feel as LVT or LVP. Other durable measures like wear layer thickness, waterproofness, and vinyl flooring care and maintenance all play important roles in where you can install vinyl. Yet, no matter which vinyl flooring type you choose, your home or business will look amazing with new floors as they can easily refresh a space or completely transform it into a new design direction. If you'd like to learn more about LVT, then be sure to check out this guide to luxury vinyl tile for more comprehensive information.
More on Vinyl Flooring
What are the Advantages of Vinyl Plank Flooring?
5 Luxury Vinyl Tile Trends for 2021
Is Luxury Vinyl Flooring in The Bathroom a Good Idea?
Signature Wood Look Luxury Vinyl Flooring Without the Worry