Arterra Porcelain Pavers: Durable And Low Maintenance
January 16, 2023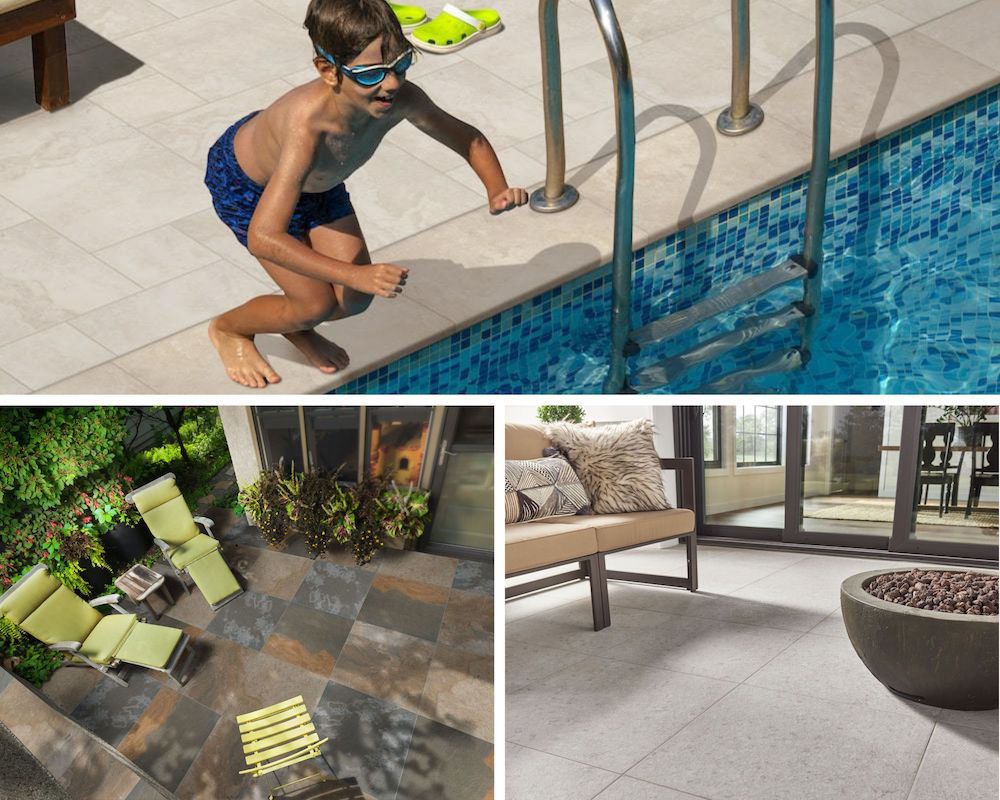 A grassy expanse and lush landscaping offer loads of exterior appeal, but you need to balance these elements with complementary and practical hardscape design. If you're looking for function and style, porcelain pavers offer a unique and modern alternative to natural stone, with a similarly refined look that requires less maintenance.
With options for patios, pathways, pool surrounds, and more, MSI pavers add luxury, value, and timeless appeal. The Arterra Porcelain Pavers Collection is populated by classic styles that mimic the look of natural stone, deliver outstanding strength and durability, hold up to the elements, and provide indoor/outdoor performance versatility.
What benefits will you enjoy when you choose porcelain pavers for your exterior spaces?
Strong and Durable
When it comes to hardscaping features, you need materials that are, first and foremost, resilient and capable of standing up to the elements. Porcelain pavers deliver on that account and offer a slew of practical benefits.
You might think porcelain is similar to ceramic, but it's actually stronger because it's made from more refined clay that has been fired at a higher temperature. This process makes it resistant to impact and daily wear and tear.
Porcelain pavers are not only great for high-traffic areas – indoors and out, but they're 100% resistant to staining, UV fading and discoloration, and microbes like mold and mildew. Additionally, they're designed to withstand extreme weather conditions, such as freezing and thawing, making them a perfect choice for your hardscaping needs.
Safe for Your Home and Family
When installing any flooring, safety is a genuine concern. This is especially true for areas that could get wet and become slippery, such as pool tile. MSI has the solution with ZeroSlip™ technology that offers peace of mind.
This proprietary anti-slip technology helps create a slip-resistant surface, whether dry or wet, and meets and exceeds industry standards. Every product in the Arterra Premium Porcelain collection features ZeroSlip™ technology, allowing you to enjoy your outdoor spaces better.
Eco-Friendly Flooring Options
If you're concerned about the environmental impact of certain flooring types, you'll be happy to hear that options like porcelain and ceramic tile can offer sustainable benefits to help you cut your carbon footprint.
The porcelain pavers in the Arterra collection are designed with environmental responsibility in mind and are meant to deliver a safe and comfortable experience. This collection meets high standards for health and sustainability and has earned certifications from FloorScore and GreenGuard.
Low Maintenance
No one wants to spend hours scrubbing and cleaning their pavers to try to make them look new again. With Arterra Porcelain Pavers, you won't have to! Porcelain is a robust material suitable for busy households. It stands the test of time with minimal cleaning and maintenance demands.
You need an outdoor patio tile designed for your lifestyle, and with porcelain pavers, you'll never have to worry about resealing or dealing with persistent stains either. You can easily clean debris with a garden hose, and common household cleansers are safe to use if you need something more for spot cleaning.
A pressure washer will make pavers look like new for annual or semi-annual cleaning. The Arterra collection also comes with a lifetime residential or 10-year commercial warranty.
Options for Every Home Upgrade Project
While practical and functional concerns are essential when you install porcelain tile, you also want a stylish and refined appearance that adds value and appeal to your property.
Arterra pavers deliver a range of colors, sizes, and patterns to choose from, including graphics and textures designed to provide the authentic look and feel of natural stone.
With a wide selection of styles and features to browse, you'll have no trouble finding the right options for your home exterior and your personal taste. These versatile pavers can seamlessly and beautifully transition from indoor to outdoor spaces or landscaping to water. Which porcelain pavers from the Arterra collection will best suit your style sensibilities?
Ivory Elegance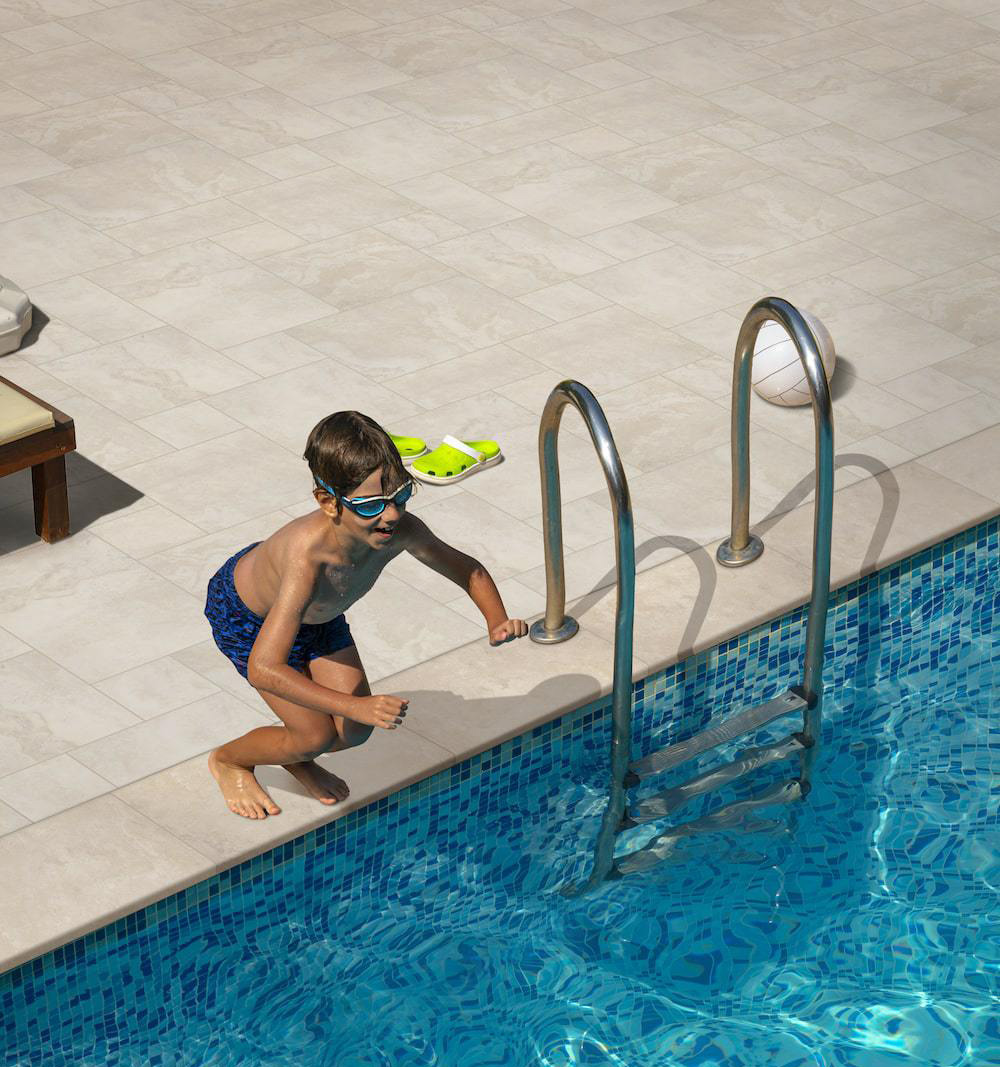 A pristine patio surface adds an element of tranquility and charm to your backyard, and with Tierra Ivory pavers, you'll enjoy an abundance of classic style. Cream and white tones stand out from landscaping features, creating a statement style that complements traditional and contemporary homes.
Space them across a grassy expanse to create a unique garden path or design a pool surround featuring a complex pattern of multiple tile sizes. With this gorgeous and eye-catching tile, your outdoor spaces will gain a hefty dose of luxury appeal.
Rich Splendor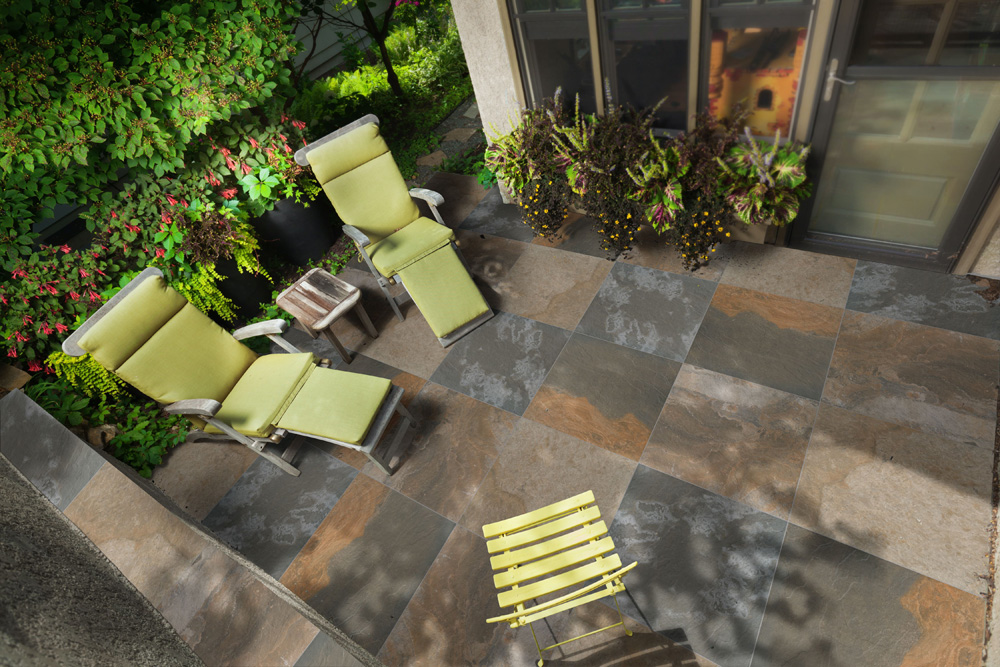 Few materials pair rustic style and design prestige more completely than slate. With Mystique Multicolor pavers, you can have an elevated look you love with a slew of practical benefits and incredibly low maintenance.
Rich shades of copper, espresso, and umber swirl organically across the surface of these stunning tiles creating a striking variation that blends beautifully with surrounding landscaping and hardscaping elements.
Timeless Panache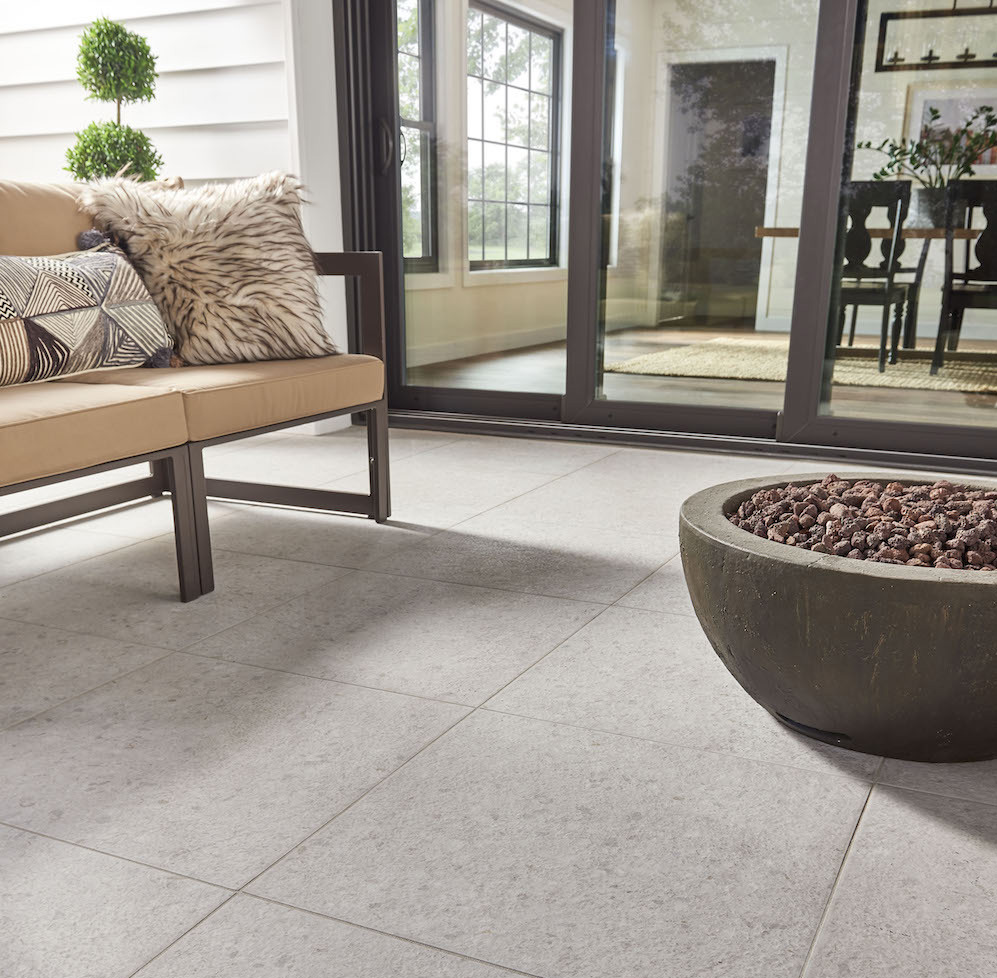 If you love the classic look and long-lasting appeal of Italian Terrazzo tile, you're sure to appreciate low-variation Terrazo Glacier pavers featuring a soft white background peppered with subtle, pale gray and white nougat.
This speckled style delivers the ideal balance of upscale design and casual appeal that perfectly complements your modern lifestyle.
Find the Perfect Tile and Flooring for Your Design
Choosing between natural stone, porcelain pavers, and ceramic tile flooring materials is challenging. However, when you understand the many practical and aesthetic benefits of resilient and eye-catching porcelain, you'll have no trouble picking the best products for your indoor and outdoor spaces.
The friendly and experienced professionals at MSI are always happy to help with information and guidance based on your needs and preferences. Contact us today via convenient live chat, or find an authorized showroom near you to browse and shop.