Introducing Our New Porcelain Floor Tile Collections
August 12, 2020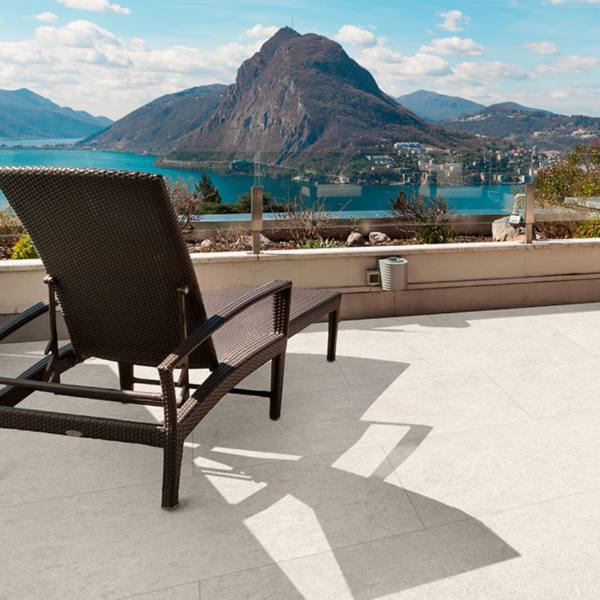 If you're one of the 65.3% of Americans that call themselves homeowners, then you're likely always on the lookout for ways to spice up your space. The same is probably true if you're an interior designer or real estate contractor.
Revamping a kitchen or an outdoor space to make it a sleeker, more modern space is a great way to do this. There's no better way to make your space as appealing as possible than by using our new porcelain floor tile collections!
Here, we're going to talk about these gorgeous and functional collections. They represent a wide variety of options to meet today's demand for alternatives to hardwood and stone. The appeal of this is partly due to the tile's cost-effectiveness, durability, and perfect appearance that cannot always be found in nature. Read on to learn more specifics about each style!
Braxton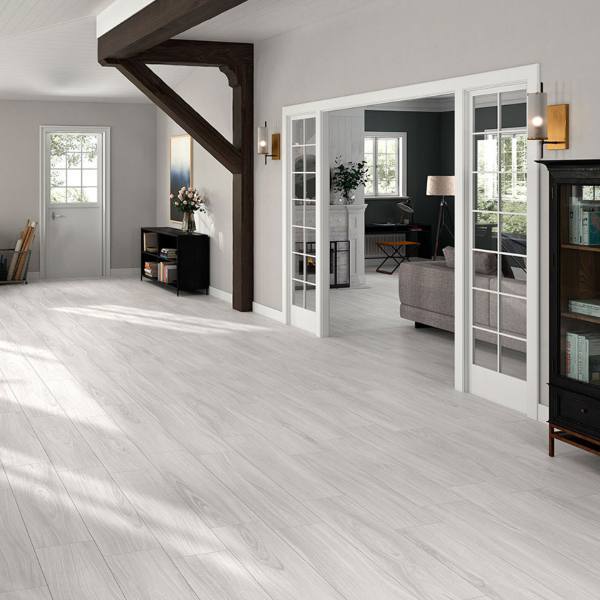 Braxton, a tile that comes in a variety of whites and grays, is intended to mimic the natural aesthetic of wood. Though polished to perfection, it retains the slightly knotted look of wooden planking. This porcelain tile, however, is much more durable than wood is. It isn't susceptible to water damage, won't become damaged due to pests, and is incredibly easy to clean and maintain.
The grout lines on this modern tile are incredibly thin, which gives the entire wall or floor that you use the tiles on a continuous and unblemished look. Braxton is perfect for both flooring and backsplashes. If you're feeling especially adventurous, try making your floors a dove-gray color and your walls ivory white. You can't go wrong with the textured appeal that the Braxton tile patterns provide.
Catalina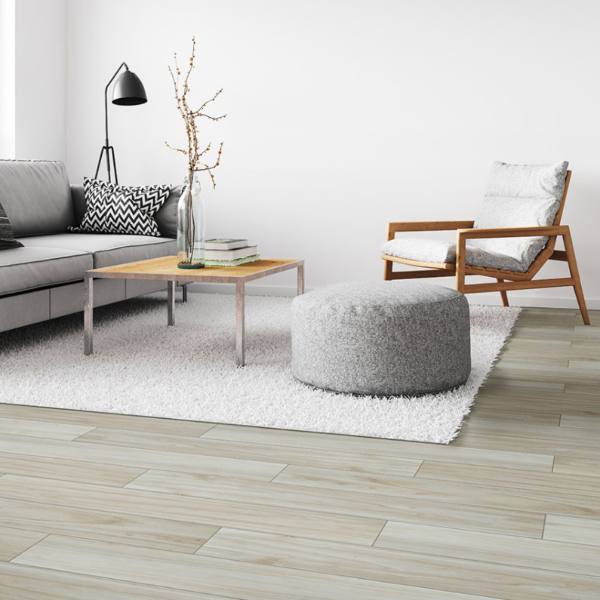 Catalina is yet another kitchen tile that's been made to look like wood, but it has an elegant matte finish rather than a perfectly polished one. This makes it look even more natural than Braxton does. Its knots and grains are darker than other wood-look alternatives, which gives it the feel of realism and the appearance of deeper texture.
Unlike Braxton, the grout lines of Catalina are a bit more pronounced. However, they're pure, shining white, which makes the planks look intentionally and evenly spaced apart. This collection of tile comes in a huge number of colors, too, including many hues of beige and cream.
Because of the many hue options we offer, we consider Catalina to be among our most versatile styles. It also has a classic design that looks great on floors and walls as well as backsplash, accent walls, and countertops around the home.
Asturia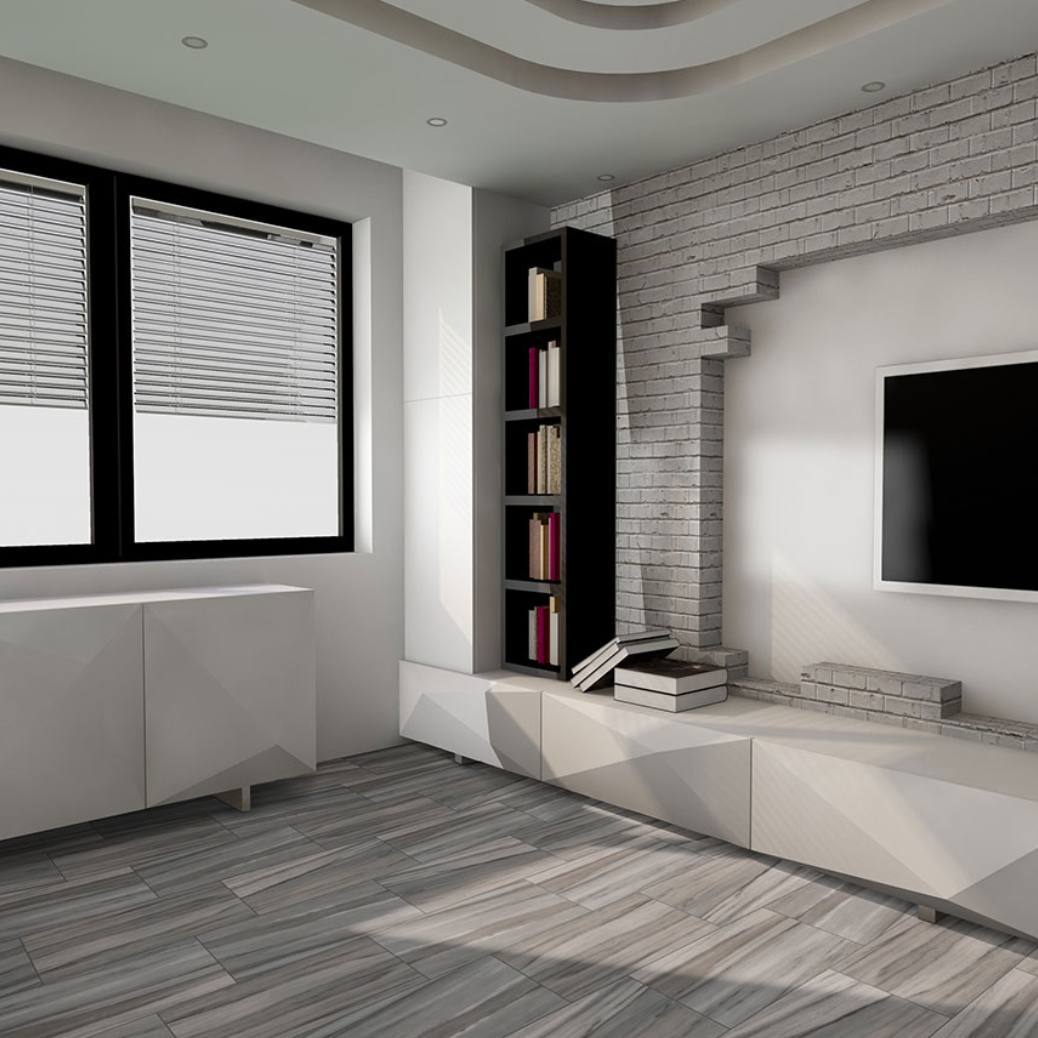 Asturia isn't designed to look like natural wood. Instead, it's made to look like high-class marble.
The beautiful veined marble-look modern tile that it hosts has a lot of with dramatic variation. Long, horizontal veins stretch all across the planking and stand out against a backdrop of multiple white and gray hues. Perfect for both indoor and outdoor use, the Asturia collection will provide your home with a feeling of luxury and opulence that other tiles simply can't emulate.
Tile from this collection is available in both matte and polished versions. You'll be able to choose the finish that best goes with the rest of your room. We encourage you to pair polished Asturia flooring or countertops with matte Catalina walls. You might also choose to pair matte Asturia walls with a shining Braxton countertop or backsplash. Comparing and contrasting both textures and finishes gives your room a cohesive and well-thought-through look.
Myra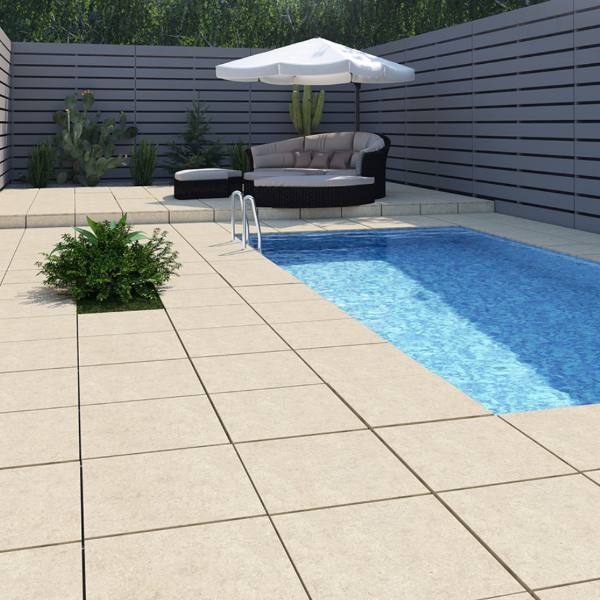 The Myra collection features stone look porcelain tiles. Because these tiles are so smooth and even-looking, they have a chameleon quality about them. By this, we mean that they can look like travertine, slate, and sandstone depending on what you want to perceive them as.
The glazed tiles of Myra are a soft beige color that's perfect for outdoor use. If you're looking to make your patio, outdoor kitchen, or surrounding pool area look calming and sandy, the Myra collection is right for you. You're sure to feel like you're at a luxurious beach resort when you use these tiles, even if you're just sitting in your backyard.
You also can use them indoors, as with all of our other collections. The grout lines are so thin that you can barely see them, which makes it perfect for walls and bathroom tile.
Sande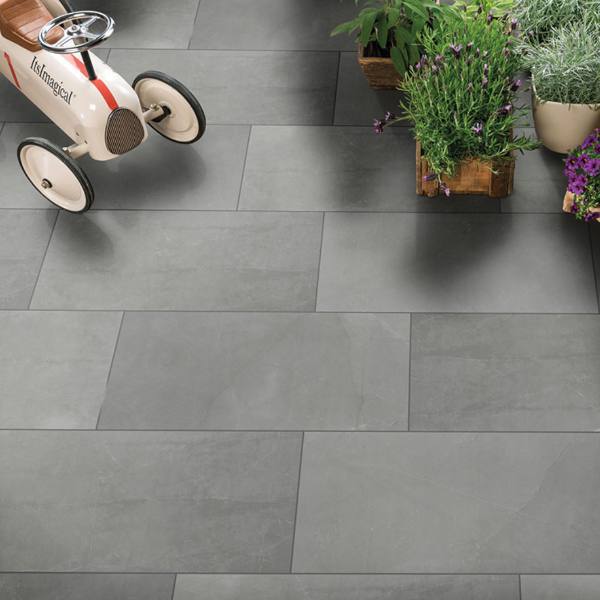 Sande, like Myra, is a collection of porcelain tiles intended to give off a stony look. Unlike Myra, though, they aren't intended to be rough in the manner of sandstone or slate. Sande is intended to emulate soft, smooth soapstone. Because of this, it's perfect for those who want to make their home look elegant and sophisticated.
Sande is also unique in that it is available in small backsplash tile size (2x4) as well as large formats (12x24). This makes it perfect if you want more subtle backsplashes or countertop tiles! You can use them as shower surrounds as well since the small format is an option. Basically, the Sande collection is there for you wherever you want something easy and calming to look at.
Use a flooring visualizer to discover what looks best. You'll want to use more than one of these tiles throughout your space so that your room maintains a cohesive look.
Choose Your Porcelain Floor Tile Today
While there are hundreds of porcelain floor tile types to choose from, the new collections that MSI surfaces have to offer are simple, classy, traditional, and aesthetically pleasing. Now that you know some of our newest floor tile collections, it's time to get started. Contact us with any lingering questions that you may have and to get some advice on which of these styles is right for your needs. Our experts are excited to help you find the perfect tile flooring for your home so that you can make your space as beautiful as possible.
READ MORE ABOUT THE BENEFITS OF PORCELAIN TILE
Introducing Bold New Porcelain Tile Pattern Looks
Is Porcelain the Best Tile For Shower Floors And Walls?
Luxury Vinyl Tile Vs. Porcelain Tile