MSI Is The Key To Successful Hotel Construction And Remodeling
August 17, 2023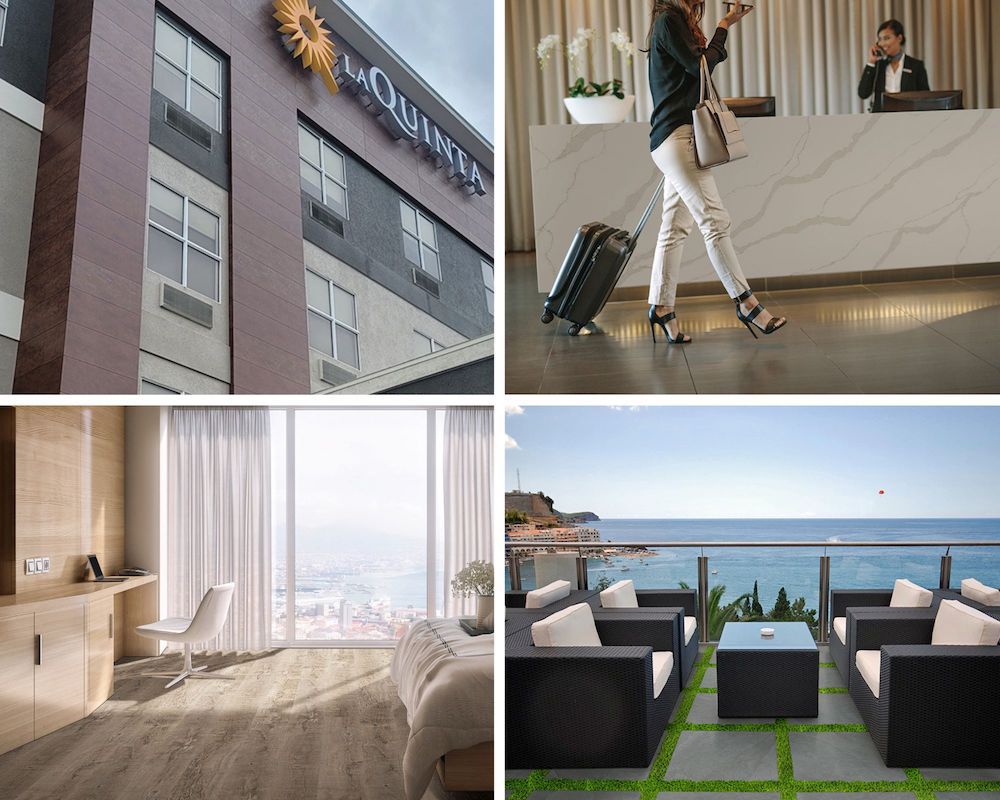 Welcome to MSI, the ultimate destination for all your hotel construction and remodeling needs. As a leading industry expert, we take pride in offering a comprehensive range of premium products, ensuring your hotel project is a resounding success. From flooring to countertops, wall tile to shower surrounds, and pavers to ventilated facades, we have you covered.
With years of experience in the hospitality sector, we understand the unique demands of hotel construction projects and renovations. Our skilled professionals are dedicated to delivering innovative and top-notch solutions tailored to your specific requirements. Whether you are embarking on a new hotel venture or seeking to revitalize an existing property, our diverse product offerings and unmatched expertise guarantee exceptional results.
Embracing our one-stop source concept, we simplify the hotel construction and remodeling process, saving you time, effort, and resources. Our commitment to customer satisfaction is at the heart of our business, and we are here to guide you through every stage of your project.
Let's examine our vast array of products to guarantee your next hotel project is a huge success!
FLOORING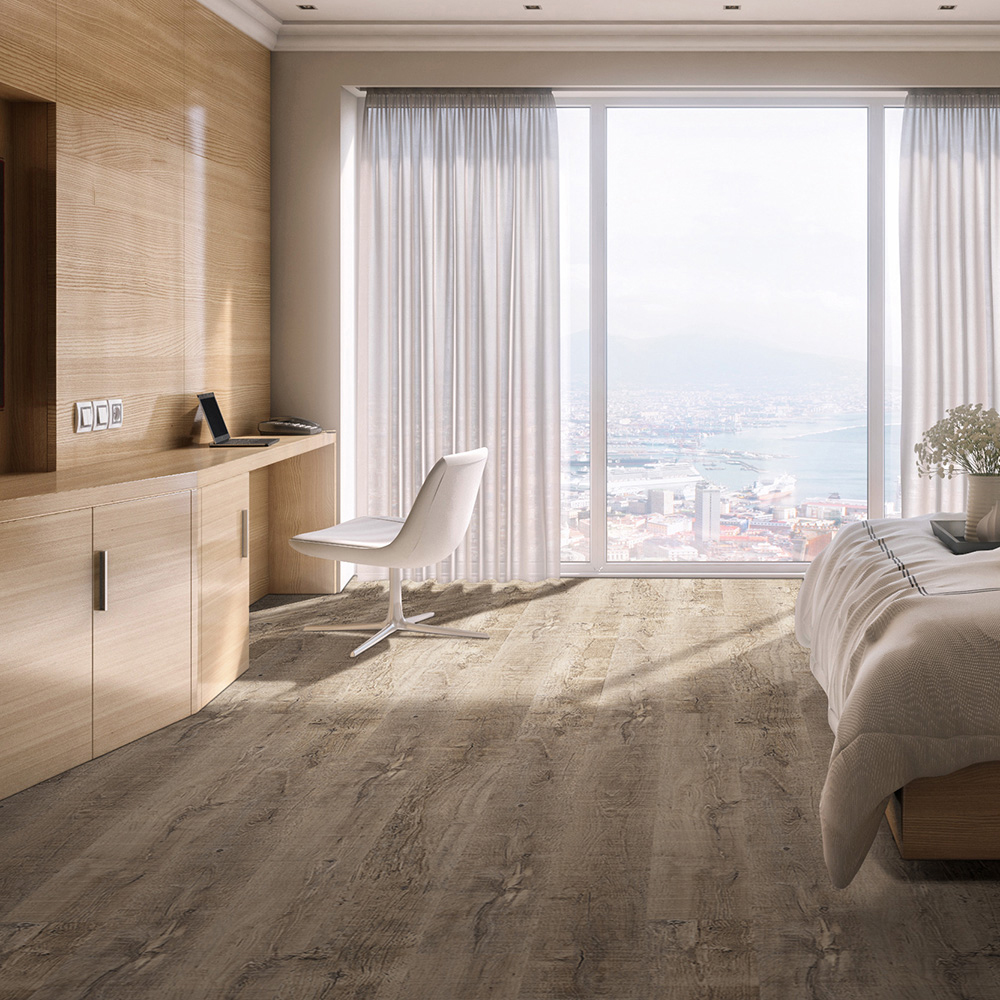 Prescott Ryder® Luxury Vinyl Planks in Hotel Guest Room
At MSI, we offer a variety of flooring solutions tailored to meet your project's specific flooring needs. Our Everlife® Luxury Vinyl Flooring is an exceptional choice, combining elegance, durability, and easy maintenance, making it ideal for high-traffic areas like hotel lobbies, corridors, and guest rooms. With stunning designs and textures, our luxury vinyl flooring replicates the look of natural wood and stone, adding a touch of sophistication to any hotel interior.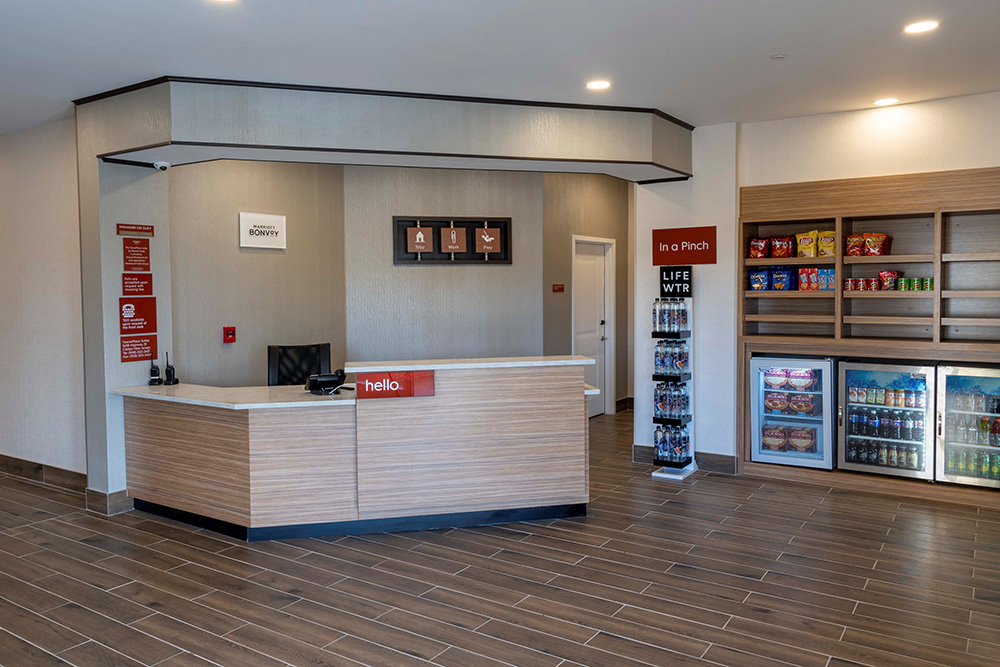 Antoni Café Porcelain Wood-Look Tile in Hotel Concierge Areas
For a timeless and versatile option, our porcelain and ceramic tile collection provides an extensive selection of styles, colors, and sizes to suit every design aesthetic. From sleek and modern to classic and traditional, our tiles are crafted to withstand heavy use and maintain their beauty for years. The exceptional durability and water-resistant properties make these tiles an excellent choice for hotel enteryways, bathrooms, spa areas, and dining spaces.
The added ZeroSlip™ technology, offered on many of our porcelain tile options, makes these tiles a perfect choice for hotel spaces where safety and durability are paramount. This technology enhances the tiles' slip resistance, minimizing the risk of accidents in high-traffic areas, such as hotel bathrooms, spa zones, and dining rooms. Guests can enjoy their stay with peace of mind, knowing the flooring is stunning and safe.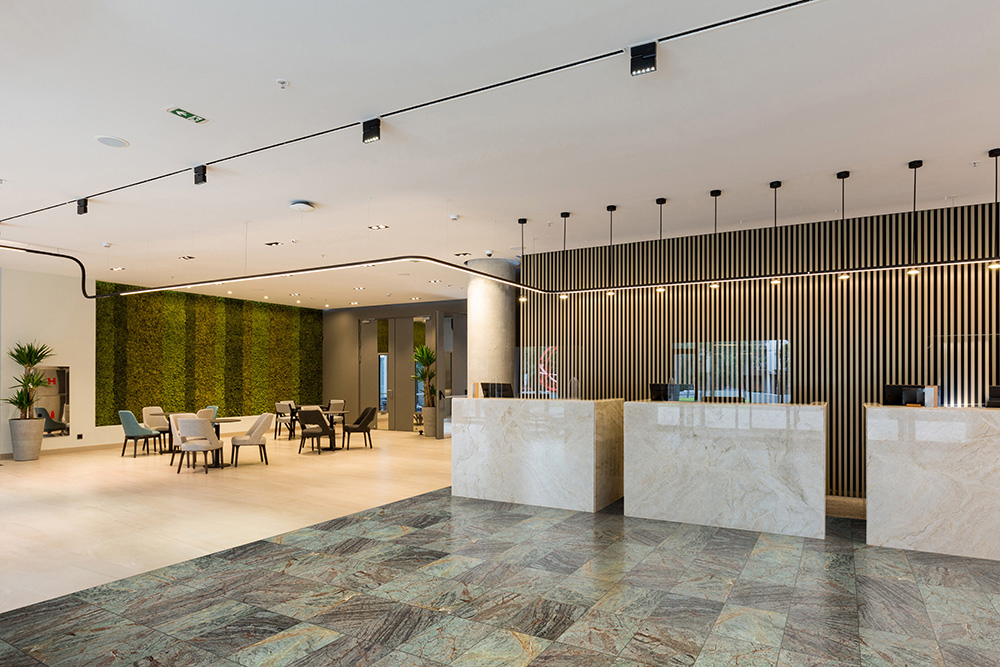 Rain Forest Marble Tile in Hotel Lobbies
If you desire natural beauty and opulence, our natural stone collections offer an exquisite selection of granite, marble, slate, and travertine. These natural stones infuse unmatched luxury into your hotel's ambiance while providing long-lasting performance. Whether it's an elegant hotel lobby or a serene outdoor patio, our natural stone elevates the overall design and creates a captivating environment for your guests.
With our Everlife® Luxury Vinyl Flooring, Porcelain & Ceramic Tile, and Natural Stone Floor tile offerings, you can rest assure your hotel's flooring will exude elegance, durability, and timeless beauty, creating a welcoming and inviting atmosphere that leaves a lasting impression on your guests.
COUNTERTOPS & VANITY TOPS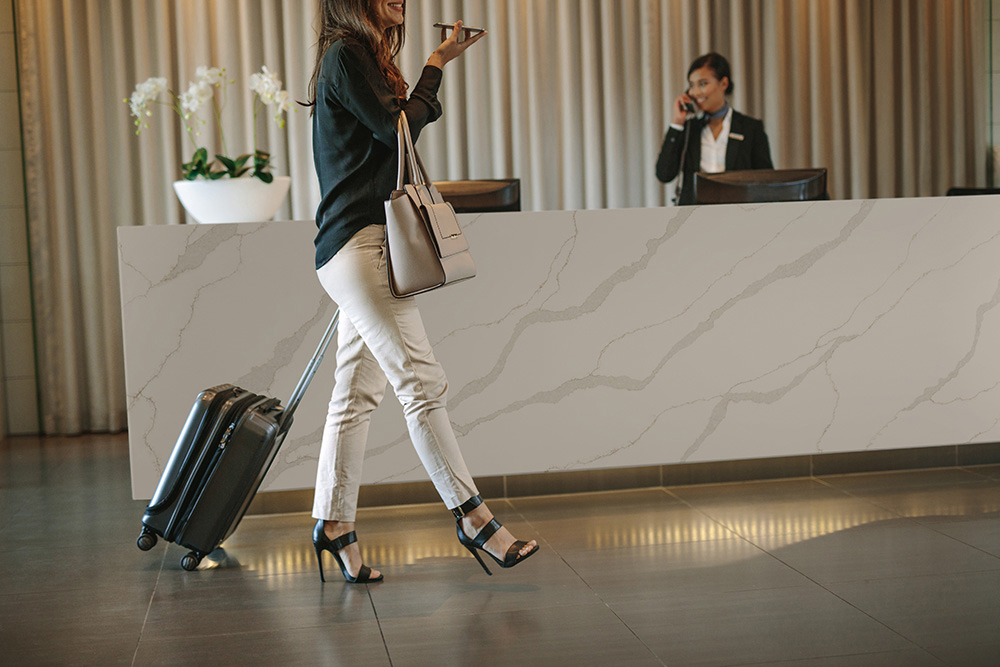 Calacatta Idillio™ Quartz in Hotel Lobby
With countertops, we understand the significance of making a lasting impression in hotel spaces. Our wide selection of stunning materials, including granite, quartz, marble, and quartzite, allows you to choose the perfect countertop design to complement your hotel's unique ambiance. From luxurious and classic styles to modern and chic, our countertops create captivating focal points.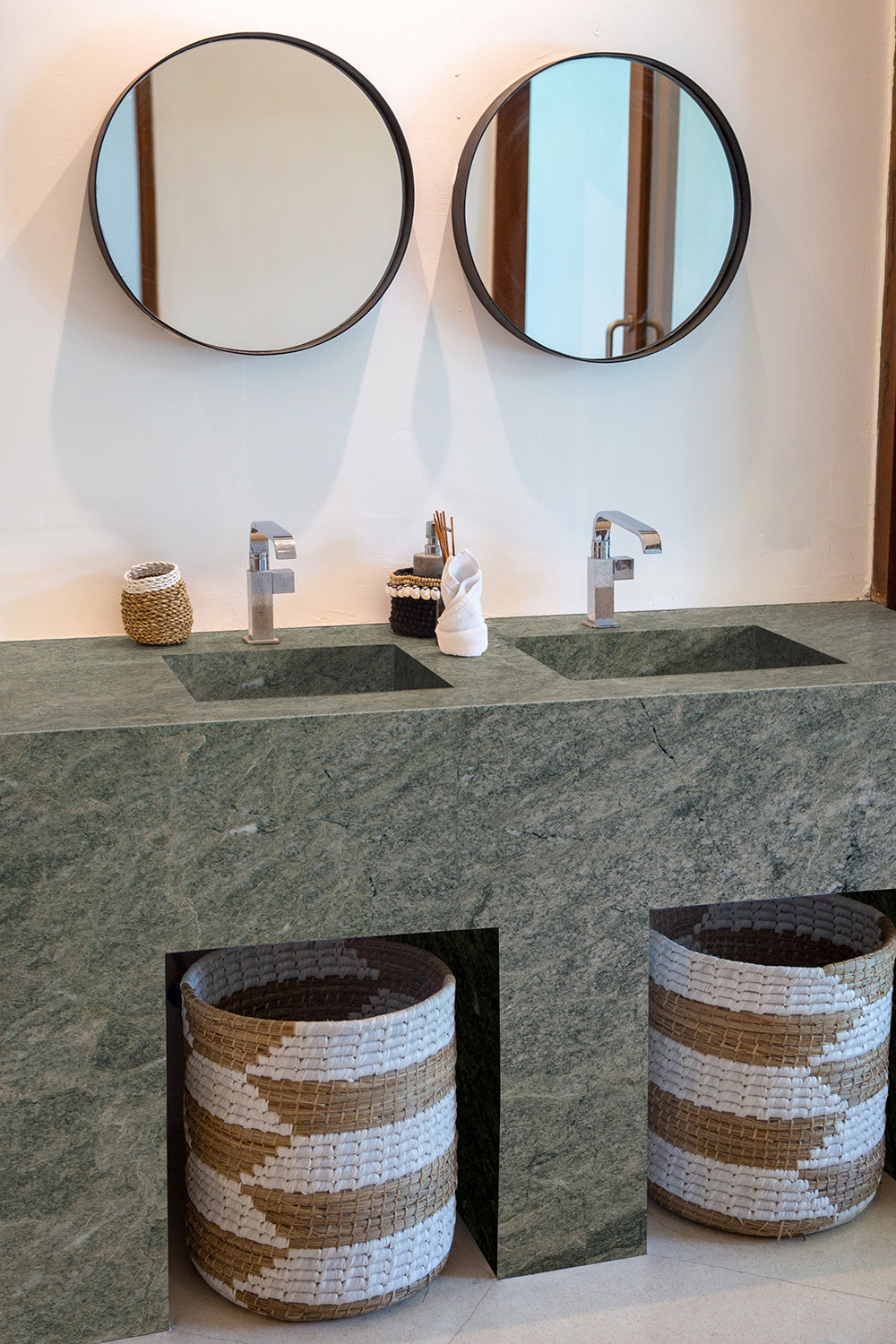 Costa Esmeralda Granite Countertop in Hotel Bathroom
For guest room and bathroom renovations, our vanity tops offer the perfect blend of functionality and aesthetics. With our many colors, patterns, and finishes, you can easily customize vanities to match your desired interior theme. These durable and easy-to-maintain surfaces ensure your hotel bathroom countertops remain stylish and elegant while withstanding the demands of daily use.
Whether you are creating an inviting lobby, a cozy cafe, or luxurious guest rooms and bathrooms, our countertop offerings are crafted to elevate the ambiance of your hotel, impress your guests, and enhance their overall experience.
BACKSPLASH & WALL TILE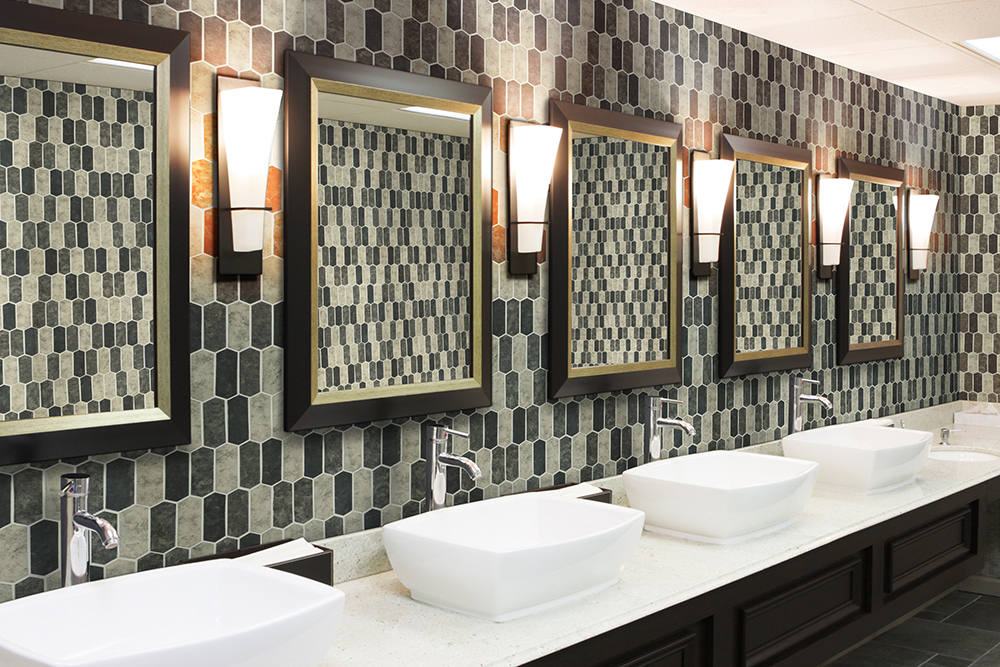 Urban Tapestry Picket Glass Tile in Hotel Bathrooms
As a one-stop source for backsplash and wall tiles in hotel construction and remodeling projects, we offer an extensive selection of materials, including natural stone, glass, brick, and wood look tiles. Whether the goal is to achieve a rustic charm, contemporary elegance, or a sleek modern vibe, we have the perfect tile options to meet every design preference. For those seeking a distinctive touch, we offer 3D and stacked stone tiles, adding depth and texture to any space.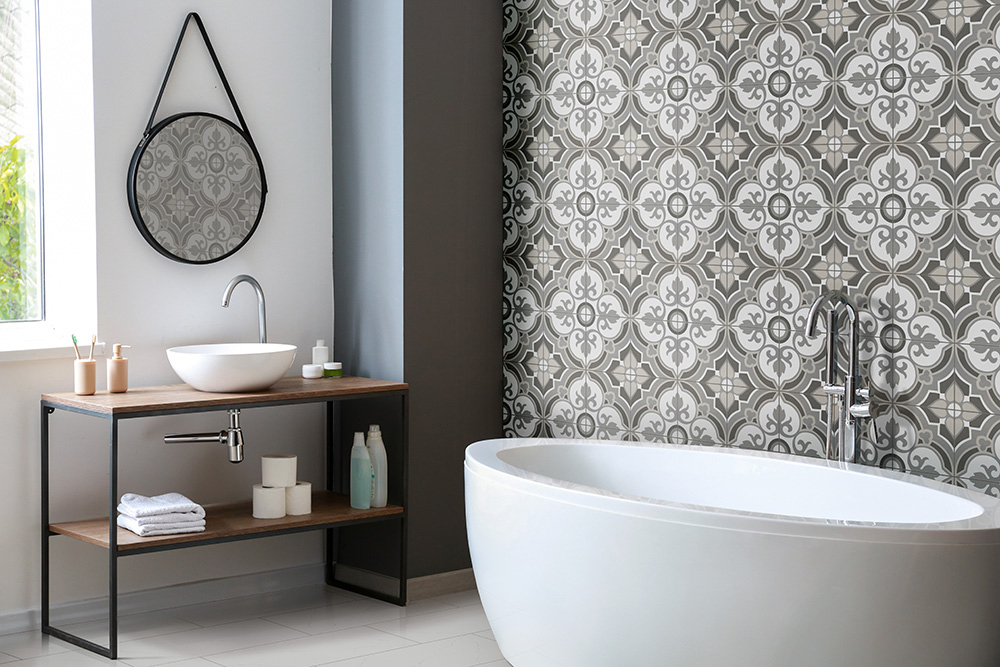 Kenzzi Matarka Encaustic Tile in Hotel Bathrooms
Hotel developers and owners can explore styles and patterns, from timeless classics like subway tiles to intricate geometrics, encaustic looks, and various specialty shapes. With our vast selection, they can effortlessly blend creativity with practicality, creating unique and stunning installations that exude luxury and sophistication.
Additionally, MSI's team of experts provides invaluable assistance in selecting the ideal tiles, ensuring they harmonize with the overall design vision. From initial consultation to final installation, our commitment to excellence and customer satisfaction makes us the go-to partner for transforming hotel spaces into captivating works of art.
SHOWER SURROUNDS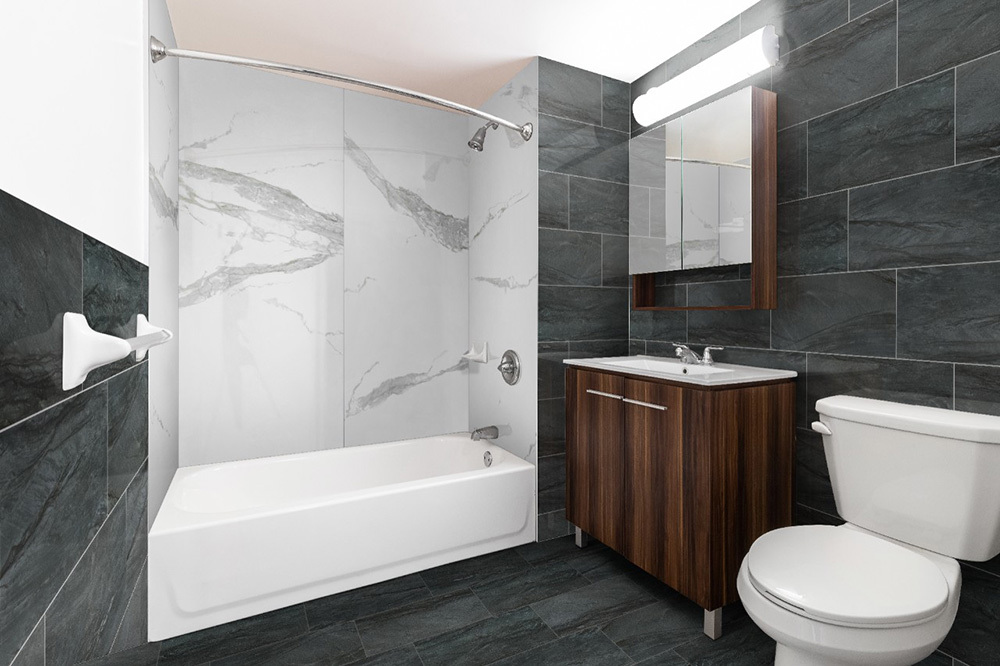 Glacier Statuary Porcelain Shower Panels in Hotel Bathrooms
As part of our extensive range of bathroom upgrade solutions, we also offer an unparalleled and vast collection of tub and shower surrounds. With various materials, including quartz, Venetian marble, and porcelain panel sets, we cater to the diverse design needs of hoteliers. The quartz surrounds exude luxury with their natural beauty and durability, while the Venetian marble sets lend a timeless elegance that elevates any bathroom space. For a blend of functionality and aesthetic appeal, the porcelain panel sets are an excellent choice for shower walls, offering easy maintenance and a wide range of design options. With an exceptional product range and professional support, hotels can transform their bathrooms into captivating and inviting retreats.
PAVERS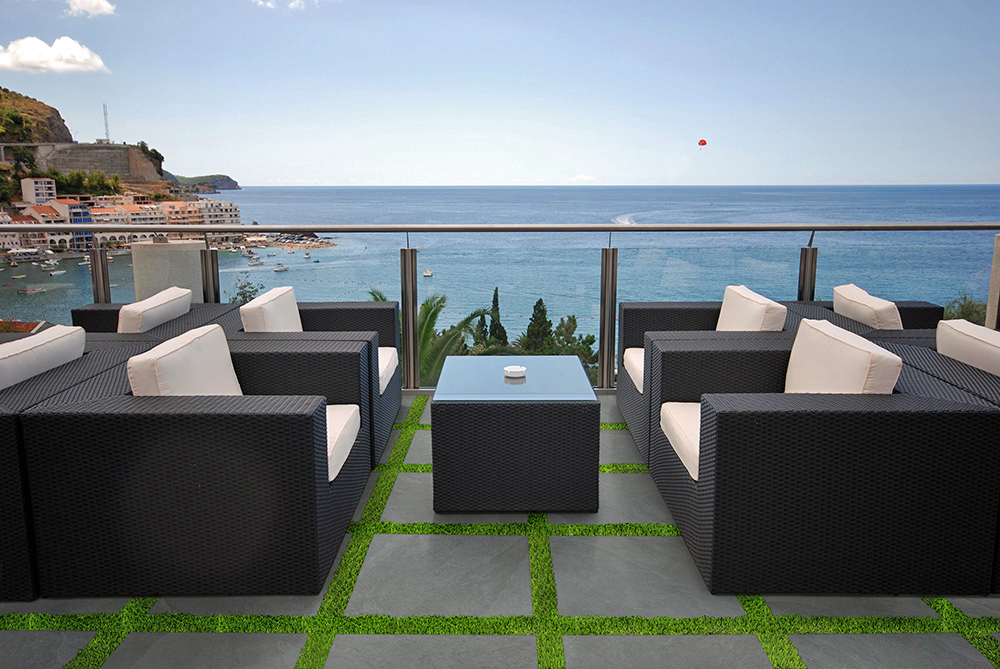 Legions Midnight Montage Arterra Pavers on Hotel Patios
As a leading provider of hotel surfacing solutions, we offer an extensive range of porcelain and natural stone pavers that cater to hotel interior and exterior projects. With our commitment to excellence, hotel developers and owners can find a wide selection of high-quality pavers suitable for various applications.
Our Arterra® Porcelain Pavers, featuring innovative ZeroSlip™ technology, exemplify the commitment to cutting-edge surface options. These pavers are specifically designed to provide optimal safety and slip resistance, making them the perfect choice for various outdoor applications in hotel environments. With ZeroSlip™ technology, guests can confidently navigate pool decks, patios, walkways, and other outdoor spaces without slipping or accidents. Beyond their exceptional safety features, Arterra® Porcelain Pavers boast stunning aesthetics, replicating the natural beauty of stone while offering porcelain's enhanced durability and low-maintenance benefits. These pavers elevate the visual appeal of hotel exteriors and ensure guests can enjoy their outdoor experiences with peace of mind.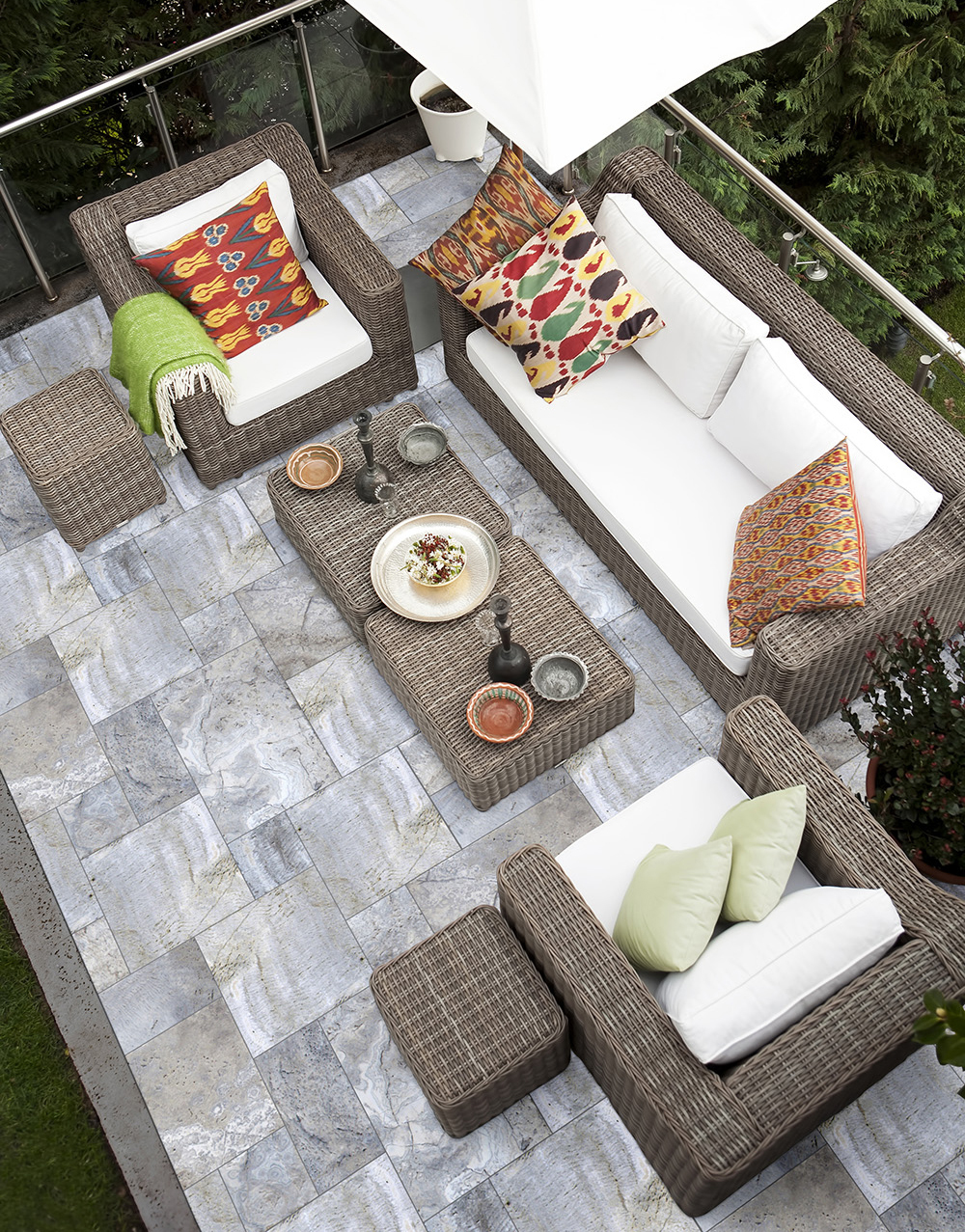 Silver Travertine Natural Stone Pavers on Hotel Patios
Our Natural Stone Pavers collection exemplifies our dedication to providing high-quality surfacing materials for many outdoor projects. With an impressive selection that includes travertine, granite, slate, quartzite, marble, and limestone, these pavers offer a timeless and elegant appeal to hotel exteriors. Each natural stone is carefully sourced and crafted to ensure durability and aesthetic beauty. They come in various sizes, colors, and finishes, allowing the flexibility to create customized and visually stunning outdoor spaces. Their inherent durability and unique patterns make them the perfect choice for transforming hotel gardens, pathways, terraces, and other exterior areas into captivating and inviting retreats.
With a profound commitment to excellence, our portfolio of porcelain and natural stone pavers redefines the possibilities for hotel interior and exterior projects alike and empowers hoteliers to curate spaces of unparalleled allure and enduring quality.
VENTILATED FACADES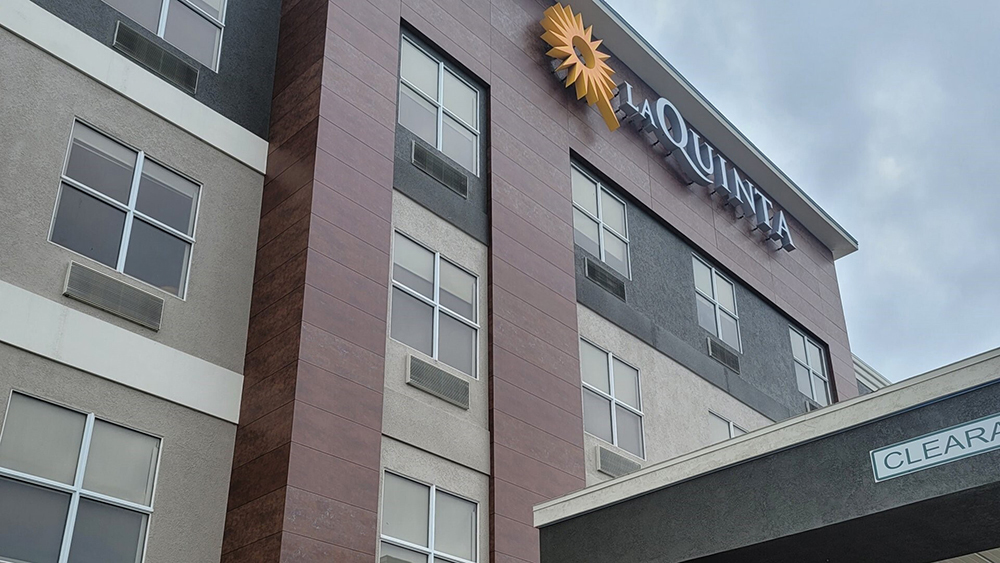 Ventilated Facade on Hotel Exterior
We take hotel construction to the next level by offering state-of-the-art ventilated facades that enhance the functionality and aesthetics of building exteriors. Available in a comprehensive range of materials, from porcelain to natural stone, they are perfectly suited for any hotel project. These innovative facades improve energy efficiency by creating an air gap between the building's exterior and the cladding and add sophistication and modernity to the hotel's architectural design. The versatility of our ventilated facades allows hotel developers to create striking exteriors that stand out in urban landscapes while providing enhanced protection against weather elements. By partnering with us for ventilated facades, hotels will achieve superior insulation and ventilation, creating elevated appearance.
In addition to our premium countertops, flooring, and pavers, we offer versatile solutions, including shower doors, tubs, vanity tops, and other accessories. These will add elegance to your projects, ensuring a cohesive and sophisticated look for your hotel spaces.
With a commitment to quality and exceptional service, we can turn your vision into reality, creating an unforgettable hospitality experience that will leave your guests delighted and eager to return. Explore all we offer by chatting with us online, visiting your nearest MSI showroom, or contacting a local MSI authorized dealer for more information. Together, we will build spaces that inspire, impress, and set the standard for excellence in the hospitality industry.
Learn More About Luxury Vinyl Flooring Countertops
HOTEL BATHROOMS: DESIGNER OPTIONS FOR FLOORING, COUNTERTOPS, AND SHOWER SURROUNDS
SILENCING THE NOISE: OVERCOMING THE CHALLENGE OF GUEST COMFORT WITH HOTEL FLOORING
AFFORDABLE HOTEL FLOORING AND BATHROOM COUNTERTOP UPGRADE IDEAS