Hotel Bathrooms: Designer Options For Flooring, Countertops, And Shower Surrounds
July 15, 2023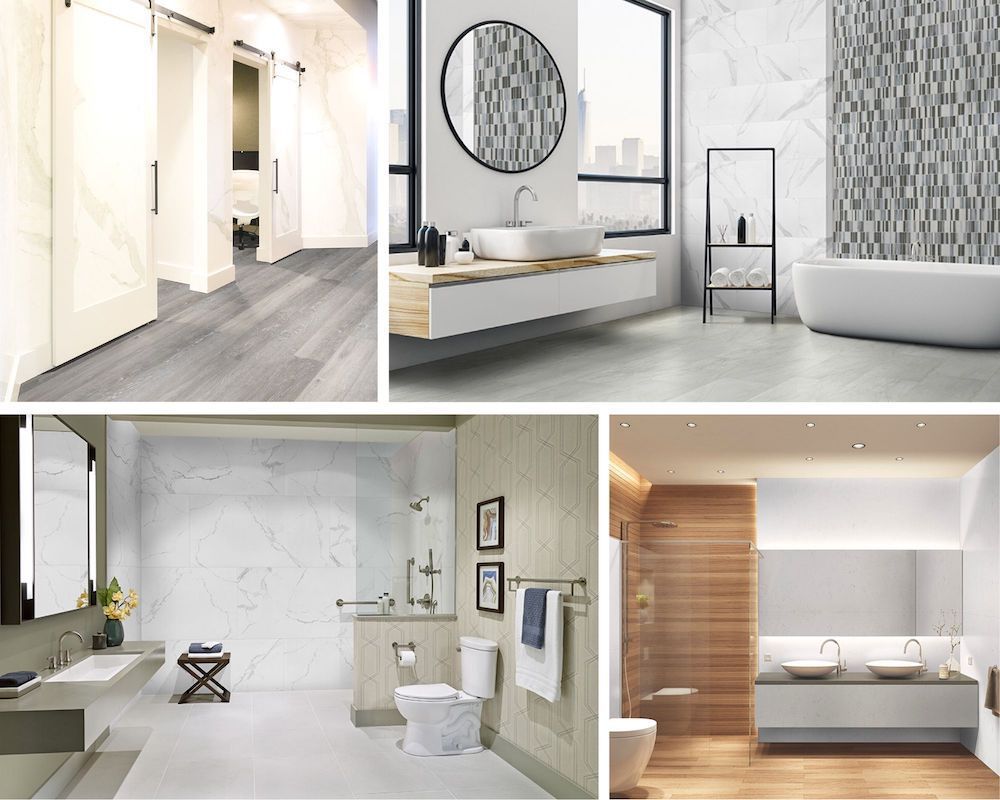 Hotel bathrooms play a crucial role in creating a positive and luxurious guest experience. Surfaces such as hotel flooring, vanity countertops, and shower surrounds are essential design components for making these bathrooms feel like home. The chosen design elements should be durable, easy to maintain, and aesthetically pleasing for the best results.

Let's explore the benefits of different material options, such as luxury vinyl flooring, porcelain tile and panels, and quartz countertops, as well as their potential applications for hotel bathrooms.
Luxury Vinyl Planks on Hotel Bathroom Floors
When it comes to flooring, luxury vinyl planks (LVP) stand out as an excellent option due to their strength and attractiveness. Our exclusive LVP flooring offers a combination of durability, waterproof and moisture-resistant properties, and stunning wood-like designs. With industry-leading warranties, these flooring options are perfect for high-traffic areas.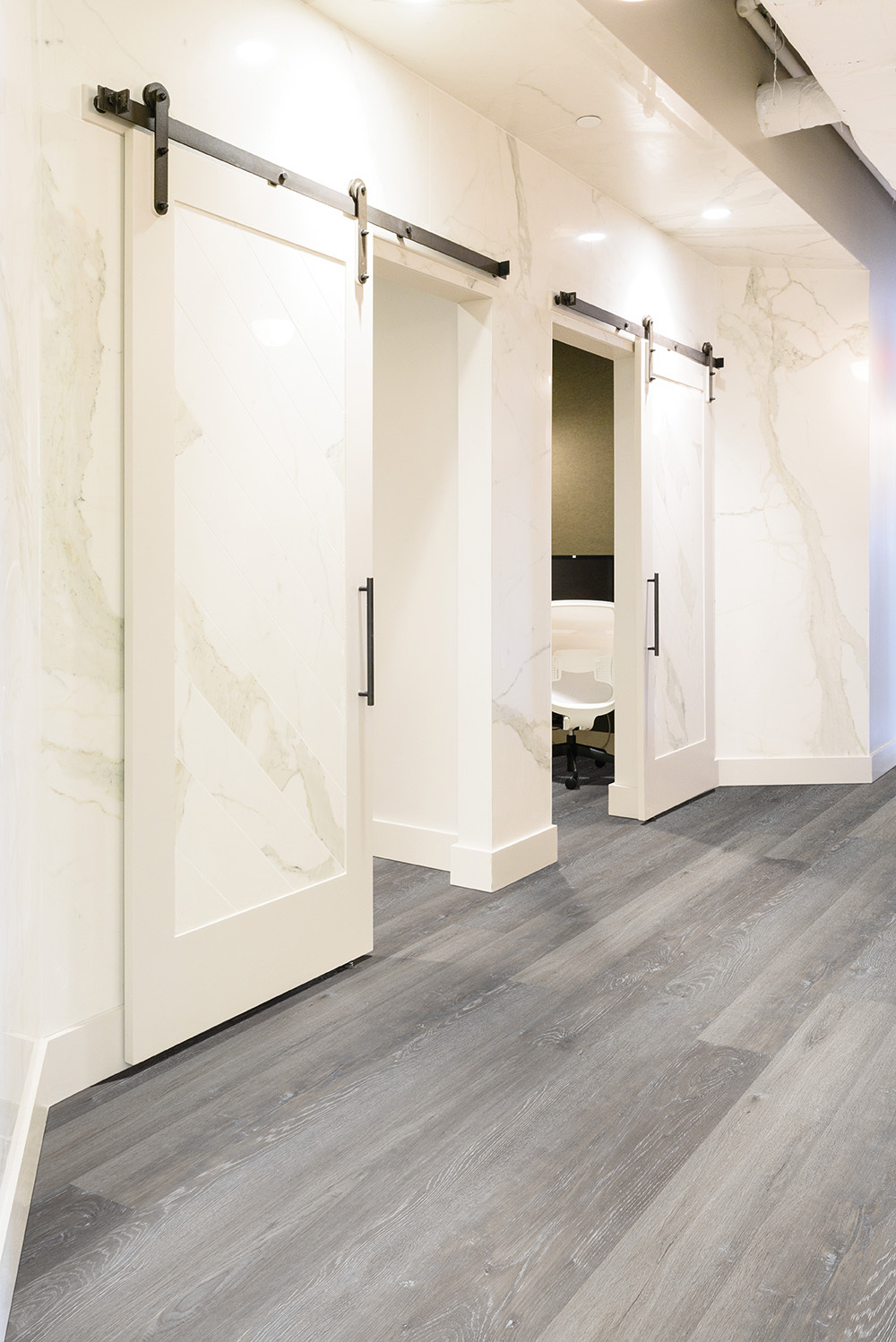 Elmwood Ash® Luxury Vinyl Planks
One great LVP option is Elmwood Ash® luxury vinyl planks from the Wilmont Collection, which feature beautiful gray shades and subtle blues with knots and grains to provide an authentic wood appearance. This luxury vinyl flooring is low maintenance, with a durable 20mil CrystaLux™ protection layer, offering superior defense against scratches, stains, scuffs, and UV light. This versatile flooring is also easy to install with its flexible DryBack glue-down installation.
Porcelain Tile on Hotel Bathroom Floors
Porcelain is a type of ceramic material that is fired at high temperatures to achieve a dense, hard, and translucent finish. This floor tile is a top choice for bathrooms because of its ability to resist damage from moisture, making it a practical and long-lasting option. With its beauty and ability to withstand the demands of everyday use, porcelain tile is an excellent investment.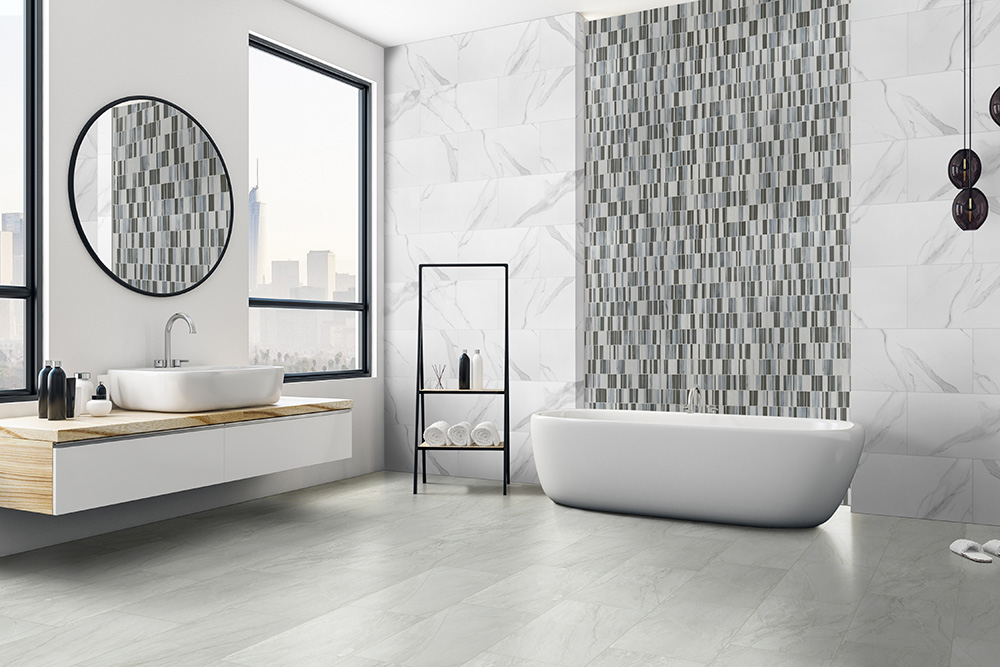 Durban Grey Porcelain Tile
Durban Grey porcelain tile offers a sophisticated soft gray and charcoal marble look. This low-maintenance tile is water and mildew resistant, making it perfect for areas exposed to moisture. Its lasting quality makes it an excellent option for standing up to the wear and tear of bathroom usage. With various sizes available, this porcelain offers unlimited design options, adding a touch of elegance to any hotel bathroom.
Porcelain Slab Hotel Shower Surrounds
Porcelain slabs are rapidly gaining popularity as shower surrounds, providing the highly desired appearance of marble without the cost or maintenance. Our porcelain panels are available in various stunning colors and designs.They offer a versatile and practical solution for bathroom upgrades. It is lightweight, easy to install, and offers the beauty of natural stone.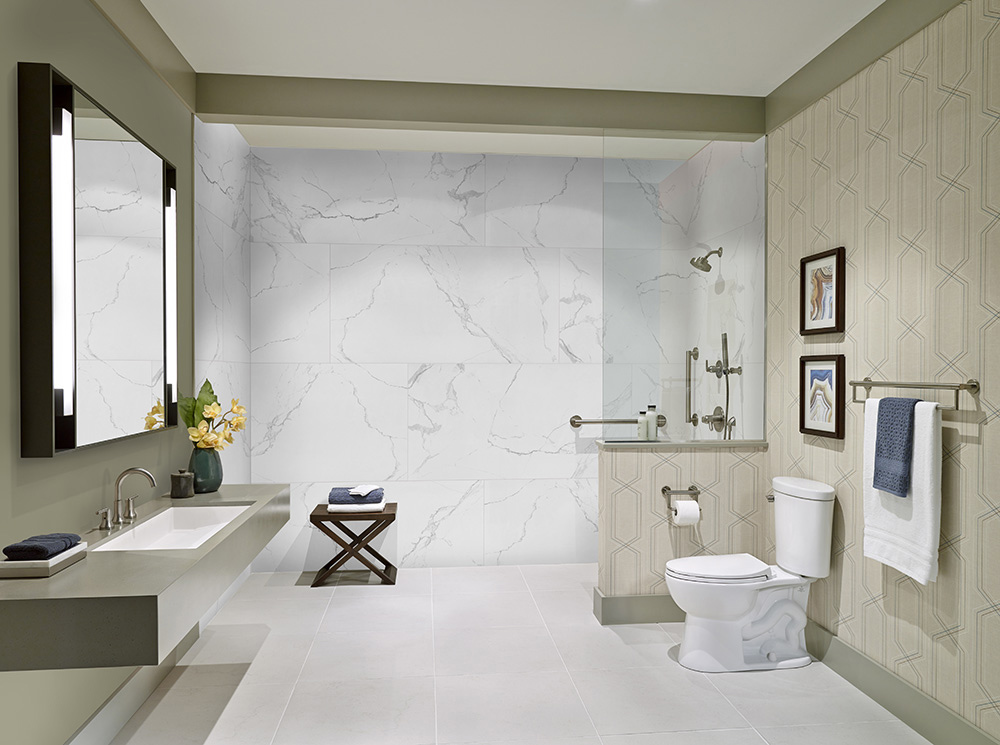 Glacier Pearl Porcelain Panels
Our Glacier Pearl 4-piece porcelain panel set provides a bright and luxurious aesthetic with its white background and subtle gray veining. The panel set has exceptional water, scratch, and stain resistance, and its polished finish provides the desired marble appearance while being both durable and affordable.
Quartz for Hotel Vanity Tops
Our Q Premium Natural ™ Quartz can complement any bathroom design with a wide variety of trendy colors and styles. These countertops offer exceptional performance with superior scratch, heat, chip, and stain resistance. Q Premium Natural Quartz is made of natural and manufactured materials, resulting in a non-porous surface that does not require sealing or reconditioning. It is also easy to clean and maintain, minimizing the need for harsh chemicals.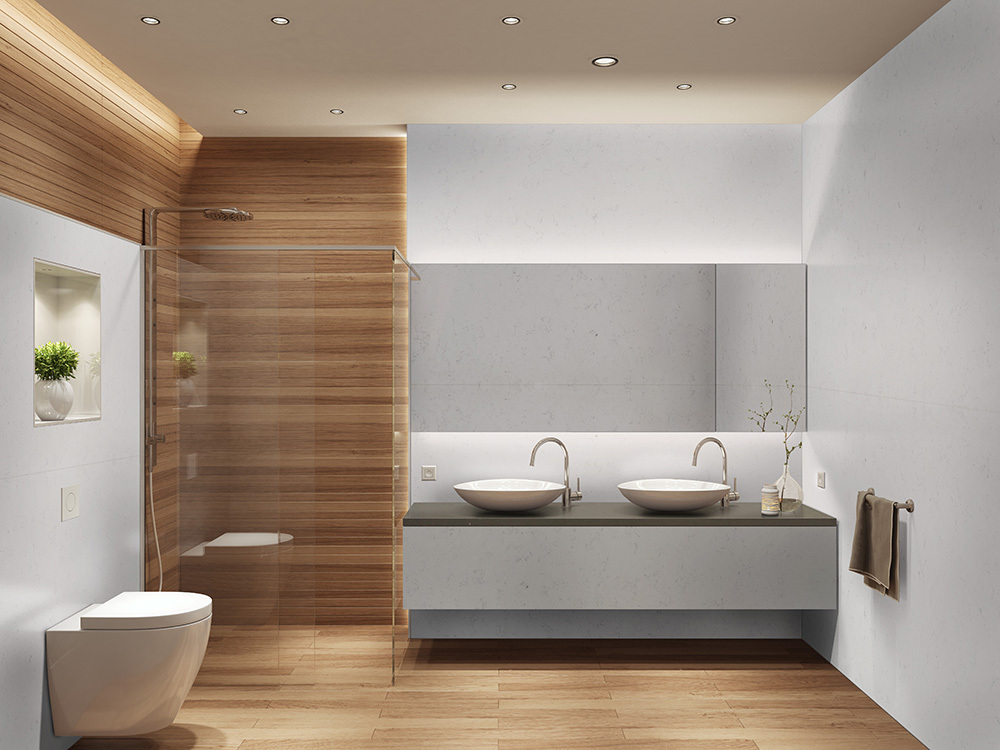 Carrara Morro® Quartz
Carrara Morro® quartz is an excellent choice for hotel bathroom vanity tops and walls. This subdued, creamy white quartz, with its understated elegance, adds a touch of timeless sophistication to any bathroom.
By selecting the appropriate materials, hoteliers can create bathrooms that exude luxury, withstand heavy usage, and leave a lasting impression on their guests. Whether you're looking for the warmth of luxury vinyl flooring, the elegance of porcelain tile, the durability and longevity of porcelain slabs, or the beauty of quartz countertops, we have a wide variety of options to meet your needs.
Our team of experts is ready to assist in choosing the perfect materials to meet your design and aesthetic preferences, budget, and performance requirements. Chat with us online, visit one of our showrooms, or contact an MSI authorized dealer to elevate your hotel bathrooms to new heights of style and functionality.
LEARN MORE ABOUT LUXURY VINYL FLOORING
HOTEL FLOORING GUIDE: WHAT IS THE BEST FLOORING FOR HOTELS?
HOTEL FLOORING AND DESIGN TRENDS FOR 2022 AND BEYOND!
THE BEST HOTEL FLOORING OPTIONS FOR YOUR GUEST ROOMS
AFFORDABLE HOTEL FLOORING AND BATHROOM COUNTERTOP UPGRADE IDEAS