Hotel Flooring Guide: What Is The Best Flooring For Hotels?
September 26, 2022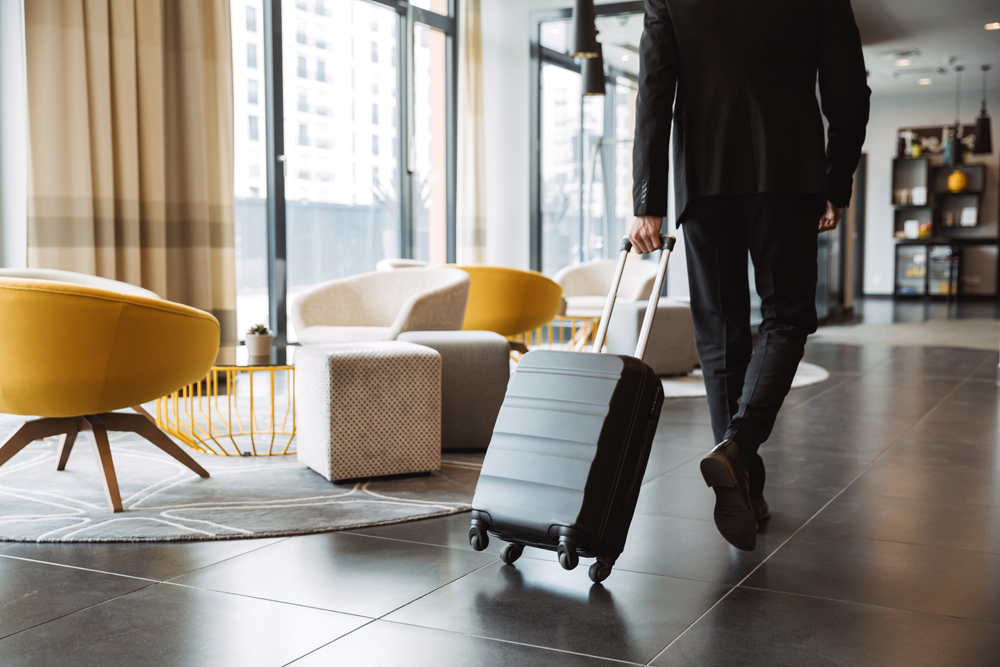 Selecting the right hotel flooring is an essential undertaking. First, of course, you want to choose premium flooring that showcases the elegance of your hotel, is affordable, and is easy to maintain. Even more importantly, though, you want to ensure the flooring is as safe as possible for the safety of your guests.
This article will explore the best flooring for your hotel's entry, lobby, reception area, hotel hallways, hotel rooms, bathrooms, showers, and exteriors. We will look at examples for each and examine their slip resistance and coefficient of friction.
COEFFICIENT OF FRICTION
ANSI A137.1:2022 is a benchmark standard for flooring that gives specifiers and consumers helpful information about the performance of tile products in commercial and residential areas. The standard recommends that tile flooring products have a DCOF of 0.42 or greater for use in a level interior space intended to be walked upon when wet.
When we speak to a flooring's dynamic coefficient of friction (DCOF), we are talking about the specific scientific measurement that reveals the amount of friction on wet, level flooring when walked on. Our porcelain tiles fitted with our proprietary ZeroSlip™ technology exceed the dynamic coefficient of friction of a number of the most sought-after tiles available today and surpass the industry standard
These slip-resistant ratings inform decision makers which is the right tile for each location. When selecting the ideal premium flooring for your hotel, these measurements should play a significant role. For this reason, we've highlighted every product's DCOFs and slip resistance in this article (when available).
ENTRY, LOBBY, RECEPTION
The lobby is usually the first thing potential customers will see upon entering your establishment, so the flooring should make a good impression. The best solution is to opt for durable, elegant floors that can be enjoyed for years to come.
Antoni Café Porcelain Wood Tile delivers the soothing look of authentic hardwood in an easier-to-maintain, more durable porcelain wood look tile. It has understated coffee tones, realistic knots and graining, and a DCOF > 0.42 rating.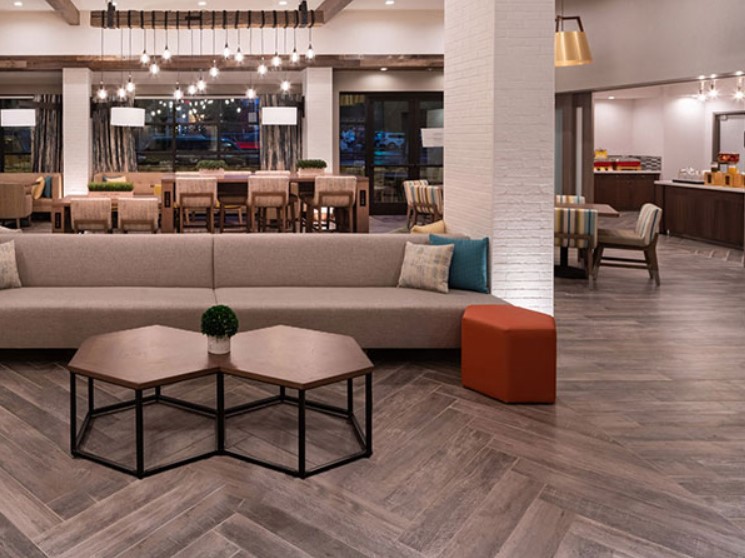 Praia Carrara is a slip-resistant porcelain tile perfect for your hotel lobby. Its DCOF is > 0.42 for the matte version. This tile provides the look of luxurious white marble, soft gray veins included. It is available in various sizes, from 2x2 to large format 24x48 tiles.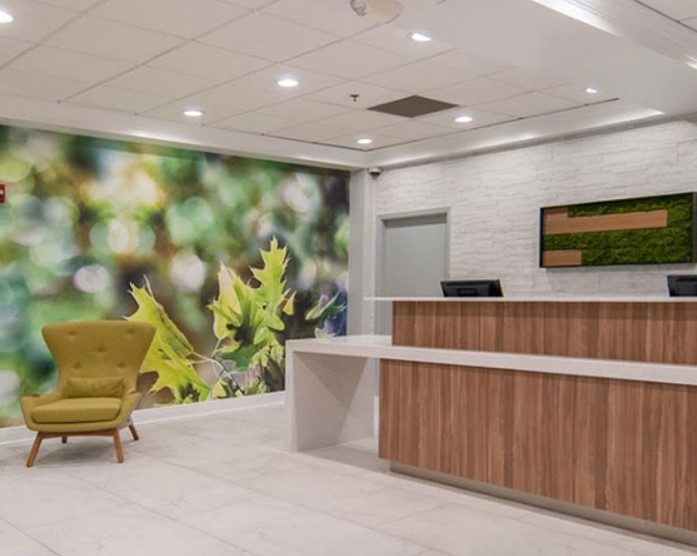 Wood-look luxury vinyl planks and marble-look luxury vinyl tiles are also captivating choices for this and other areas of your hotel. There are numerous reasons for this. Luxury vinyl flooring is a breeze to install and uninstall. It captures the look of natural wood and authentic marble so effectively that it's challenging to differentiate the two.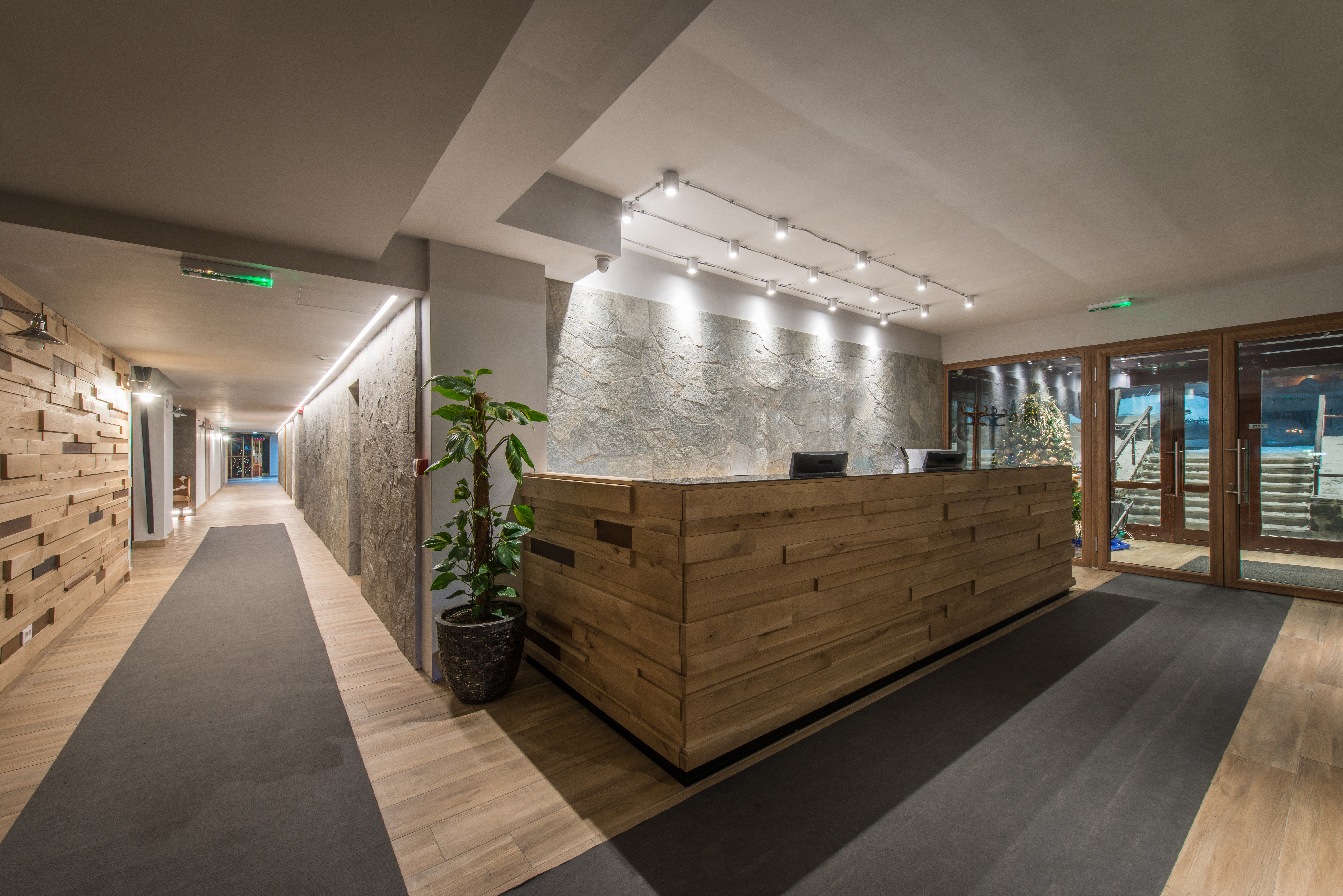 Luxury vinyl flooring is water resistant, highly durable, more cost effective than real wood flooring, and doesn't require ongoing maintenance.
GUEST ROOMS
When your guests check into their room, for the length of their stay, that room is Homebase. So, to keep your guests satisfied and talking about your wonderful establishment when they return home, incorporate one of these premier floorings into your design or renovation plans.
Katella Ash Luxury Vinyl Plank flooring belongs to our Everlife Rigid Core Luxury Vinyl Planks Collection. The flooring is waterproof, durable, easy to maintain, and features an easy-install locking system. These luxury vinyl planks use soft gray tones and authentic-looking knots and graining to deliver a real wood look that will keep your guests feeling welcome and cozy. In addition, these planks are dent, scratch, and stain resistant. For additional comfort underfoot, they come equipped with pre-attached backing. This backing also serves as a sound dampener.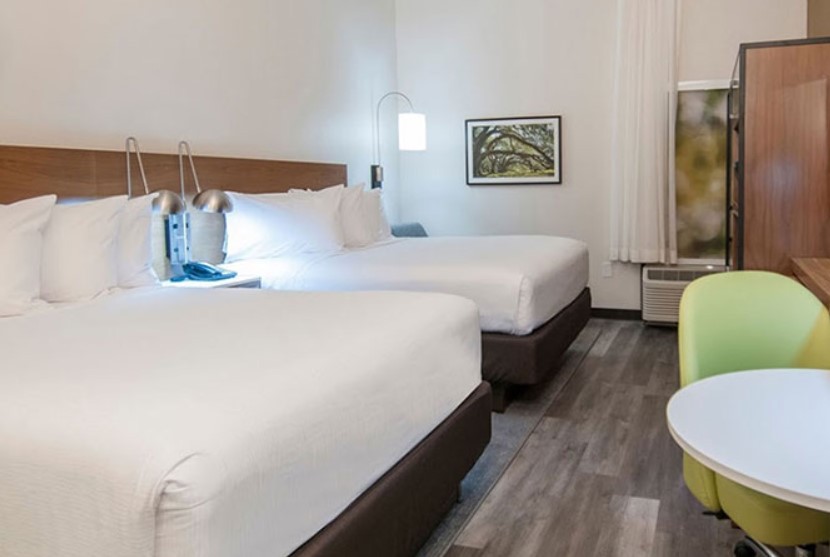 You also can't miss when you opt for porcelain tile flooring for your guest rooms. Whether it's a wood look, marble look, or fabric look, porcelain tile recreates luxurious surfaces in a more durable, easy-to-maintain, and affordable package. Due to porcelain's durability, the tile is hard and dense and will resist chipping, wear, scratching, and cracking. This one is a winning choice for high-traffic hotels.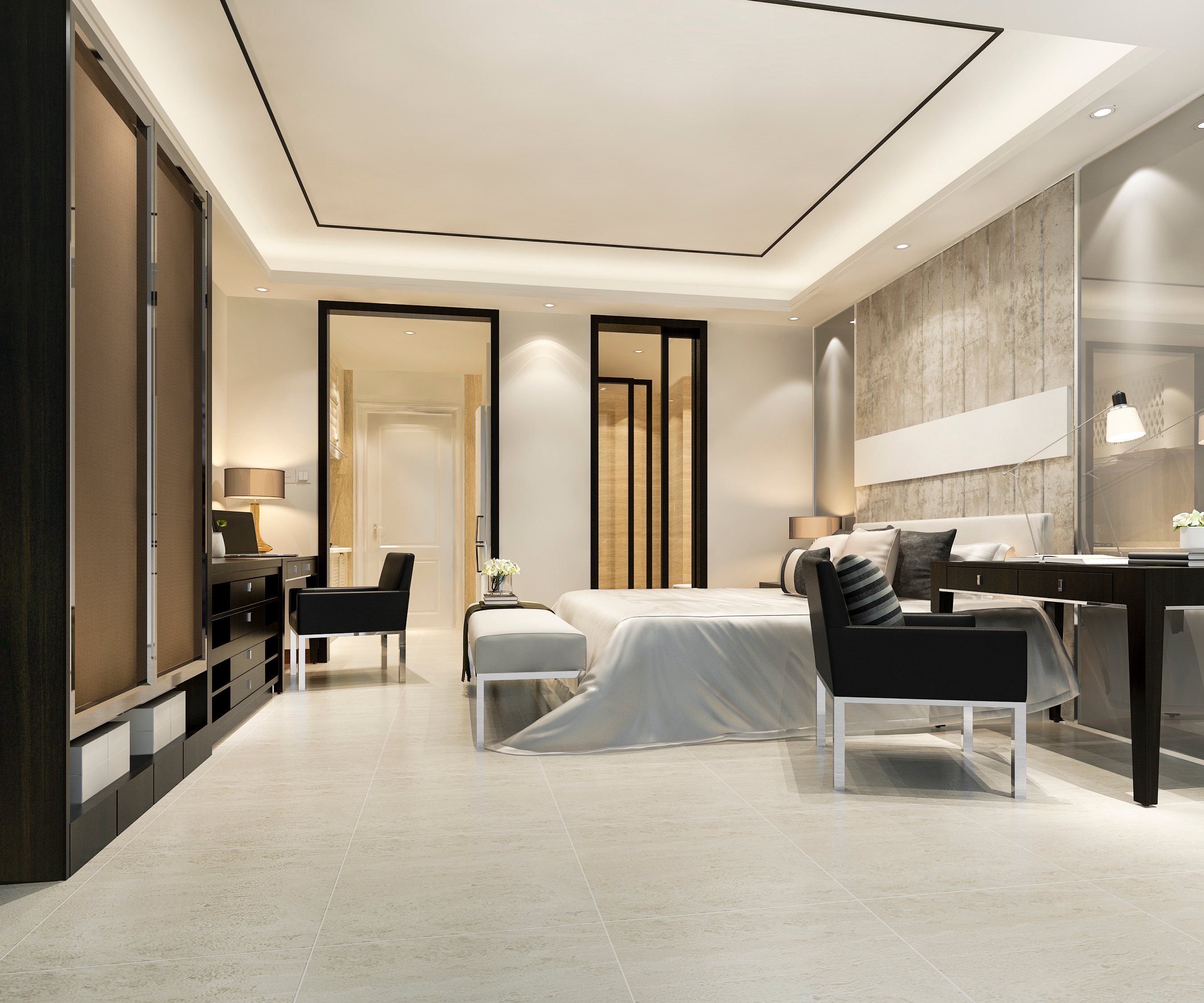 Porcelain tiles are 100% waterproof, making them an exceptional choice for bathrooms, kitchens, and hotel room spills. A benefit of waterproof tile is its resistance to staining. In addition, since porcelain is non-porous, you don't need to worry about harboring mildew, germs, or mold.
BATHROOMS
Your bathrooms are a great place to highlight the beauty of your establishment while helping keep your guests safe at the same time.
Pietra Calacatta Porcelain Tile is a cream and white porcelain with darkened veins consisting of browns and gray. This tile comes equipped with our ZeroSlip™ technology, which will give you peace of mind that your guests remain safe while using the bathroom. Additionally, with this technology, you no longer have to worry about guests getting in and out of the shower or bath.
The DCOF of this hypnotic tile is > 0.42 wet for the matte version.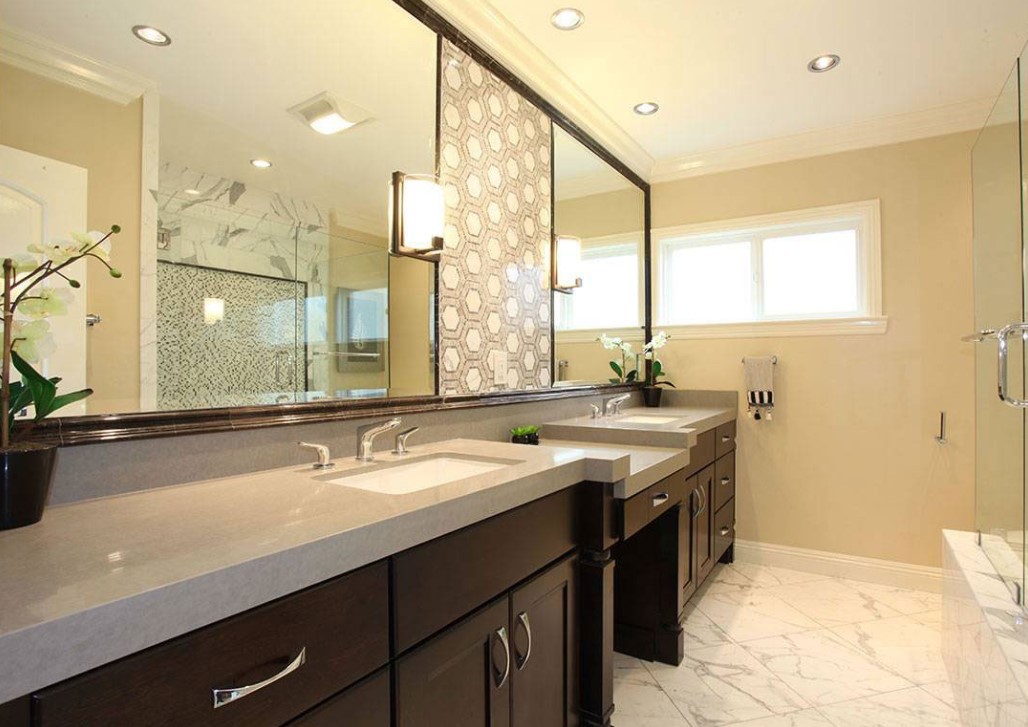 Note the use of Pietra Calacatta Porcelain tiles in this hotel bathroom. The bright shade of the porcelain tile against the darker elements and the creative use of mirrors makes this bathroom appear much larger than in reality.
Another premier flooring equipped with our ZeroSlip™ technology is the breathtaking Veneto White Porcelain Tile. This tile has the look of sophisticated vein-cut travertine. Its modern feel lends a natural sense of grace to any area, especially bathrooms. Veneto White is a fine choice for your establishment, with beiges and lavish creams that create a tile like no other. Available in 6x24 planks, 12x24 and 16x32 Large format tiles, and bullnose tiles, you'll find everything you need to make your guests' bathrooms an awe-inspiring scene.
This tile's matte version has a DCOF > 0.42 wet.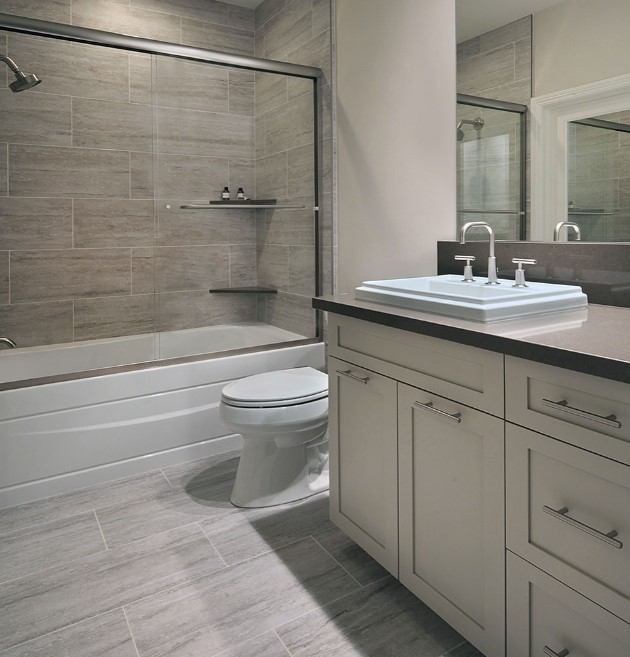 Blume Encaustic Tile pairs stunning creams with neutral browns in an attractive graphic pattern. Each slip-resistant tile is handcrafted to recreate the intricate detail of individually hand-painted tiles. Highly gorgeous and highly on trend, the tiles are easy to clean, durable, and require no ongoing maintenance from surfaces like authentic marble or natural hardwood. These tiles are perfect for active commercial spaces like your fine hotel.
This Blume Encaustic Tile has a DCOF > 0.42 wet.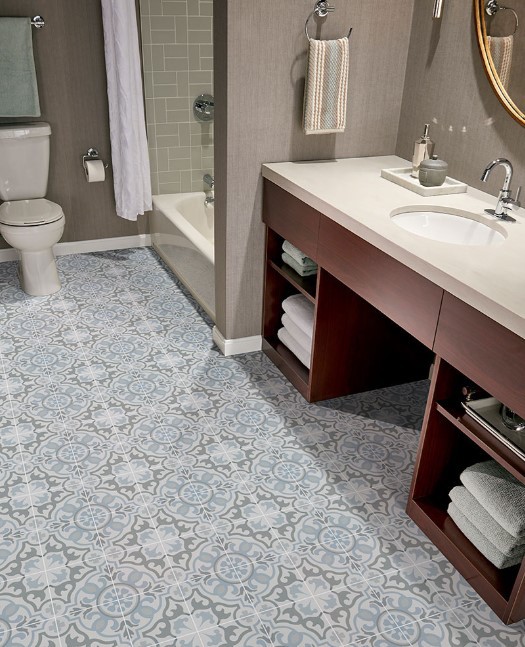 SHOWERS
You'll want to be especially careful when choosing tile for your hotel showers. The last thing you need is for guests to slip and hurt themselves. That's why selecting MSI slip-resistant or zero-slip products is vital, so you can spend less time worrying about the safety of your guests and more time ensuring their stay is one they will never forget.
Eden Statuary Porcelain Tiles deliver a natural stone look in an easy-to-clean, durable, extremely low-maintenance porcelain tile. These irresistible tiles come in several trendy large format sizes ideal for showers. Select a polished or matte finish and relax as you wait for your guests' compliments to pour in.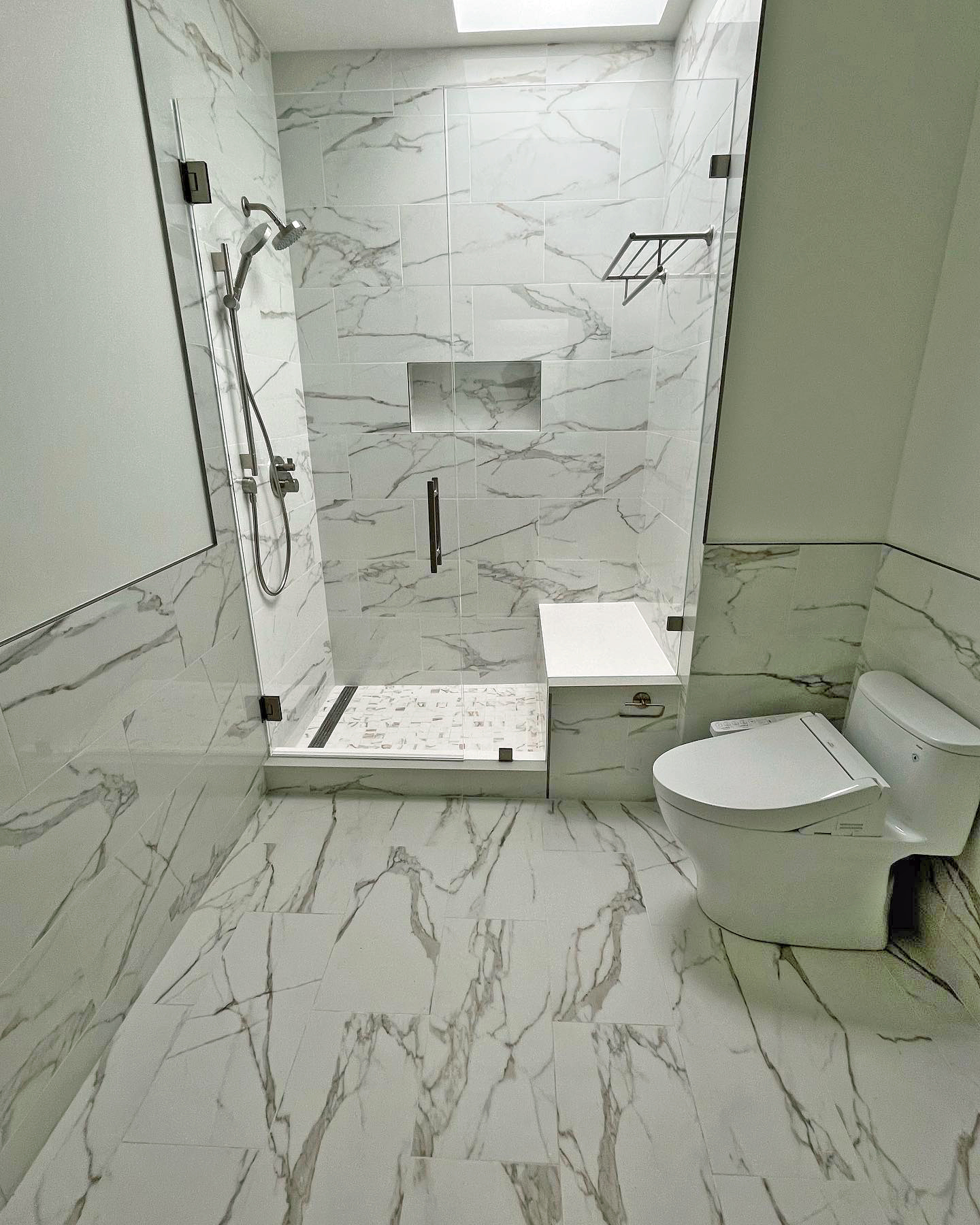 In this bathroom scene above, we see a seamless transition with these gorgeous tiles from accent walls to the shower flooring, to the shower surround. The uniform look is outstanding. Smaller shower floor tiles are a good choice as they are less slippery.
Eden Statuary has a DCOF > 0.42 for the matte finish.
With our zero slip Dimensions Concrete Porcelain Tile, a precise installation is easy thanks to the tile being mounted on a 36-count sheet. Using a mix of browns to create a subtle, neutral color scheme, this tile has a refined texture adding a nice visual interest. Dimension tiles like these are ideal for use on flooring and walls.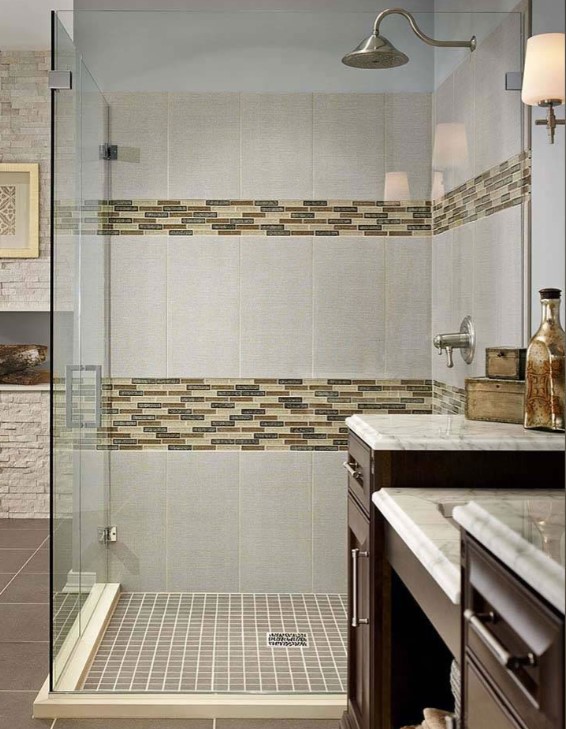 EXTERIORS
The look of the exterior of your hotel is as important, if not more important than the interior. The front exterior may be the most critical part of your hotel as it's not only the first thing your guests see but the entire neighborhood and anyone who passes by your establishment. So, the tiles you use must be built to impress and made to last.
The Kasbah Encaustic Tile from the MSI Kenzzi Collection Showcases a black background with a bold and beautiful white floral print out front. Each tile's design comes handcrafted. This re-creates the incredible detail of hand-painted tiles. These beautiful, slip-resistant tiles require no maintenance, are easy to clean, extremely durable, and are perfect for busy hotels. You can use them for backsplashes, countertops, floors, showers, and more. Kasbah Encaustic Tile has a DCOF > 0.42 wet.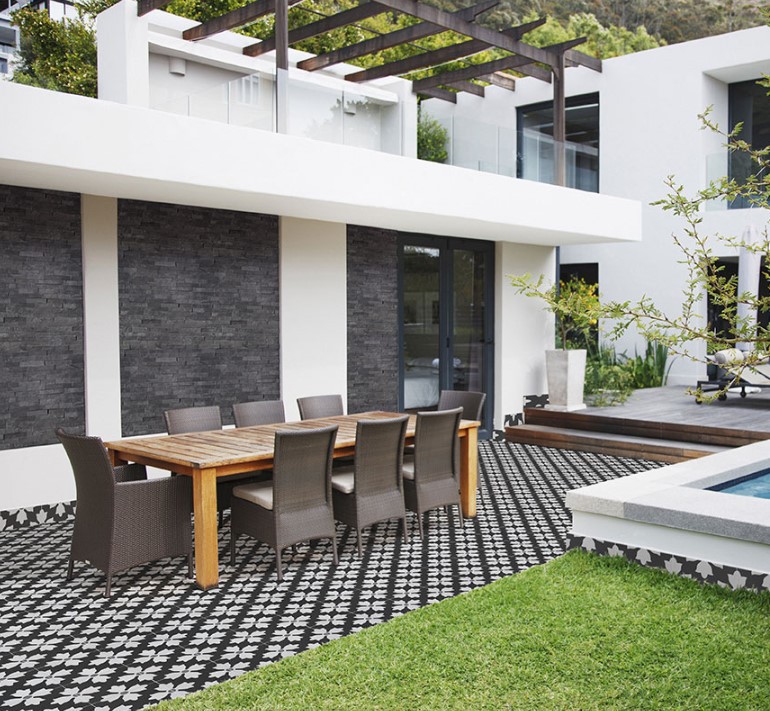 Another acceptable option from the Kenzzi Collection is our slip-resistant Azila Porcelain Tile. This gorgeous tile features a white backdrop accented by a gray and black floral print with hints of geometric influences. Like the Kasbah Encaustic Tile, each tile is handcrafted, re-creating intricate details of hand-painted tiles. They require no maintenance, are easy to clean, and are highly durable. Ideal for active hotels, these could be the exact exterior tiles you seek for a fresh new look.
Azila Porcelain Tile has a DCOF > 0.42 wet.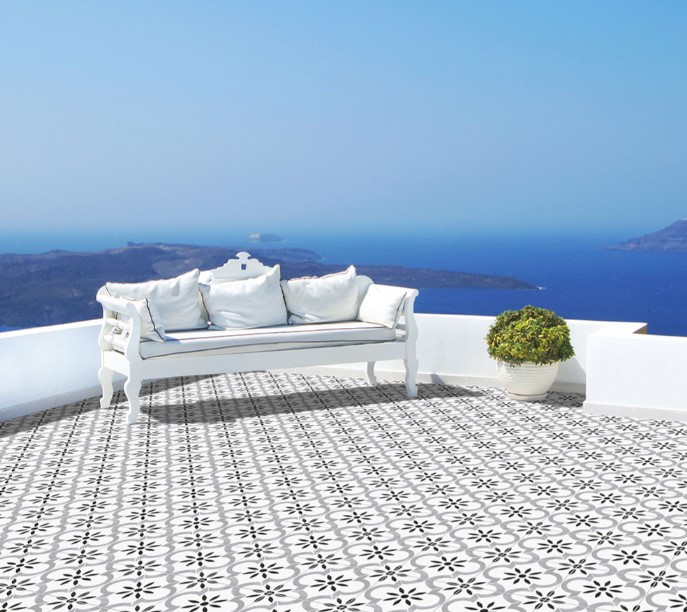 In a competitive market like the hotel industry, you want to give your guests the best impression possible. This is why hotel owners invest in premium flooring for their hotel's entry, lobby, reception area, hallways, rooms, bathrooms, showers, and exteriors. Choosing brand-name products will ensure you get the most comfortable luxury you can afford!
MSI's extensive selection of premium vinyl plank flooring, luxury vinyl tile floors, porcelain tile, and Hybrid Rigid Core flooring has helped hundreds of the world's best hotels to upgrade their guest rooms and public areas.
If you have any questions about these floorings or our other products, don't hesitate to get in touch with us by phone, online, or visit one of our many showrooms. Our team of experts is ready to assist you in selecting products that will make your hotel look as stunning as possible.
Also, you can contact us in real time using our MSI website chat feature. Using this feature, we can answer any questions and provide additional information about our products. Locating the chat feature is easy—look to the bottom right of your screen on any page on the MSI website. Then, click the circle, and a chat box will pop up with a friendly agent ready to assist you.