Mosaic Monday: Color Crush
April 11, 2016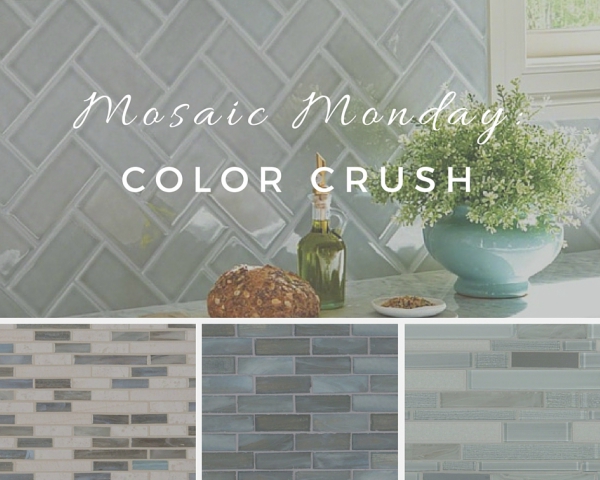 Wall tile mosaics are perfect for creating an epic design statement and the backsplash in the kitchen or bath are the perfect canvas to do it. Whether glass, ceramic, stone, metal or a mixture, the lovely little tiles are available in wonderful colorful choices to uniquely fit in, while also making a huge impact declaration to the furnishings. The shapes of the tiles range from simple squares and bricks patterns to intricate interlocking patterns of several petite sized tiles that add an artistic touch to backsplashes.
Morning Fog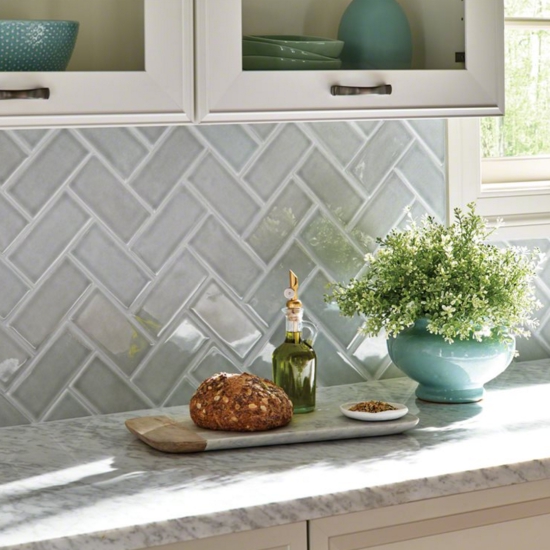 Featured: Morning Fog
Morning Fog certainly shouts as a wall tile ready to make a statement. The handcrafted glazed ceramic tile, in a lovely shaded light gray color, comes in a choice of three designs. The 3-by-6 brick design fits neatly into traditional décor or in a herringbone pattern for a contemporary look. Add sleekness using the trimmer 4-by-12 size brick patterned tiles in a transitional or contemporary décor. Morning Fog in the Ogee Pattern will add softness with its curves and will look lovely in all styles of décor. With the tonal effects in this wonderful gray color, the mosaic tile fits perfectly with an array of colorful granite, marble, and quartz countertop choices or keep it monochromatic chic blended with a gray toned countertop.
Oceano Brick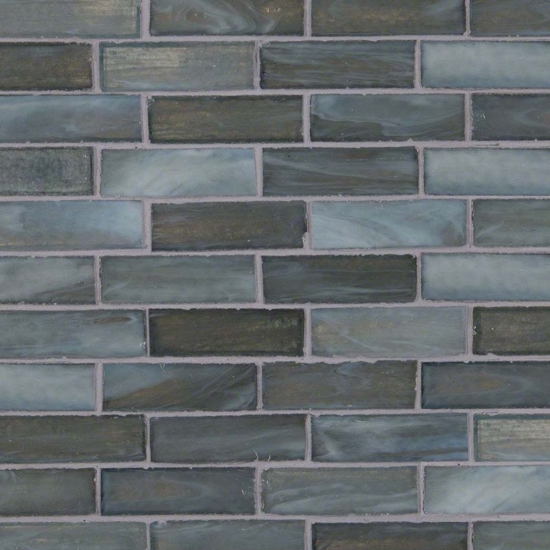 Featured: Oceano Brick
Like the ebb and flow of the ocean creating beautiful shades of blues, so does the Oceano Brick stained-glass tile. This lovely tile is featured in a running brick pattern that will look beautiful dressing a backsplash. With tonal shades of blues and grays, use Oceano atop a quartz stone countertop in a complementing color for a stunning cool décor statement. This lovely mosaic will add a sea of beauty to a backsplash matched with both natural wood cabinets and painted cabinets from traditional to contemporary styles.
Kaledo Blend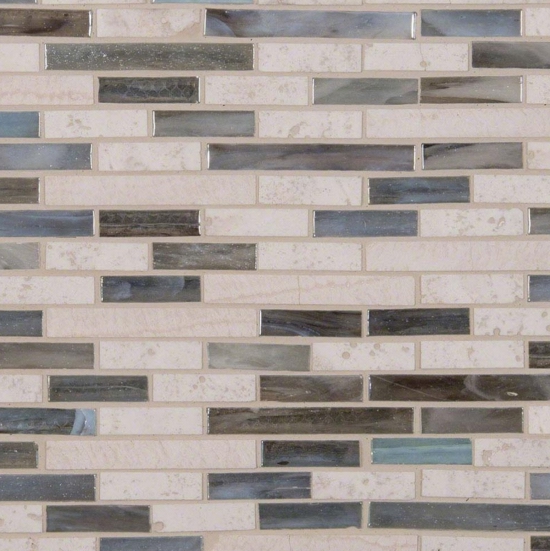 Featured: Kaledo
Kaledo will certainly make a huge design statement as backsplash tile. Like a kaleidoscope, Kaledo shouts with spurts of color. The interlocking mosaics come in staggered varying lengths of thin beige colored natural stone tiles mixed with glass tiles that make a colorful exclamation in shades of soft grays, beiges, and blues. Match this tile on a backsplash with a beige neutral colored stone countertop. Add some additional décor thrills by using Kaledo as a border on the floor to complement the backsplash statement.
Mochachino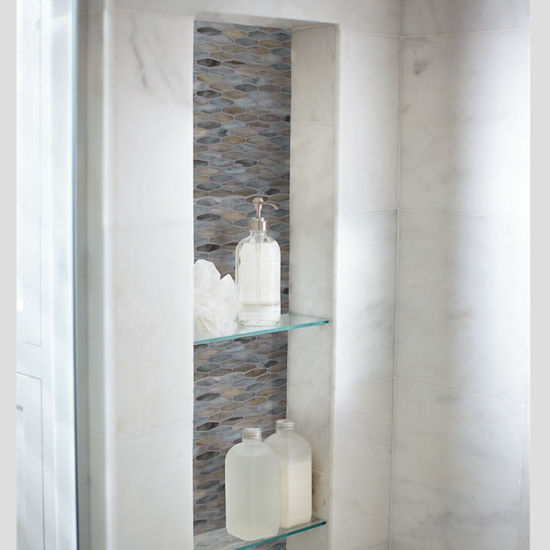 Featured: Mochachino
The sleek beauty of Mochachino glass mosaic tiles adds a fashionable appeal to walls that makes a decor statement. Colors of gray, browns and warm golds create a depth to the elongated hexagon-shaped stained glass tiles. Run this pattern horizontally on the backsplash for a spark of a stylish modern look with a complimenting countertop. It's the perfect mosaic to use running vertically on the back wall of an accent niche in the bathroom as well.
Krystal Interlocking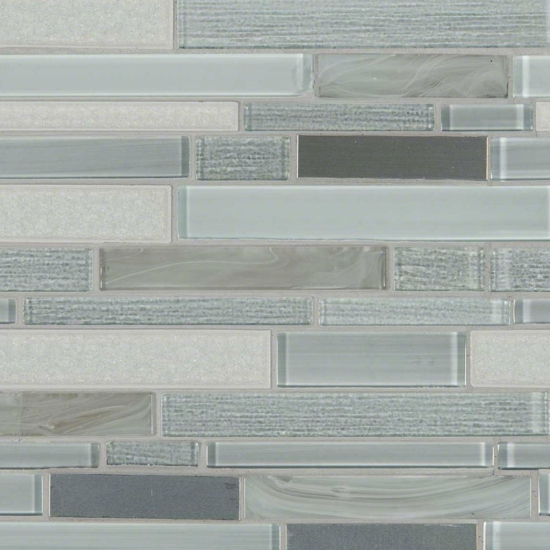 Featured: Krystal Interlocking
Mix the colors of natural glass with the material of cool metal and you'll get the beauty of Krystal Interlocking wall tile. The mosaic pattern of varying lengths and heights of tile creates a wonderful appeal for a calming décor effect. Use the Krystal Interlocking to dress up a backsplash sitting upon a gray stone countertop that will let the wall tile pop. Or keep the calm flowing using a stone countertop in a neutral shade to match the soft colored glass of the mosaics. Keep with the décor appeal of crystal waters with cabinetry in a driftwood shade.
Paradise Bay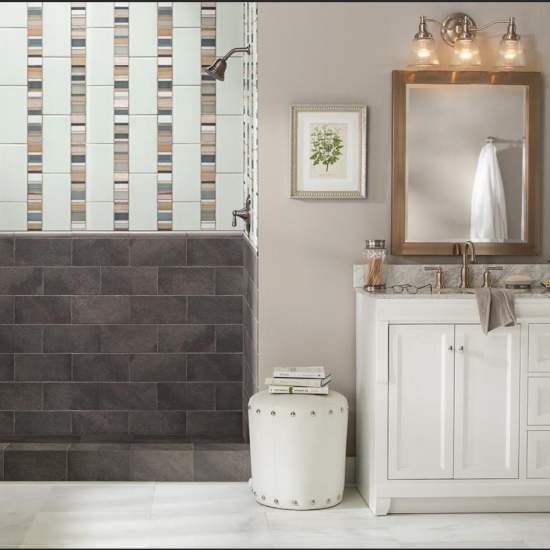 Featured: Paradise Bay
A combination of natural stone tiles with elegant glass in a colorful mix of warm and cold tones creates Paradise Bay. These graphic mosaic tiles offer interest with horizontal rows of different sized vertical tile. Paradise Bay will make a powerful statement as a backsplash and look beautifully sitting on top of a granite countertop that picks up the beautiful colors in the mosaic pattern. Add a special design touch by mixing Paradise Bay mosaic tiles on the wall vertically, alternating with larger neutral colored ground tiles.
By adding distinctive mosaic tile designs to a kitchen backsplash or an accent wall, it's possible to make an extraordinary statement. Mosaic tiles can add just enough color to bring an exceptional punch to décor. Have fun creating your mosaic backsplash with a design of colorful tiled art that is all your own.