Popular
Encaustic Tile: Pattern That Packs A Punch
May 18, 2017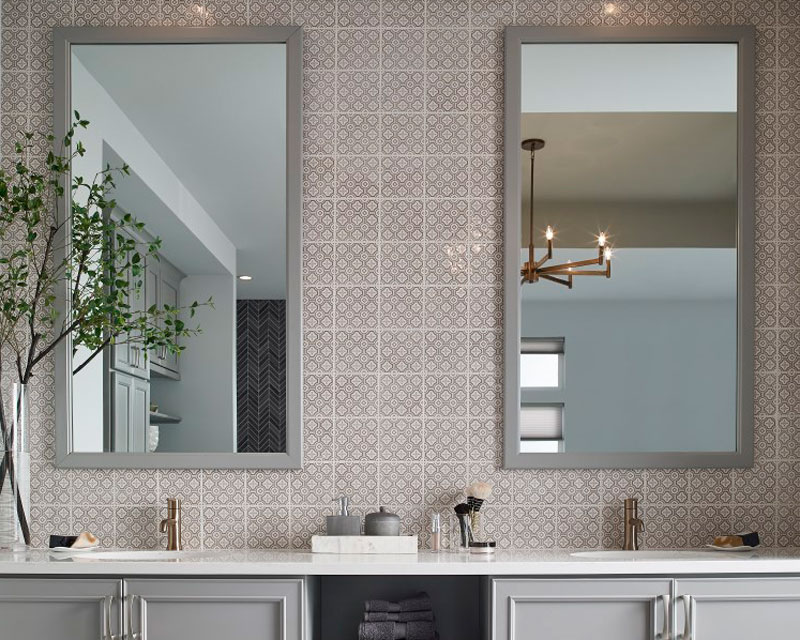 From the floors of 12th-century European monasteries to the walls of Mediterranean villas to the foyers and fireplaces of Victorian homes, encaustic tiles enjoy an iconic place in design history. Given our cultural affection for making what's old new again, it's little surprise that these patterned beauties are in the throes of a renaissance. Popping up in homes, restaurants, spas, terraces, and hotels everywhere today, we love how effortlessly they transform spaces with their old world charm, nostalgic appeal, and new-school character.
The term encaustic is derived from an ancient Greek word that means to heat or burn. Originally, encaustic tiles were created from through-body pigmented clay (two or more colors set with heat)—but today the term is more widely used to reference patterns—geometric, floral, symbols, etc.—than the actual materials used.

We recently introduced our own version of the trendsetter, so you can instantly take your rooms from ho-hum to high-fashion. From stylized flowers to mod geometrics, the Kenzzi Collection pairs the low-maintenance durability of glazed porcelain tile with the versatility of six fresh patterns, along with two ceramic wall tile designs with a glossy finish.

And since we're all about spaces that feel curated, our design team is serving up their favorite tips on how to mix and match Kenzzi on your walls, floors, and backsplash or mingle them in with subway tiles to achieve a one-of-a-kind look.
Pattern Play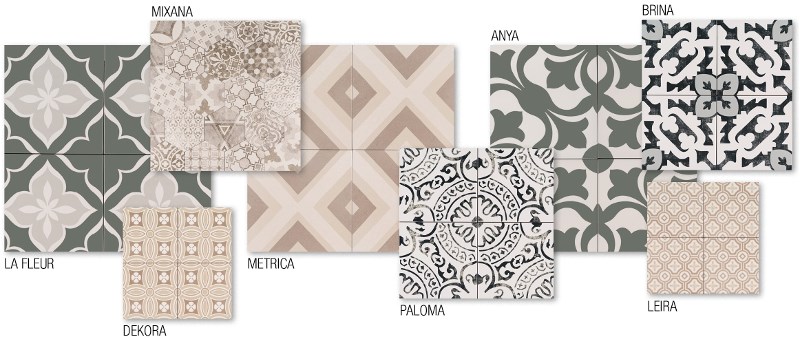 Meet La Fleur, Dekora, Mixana, Metrica, Paloma, Anya, Brina & Leira.
Whether you're looking for an intricate design in your bathroom or a simple pattern in the kitchen, the Kenzzi Collection aesthetic is fresh, modern, and clean. The 8" x 8" tile lineup features an ultra chic palette, and a wide range of designs, from the simple triangles in Metrica to the intricate graphics of Paloma to the flower homage in La Fleur. Complementing ceramic wall tiles, in glossy 5.2" squares, include the globally-inspired flourishes of Kenzzi Dekora and Kenzzi Leira.
Break the Monochromatic Mold

Black and white patterned tile anchors this white bathroom with a classically chic graphic punch.
(Photo credit: Pinterest)
We love the way encaustic tile transforms a monochromatic space with an infusion of color and pattern – especially when it's paired with the classic simplicity of Domino Subway tile. Introducing a patterned tile floor in a one-tone room dials up the drama and character. Don't want to commit to something bold? Use a patterned tile like Paloma or Mixana as a border around a room or in your shower surround.
Mix it Up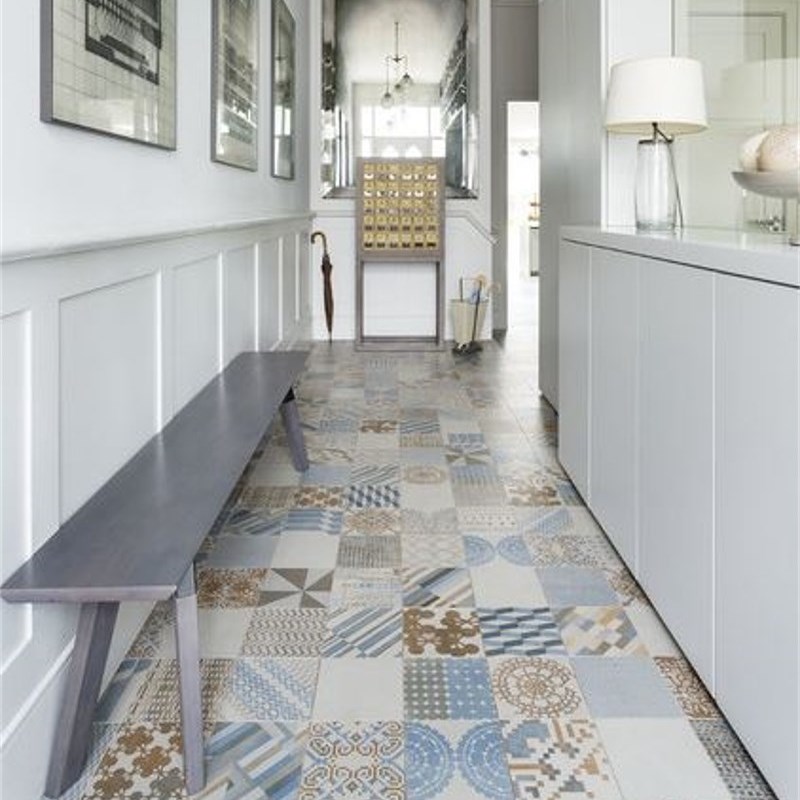 This transitional hallway features an imaginative patchwork design made up of a mishmash of both solid and patterned tile. (Photo Credit: Houzz)
Once popular with the Victorian set, arranging patterned tiles like a rug or runner is a savvy way to add dimension, introduce a color scheme and delineate living spaces in an open floor plan. Feeling creative? Mix and match your favorite Kenzzi tiles together on the floors or walls for an original design statement.
Entryway Envy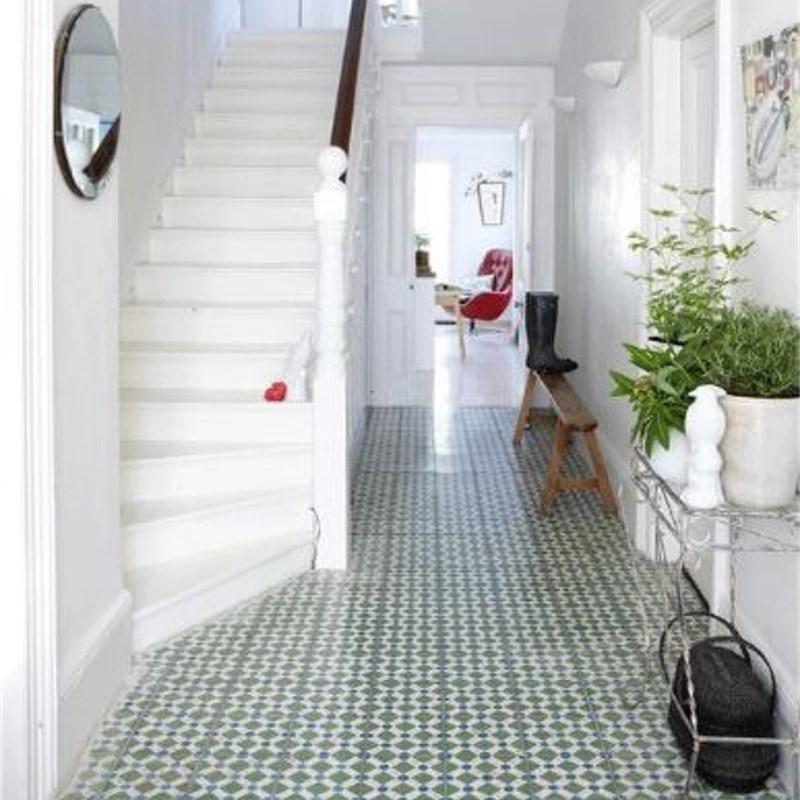 Blue and green decorative tiles soften this stark white foyer, lending charm, a pop of color, and dimension to the space. (Photo Credit: Pinterest)
Entryways and mudrooms are often overworked, underloved spaces. Since it's often the last place you expect a fresh, lively statement, why not break up the utilitarian feel with encaustic tile flooring? Ideal for household comings and goings, the Kenzzi Collection is designed for foot traffic and wet areas. Best part? It's low-maintenance – which makes for easy peasy spring cleaning.
Wall Art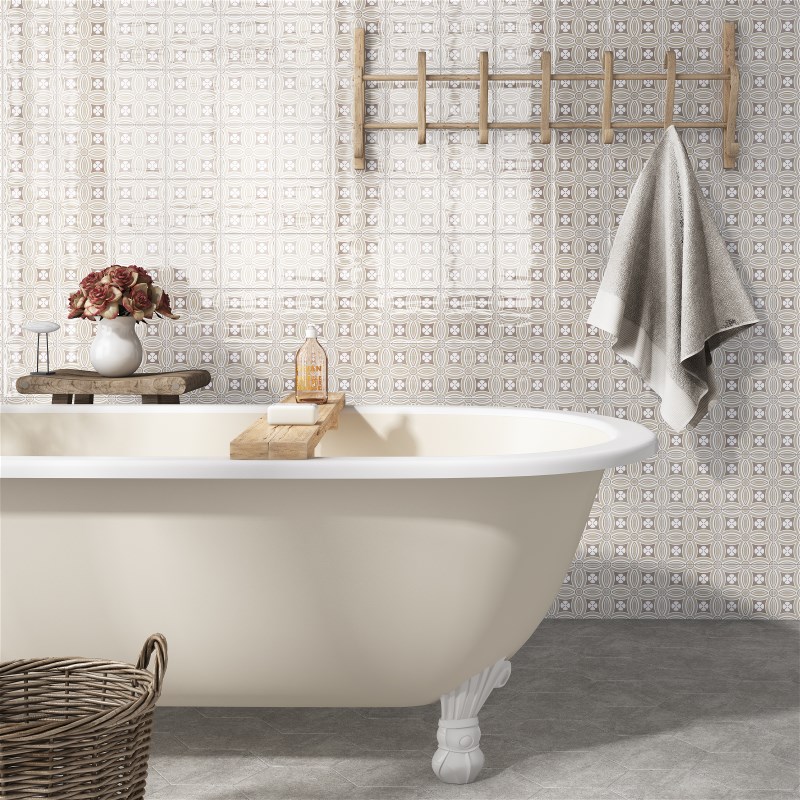 Next to the inviting soaking tub, the fresh graphic statement of Kenzzi Dekora steals the show.
If you're thinking of creating an accent wall, put down the paintbrush. There's nothing like encaustic tile for creating an out-of-the-ordinary focal point in your room. They are not the wallflowers of the design world, but today's reproductions are often more subtle. Plus, tile collections like Kenzzi Porcelain & Ceramic get bonus points for being wet-zone ready.
A Brave New Backsplash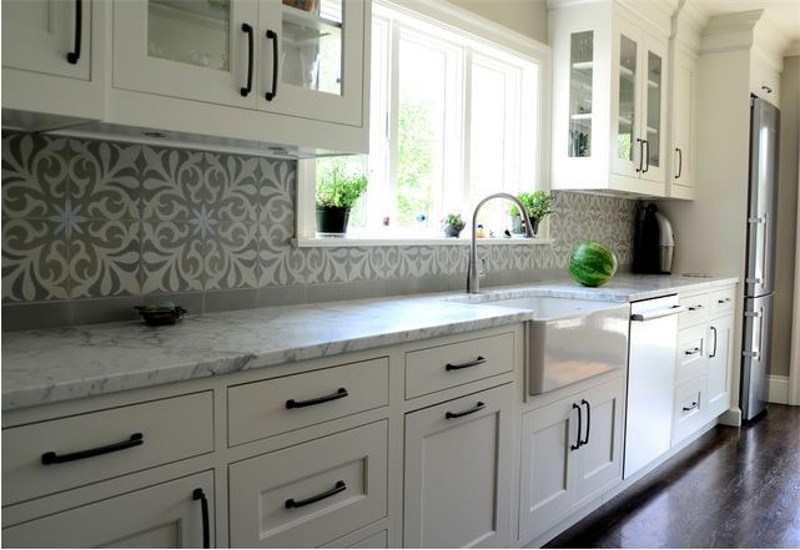 A soft gray and white encaustic tile backsplash adds the perfect dose of liveliness to this transitional white kitchen. (Photo Credit: Houzz)
Why stop at the floor when you can bring encaustic tile up the wall as a backsplash? It's a great way to incorporate a daring design element without the risk of overwhelming a space. Looking for something ultra- conservative? Soften an encaustic design by pairing it with a calm white marble look countertop. In streamlined kitchens and baths, a mod geometric tile backsplash packs a high-design punch. More traditional spaces that feature florals or Moroccan style backsplash tiles have an old-world charm we cannot resist.

While we'd never say goodbye to single-hued design, the parade of colorful patterned walls, floors, and backsplashes lighting up the design world today is all the motivation we need to give the uber versatile encaustic tile trend a whirl.