Natural Stone And Porcelain: Elevate Your Home With The Natural Look
March 21, 2012
When done beautifully, floors with a natural stone look serve as an impressive focal point of any room. A gorgeous floor defines elegance and elevates everything surrounding it. Your fine artwork and décor isn't upstaged but rather that vintage couch you love for its character suddenly looks twice the price tag. But when it comes to choosing the material for that beautifully done floor, there are many options - from natural stone materials to man-made selections.
Natural stone includes slate, granite, marble, travertine, and limestone. This material isn't cultured or man-made. Each product is cut into blocks at quarries and then taken to a processing facility to be cut into different shapes and sizes.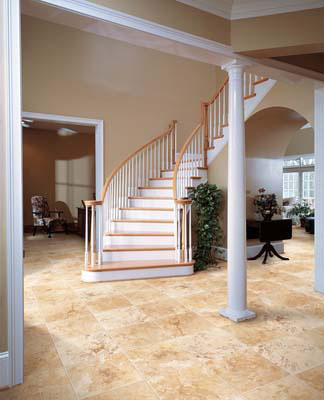 Natural stone is a great option for discerning buyers who value a unique look. No one can have the same floor as you. Your neighbor could have the same color or cut, but no two tiles are exactly alike, which means you are guaranteed one-of-a-kind appearance, texture and overall variation in each slab.
Quality is another factor to consider when it comes to natural flooring.Natural stone is the original and you cannot truly recreate something created by nature. It is extremely durable and with proper maintenance of sealants, it can last a lifetime.
Further, natural stone is an abundant, natural resource for building material and is mined from the earth. It is even more eco-friendly when harvested locally. This makes natural stone a perfect choice for designers or home owners who not only value nature, but wish to immerse themselves in it.
The Natural Alternative
Natural stone is a great choice, but not the only choice for buyers who enjoy the natural look. A man-made material, such as porcelain, brings an added level of affordability while achieving a similar aesthetic.
Porcelain floor tiles are an innovative product created from super-fine porcelain clay and fired at a high temperature. They can be professionally engineered to resemble travertine, slate, marble and other natural stones.
Extremely versatile, porcelain can be engineered to look like natural stone, or even to look like hardwood. Tiles are available in glazed or unglazed, and refined or rough like real stone. With so many variations, it's easy to find a selection that works perfectly in any space. And because porcelain is man-made, it can be manufactured in abundance in the most popular styles and colors based on demand, keeping costs lower.
Durability is a hallmark of porcelain tiles, which are dense and perfectly suited for high traffic areas. In fact, they are constructed for that very purpose. Harder than even stainless steel, porcelain is tough and extremely resistant to scratches. Porcelain tiles are easy to clean and are low maintenance. With proper care, they can withstand the busiest lifestyles. Given its durability, porcelain can often outlast other man-made materials, measured not in years, but decades.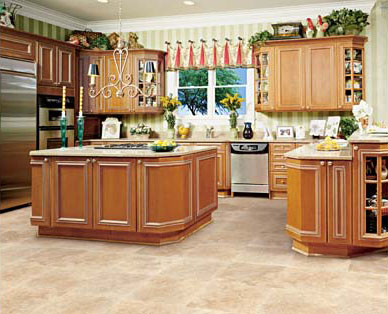 If you have decided to elevate your surroundings with natural flooring - whether you are looking for the sophistication of natural stone or the affordable luxury of a natural look with porcelain - MSI carries selections to meet all buyers' needs.
Check out our material selector to see the wide range of materials, finishes, and colors available.
READ MORE ABOUT PORCELAIN TILE with NATURAL STONE LOOKS
Classic Designs Using Porcelain Tile That Look Like Stone
Porcelain Tile That Looks Like Natural Stone Flooring
The Beauty of Eramosa Stone Flooring in Textured Porcelain Tile
Natural Stone Looks in Porcelain Tile You Have to See to Believe