3 Flooring Tile Styles That Create A Seamless Indoor And Outdoor Space
October 25, 2022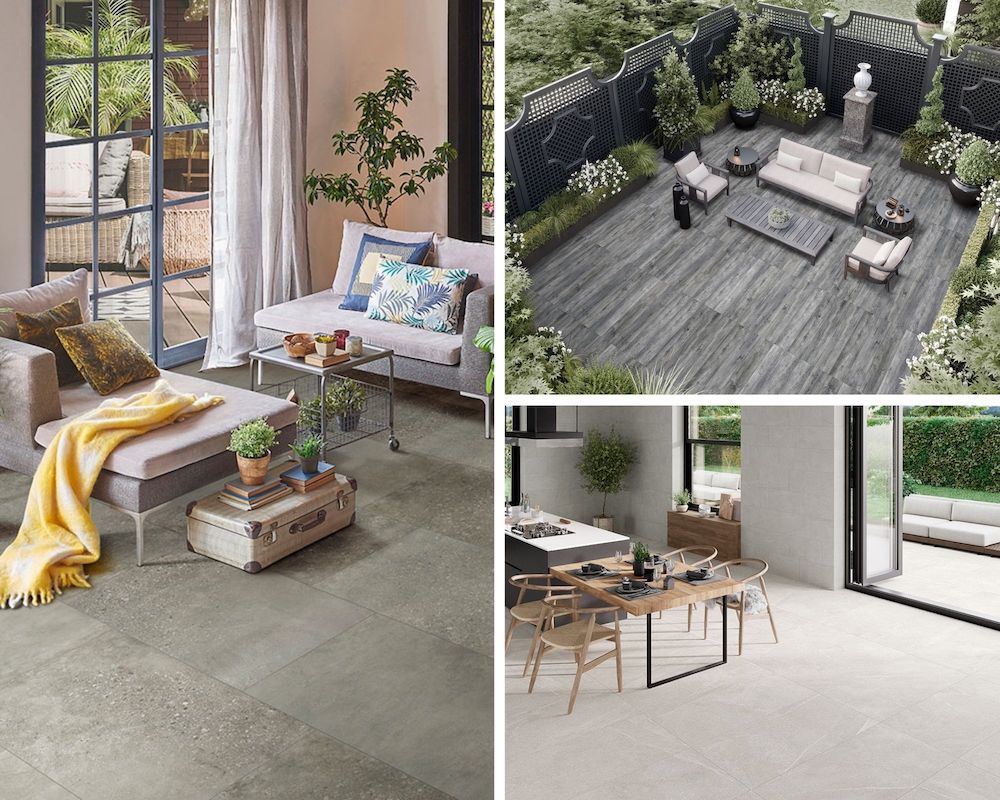 Whether choosing a flooring tile option for a modern, contemporary-style home or a more traditional aesthetic, one of today's hottest trends is to create a consistent transition between your indoor and outdoor spaces. We make it easy to do that by bringing you a selection of floor tile that is just as stylish and beautiful as it is durable and practical.
Today's homeowners enjoy their outdoor spaces just as much as their indoor rooms and the days of putting a few lawn chairs on the patio or deck are best left in the past. However, even small outdoor spaces can benefit from this new flooring trend. Matching indoor and outdoor flooring can make both spaces look bigger and more comfortable. And, of course, those with larger properties can use outdoor tile to carve out cozy nooks or expansive areas for entertaining.
Another hot trend in modern homes is the transitional space – a room that sits between a house's enclosed, climate-controlled interior and the open, uncovered outdoors. One example is the outdoor family room trend, often surrounded on two or three sides but still open to fresh air. Outdoor kitchens are also popular spaces where you can cook on a grill, prep food, and even dine al fresco. Lanais, solariums, or "Florida rooms" as they are sometimes called, are typically enclosed with either glass or screens and may be furnished with elegant, comfortable décor. Often these have large sliding doors that can be left open in nice weather. And in all these spaces, using the same flooring for the interior and outside patio area can create a cohesive look that is easy to care for and trouble-free.
MSI now offers several flooring options that include both luxury vinyl tile for indoors and porcelain outdoor patio tiles that match perfectly. This way, you can get both benefits in their appropriate spaces, with authentic wood and natural stone looks that are much easier to maintain than the real thing. Both tile types are waterproof and easy-care, of course. You'll love how this design trend offers the best of both worlds. Alternatively, use indoor-outdoor porcelain tile throughout your home; it looks as remarkable inside as it does on your front porch or backyard patio.
Matching luxury vinyl flooring and porcelain tile opens up a new world of possibilities for your home. Here, we offer various tile patterns and some design ideas to inspire you.
WOOD LOOK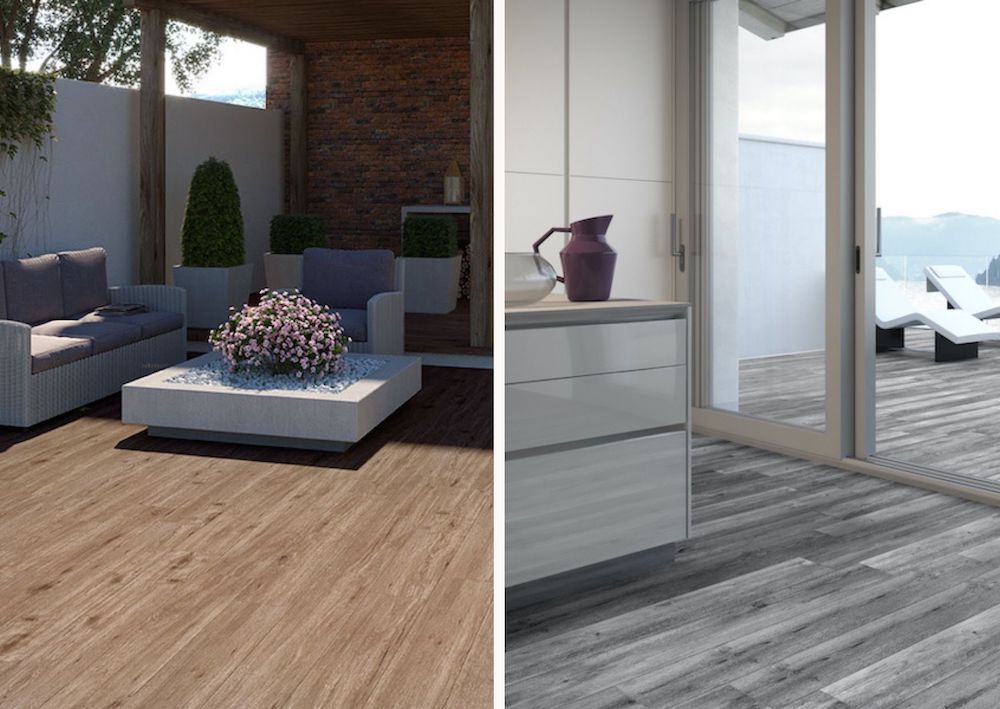 FAUNA
Wood flooring seems like a natural fit for an outdoor living space. That's why so many homeowners have decks at their back doors. They have their drawbacks, though. No matter how often you wash and seal the wood decking, it will start to warp and weather – and watch out for splinters if you go out barefoot! That's where a realistic-looking porcelain outdoor wood-looking tile comes in. Porcelain tiles are waterproof and hardy enough to withstand many years of rain, snow, hot sunshine, and those lovely summer days when you curl up with a good book.
Fauna pavers from MSI's Arterra Porcelain Paver collection offer a warm medium-brown wood look that's incredibly authentic, down to the wood graining and knots. It's available in 8" x 47" planks. You can also purchase matching 13" x 24" pool coping to continue your faux porcelain-tile "deck" around your swimming pool or hot tub.
It's easy to carry through the look of hardwood flooring in your home's interior with matching luxury vinyl flooring. You have options here, too: Choose Fauna Cyrus, which is 7" x 48", Cyrus XL, which is the larger 9" x 60" size, or Fauna Prescott, a 7" x 48" plank with an upgraded, thicker wear layer. Your choice will depend upon the size of the space where it will be installed and your own preference.
KATELLA ASH
One of homeowners' favorite things about luxury vinyl tile is that it's totally waterproof. This allows you to install it in areas where natural hardwood flooring might not be appropriate, such as a kitchen, bathroom, mudroom – or, of course, next to the entry door from the outside. So it's perfect for whatever room leads to your back door, and you can continue the look right out that door with matching porcelain tile patterns.
Luxury vinyl tile (and porcelain) is a great flooring solution for families with children and pets. They stand up to pet claws and muddy paws and won't absorb stains or odors. Another feature that makes them great for kids and pets is their Greenguard certification, which means that they have been evaluated for the emissions of harmful chemicals that affect your indoor air quality. What's more, its rigid-core click-locking system makes it easy to install. That means a lower bill from the contractors who install it, or you can even do it yourself if you enjoy that type of project.
Katella Ash features an eye-catching blend of cool light and dark shades of gray and an authentic wood grain pattern. The LVT flooring has the same size options as Fauna: 7" x 48" Cyrus, 9" x 60" Cyrus XL, or heavy-wear Prescott. Katella Ash porcelain tile pavers are sold in 7" x 48" and 9" x 60" plank sizes – and 13" x 24 pool copings, too.
STONE LOOK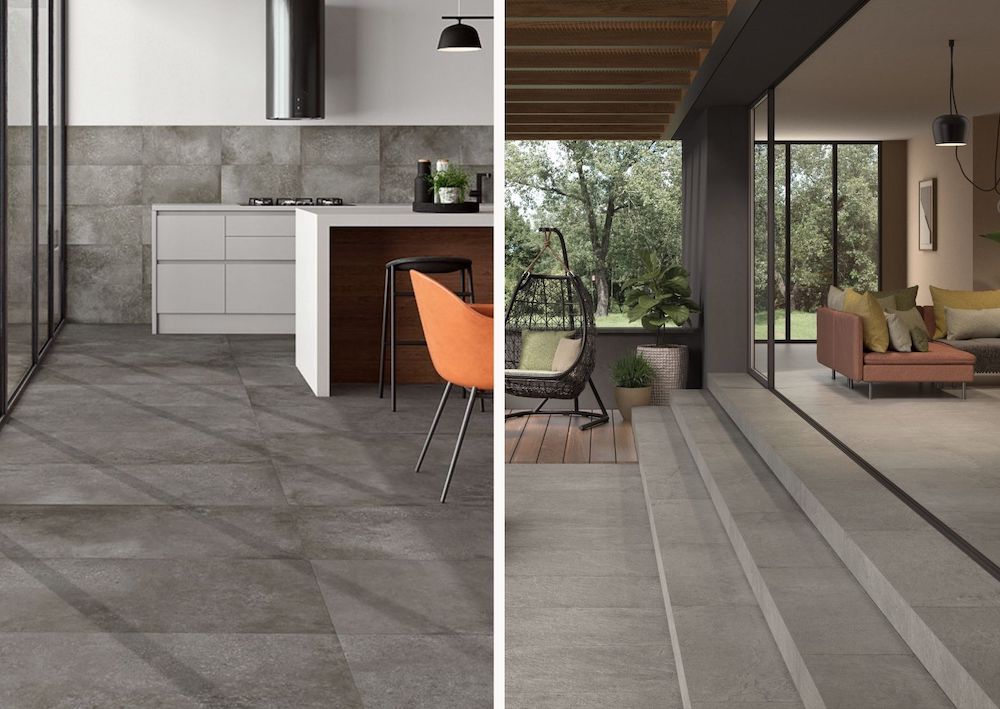 SORENO GRIGIO
Wouldn't it be nice to install flooring inside your home without worrying about it again? Soreno stone-look porcelain tile is tough enough for the great outdoors, so it's a no-brainer that it would stand up to anything your family and pets can dish out indoors. It's perfect for rooms that have heavy foot traffic or need to be extra tough – like workshops, mudrooms, laundry rooms, kitchens, or your home's entryways. Likewise, you can feel confident installing it in bathrooms or other areas that may deal with splashes or spills, not just because it's waterproof flooring but also because of its Zero Slip technology that makes the room safer.
Of course, you can also continue the look outdoors, crafting a patio or outdoor kitchen space. You might even try it on the walls or outdoor vertical surfaces such as planter boxes. So many homeowners today are incorporating fire features into their outdoor living spaces, and MSI's stone-look porcelain tile is an ideal choice for the fireplace surround.
But just because it's tough, that doesn't mean it's not also gorgeous! Sorento Grigio from the Arterra Porcelain Pavers collection is a light-gray, glazed tile with a matte finish. It replicates the look of natural stone, but unlike real stone tiles, it never needs to be sealed to maintain its waterproof, stain-resistant quality. It's available in large-format 24" x 24" tiles that fill up a space quickly, and even bigger 24" x 48" tiles create a more seamless look, especially when installed with a matching grout color. Alternatively, choose a petite 2" x 2" size, which looks terrific as a kitchen backsplash – indoors or out!
CALYPSO GRAPHITE
With Zero Slip technology, MSI's Traktion collection is incredibly versatile. One of the most important features homeowners need to consider when choosing outdoor flooring materials for patios, walkways, and other living spaces is how slippery the tiles or pavers will be when they get wet. The Calypso series is designed to be highly slip-resistant when wet, so you can be confident installing it anywhere – even around the swimming pool or hot tub.
But with such good looks, why stop there? Kitchens, bathrooms, laundry rooms, and more also need slip-resistant flooring to protect your family. If you continue the installation upward, it can also protect the wall from water damage. Designers even use indoor-outdoor porcelain tile to create unique, stylish shower surrounds. Since today's modern bathrooms are trending toward more open designs rather than small, enclosed shower stalls, having waterproof wall coverings and floorings is more important than ever.
The Traktion Calypso collection includes two colors – Ash and Graphite. Graphite is a gray porcelain tile that's meant to be a bit dramatic. It features dark and light gray shades, with swirls of pebble-like flecks and grains for added interest. Although porcelain tile is manufactured and imprinted, not every tile is identical. Depending on how it's installed, the result will resemble natural stone, but better – it's low-maintenance, so you can spend more time enjoying your space and less time keeping it clean. It's available in rectangular 12" x 24" and 24" x 48" tile sizes, making it easy to create a sophisticated look in any size space.
CONCRETE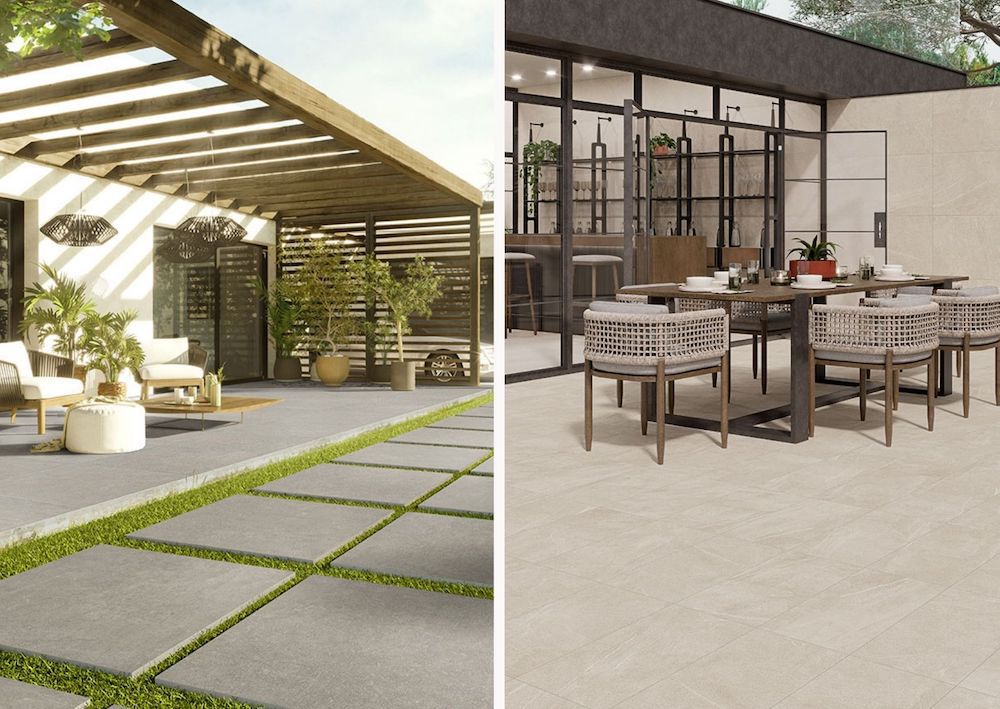 MAVEN IVORY
Concrete has been used as flooring, both indoors and outdoors, for generations. Real concrete is a good option, but it does have some drawbacks. It readily absorbs water, so when installed outdoors, it's vulnerable to cracking from temperature extremes. It's also not stain-resistant, which is an issue whether installed indoors or outdoors. Regular application of concrete sealant can improve that, but who wants to spend time painting sealer on the floor? Porcelain tile never needs sealing, holds up to freezing and thawing, and resists stains, chipping, and cracking.
With that in mind, it's not surprising that concrete-look flooring is gaining popularity inside the home and outside. But today's concrete-look floors go far beyond yesterday's utilitarian, basic designs. Because concrete-look tile creates a sophisticated look, many designers are incorporating it into interior designs – especially in rooms such as dining areas and kitchens, which often have doors that lead into an outdoor living space.
Modern concrete looks are elegant – especially when crafted with a lookalike porcelain tile, such as Maven Ivory. This pale beige tile has a matte glazed surface, with Zero Slip technology that makes it safe in all weather.
CONCERTO GRIGIO
Since many people associate concrete flooring with an industrial look commonly found in a commercial space or garage, you might wonder why anyone would want it for their home's interior. Part of the reason is that it's tough, durable, and neutral. As a result, it's being incorporated into many different design aesthetics, not just the minimalistic and industrial styles. This is especially true with concrete-look porcelain tile, which gives you all the good qualities of a concrete floor with no drawbacks.
Concrete-look porcelain tiles are more versatile than real concrete. Since porcelain tiles are much more lightweight than real concrete, natural stone, or standard patio pavers, they are easier to install – this can save you a lot of money on installation expenses; many homeowners choose to do it themselves. Its lighter weight also means it isn't restricted to the first floor of a building as real concrete or pavers would be – or the floor, for that matter. Porcelain indoor-outdoor tiles make outstanding backsplashes, dividing walls, and surrounds for garden beds.
Concerto Grigio, for example, is a medium-gray tile with a slightly weathered look that adapts well to upscale, traditional décor. You can use it for various creative installations rather than an ordinary rectangular patio, such as the stepping-stone design shown here. It's available in 24" x 24" squares or extra-large 18" x 36" tiles, making it super-easy to cover large spaces quickly.
At MSI, we'd love to help you choose which type of flooring is best for your individual needs. Our friendly staff will be happy to answer your questions and advise whether that means matching up luxury vinyl tile to its porcelain counterpart or selecting one of our sophisticated natural stone- or concrete-look tiles to use throughout your home. Just give us a call or stop by one of our showrooms.
Learn More About Pavers And Alfresco Flooring
Coordinate Your Indoor & Outdoor Spaces With Matching Porcelain Tile & Pavers
Holistic Havens: Creating Your Indoor/Outdoor Sanctuary
Stylish Soreno Porcelain Pavers And Tiles With Zero-Slip Technology
3 Flooring Tile Styles That Create A Seamless Indoor And Outdoor Space
Living Alfresco With Arterra Porcelain Pavers