The Real Reason Why Quartz Countertops Are So Popular
October 19, 2018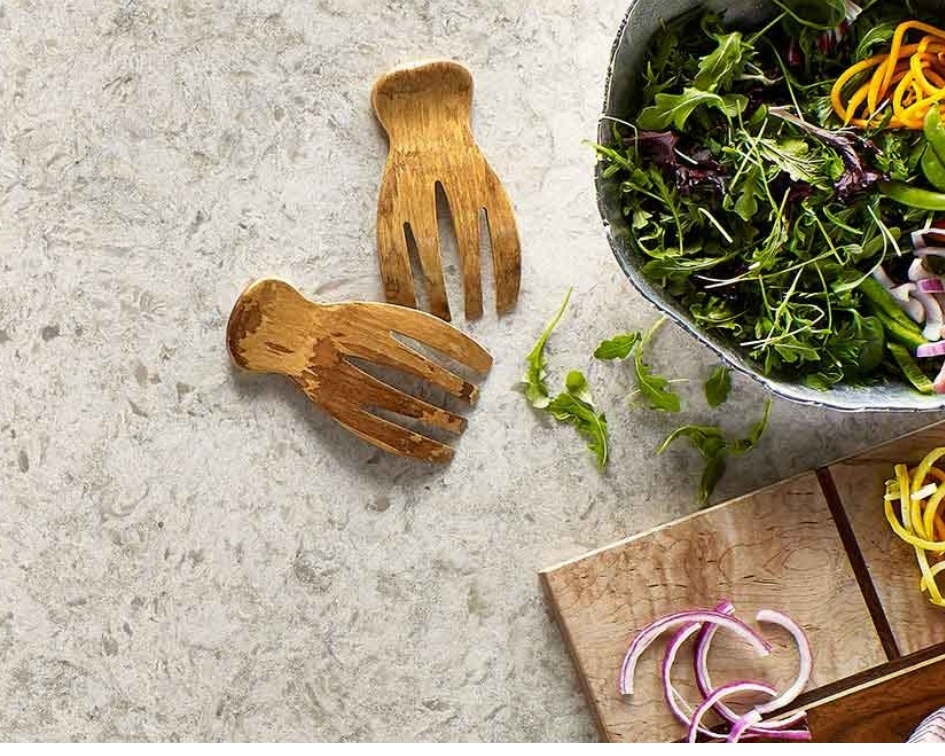 Natural quartz countertops are one of the top kitchen innovations continuously increasing in popularity. That's because it made what seemed like an impossible dream a reality for so many! Before this man-made material rocked the market, homeowners had to choose either natural stone or faux products that looked and functioned like cheap knock-offs.
But, quartz is the real deal by delivering on all the promises previous surfaces couldn't. It realistically mimics luxurious stone, requires minimal care, and works with all interior design preferences. It's these quartz qualities and so much more that make it the closest thing to a perfect countertop.
Cashmere Oro
Some might associate quartz with more modern designs, but with the various options available, you can install it in any style kitchen! That's especially true when it comes to neutral tones like Cashmere Oro. The soft white countertop with barely-there veining on the oversized island adds to the airiness of this traditional cooking space. The Dupont Bullnose edging on the thicker, marble look quartz is the right amount of classic detail.
Calacatta Vicenza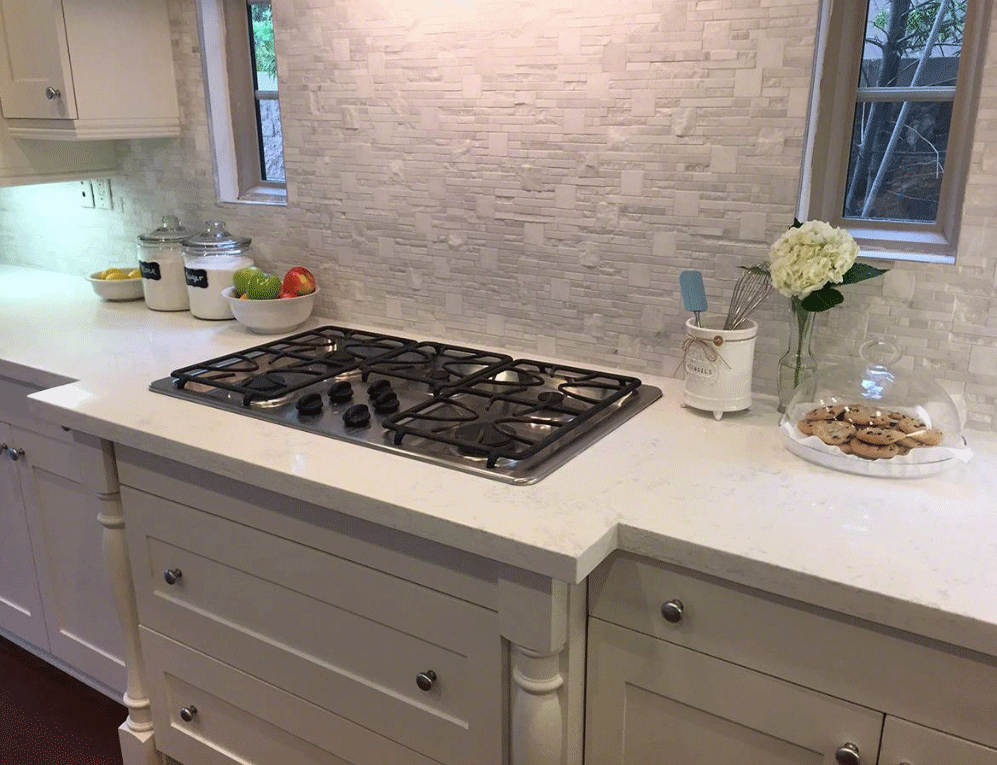 Featured: Calacatta Vicenza Quartz
Quartz offers homeowners the look of marble without the fuss. While the luxurious natural stone is prone to soaking up just about any little spill or splash, non-porous quartz won't stain or become a hotspot for germs. While there are a number of luxe-looking marble styles offered by MSI, Calacatta Vicenza is a top quartz pick amongst designers. The beautiful white surface with subtle grey veining is an elegant choice for this white kitchen. What's more is that you can cook raw meat or heat up pasta sauce without any worries about ruining your white quartz countertops!
Sandy Cove
One of the biggest selling points of quartz is the low maintenance. Something like Sandy Cove does a great job at mimicking granite with its swirls of creams, tans, and browns, but it's so much more manageable to care for than its real counterpart. With natural stone, you not only have to reseal it often, but you also need to use cleaners specifically made for your surface. But with engineered quartz, all it takes is a soft sponge and warm water or a dash of gentle dish soap to keep your counters clean! This contemporary bathroom will be a breeze to wipe down in mere minutes, and you'll never have to reseal it, ever!
Fossil Brown
From high-end stone to concrete-like looks, such as Fossil Brown, quartz does it all! And, you get consistent color and pattern every single time. When it comes to this earthy-hued countertop, you'll receive the same mid-tone brown with light veining and subtle shading you see in the showroom. There won't be any surprises when installing it on a large kitchen island like this one.
Calacatta Taj
Another reason why quartz is a preferred choice is for its durability. You can have your army of soaps or skincare creams on your quartz countertop in the bathroom because, unlike limestone, it won't get ruined from staining or etching. Calacatta Taj is a perfect alternative for a limestone lookalike. It features a rich, creamy background with delicate brown veining and is a subtle yet sophisticated style for this bathroom countertop.
As you can see, quartz is definitely the chameleon of countertops. It comes in a wide range of designs, patterns, and colors that will give your kitchen or bathroom a custom, luxurious look. It's also the most practical option, whether you have a busy family with a bunch of kids or spend time throwing trendy parties with friends. If these products have you inspired to improve your cooking space, then check out these ideas for a more functional kitchen.