Unify Your Spaces: Create A Seamless Transition With Soreno Large Format Tile And Porcelain Pavers
August 31, 2023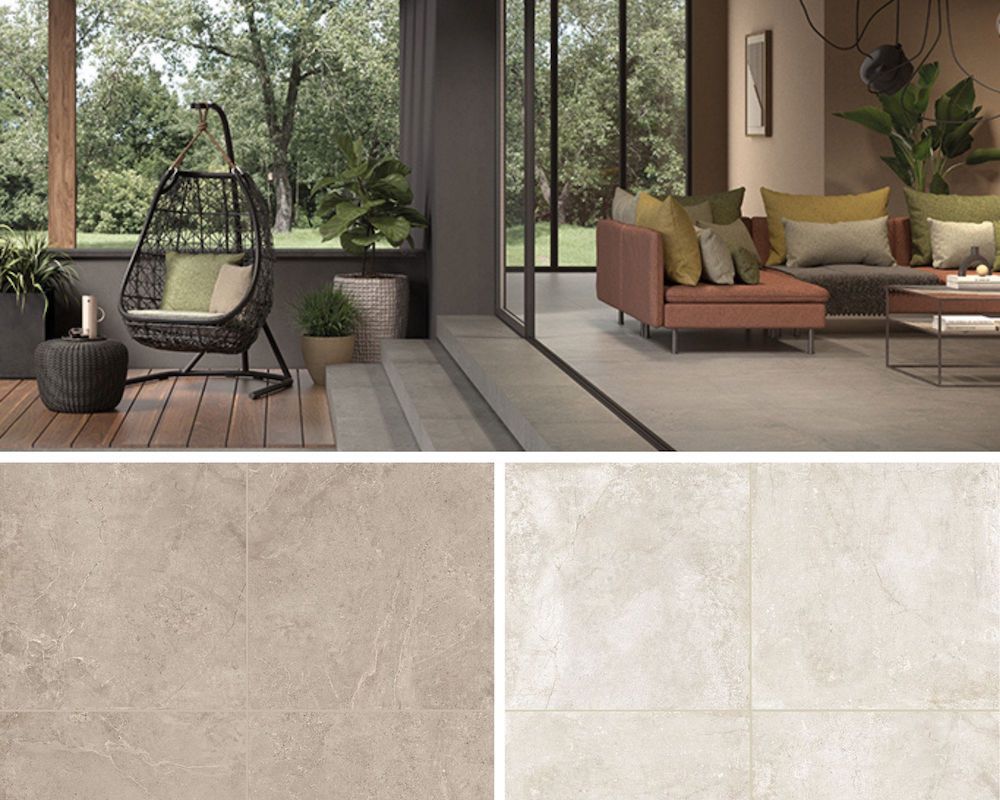 For transforming our living spaces, the materials we choose define the ambiance and aesthetics. In interior flooring and outdoor hardscaping, the Soreno Collection of large format tiles and porcelain pavers offers exceptional possibilities. With its captivating colors, this collection allows you to create a seamless transition between indoor and outdoor spaces with elegance and style.
The Allure of Soreno: Where Form Meets Function
The Soreno Collection of porcelain tiles and pavers are more than just flooring solutions; they embody modern design and functionality. Crafted to combine the beauty of natural materials with the durability of porcelain, Soreno tiles and pavers are designed to last while maintaining their exquisite appeal.
The Timeless Elegance of Soreno Ivory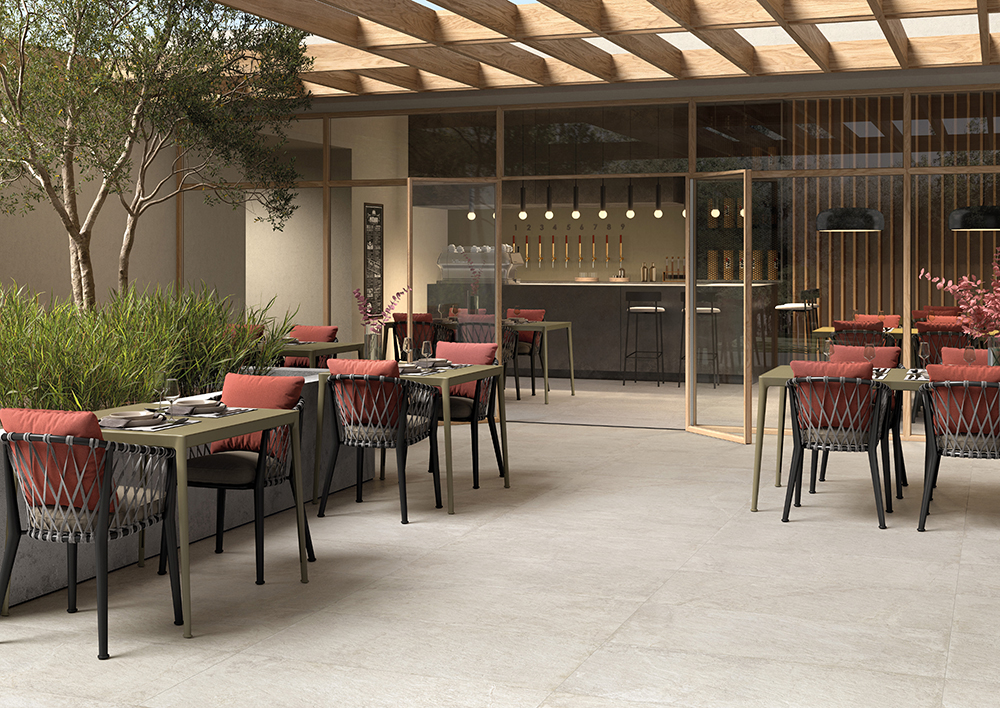 Soreno Ivory Porcelain Tile & Arterra® Soreno Ivory Porcelain Pavers
Soreno Ivory captures the essence of timeless elegance. Its soft, neutral tones create openness and tranquility, making it a perfect choice for indoor and outdoor spaces. Whether you're revamping your living room, bathroom, or kitchen, Soreno Ivory offers sophistication that complements various interior design themes.
When you walk into a space adorned with Soreno Ivory Porcelain Tile, calmness and warmth captivate you, creating an inviting atmosphere. These large format tiles reduce grout lines, giving your space a more expansive appearance. With Soreno Ivory, you're not just installing tiles; you're enhancing the ambiance of your interior.
Imagine extending this refinement and tranquility to your outdoor areas with Arterra® Soreno Ivory Porcelain Pavers. These pavers integrate your spaces, maintaining the consistent theme of timeless beauty. Armed with our innovative ZeroSlip™ technology for added safety, they offer an indoor-outdoor flow that blurs the boundaries between these two environments. The result is a unified space for gathering, dining, and entertaining.
Soreno Taupe: Earthy Modernity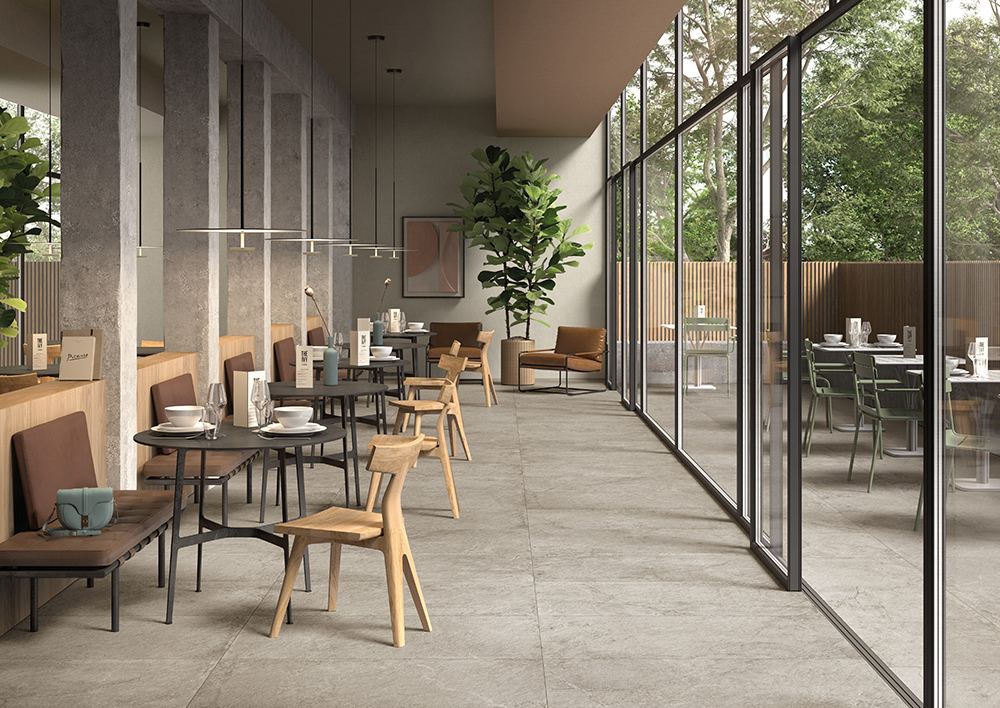 Soreno Taupe Porcelain Tile & Arterra® Soreno Taupe Porcelain Pavers
For those who appreciate a more contemporary and earthy aesthetic, Soreno Taupe offers the perfect balance between contemporary design and natural beauty. The warm yet muted tones of taupe harmonize effortlessly with a variety of decor styles, making it a versatile choice for residential and commercial spaces.
Soreno Taupe Porcelain Tile excels in high foot traffic areas due to its durability, maintaining beauty despite constant use. Its smooth transition from inside and outside environments creates cohesive movement, complemented by earthy tones that hide wear and tear. These tiles combine resilience with elegance, offering aesthetic appeal and practicality. Soreno Taupe tiles provide a canvas for captivating designs that elevate any space.
Soreno Taupe can effortlessly extend your residential or commercial space into the outdoors with Arterra® Soreno Taupe Porcelain Pavers. These pavers provide the missing link, marrying indoor elegance with outdoor charm while ensuring your guests enjoy a safe environment with our proprietary ZeroSlip™ anti-slip technology. Its consistent warm tones create a cohesive flow from the interior to the exterior, redefining your spaces by creating a unified and expansive environment.
Soreno Grigio: Contemporary Sophistication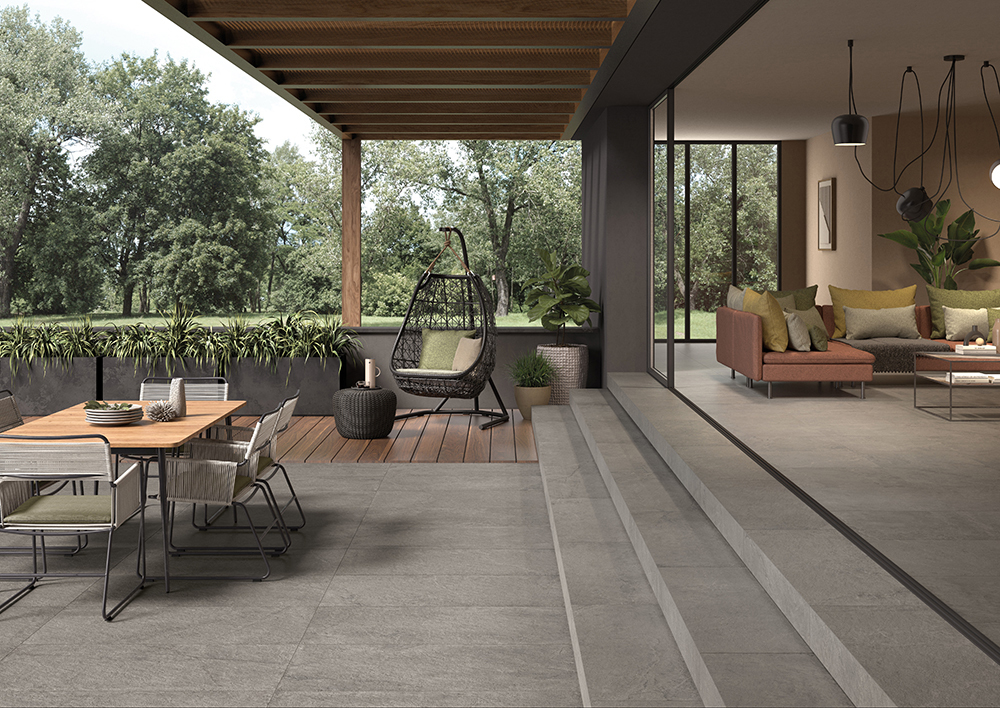 Soreno Grigio Porcelain Tile & Arterra® Soreno Grigio Porcelain Pavers
For a more urban and contemporary vibe, Soreno Grigio offers a sophisticated palette of gray tones. It offers the perfect canvas for minimalist design lovers who value clean lines and a sleek aesthetic. Whether in kitchens, bathrooms, or living areas, Soreno Grigio adds a touch of modern refinement to your spaces.
Soreno Grigio Porcelain Tile brings beauty and versatility to all of your spaces. Its durability makes it an enduring choice for high-volume living areas, ensuring a long-lasting flooring solution. With Soreno Grigio tile, you embrace style and practicality, providing a foundation that adapts effortlessly to diverse design visions.
Add Arterra® Soreno Grigio Porcelain Pavers to extend your indoor areas outside to create a new level of refinement. Design a stunning patio or poolside retreat that mirrors the current aesthetics of your interior spaces. The effortless transition between Soreno Grigio tile indoors and porcelain pavers outdoors dissolves the borders between your living areas, creating a cohesive and visually appealing environment. And with the benefit of our ZeroSlip™ technology, safety is not a concern.
The Art of Seamless Transition
A standout feature of the Soreno Collection is its ability to create a seamless transition between indoor and outdoor spaces. This design strategy has gained significant popularity recently as homeowners seek to extend their living areas to the great outdoors.
By using the same Soreno tiles indoors and porcelain pavers outdoors, you can attain a balanced continuity that separates your indoor and outdoor settings. This creates an uninterrupted flow and makes your living spaces appear more expansive.
Tips for Achieving Seamless Transition
Consistent Color Palette: Choose from Soreno Ivory, Soreno Taupe, and Soreno Grigio based on your design preferences. To create a seamless transition, opt for the same color or a palette that complements each other indoors and outdoors.
Large Format Consistency: Utilize the large format of Soreno tiles to your advantage. The reduced number of grout lines enhances the sense of continuity and spaciousness.
Open Layouts: If possible, design an open floor plan that allows the eye to move effortlessly from indoor to outdoor spaces. Large glass doors and windows further facilitate this transition.
Outdoor Design Elements: Incorporate design elements from your indoor spaces into your outdoor area. This could be through furniture, plants, or decorative accessories that echo the theme indoors.
Natural Transitions: Incorporate landscaping features that naturally guide the eye from one area to another. A pathway of Soreno porcelain pavers can easily connect your indoor living room to an outdoor lounge area.
The Future of Seamless Design
As design trends evolve, a seamless transition between indoor and outdoor spaces is becoming more popular. The Soreno Collection of large format tiles and Arterra® porcelain pavers provide an innovative solution that merges beauty, functionality, and versatility.
Whether you're captivated by the timeless elegance of Soreno Ivory, the modern appeal of Soreno Taupe, or the contemporary sophistication of Soreno Grigio, these tiles and pavers offer endless possibilities for creating an easy transition that transforms your living spaces into a cohesive, visually striking haven.
Are you ready to embark on a journey of transformative indoor-outdoor design with Soreno large format tile and porcelain pavers? Chat with us online now, visit an MSI showroom near you, or contact your local MSI authorized retailer for more information.
Learn More About Porcelain Pavers Countertops
NATURAL VS. ARTIFICIAL GRASS IN APPEARANCE, MAINTENANCE, AND DURABILITY
MSI'S LOOKBOOK: FIND INSPIRATION WITH REAL PRODUCTS AND PROJECTS
PATIO TRENDS: LARGE FORMAT & JUMBO PATTERN PAVERS