Types Of Natural Stone Pavers: Differences In Color, Texture, And Durability
June 13, 2023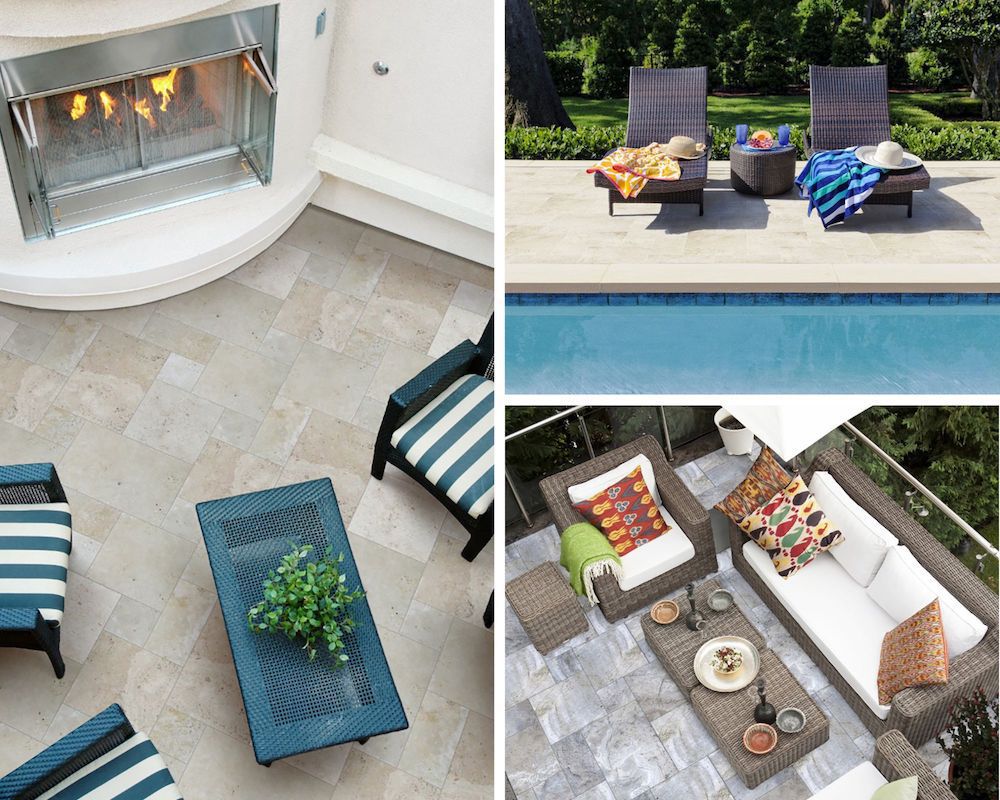 Many elements go into creating an outdoor living space where you'll love spending time with friends and family. These can range from landscaping, water or fire features, to furniture, and even shade-giving trees or awnings. However, the one factor that may ultimately define your design are the hardscaping features. With this in mind, opting for natural stone pavers is a reliable choice you won't regret.
Whether you are designing a patio, walkway, pool deck, or other hardscaping features, you'll love the versatility and beauty of natural stone. The variety available with these pavers will help you create a space that is uniquely yours with your choice of colors, textures, and shapes. Here are a few of the advantages of choosing this natural material to cover your spaces.
Durability: Natural stone pavers are just that – stone quarried from the earth and fabricated into tiles of varying shapes. As such, they age well and will last for a long time when properly installed. They don't fade over time; they can withstand extreme weather conditions and heavy foot traffic.
Variety: You can choose between several materials - including travertine, granite, slate, quartzite, marble, and limestone, and in a large variety of shades and shapes. Select square paver tiles for a simple, minimalistic look, or choose mixed shapes and sizes to create an intricate look.
Versatility: Natural stone pavers can be used indoors and outdoors, allowing you to create a seamless transition between two living spaces. Use them on the ground to create flooring and walkways, or install them vertically to create accent walls, planters, columns, and more. Coordinating coping and caps are available for a professional, polished installation.
Eco-Friendly Natural stone pavers just that - completely natural! They possess remarkable longevity, and have the ability to be repurposed in other locations if you choose to reuse them. Moreover, they can be crushed to produce aggregate materials or rock fill suitable for drainage channels or decorative landscaping. Their total recyclability is a notable attribute.
Easy Installation: Compared to other outdoor surfaces, such as poured concrete, natural stone is easy to install and requires minimal preparation. Installation involves preparing the ground, laying a gravel and sand base, placing the pavers, and securing them with additional sand. With natural stone pavers, enhancing the look and functionality of your outdoor areas is simple yet effective.
Low Maintenance: Some homeowners apply a sealer to natural stone pavers to protect them from staining and enhance their natural color, but that isn't necessary for most installations. They are easy to keep clean, and although they are not typically prone to cracking – even in extreme weather conditions – it's easy to replace a damaged tile without disturbing the entire installation.
Need more information about our collection of natural stone pavers? Watch this short video to learn how our pavers enhance outdoor spaces and hardscape designs.
Here are a few of our most popular natural stone pavers to inspire you to create your own outdoor oasis!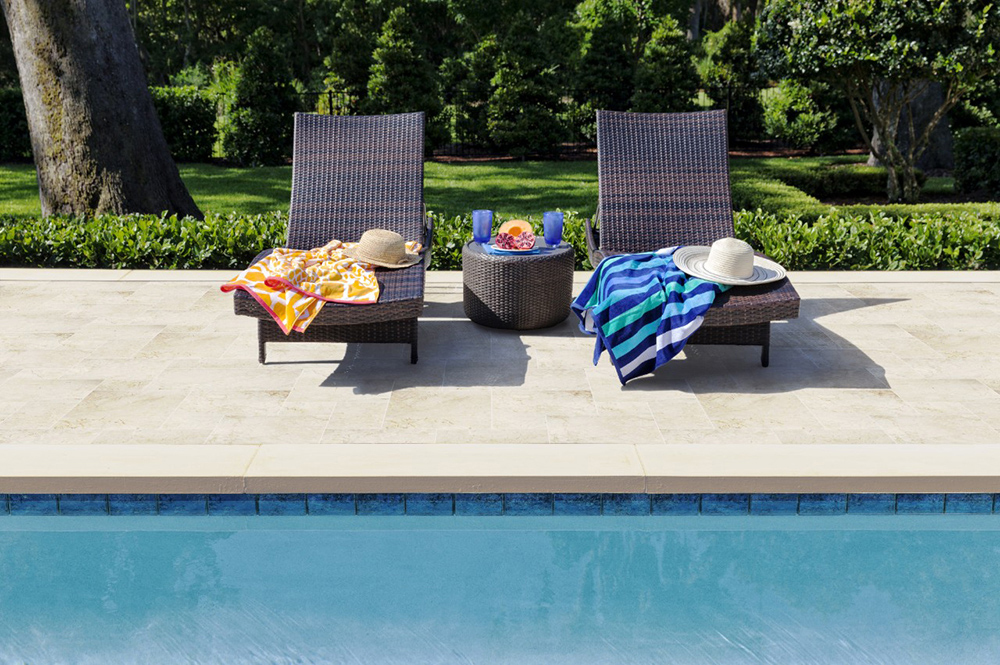 Ready to create a swimming pool area that's the ultimate in luxury and family fun? Aegean Pearl pavers are crafted from tumbled marble with a matte finish that enhances its non-slip surface. This paver is a pale beige with soft veining in shades of darker beige and gray. Plus, marble pavers are cool to the touch, making them perfect for bare feet on a hot summer day.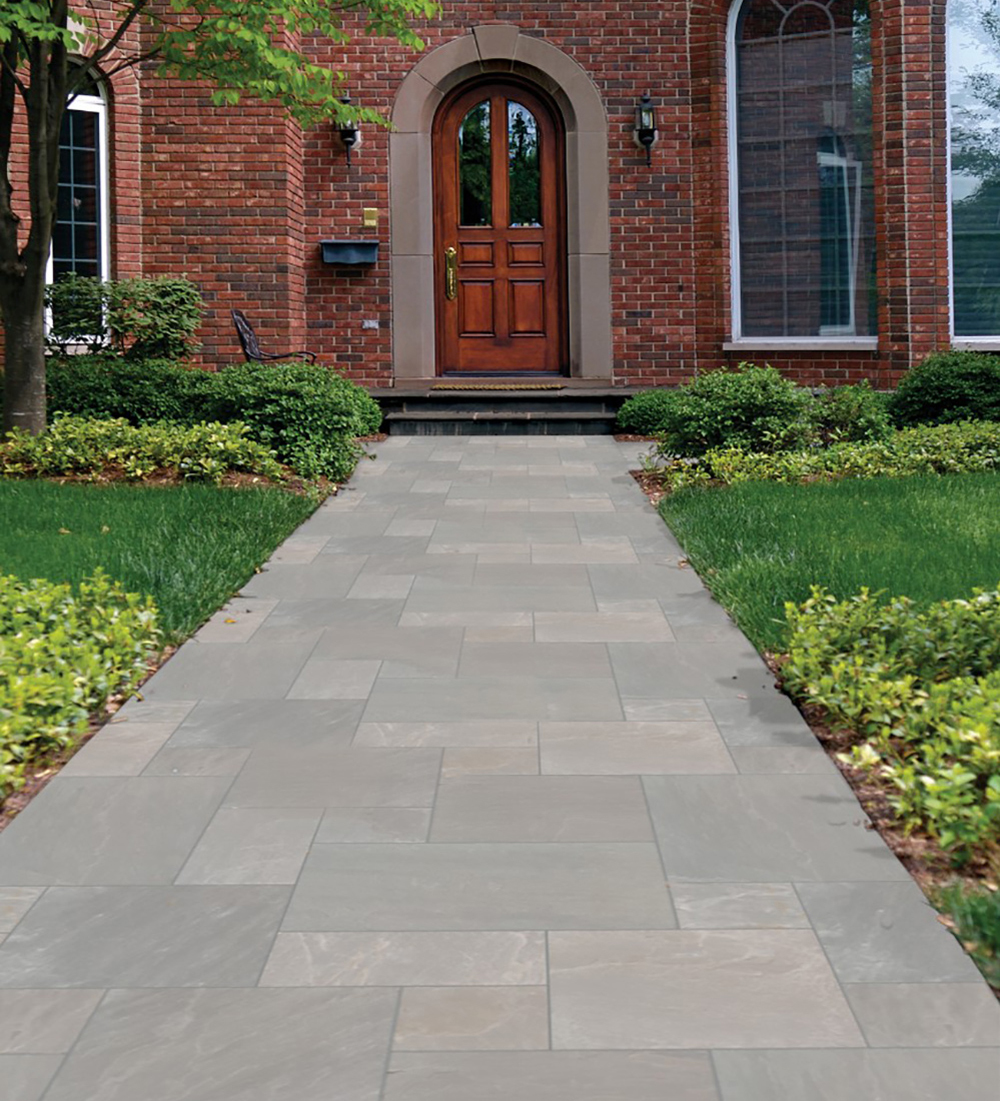 Natural stone pavers aren't just for backyard patios. Nova Gray sandstone pavers can also create an elegant front walkway. Since this colorway includes a variety of gray shades, it's super-easy to coordinate with your other architectural elements. You can order these pavers (as well as our others) in the Versailles pattern, which includes the various squares and rectangles needed to do the job.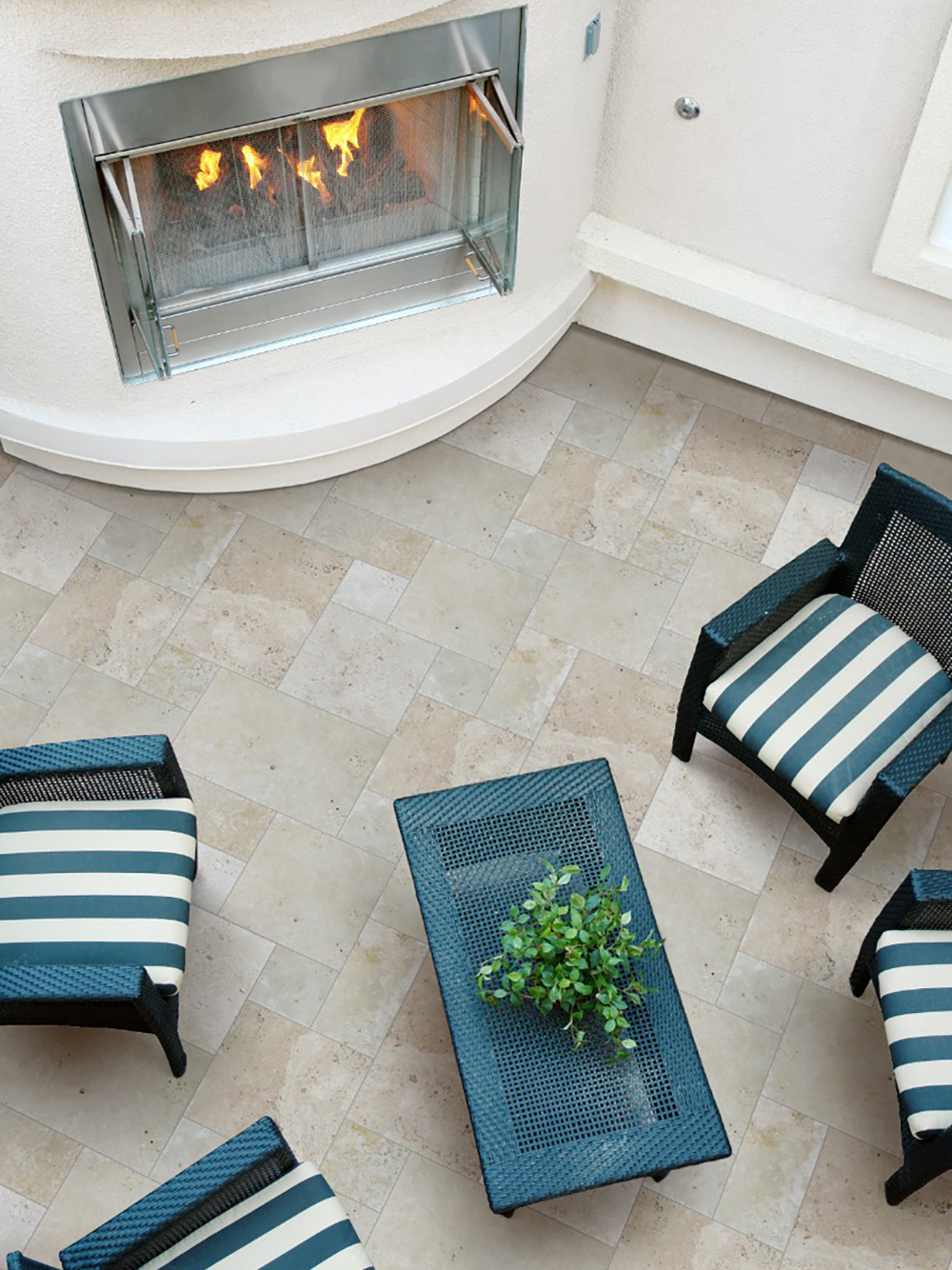 Tuscany Beige travertine pavers might be ideal when you're dreaming of a sophisticated, relaxing, and peaceful outdoor space. They feature shades of warm, creamy pale beige with a subtle pattern. Choose between honed, tumbled, chipped, and unfilled finishes to create a look you love.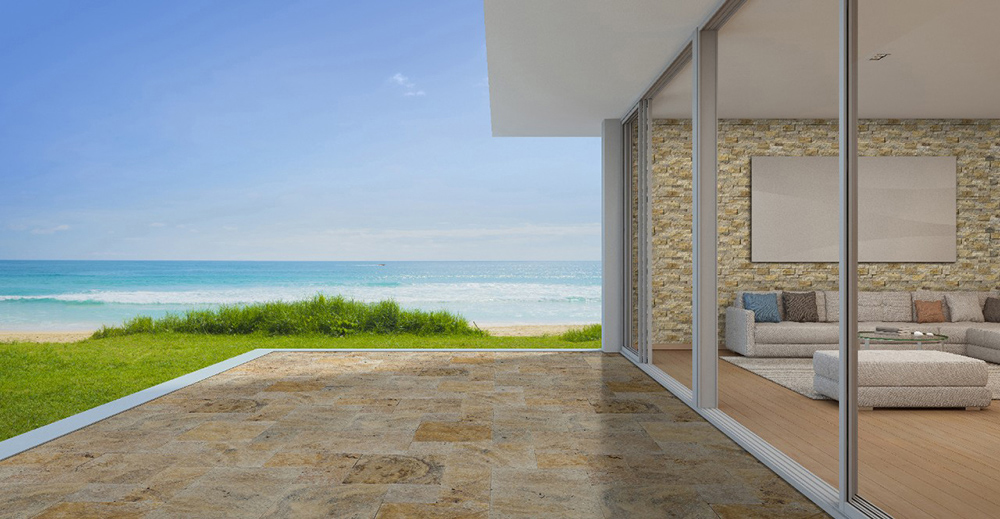 Many natural stone pavers are subtle, neutral shades with minor variations. This works perfectly for most homeowners, but some prefer a bit more drama in their hardscape designs. If this is you, then consider Tuscany Scabas travertine pavers. These feature an exotic blend of yellow, beige, black, and brown – colors that blend perfectly and are easy to coordinate with in any setting.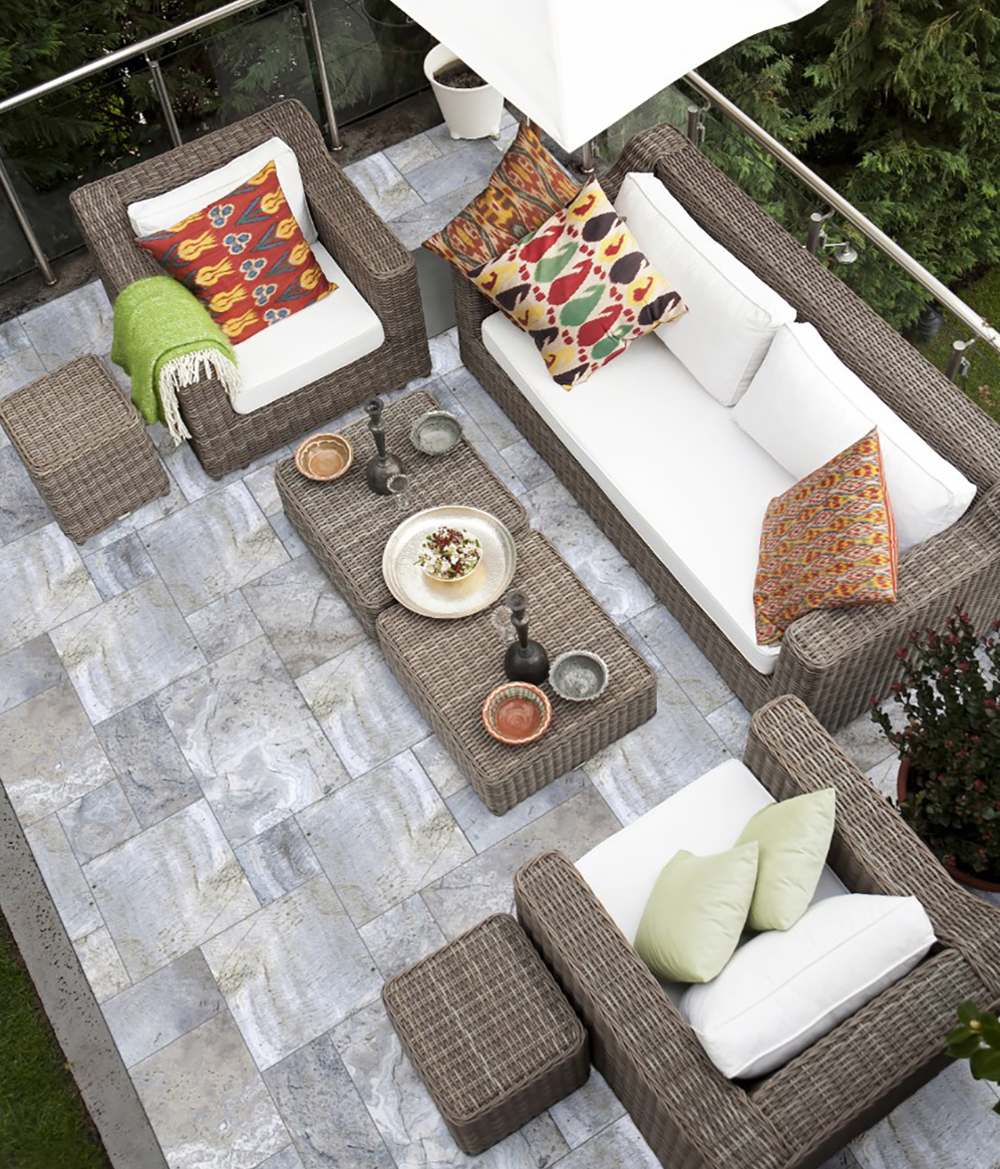 For today's homeowners, outdoor living spaces are just as important as indoor ones. That's why we offer so many choices – and Silver Travertine natural stone pavers are a perennial favorite. They feature a mixture of light and dark silver-gray with beige and darker gray accents. Although their light shade looks fabulous in small spaces, you might want to expand your plans once you see them in action.
Need help deciding which type of paver will work best for your home project or tips on installation or maintenance? Or perhaps you would like information on some of the other top-quality products that MSI offers. We are always here to help! Chat with us now, visit an MSI showroom, or contact an authorized MSI retailer in your area.