Popular
5 Ways To Personalize Your Kitchen With Unique Countertops
April 23, 2015
Without a doubt, countertops can make or break a kitchen. But they're not just there for chopping veggies or to house your appliances. Gone are the days when the only choice you had was ceramic tile or Formica. Countertops made from unique – often unexpected materials – can add beauty, as well as a sophisticated style to your home. Whether you just want something fresh and exciting, or you are selling your home, new countertops add significant value and make your home more appealing.
Here are some ideas to get you started on your new kitchen:
Make a Statement
Sometimes less is more in a kitchen. Clean lines, modern cabinetry, and a neutral perimeter set the stage for a stunning centerpiece – the statement island. Of course, an island with a second sink serves a functional role as a prep station, storage unit, and gathering place for friends and family.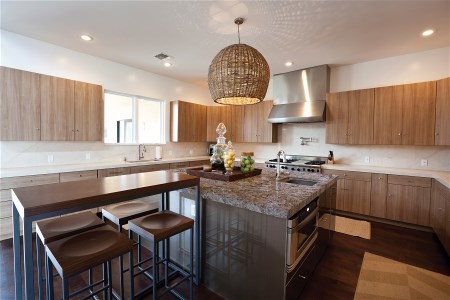 Featured: Nilo River Granite
Whether you're working with a designer or have your own eye for design, the rule of thumb is to choose a material that complements yet contrasts the cabinets, such as granite. A statement island can be the jewel of the kitchen. A bit flashy, it may evoke a "Wow!" from everyone who enters the room.
Go Clean and Modern
Waterfall countertops – or risers – are a modern kitchen trend. However, they work well with a traditional home as much as a contemporary home. With a waterfall countertop, the stone continues down both sides of the cabinet, giving a visual continuity, as well as connecting with the other countertops and the floor. Although granite or marble are commonly used, another popular material is quartz that can work as an alternative statement option for your kitchen.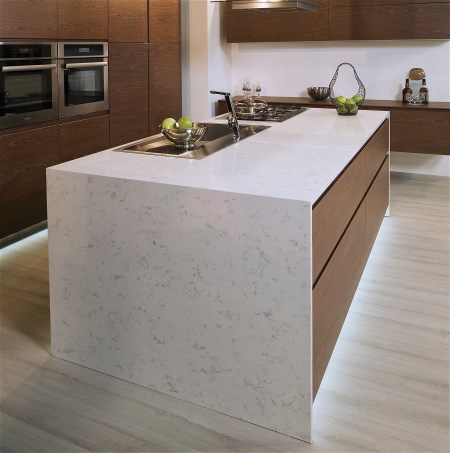 Featured: Fairy White Quartz
Mix It Up
One of the hottest trends in kitchen design is the use of mixed materials to create an ideal space. Just as a chef would combine ingredients to craft a delicious meal, designers love to mix and match textures, colors, and materials in design. Combining contrasting cabinets and cutting-edge countertop materials together, like quartzite and metallic-flecked granite, creates an interesting look that partners beautifully with natural stone mosaics & wood-look floors. This type of unexpected partnering can make a big impact.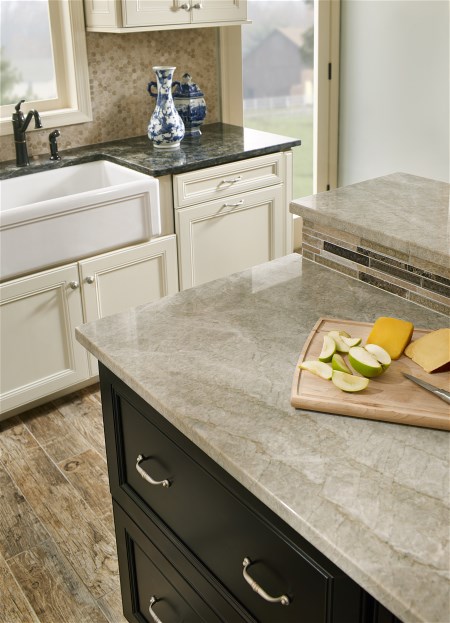 Featured: Madreperola Quartzite & Metallica Granite
Kitchen Chameleon
Usually you think about porcelain as the go-to material for floor tiles or bathroom walls. Well, think again! Porcelain is a perfect material for your stunning kitchen. It's durable, beautiful, and very low maintenance. You can go for classic black or white, simulated marble, or even mirror the look of vintage wood. Porcelain's versatility is what makes it a unique choice for homeowners, designers, and builders.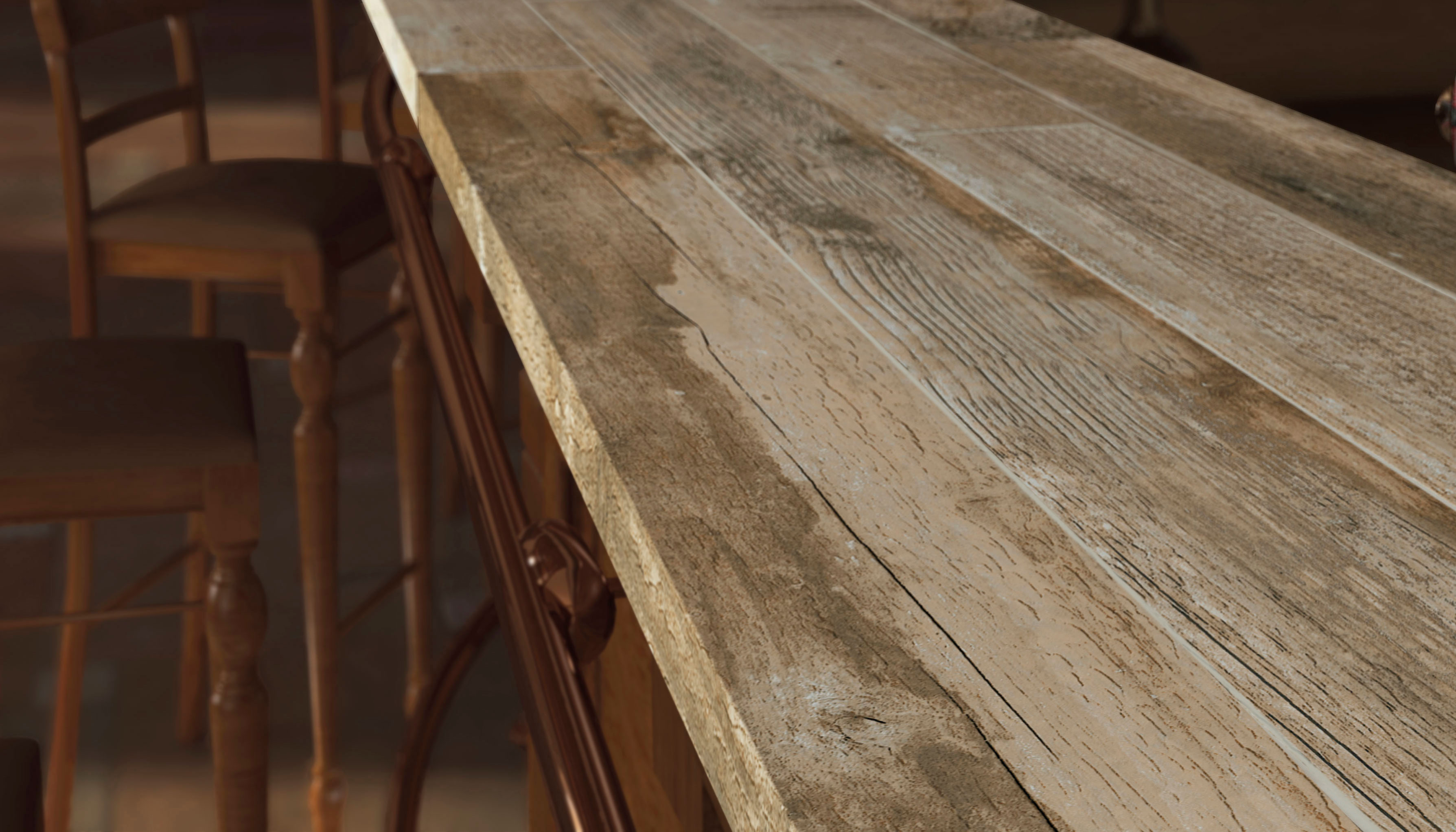 Featured: Salvage Brown Porcelain
Like granite, porcelain is heat and scratch-resistant – plus it is non-porous like quartz. If you're looking for an easy-care countertop with endless design possibilities, consider this durable option.
Create Drama with Contrast
Nothing makes a statement like using contrasting colors in your design. Bright white countertops that cover dark cabinetry create a clean – yet dramatic – statement in the kitchen. Combined with modern stainless steel appliances, you can have a showpiece kitchen. Or mix it up with dark countertops and white cabinetry for an equally dramatic and beautiful space.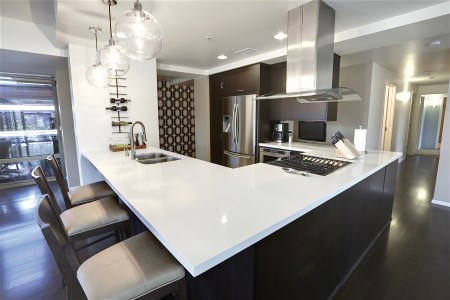 Featured: Arctic White Quartz
With its striking solid color options, quartz is an excellent choice for adding contrast. It comes in a range of colors, as well as with sparkles and veining for the look of granite, marble, and even limestone. And the beauty of quartz is that it requires little to no maintenance, and is easy to keep clean even in the hardest working kitchens.
If you are longing to freshen up your kitchen, there are so many premium surfaces to choose from that weren't readily available just 10 or 15 years ago. Our personal design styles have evolved too; no longer are avocado colored refrigerators cool. Today, we design our kitchens to reflect our personal style and for easy care and maintenance. Beautiful kitchens with durable surfaces are what we expect today, and with the wide range of materials available, we can create a distinctive space transforming our kitchens from daily drab into interesting and unique.