When Is A Prefabricated Granite Countertop Is The Best Choice?
August 14, 2020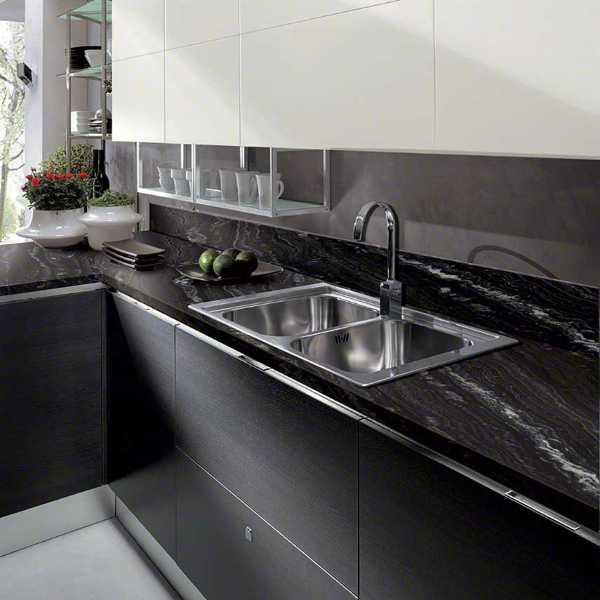 In 2014, the United States imported over 2 million metric tons of granite from Brazil. The granite countertop is and will remain a popular option, primarily because of its one-of-a-kind nature.
Plus, granite has a high resale value, which is another reason why many homeowners opt to renovate their kitchen counters and replace them with granite.
With so many options on the market, people wonder when a prefabricated granite countertop is the better choice.
Keep reading to learn about prefabricated granite countertops and the reasons why homeowners consider them.
What Is a Prefabricated Granite Countertop?
When it comes to home construction or remodeling, the word prefabricated applies to prefinished products. Prefabricated products can lower costs and help speed up installation.
When granite countertops are prefab, it means they're precut to a certain countertop depth and then prefinished with a bullnose edge. A bullnose edge is a rounded, smooth edge cut. It enhances any countertop edges with a graceful aesthetic through its curved design.
Prefab countertops often come with an added backsplash, too. Backsplashes are usually around 6 inches, but they help refine and complement the countertop's look. Plus, they add moisture protection to any nearby walls and cabinetry.
Prefab granite slabs are still made from real, whole granite slabs. Whether its black granite or brown granite you desire for your kitchen, prefab still guarantees a one-of-a-kind natural granite slab.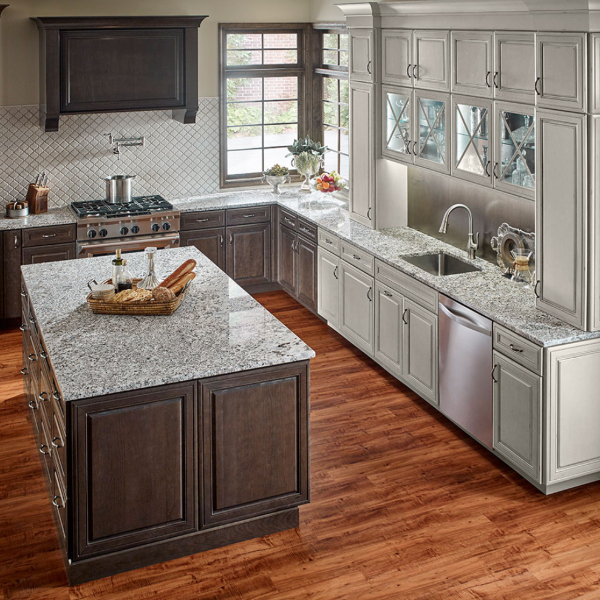 What Is the Backsplash?
Backsplashes serve as focal points and are excellent additions to any countertops, whether whole slab or prefab. They can help make your kitchen reflect your taste and style and add to the overall aesthetic of a kitchen or bathroom.
Prefab countertops come with backsplashes to enhance the look and overall appeal. Plus, they help to keep moisture out of seams, walls, and cabinets.
Reasons Homeowners Consider Prefab Countertops
Prefabricated granite countertops come in various sizes. Even though they're precut, they are sized perfectly for standard bathroom vanities and kitchen countertop spaces.
112" x 26" and 108" x 42" are more commonly needed sizes. However, prefab slabs come in various sizes, making for a seamless installation for most homes.
While not every color of granite comes in a prefab option, most colors do. There are many options for homeowners to choose from when it comes to picking out a color that complements the kitchen or bathroom.
If you find a color you love and the countertop depth matches the prefab depth, there's no reason not to get a prefab countertop. Here are some other reasons why someone might choose prefab over custom cut:
The countertop depth matches the prefab depth
The homeowner is happy with the bullnose edge finish
The homeowner desires the added 6" backsplash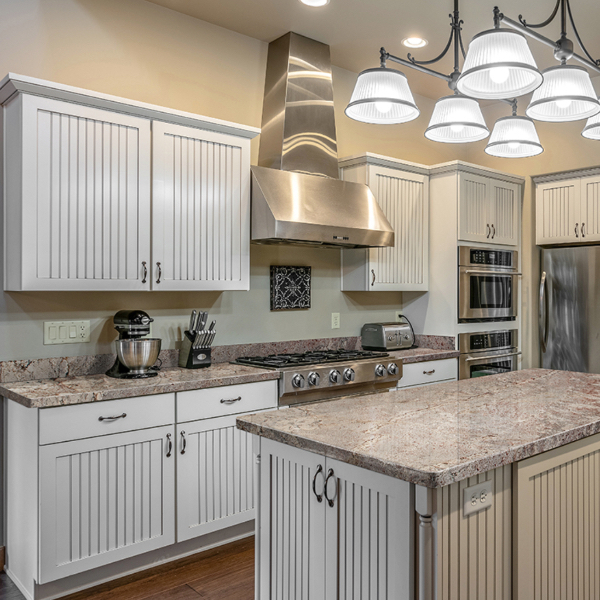 Prefab Granite Countertops Cost Less
One of the main reasons homeowners choose to go with a prefab option for their countertops is that they are much less expensive. Unfinished slabs are pricey and more difficult to install. Plus, if you find the color you love, and it comes in the size of your countertop, there's no reason not to go with the prefab option.
You're still getting a real, natural granite slab when you choose a prefab option.
What's the Difference Between Prefab and Slab?
There aren't a lot of differences between prefab and slab granite. A lot of consumers prefer prefab granite because it's the more affordable option, and more often than not, they find the color that they love.
Plus, it's easier to install.
It is limited in size, however. While prefab comes in many different standard counter sizes, it doesn't come in the custom kitchen or bathroom sizes.
Slabs can be custom cut to then fit non-standard kitchen and bathroom countertop sizes. If you've got a non-standard countertop, prefab granite probably isn't an option.
Slabs can be fabricated with custom edges, whereas prefabricated slabs come with the bullnose edge. Some prefab countertops come with more edging options, but the bullnose edge is the most common.
Granite slabs tend to seam up easier than prefab countertops, so the backsplash option helps significantly.
While prefab countertops come in a variety of color choices, slabs come in endless designs and colors for homeowners to choose from.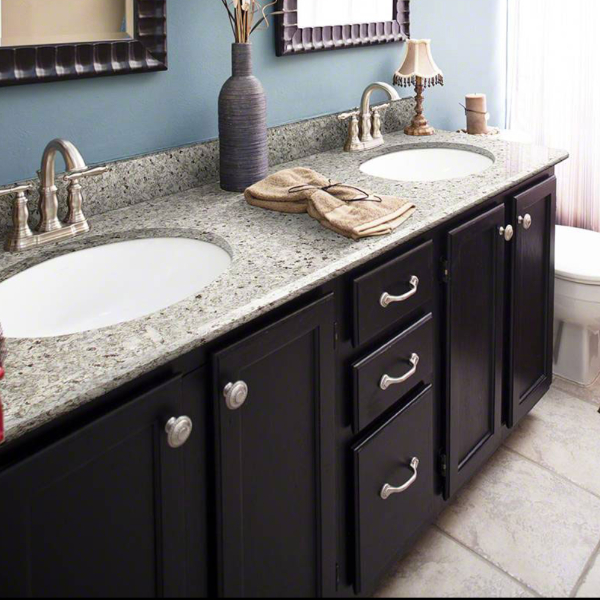 Quartz vs. Granite
Regarding the quartz vs. granite debate, they're both very durable, and they both come in a variety of colors.
While quartz comes in solid colors only, granite pieces offer marbling. Each piece of granite is unique.
Quartz is harder than granite, so it damages less easily. It's nearly indestructible, and it's not porous like granite. That means that with quartz counters, it's even easier to keep surfaces free of bacteria.
Quartz is more sensitive to excessive heat, though, which is why heating pads should always be used under hot cooking pots and pans. Their prices are relatively similar, although granite can be more expensive for certain designs and colors.
Granite countertops are mined from pure stone, which is then sawed into slabs. Quartz, on the other hand, is manufactured from crushed quartz that is then mixed with pigment and resin. The pigment adds color, and the resin acts as a binder.
Have Fun Choosing Your Granite Countertop
Choosing a granite countertop for your kitchen or bathroom is exciting. Whether you opt to pick out a whole slab or a prefabricated option, you're still getting a one-of-a-kind unprocessed slab of granite.
If you find a color and design you like and love the elegance of a bullnose edge finish, then save money by opting for a prefab option.
Not only will it boost the aesthetic of your home, but it adds value as well!
READ MORE ABOUT GRANITE COUNTERTOPS
Viva Brazil! Sports, Festivals, And Granite
What Can Cause Granite Countertops to Etch?
What to Ask Your Contractor Before Buying Granite Countertop