Current Obsessions: Stunning Marble Look Quartz Countertops
February 26, 2017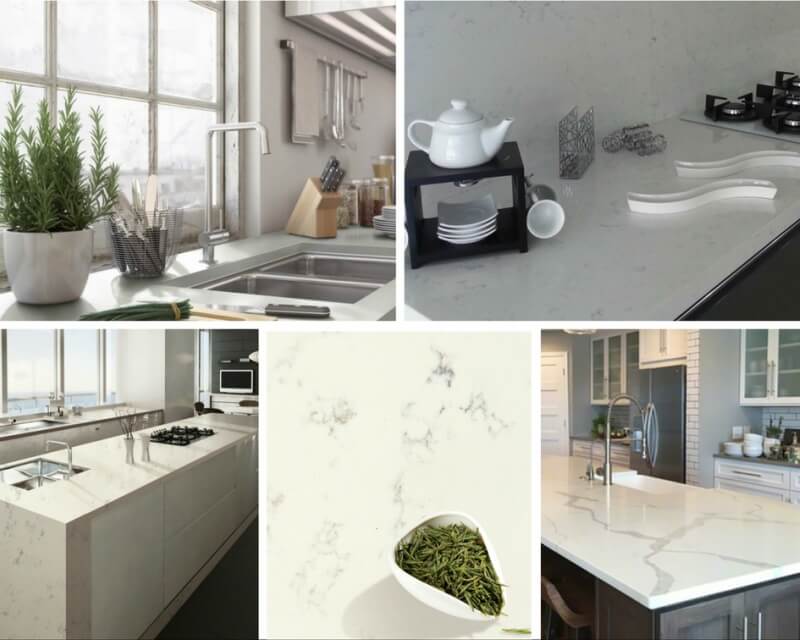 Marble countertops aren't for everybody. It's no secret that genuine marble slabs in the home require a certain commitment to maintenance and care, not to mention a hefty financial investment. Homeowners with busy lifestyles and active families who don't want to take the time to apply sealers, don't want to worry about spills or drips, and don't want to spend their kids' college fund on a kitchen design have an alternative – marble look quartz.
MSI's marble look quartz products have many advantages over natural marble, yet deliver long-lasting, timeless beauty, and provide that opulent touch you crave.
Quartz countertops are extremely strong and durable, resisting chips and scratches. They are waterproof and stain-resistant, making them an excellent choice for bathrooms and messy cooks. You won't need to seal them, and daily care just requires a quick wipe with a gentle cleanser. Unlike marble, the coloration and pattern of veining are uniform.
Finally, there's the price consideration – and, more importantly, quartz countertops come with a warranty, while marble does not. Here are a few of MSI's most popular marble-look quartz products.
Visit our gallery to see the entire collection!
Carrara Grigio
A mimic of natural Carrara Marble, Carrara Grigio quartz features a creamy white background accented with swirls of taupe. It has a polished finish and creates an elegant look in a contemporary kitchen such as the one shown here. You can order Carrara Grigio Quartz prefabricated, or customized to include cutouts for a sink or cooktop.
Calico White
Get the look of a classic, pristine, pure white marble kitchen countertop with Calico White Quartz, which resembles marble. It has a shiny, polished finish, and unlike marble, it's extremely resistant to scratches and stains – so you can enjoy that white countertop worry-free.
Calacatta Classique
Create a dramatic kitchen island like this one with Calacatta Classique Quartz, which features bold gray veins against an ivory-white background. You'll want to make it the central focal point of the room. Pull up a chair and have a snack, or even a glass of red wine, because you won't need to worry about spills or stains.
Calacatta Vicenza
Bearing an uncanny resemblance to fine Italian marble, Calacatta Vicenza is impervious to water, and therefore ideal for wet areas such as bathrooms, shower surrounds, or even flooring. Calacatta Vicenza Quartz features delicate swirls of pale gray on pure white, and it's a joy to coordinate with other surface materials.
Cashmere Carrara
Delicately patterned and highly polished, Cashmere Carrara Quartz countertops fit perfectly with traditional styles or even sleek contemporary designs. Why stop at the countertop? Quartz's affordability means you can continue upward into the backsplash, or even cover an entire accent wall.
Although not everyone wants the worry, hassle, and expense of a natural marble countertop, there's no need to sacrifice the look of classic, opulent marble. Marble-look quartz is an excellent alternative, and with so many colors and patterns to choose from that range from subtle Carrara White to bolder colors and patterns, you're sure to find the perfect lookalike for your décor and your lifestyle.