Distinctive Backsplash Tile: Palisades Handcrafted Glass
August 23, 2021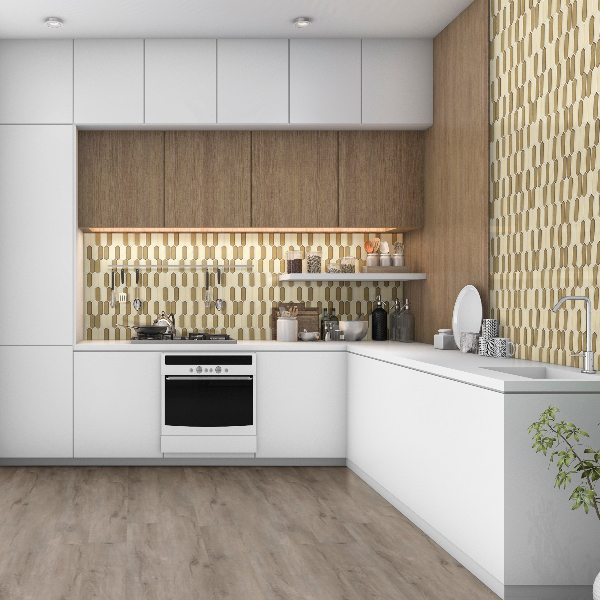 Backsplash tiles are intended to be purely functional. The new Palisades Handcrafted glass range defies that tradition.
With a range of eye-catching glass tiles that are guaranteed to steal the show, Palisades Handcrafted Glass has reinvented the humble backsplash. Available in understated monochromes, through to warmer neutrals, and glamorous metallics, these exquisite tiles are set to redefine modern kitchens, bathrooms, and feature walls.
If you're ready to upscale to unique elegance or add a feature wall that holds its own, keep reading to see which of Palisade's new geometrically inspired tiles suit your space.
Urban Waves Lapis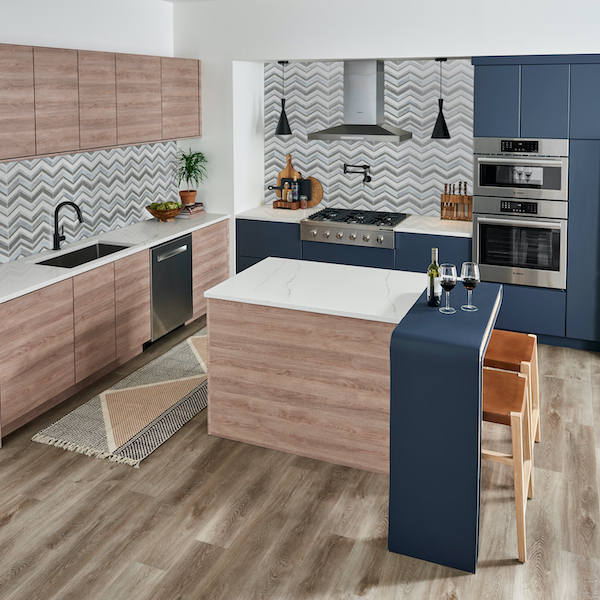 This monochrome glass mosaic tile backsplash sets the tone for the rest of the room. For a cohesive aesthetic, pick up on the play of shades in the Urban Waves Lapis tiles and incorporate them into the countertops and wall color.
The soft zig-zag pattern of Urban Waves lends an understated geometric accent to a room. The opalescent gleam of the textured lines contributes a gentle play of light.
An Urban Waves backsplash works beautifully when paired with polished metal appliances. The gleam of the silvery-grey tiles sings to the satin-like finish of metallic fridges, range hoods, and ovens.
Natural wood and a pop of painted color on the walls are just right to complete the look.
Stella Metallica
Invite the dramatic sparkle of the midnight sky into your space with Stella Metallica glass tiles. Each individual tile is a masterpiece, blending dark charcoal, textured pewter, and gunmetal gray with gleaming accents of white exploding from a star-like center.
The darkest shade in the tiles is picked up in the color of the top cupboards. A bare cement wall stands in perfect contrast to the metallic sparkle of the backsplash, while a large window lets in generous amounts of natural light.
A backsplash is typically a vertical continuation of a countertop. Here, the countertops are white to emphasize the decorative lines in the tiles. Natural flooring and lower cupboards offer a neutral base to balance the striking impact of the Stella Metallica backsplash.
Pixie Cloud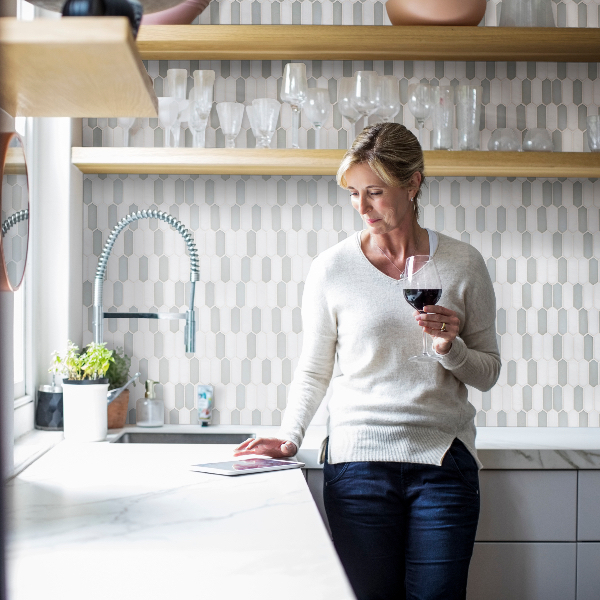 Pixie Cloud tiles offer gentle background detailing in soft shades of muted white and grey. Dappled vertical rectangles create random tile patterns that provoke relaxation and are easy on the eyes.
Effortless styling in white contributes to the elegant, yet relaxed, feel of the room, while the gray elements of the pixie cloud backsplash are mirrored in the marble countertop.
Pale wooden shelves flow with the dreamy, easy feel of this space. Pixie cloud creates a beautiful wall tile backdrop to wine glasses or pottery bowls. A fresh green potted plant embraces the light with a glow that contrasts the natural colors of pixie cloud tiles
For a gentle backsplash that offers a clean palette to build on, choose pixie cloud.
Citi Stax Greige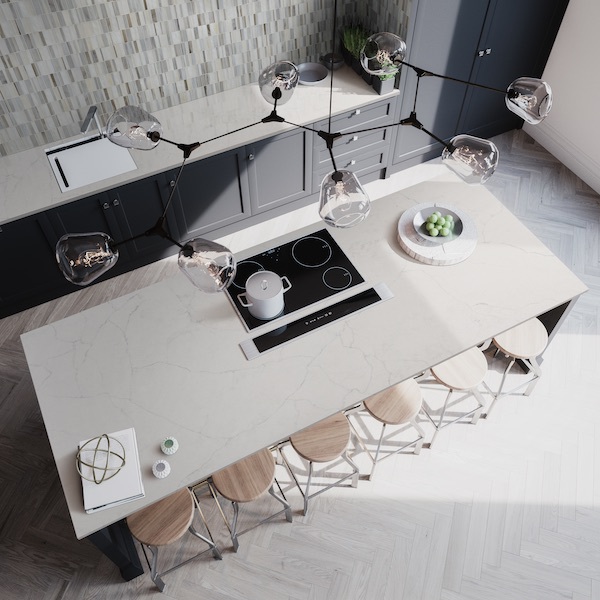 Urban luxury is perfectly captured in the Citi Stax Greige wall tile. Natural colors soften and add warmth to this backsplash. The natural shade of the bar stools is chosen to match a single section of the Citi Stax greige tiles, while the cupboards tone in with a dark gray.
The uniqueness of Citi Stax Greige is found in the wonderfully irregular widths and random positioning of the different bands of color that make up each tile. With just enough uniformity to create a sense of order, the handcrafted feel is preserved to great effect.
Palisades Handcrafted Glass Tiles - An Exquisite Collision of Beauty and Function
Handcrafted glass tiles are in a class of their own when it comes to unparalleled beauty and functionality. Backsplash designs are no longer merely functional but have stepped up to become features in their own right.
Allow yourself to be swept away with inspiration as you take in the play of light across these tiles as they would appear in your home.
Why Choose Handcrafted Glass Tiles?
When you're looking for a finish that is more than merely practical, handcrafted glass has so much to offer. Here are our top reasons for choosing handcrafted glass wall tile.
Breathtaking Beauty
For a contemporary material that adds rich personality to your home or office space, glass tile is unmatched. The translucence of glass draws the eye with a variety of colors and finishes that enhance and embellish the style of the room.
Glass opens the possibilities for endless graphic patterns, cutting-edge design, and shapes to add texture, depth, and light to a room.
Expand Small Spaces
Glass tile has a way of bouncing light that expands small areas. If you have a narrow entryway, a crowded kitchen, a cluttered laundry room, or a small powder room, consider decorating with glass tile.
Hard Wearing and Easy to Clean
Glass tile is one of the easiest to keep clean. Fingerprints, grease, grime, or splashes wipe straight off. Other than routine cleaning, glass tile requires no maintenance. It has a 0% absorbency rate, making it impenetrable by water.
Planet-Friendly
Glass tiles are 100% recyclable and producing them takes less energy than all other types of tiles.
If you're looking for a beautiful, low-maintenance material for your next project, glass tile is a great choice. With a multitude of colors and styles, you'll find the perfect material to make your home shine.
Can't Picture It? Now You Can!
Visualizing the dynamic range of styles and textures in your own home can be hard. We have a solution for you. Try our backsplash visualizer. Simply select and click on the tile you'd like to preview.
Using our backsplash visualizer, you can see in real-time how each tile design will look.
Handcrafted Glass Backsplash Tile
- A Designer's Dream
With the exquisite Palisades' range of glass tiles to choose from, you'll have no trouble dreaming up backsplash designs.
The best part? With variety this wide, there are more than backsplash tile areas waiting to be elevated by handcrafted glass tiles. Let your creativity run riot and watch your world come alive under the touch of glistening glass tiles.
Are you facing some resurfacing? Contact us for all your superior surfacing requirements.
READ MORE ABOUT THE DIFFERENT TYPES OF GLASS TILE
5 Reasons Why Kitchen Designers Love Glass Backsplash Tile
Artistic Glass Backsplash Tile
Imaginative Backsplashes: Glass Subway Tiles