What Are The Pros And Cons Of Quartz Countertops?
February 14, 2020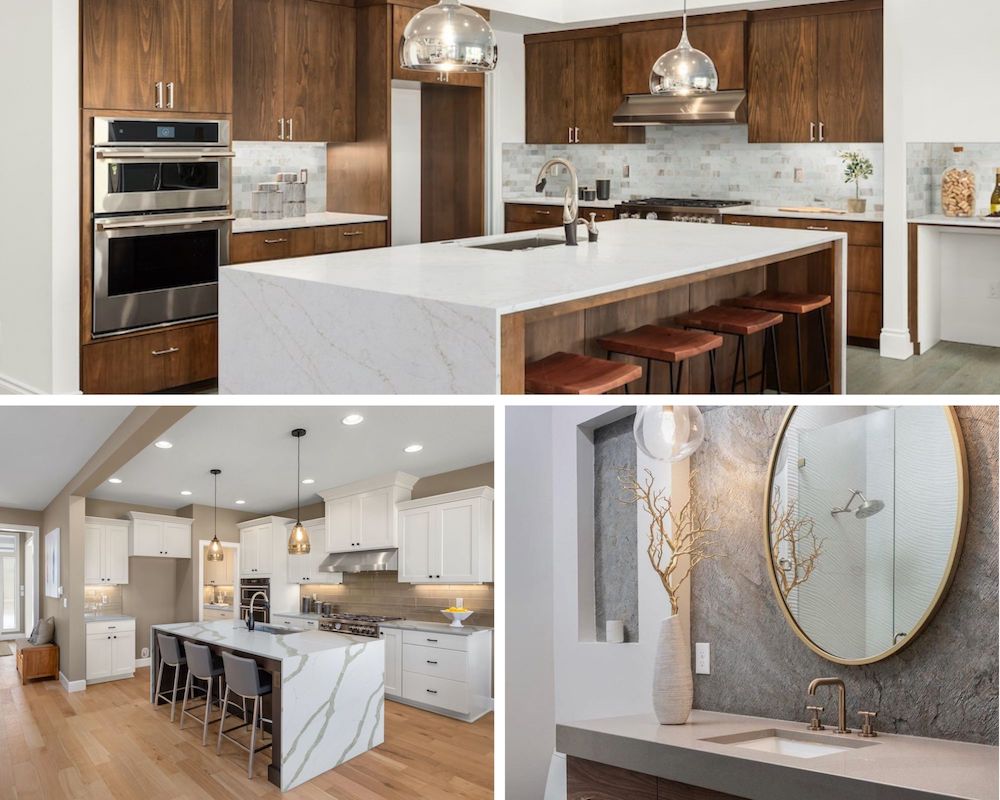 Choosing the countertop for your newly remodeled kitchen or bathroom is a lot of fun! However, it's also serious business — after all, it's a major investment. It's also a commitment that could last 25 years or more, if you choose quartz countertops or another quality option. That's why it's so important to weigh the pros and cons of each option before making that big decision.
Quartz is one of the most popular choices for today's countertops, as it's a high-quality, luxury material. Unlike other luxury surfaces, quartz is an engineered slab. This opens up a new world of possibilities in form and function! Quartz countertops are tough and durable, and have many characteristics that busy families will appreciate. No material is perfect, though. It's important to consider both the benefits and limitations, so you can be confident you've chosen the right countertop for your lifestyle and taste.
Pro: Consistency in Appearance
Quartz countertops are manufactured surfaces made with real quartz crystals, along with other minerals and pigments, bound together with a resin. Therefore, each piece looks the same. When you choose a quartz countertop, you can be assured that the countertop that is installed in your kitchen or bathroom will look just like the one you saw in the showroom. This isn't the case with natural materials like marble or granite. Patterns and colors, such as the veins in natural marble, can vary considerably between slabs. To get exactly the look you want, you need to go to the slab yard and select the actual piece you wish to buy. Otherwise, the end result could look markedly different than what you had in mind.
Pro: Durability
When you install a quartz countertop, you'll be getting an extremely strong, tough surface material that can stand up to decades of use by your busy family. It's resistant to scratches and chips, and since it's waterproof, it also resists stains and water damage. In fact, this is one of the biggest reasons people choose quartz countertops. They are not completely indestructible — you should still use cutting boards, wipe up spills quickly, and use trivets to protect against hot pans and dishes. Because of the durability of quartz countertops, manufacturers issue generous warranties against manufacturing defects and damage.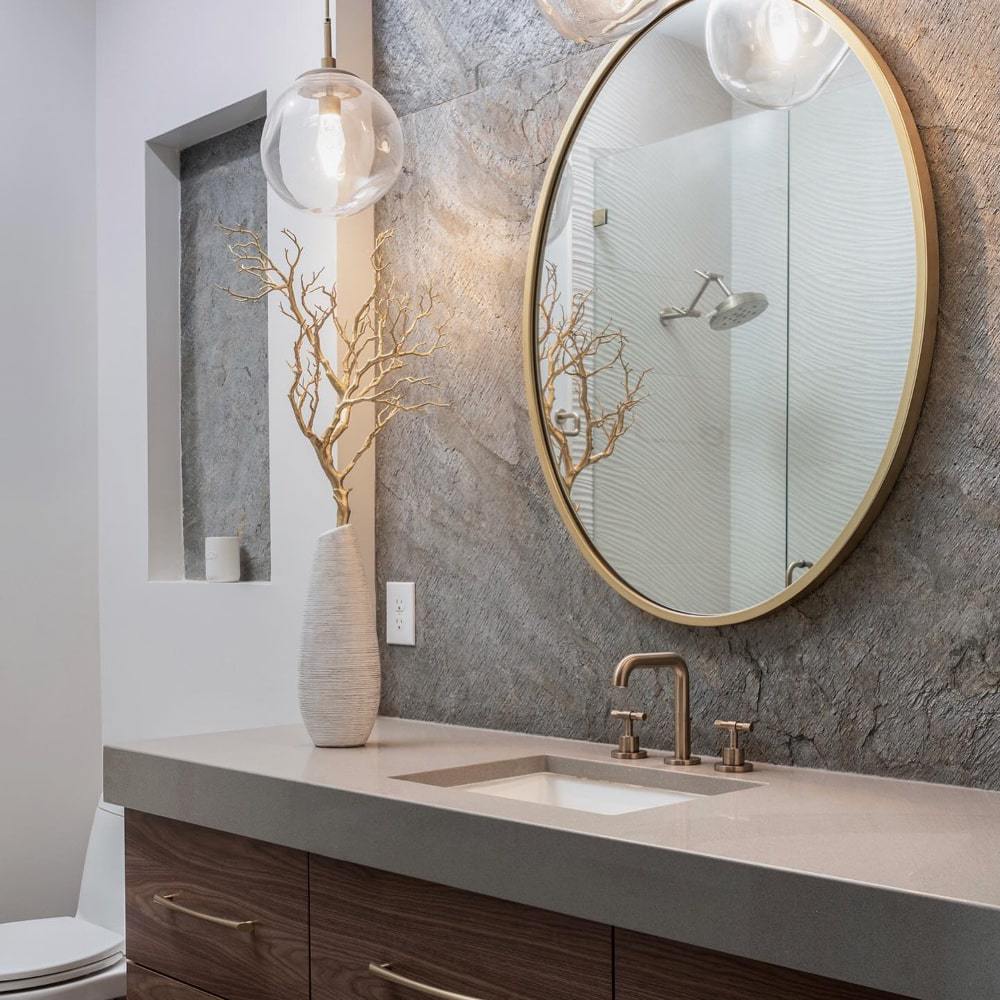 Fossil Gray Quartz
Pro: Low Maintenance
When selecting a countertop, one of your most important questions should be this: How much work will it take to maintain? Natural stone countertops range in difficulty when it comes to keeping them looking their best, but all need to be sealed on a regular basis. Without sealing, stone countertops are porous and prone to water damage and stains. Quartz doesn't have this problem. It never needs sealing — it's always waterproof and nonabsorbent. Natural stone countertops also need special cleansers, with a neutral pH, which are formulated specifically for that purpose. With quartz, any nonabrasive, mild cleanser will do.
Con: Price
Quartz countertops are luxury options. They typically cost more than natural stone countertops. However, the cost of alternatives such as granite or marble varies widely depending on many factors — its rarity, the distance it travels from the quarry, and its quality just to name a few. When deciding between quartz vs. granite, remember that high-end natural stone can cost much more per square foot than quartz.
Calacatta Bali Quartz
Con: Contemporary Look
As a modern, manufactured surface, quartz countertops are associated with contemporary styles of décor. They're an ideal match, since they can be manufactured in virtually any color, such as solid black quartz, or with subtle, consistent patterns. If you prefer a traditional or rustic aesthetic for your home, you may lean toward the elegant look of marble, granite, soapstone, or other natural material. Many homeowners prefer the variability of natural stone's veining, coloration, and movement. Keep in mind, however, that quartz countertops are made to authentically resemble natural surfaces like fine Italian marble, allowing you to have the best of both worlds: Elegant looks and super-easy care.
Con: Heat Resistance
In busy kitchens, accidents happen — like placing a hot pot or pan directly on the countertop surface. For some countertops, such as laminate, that would be a disaster. Quartz countertops are somewhat heat resistant, but at very high temperatures the resins that bind the quartz crystals may discolor. If heat resistance is a top priority for you, a natural stone countertop may be a better choice, although stone surfaces can also be damaged by excessive heat. No matter which countertop you choose, get into the habit of using hot pads and trivets.
Con: Weight
Another drawback to quartz countertops is their weight; they can weigh between 20 to 25 pounds per square foot. For this reason, installation is not a DIY project. It's best left to the pros. Cabinets and even flooring may need additional reinforcement and support to handle the weight of the quartz slab. However, by comparison, natural stone countertops such as granite can weigh just as much, if not more.
Con: Indoor Use Only
Outdoor kitchens and bars have become a popular trend, and it's important to select the right countertop for this purpose. Unfortunately, quartz countertops are recommended for indoor use only. The main reason is that the resins that bind the countertops can fade or discolor in direct sunlight. In fact, this can happen even indoors beside a sunny window. Granite, slate, and other natural stone countertops are a much better fit for your outdoor living spaces.
As you can see, there's a lot to love about quartz countertops, but they aren't an ideal fit for everyone. The price may be on the high side, but the low maintenance and long warranty can make up for it. When considering drawbacks like weight, heat resistance, and appearance, remember that there may not be much difference between quartz countertops and natural stone. Every type of countertop surface has its pros and cons, and only you can decide the one that best fits into your home and your life.
Ready to find your perfect quartz? Chat with us online, visit an MSI showroom, or contact an MSI authorized retailer and start your quartz countertop journey today.
More About Quartz Countertops
Are Quartz Countertops Stain Resistant
Move Over Concrete Counters This is a Job For Quartz Countertops
7 Must See Quartz Countertops That Look Like Natural Stone
Best Ideas for Quartz Countertop Vanities
You May Want to Choose a Quartz Countertop Over Marble After Reading This