Popular Porcelain Tile Trends For Bathrooms
September 29, 2020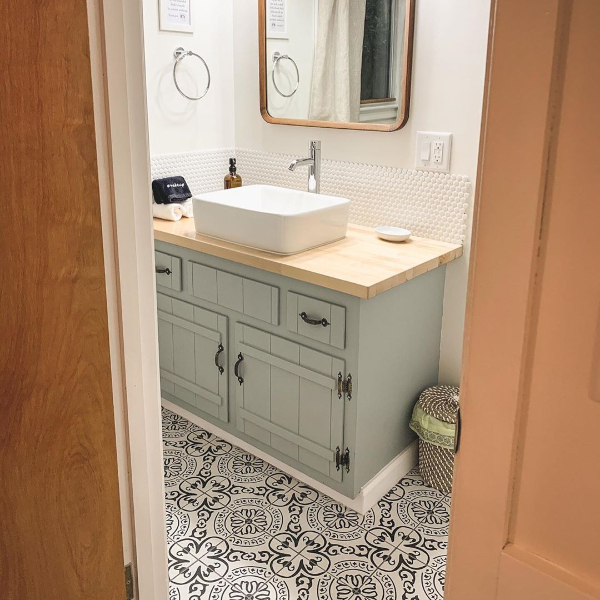 The bathroom may be the smallest room in the house, but it's often the room that receives the most attention, second only to the kitchen. Bathrooms are more than just a place for taking a bath or shower. Today's luxurious bathrooms have become a sanctuary, a place for relaxation and comfort. For that reason, they have inspired a host of design ideas — and porcelain tile is up for the challenge.
Today's bathroom design trends cover a range of styles and moods, so there's certainly one that will appeal to everyone. Whether your style is relaxed and spa-like, kitschy and retro, farmhouse and rustic, or elegant and formal, porcelain tile is a great choice for flooring and even walls.
Porcelain tile is a chameleon in the design world, since it's produced to imitate many other materials, including some you'd never dream of installing in such a wet location, such as hardwood flooring. If you've always wanted the elegance of a marble tile floor in the bathroom, porcelain tile that looks like marble can deliver that look with a lot less maintenance and worry.
Here are a few of the hottest trends in bathroom décor, all brought to you with the power of porcelain tile.
Wood Looks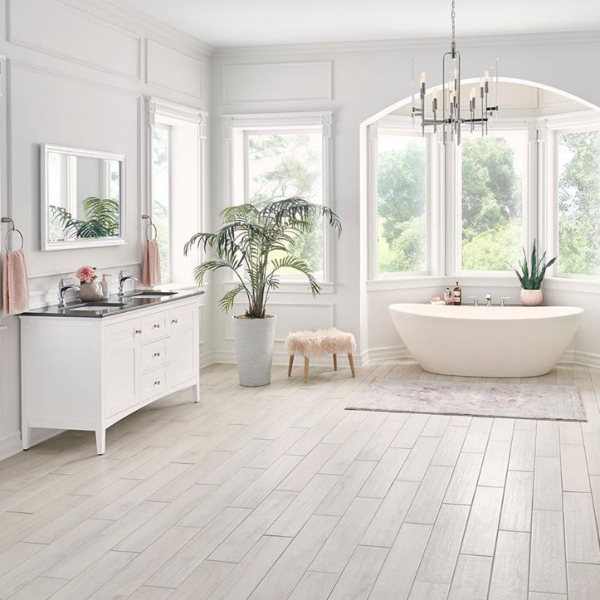 There are many reasons that hardwood flooring isn't a good choice for a bathroom. You worry about water damage, mildew, and stains. Porcelain wood tile and planks, however, solves that problem. It's available in a variety of colors from pale gray to dark brown, and you'll be amazed at how authentically it reproduces the wood grain, including knots. There is enough variation between planks that, if laid correctly, it looks real.
Wood-look porcelain tile can be used for more than just basic side-by-side, parallel installation. You can create the look of an opulent parquet floor by installing these versatile planks in various patterns, such as herringbone. And, why not extend it onto the wall? Imagine how eye-catching a wood-look shower might be.
The hottest trend in wood flooring, however is the distressed look. Porcelain wood-look tile replicates plank flooring that is wire-brushed, scraped, and worn. Imagine the weathered look of reclaimed barn wood, complete with faded paint, wormholes, knots, and scratches. With porcelain tile, you can achieve the warmth and character of that rustic style a lot more easily and with less expense that scouting around for the real thing. Better still, your barn-wood floor will never give you splinters.
Metallic Looks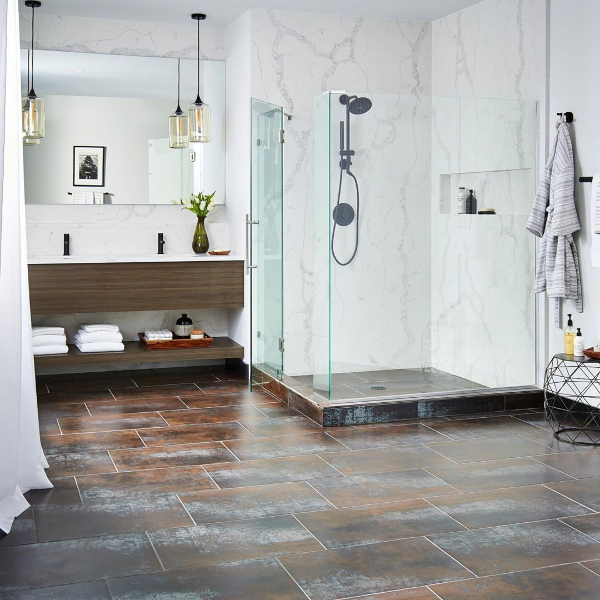 Although the industrial look has been on-trend for some time, installing sheets of metal on the floor was not a typical method of achieving it. Metallic porcelain tile, however, fits that niche in an elegant, practical way. Today's metal-look tiles have the characteristic patina of oxidized metal, in shades of burnished copper, rusty iron, or brushed steel. Large format tile, which fits close together, means fewer grout lines to interrupt the pattern. Still skeptical about how metal-look tile elevates a bathroom? Try our flooring visualizer.
Retro Looks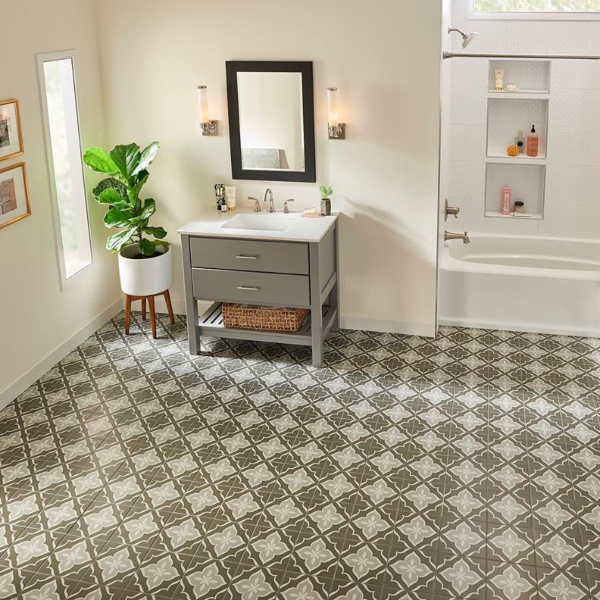 Bathroom floors are becoming the centerpiece of the room's décor with porcelain tile that resembles expensive, handcrafted artisanal tile. It's easy to achieve a vintage, retro look with tile that appears hand-stenciled in bold, contrasting colors, especially black and white. These tiles create a larger pattern that appears when you match up the edges, making medallions with intricate borders or geometric designs. With floral or intertwining tile patterns in colors ranging from subtle to bold, you can achieve an old-world European or exotic Moroccan feel.
Another way to add punch to your bathroom is to install these artisanal tiles on the wall, as a backsplash, shower surround, or accent wall. If your style isn't so bold, This modern tile also works well as stripes accenting other more neutral tiles, or accenting the back of an alcove.
Natural Stone Looks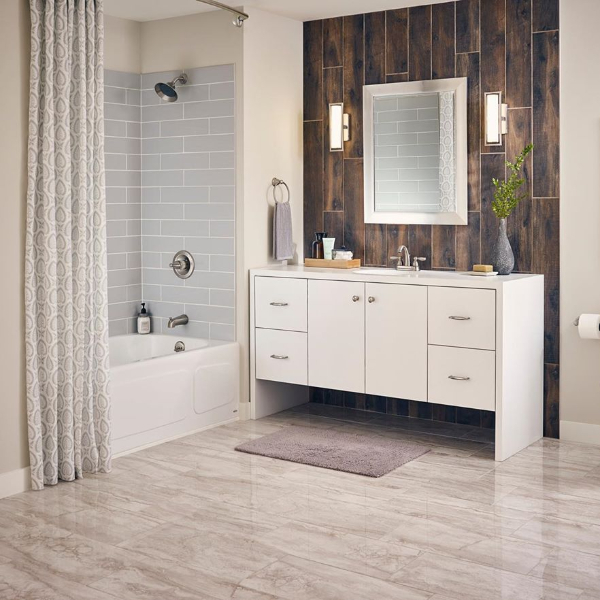 It's easy to love the earthy elegance of natural stone flooring, and it seems to be a good fit for bathrooms — except for the maintenance. Natural stones need to be sealed to maintain their waterproof properties. Porcelain bathroom tile that looks like stone is waterproof as is, and therefore won't harbor mold, mildew, or bacteria. It's a snap to keep clean. Even better, you have your choice of natural stone looks including easy-to-match neutrals.
There's a porcelain tile available to replicate many types of natural stone, such as marble, sandstone, limestone, and more. Many of these stone-look tiles have matte finishes, which not only adds elegance but is also safer for bathrooms since it's not as slippery. That is a nice feature for kitchen tile, too.
Contemporary Looks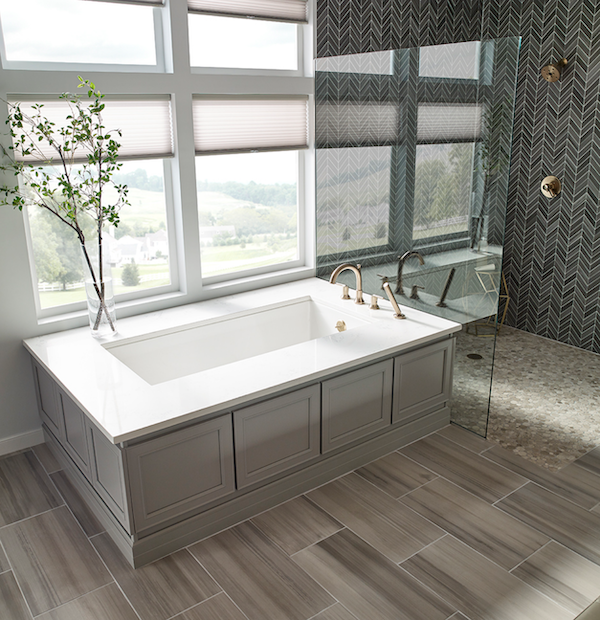 Today's contemporary bathroom designs tend to be minimalistic, without clutter or embellishment. The result, when done right, is never stark and plain, but is restful and soothing, exactly what you'd want a bathroom to be. Uncluttered, streamlined bathrooms are easy to keep clean, and even easier when your flooring is porcelain tile.
The current trend in contemporary flooring is neutral gray or pale beige coloration with a delicate, linear veining pattern. This adds just enough interest to an otherwise monotone design without overpowering the room. These neutral tiles are also easy to combine with other decorative elements, so if you should choose a different style in the future, you won't have to change the flooring.
While all of the porcelain tiles covered here are modern by design, the looks are timeless and versatile. This ensures that your bathroom will look "on-trend" for many years to come. What's even better, the strength and durability of porcelain tile ensure that no matter how busy your bathroom may be, it will also look beautiful for many years to come.
READ MORE ABOUT THE BENEFITS OF PORCELAIN TILE
Porcelain Brings Purpose & Design Home
Porcelain Countertops Pros & Cons Review 2021
Porcelain Goes the Distance Reimagining Wood Tile