Popular
Porcelain Goes The Distance Reimagining Wood Tile
August 02, 2016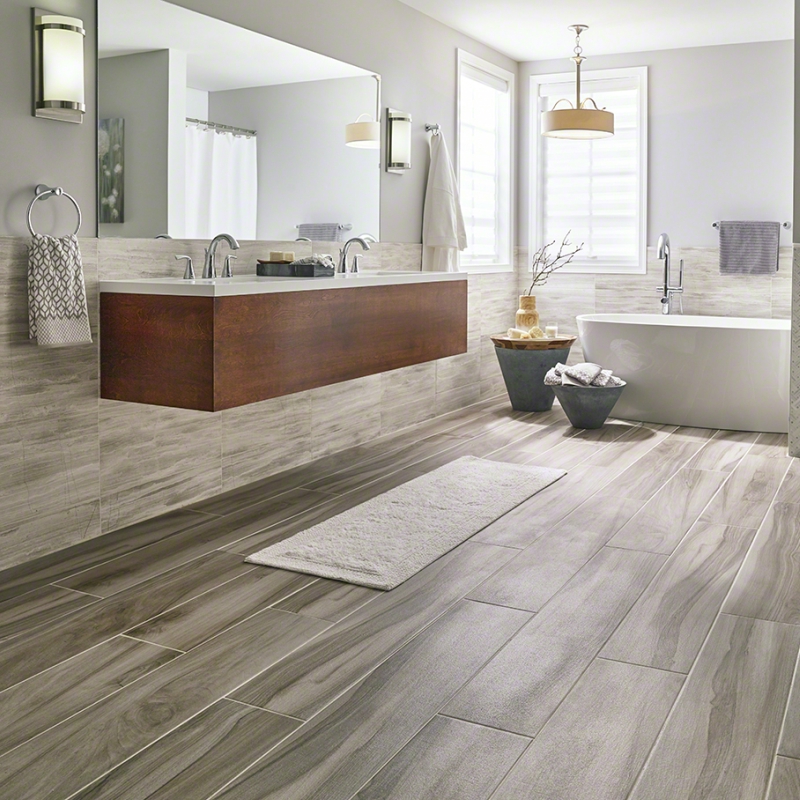 It only takes a moment to fall in love with the clean-cut good looks of wood look tile. But for discriminating homeowners from Maine to California, this innovative beauty is a game-changer because it has s-u-b-s-t-a-n-c-e. Pushing the boundaries of interior design, wood look tile combines the aesthetic qualities of real wood with the practical benefits of porcelain and ceramic tile, giving a wide range of living spaces instant appeal. The more homeowners live with and learn about this wood look-alike, the more they flock to it. From its height-of-chic finishes to its long list of sizes to its sustainability (we prefer keeping trees in the ground, too!), wood look tile has elevated flooring to an art form. Best part? The days of searching salvage shops for wood planks with rare dimensions and patinas are over. So is sacrificing style to stay within your budget.
To get the real world skinny of this on-trend design, we wrangled together a few homeowners who made the switch to our favorite wood look tiles, and invited them to share their story.
Beach Bungalow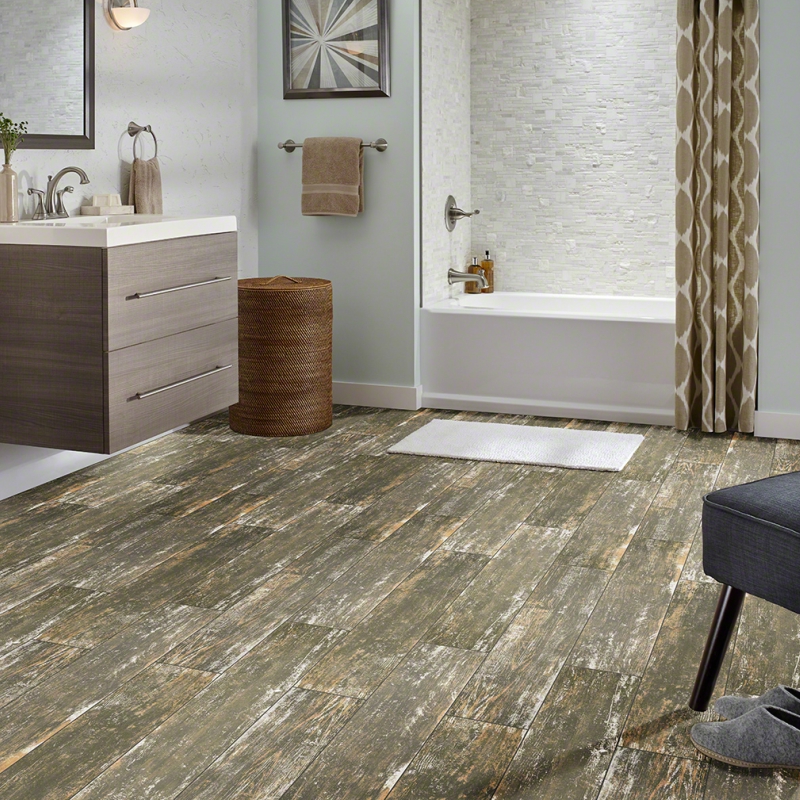 Featured: Vintage Copper
After flood damage in their West Palm Beach bungalow, homeowners Emma and David were a bit overwhelmed when they set out to replace the hardwoods on their first floor. The couple wanted flooring that would stand the test of time, protect their investment, and work with their laidback Florida lifestyle. Turns out, what they discovered was better than the real thing...
"As newlyweds and new homeowners, the flood could not have happened at a worse time. We went shopping with the idea that we would just replace our hardwood floors, but when we spotted tile that looks like reclaimed wood in a showroom, we were hooked. Neither of us had ever seen it before. Durable flooring that holds its own against water, and has the warmth of wood? We said 'Yes!' on the spot and never looked back." - Emma R., Florida
The natural aesthetic of old reclaimed wood was the inspiration behind our Vintage collection. Whether you're smitten with a linear look, or over the moon for mixing and matching patterns, these luxurious water-friendly matte porcelain tiles make a stunning case for all things casual.

Brooklyn Brownstone
When Marcus, a NYC professor, inherited a Brooklyn apartment from a relative, (um, how lucky can you get?), he asked an interior designer friend to help him update his two-bedroom Brownstone – which had dated wall-to-wall carpeting.
"I liked the historical charm of my new place, but I knew it wouldn't feel like home until it reflected my decorating style – which is modern minimalism. The carpet was the first thing to go. I took a cue from a neighborhood restaurant that has wood tile, and decided on 6 x 40 porcelain tile planks that look like natural rustic hardwood. I added radiant heating underneath it – which I was glad to have this past winter. In the living room, I extended the wood tile up to an accent wall. I get compliments on it all the time. The space also feels much larger than before." - Marcus L., New York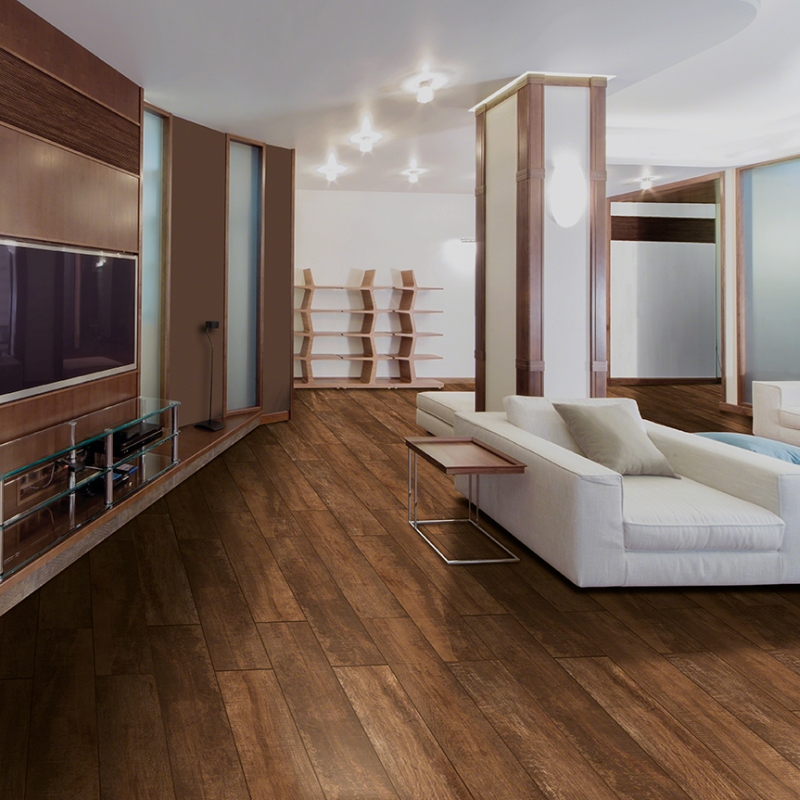 Capella Java
Nothing adds drama to a room like using wood look tiles on both the floor and accent wall. To match the sophistication of his home's architecture, and to add a wow factor, Marcus chose Capella in Java. It's a realistic wood-grain in a warm coffee tone highlighted by lighter veins and grains. Using the same flooring throughout gave even his smaller rooms a more expansive feel.

Chicago Colonial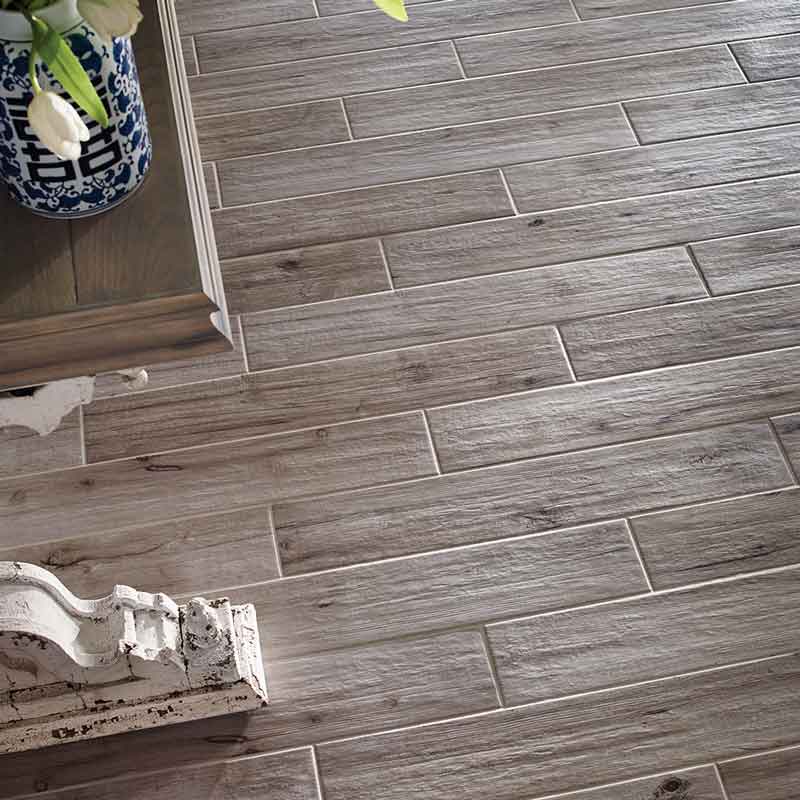 Featured: Palmetto Fog
In a suburb of the windy city, a busy family of six discovered the wood look tile trend while renovating the first floor of their 1950s colonial. Between black and white laminate tiles in the kitchen, hardwood floors in the living area, and carpet in the dining room, Kate and her husband Bob wanted a no-fuss style that would pull these spaces together in their new open floor plan. Creating a more flawless transition between their home and outdoor space— which includes a pool and garden—was also on their wish list.
"With four kids between the ages of three and ten, two Black Labs, and a lot of informal entertaining, we're always on the lookout for ways to simplify our lives. Despite the major upheaval of our renovation, we can't imagine going back to the way our house was before. Our new large format wood look tile floors gave us the look we wanted without the headache of upkeep. I don't worry about spilled juice on the carpet or dents in our wood floors anymore. Each area flows beautifully into the next, and because we literally used the tiles everywhere – including the backsplash in our kitchen, and a matching exterior tile leading up to and around our pool—we got a lot more for our money." - Kate B, Illinois
Wood-look porcelain tiles like the style Kate chose are known for their durability and strength. Unlike wood, it won't expand or crack when wet. Plus it's tough enough to withstand heavy foot traffic (hello commercial spaces). This moisture-resistant hygienic option is ideal for wet zones like bathrooms and kitchens – and of course, life alfresco.


Have you made the leap from hardwood floors to its porcelain or ceramic counterpart indoors, outdoors, or on your walls? Or in the happy hunting stage of a do-over? We'd love to hear your story.
READ MORE ABOUT THE BENEFITS OF PORCELAIN TILE
Popular Porcelain Tile Trends For Bathrooms
Porcelain Brings Purpose & Design Home
Porcelain Countertops Pros & Cons Review 2021