A Detailed Look At Porcelain Countertops: Are They Right For Your Kitchen?
February 16, 2021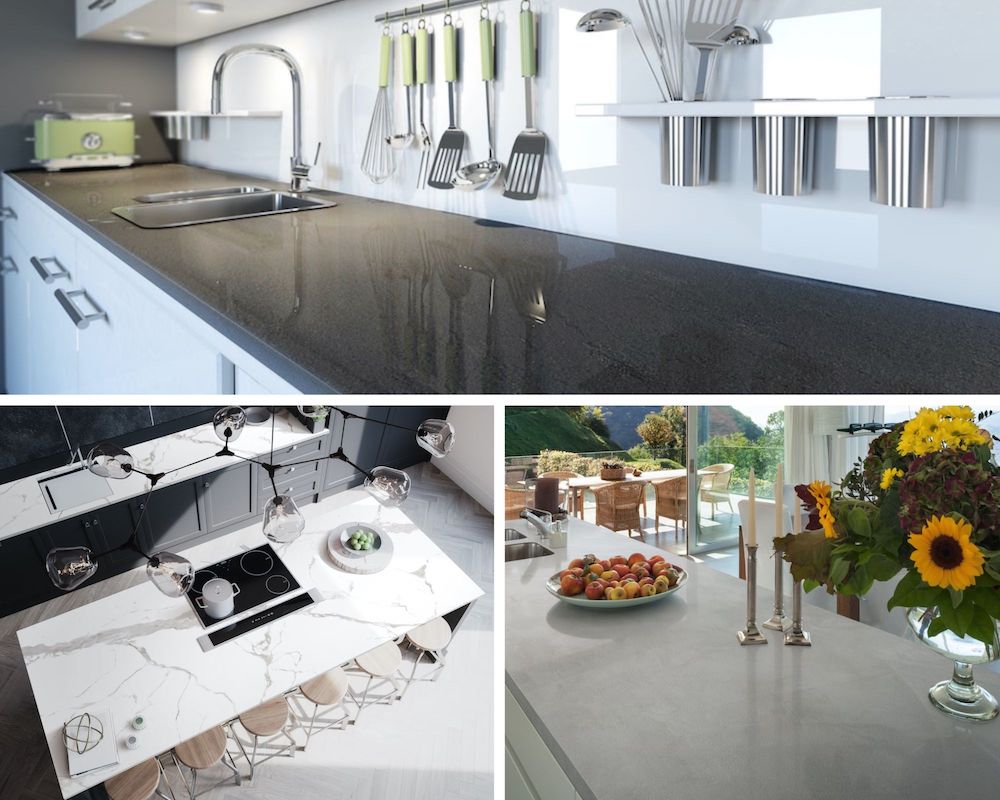 When most of us think of porcelain for kitchen and bathroom surfaces, tile comes to mind. Using porcelain is nothing new; it's popular for backsplashes, flooring, accent walls, and more. What is new, though, is the use of gauged porcelain tile! Gauged porcelain tile is a lightweight, affordable, oversized slab of porcelain that's only about 1/8" thick — and it makes porcelain countertops a serious contender.
Gauged porcelain tile is manufactured in a similar way to the porcelain tile we already know and love. It's made with a particular kind of clay called "china clay" which is rich in a mineral called kaolinite. It also contains silica, feldspar, and other minerals that combine to make it strong and durable. Just like any other porcelain tile, porcelain countertops are fired at an extremely high temperature in a kiln, glazed, and fired a second time to cure the glaze.
Like traditional porcelain tile, gauged porcelain has many properties that make it an ideal countertop material for kitchens and bathrooms. Here are a few for you to consider: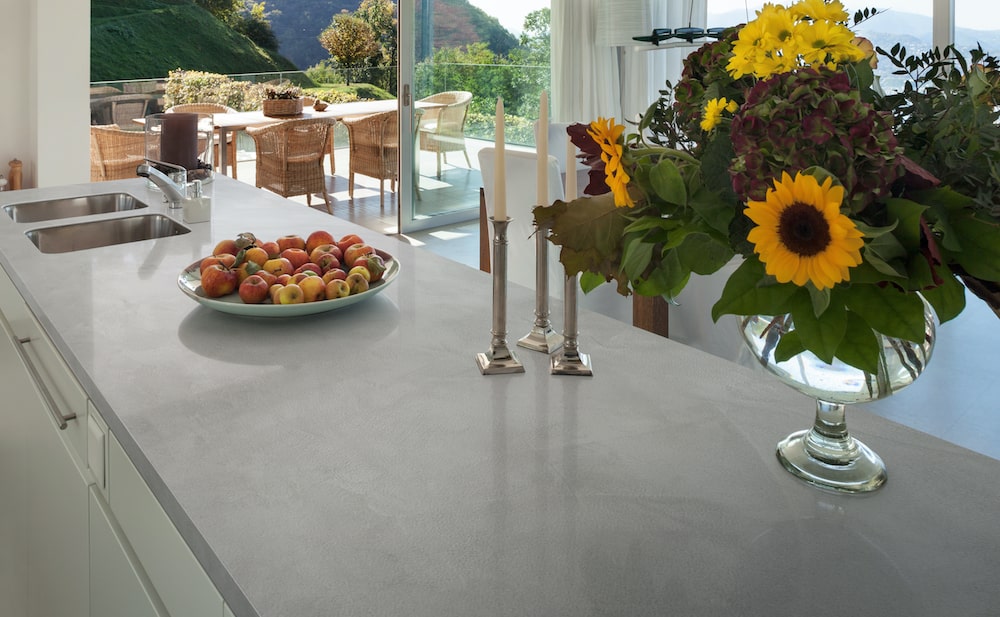 Cement Ash
Nonporous: The glaze on porcelain countertops, like any porcelain tile, makes it completely waterproof, and it never needs sealing to maintain this quality.
Etch-resistant: Unlike natural stones such as marble and granite countertops, porcelain will not etch or discolor when exposed to acidic foods and liquids such as tomatoes, vinegar, or lemon juice.
Stain-resistant: Because porcelain countertops are nonporous, they do not absorb liquids that may cause staining. They are simple to keep clean with a mild soap and water, and more stubborn dirt can be removed with a non-abrasive cleanser. This tough material can stand up to harsh cleaning chemicals much better than natural stone countertops, but they are not necessary.
Heat-resistant: Porcelain is created by firing in a kiln at high temperatures, so it is exceptional at resisting damage from hot pots and pans. However, it's still recommended that homeowners use trivets or hot pads.
Resistant to sun damage and fading: Some types of premium surfaces can become damaged or fade when exposed to ultraviolet light. Porcelain can stand up to constant exposure to sunlight, which means it is an ideal choice for an outdoor kitchen or bar.
Different finishes are available: As with other types of countertops, you can choose a glossy, polished finish, or opt for a smooth matte, or honed, finish. Although there are fewer finishes to choose from compared to other countertop materials, the most popular choices are available.
Mimics other materials: Porcelain countertops are glazed to resemble a wide variety of other materials such as travertine, quartzite, marble, and granite, and the result is beautifully realistic. Porcelain is also available in concrete, metallic, rusted-steel, and wood-grain patterns. MSI offers Stile Gauged porcelain slabs, available in an elegant marble-look, cement, and quartzite.
Large sizes available: It can be difficult to find large pieces of natural stone, which means there may be seams where two pieces adjoin. Porcelain is manufactured in oversized slabs, so it reduces the need for seams in large installations.
Can be installed over existing countertops: Because porcelain countertops are so thin — only about 1/8 inch — they can be installed right over existing countertops without the labor and expense of removing them first. Your old countertops may be unattractive, but if they're still in solid, good condition, you can save yourself a lot of money by leaving them as-is and just placing the new surface on top.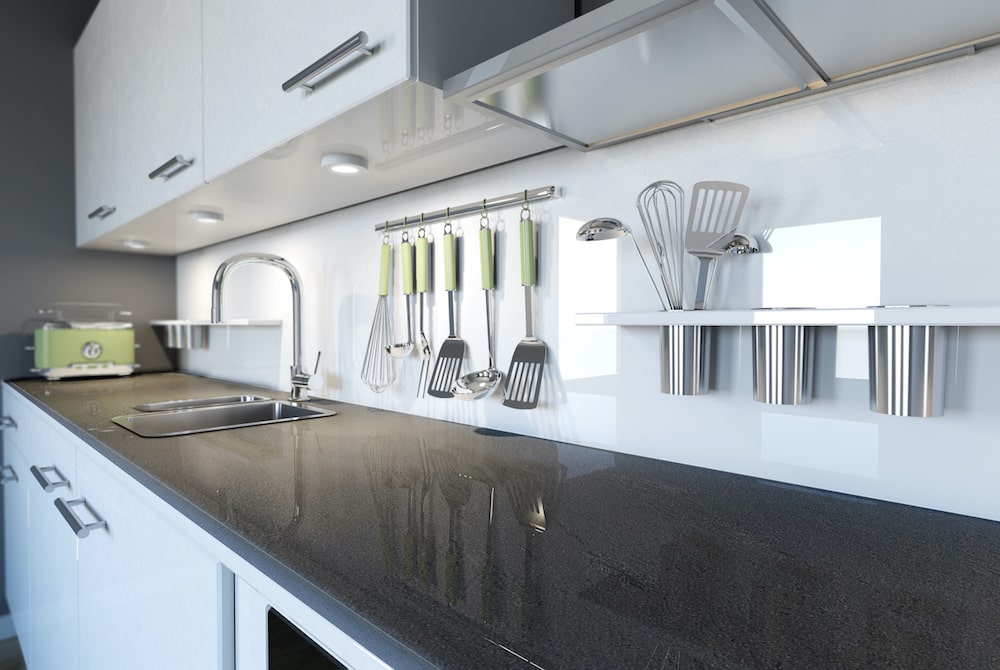 Basaltina Nera
These positive qualities make porcelain seem like it's a dream come true — which it is, in many cases. However, porcelain countertops also have several drawbacks that should be considered:
Requires professional installation: Gauged porcelain tile is extremely thin, which makes installation more complicated to avoid cracking. It is not a good choice for a DIY project. Also, because it is so thin, if it is not being installed over an existing countertop you may need an extra layer of plywood installed to support it and add height.
Does not raise home value: Unlike granite, marble, quartz, and other popular natural stone countertops, porcelain does not typically raise the value of the home. Potential homebuyers may be disappointed to find out that the beautiful stone counter is actually a fake.
Specialty porcelain tile can be expensive: Compared to natural stone or quartz countertops, gauged porcelain countertops can be more expensive. Part of this is due to limited availability since it's not yet a widely-used surface material. Also, countertop fabricators find it difficult to work with gauged porcelain because it is so thin and prone to breakage. The price will increase dramatically if the homeowner requires specialty shapes or cutouts.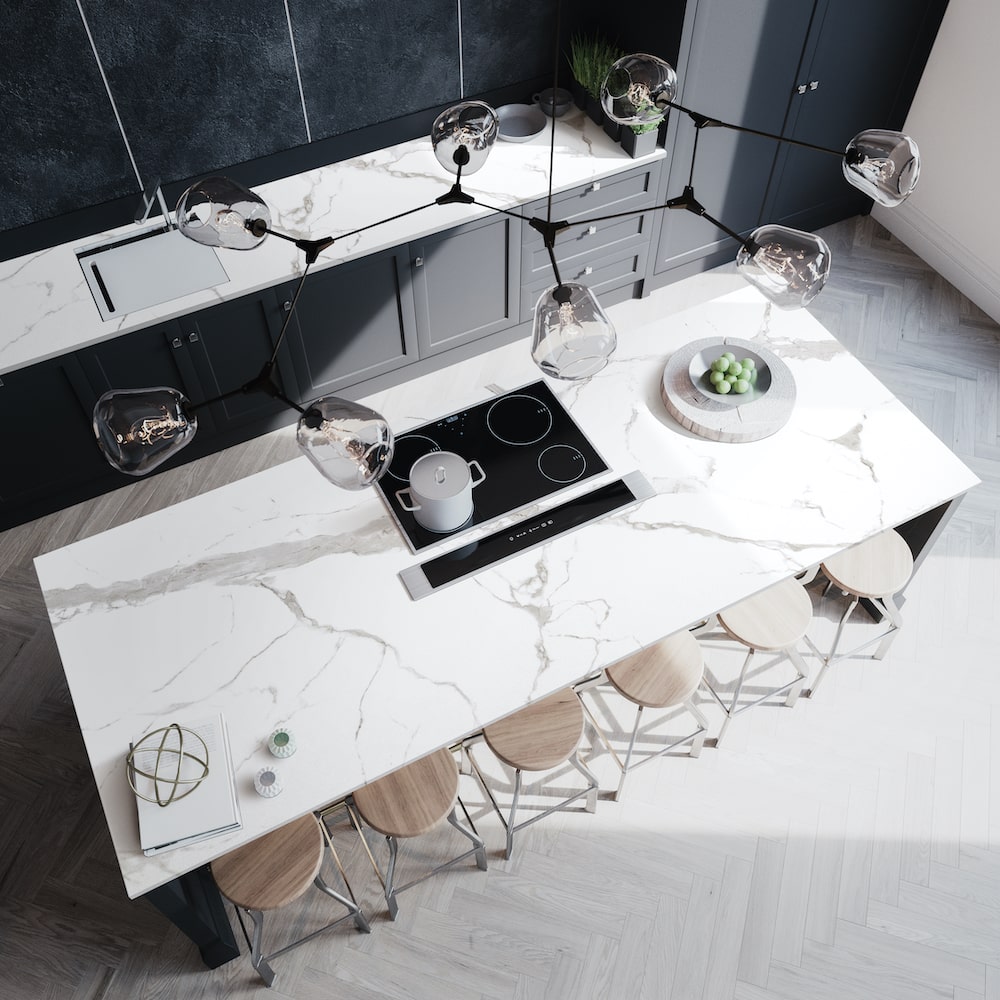 Statuary Silver
The pattern is only on the surface: The beautiful pattern that you see on a porcelain countertop is only skin-deep. Therefore, any chips will show the color beneath, so any repairs will be visible. Also, although cracks and scratches are rare, it will be impossible to repair major damage on a porcelain countertop.
Limited edge styles are available: Because porcelain countertops are so thin, it is not possible to create many custom countertop edges such as ogee, bullnose, or even beveled. Because the pattern is only on the surface, even a basic rounded edge will show through to the color beneath. Many homeowners opt for mitered edges — installing two pieces together — which can create the illusion of greater depth.
Choosing a countertop material for your kitchen, bathroom, laundry room, or outdoor living spaces is a very individual matter. The benefits are many, and you may discover that the drawbacks aren't so important to you. On the other hand, they can be deal-breakers! Now that you know more about gauged porcelain countertops, you can make a confident decision about whether or not it's right for your home. Contact our team via live chat now, find an MSI authorized dealer in your area, or visit a showroom to look at samples.
READ MORE ABOUT THE BENEFITS OF PORCELAIN TILE
Popular Porcelain Tile Trends For Bathrooms
Porcelain Brings Purpose & Design Home
Porcelain Goes the Distance Reimagining Wood Tile