Textured Looks With Inkjet Printed Porcelain Tile
February 01, 2017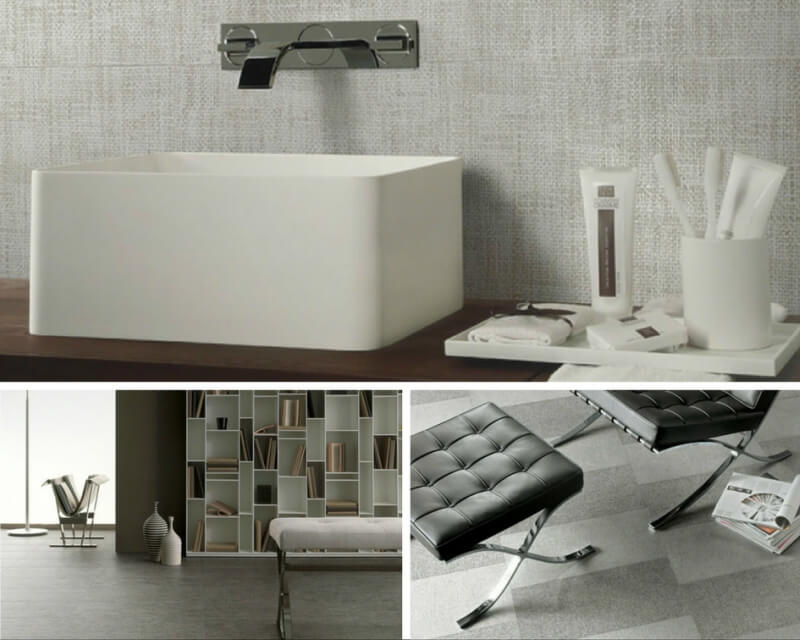 MSI has merged high design and state of the art technology to bring you TekTile, a line of large format porcelain tile with the look of linen. TekTile is an intriguing alternative to traditional floor coverings, and allows you to embrace the texture and warmth of fabric in unexpected places, such as your kitchen backsplash or bathroom floors.
Read on to explore the features of the TekTile Collection and learn more about this amazing new product.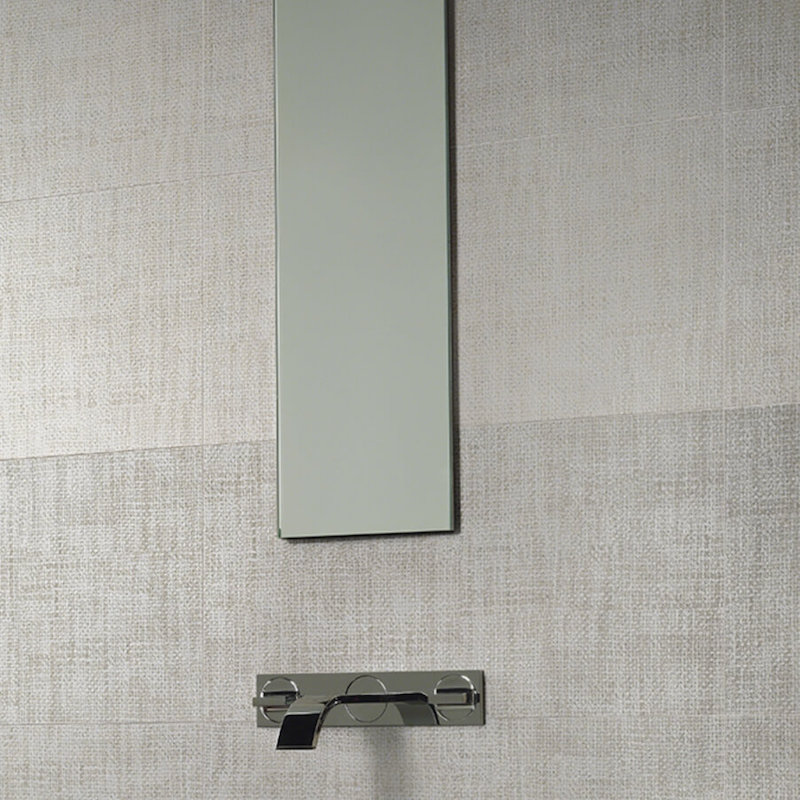 Featured: Crosshatch Ivory Porcelain
Porcelain tile has long been prized as a durable, easy-to-clean, and versatile surface. Now, with the advancement of inkjet technology, we are able to combine all the desirable properties of porcelain with the tactile feel and character of fabric.
The inkjet printing process allows us to impose high-quality fabric prints onto the porcelain, for a textured look that is extremely realistic.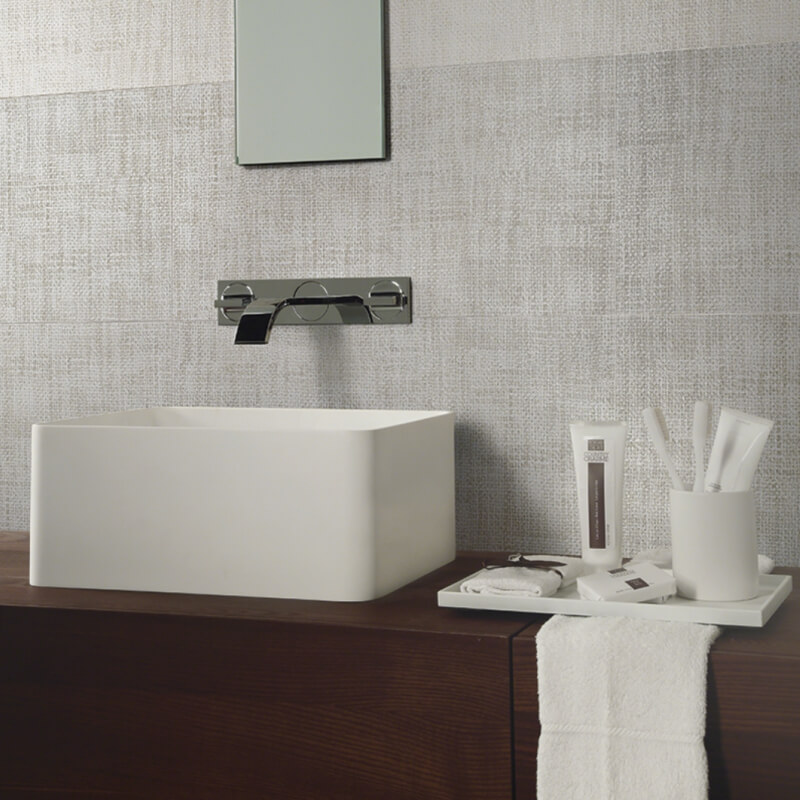 Featured: Crosshatch Gray Porcelain
Just take a look at Crosshatch Ivory Porcelain and Crosshatch Gray Porcelain from the TekTile Collection. These tiles feature a pattern of intersecting lines in varied shades of deep ivory and soft gray. When used as a wall tile, the subtle color variation within the tile and the woven-look of the print are reminiscent of fine grasscloth wallpaper.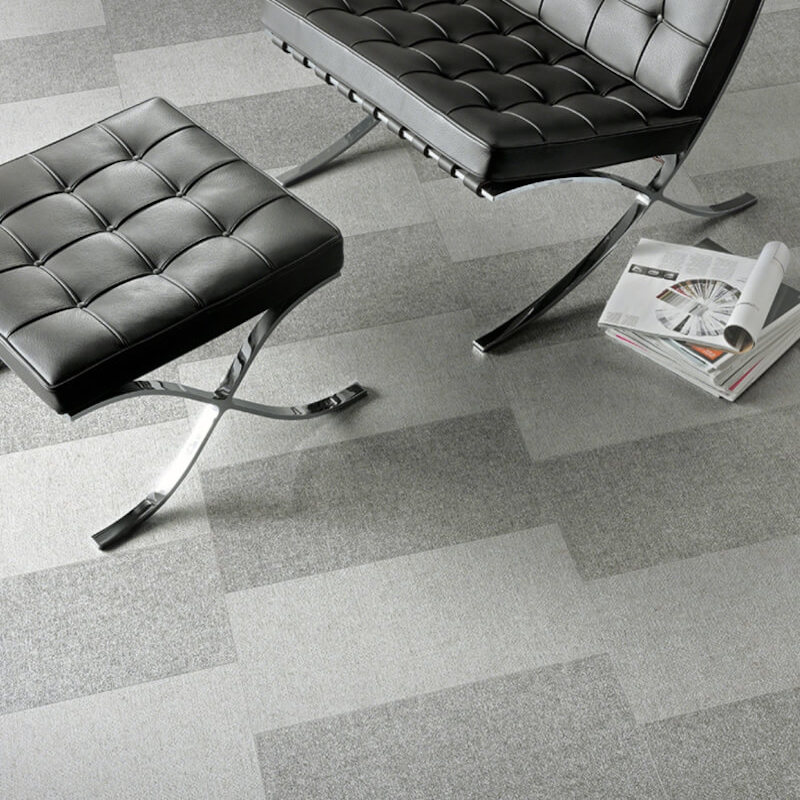 Featured: Hopsack Gray Porcelain and Hopsack Ivory Porcelain
Hopsack Gray Porcelain and Hopsack Ivory Porcelain are next up in the collection, and if you didn't know this was tile flooring you would think the floor in our inspiration image was covered with a trendy rug! Hopsack features a high-definition fabric print, for a look that is both contemporary and inviting.
Another exciting feature of the TekTile Collection is the rectified edge, which allow for an ultra slim grout line. This almost invisible grout line, coupled with the large-scale 12x24 tiles, makes the fabric-look even more realistic, and allows for a cohesive design.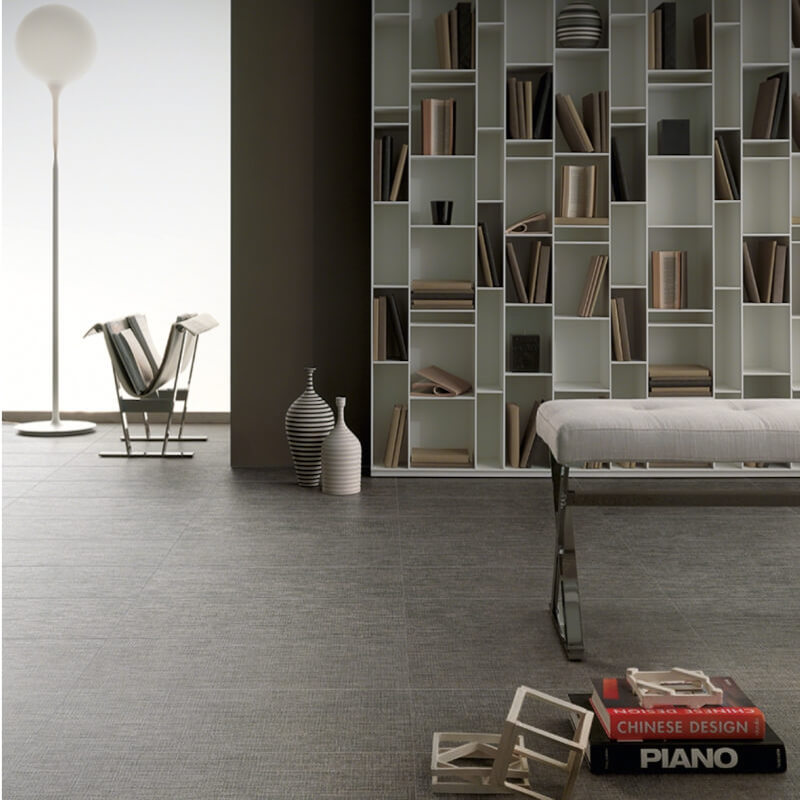 Featured: Lineart Gray Porcelain
Finally, we have Lineart Gray Porcelain and Lineart Ivory Porcelain. These tiles are similar to the Crosshatch print, but have a more uniform, monochromatic color palette and a very defined pattern of thin, intersecting lines. Installing TekTile as a porcelain wall tile can give any space an updated, modern edge, as seen in this office scene featuring Lineart Ivory from MSI.
With a sophisticated beige palette, Lineart Ivory is an ideal backdrop for both contemporary and traditional rooms, while Lineart Gray offers a mid-tone charcoal palette that works well with bold colors or crisp whites.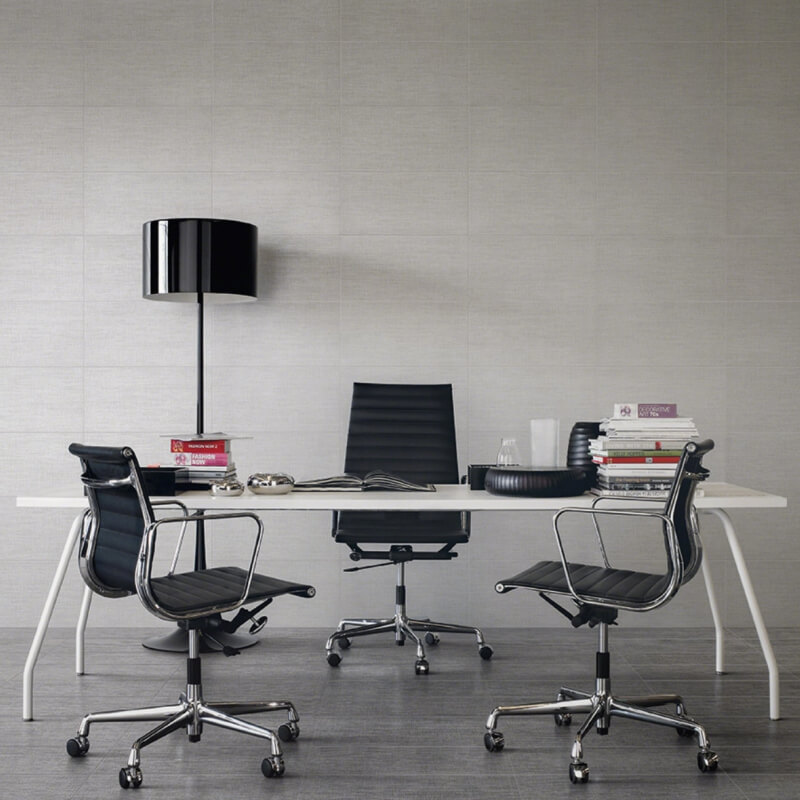 Featured: Lineart Ivory
The beauty, warmth, and textural interest of fabric, coupled with the smooth and sleek durability of tile, is the perfect match. Look no further than the innovative new TekTile Collection from MSI to see for yourself.
READ MORE ABOUT THE DIFFERENT TYPES OF PORCELAIN TILE
The Best of Fabric Print Porcelain Tile
The Look of Travertine in Porcelain Tile
The New Versailles Porcelain Tile Collection