The Perks Of Porcelain Tile
July 04, 2017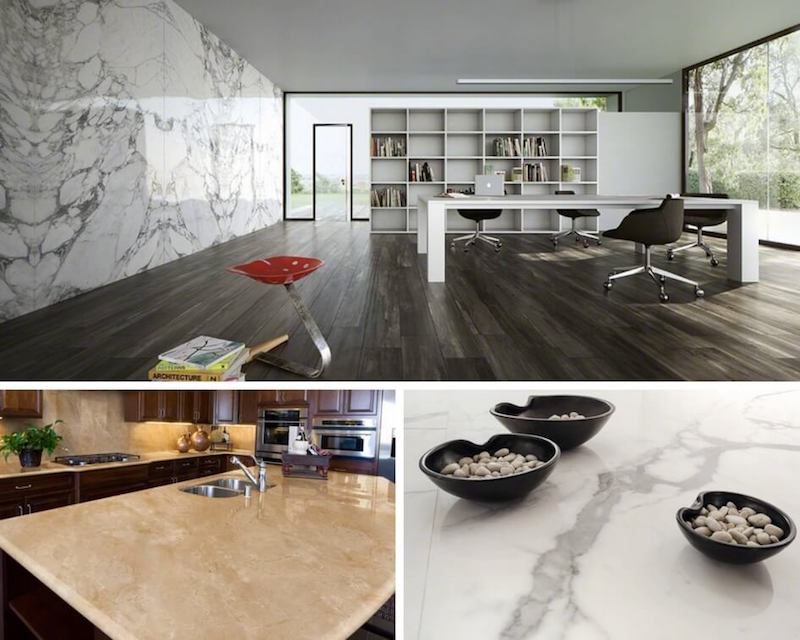 When it comes to porcelain, thin is in! That's thanks to MSI's durable new Stile Thin Porcelain Tile, a beautiful and super slim material that measures only 1/8" thick. Plus, these slender tiles are lightweight, sturdy and affordable.
One of the best features of thin porcelain is its large slab size—up to 5 x 10 feet! These pieces create the illusion of heavy natural stone, but are very lightweight. Large slabs also mean fewer grout lines and a sleek look that's perfect for counters, shower walls, and floors.
Stile Thin Porcelain Tile is also suitable for commercial installations, creating a classic look that's easy to maintain. Restaurant kitchens benefit from fewer grout lines, which often collect grease and grow bacteria. And commercial bathrooms, which get more wear and tear than other rooms, can be easily and economically covered with thin porcelain — without demolishing existing floors.
Looks Like Stone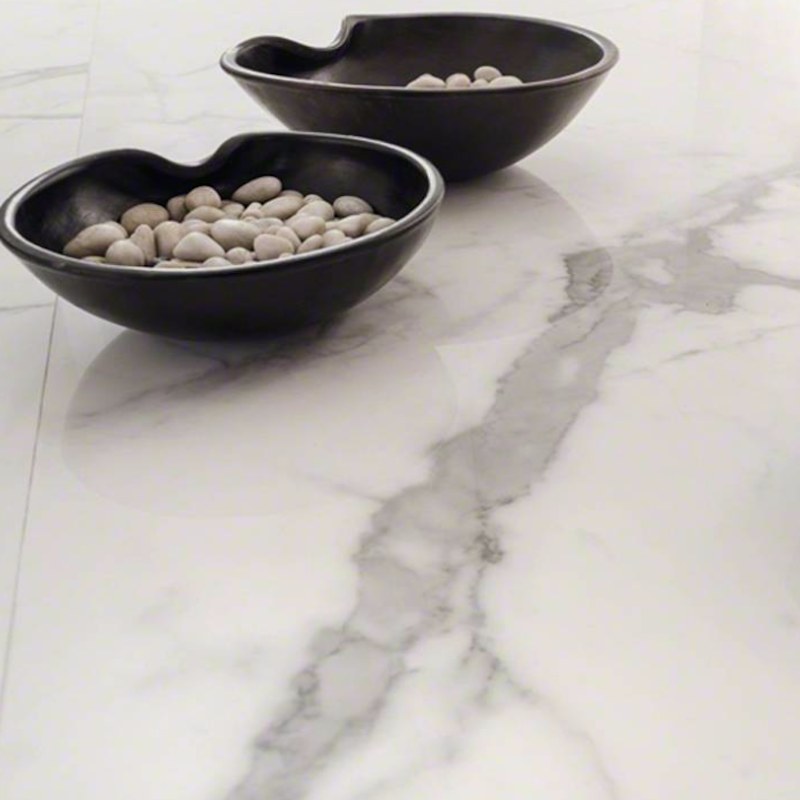 Featured: Statuario Altissimo Polished Stile Thin Porcelain
Want the look of marble without breaking your budget? Statuario Altissimo Polished looks amazingly like expensive Italian Marble, combining a white background with fine gray veins. Use stone-look porcelain to create elegant and rich-looking kitchen islands, tub surrounds, and floors.
Cover Existing Stone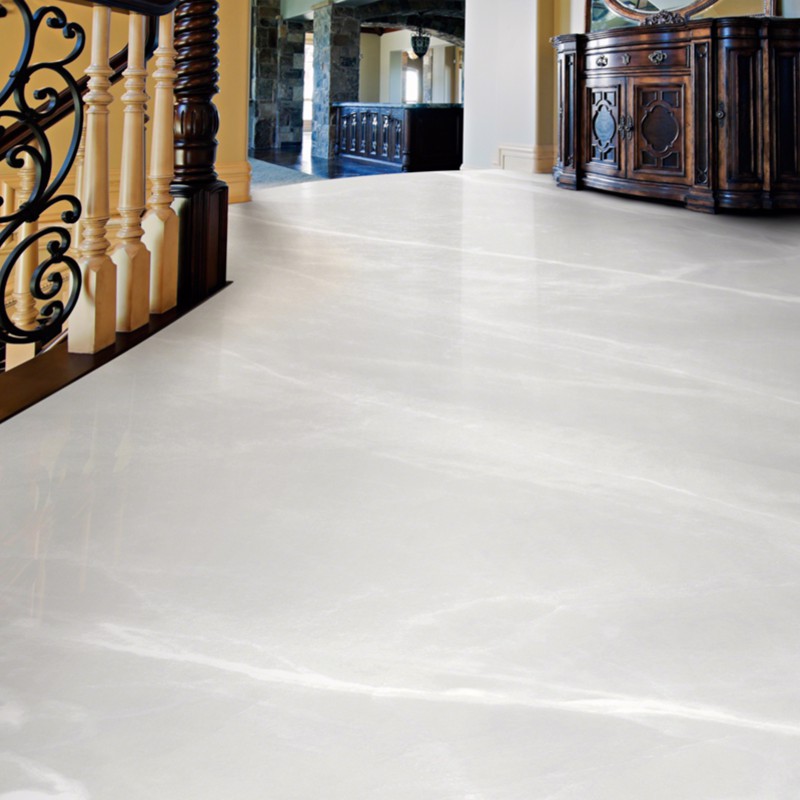 Featured: Onice Bianco Polished Stile Thin Porcelain
One of the most difficult steps in a renovation is pulling up existing tile to prepare for a new install. The good news is that Stile Thin Porcelain is so slender that you can install it over pre-existing stone.
Onice Bianco Polished is a subtle beauty that offers a white background enhanced with yellow veins. Its translucence closely mimics onyx, and its nearly invisible grout lines make it a perfect candidate for floors throughout spaces used for entertaining.
Easy to Customize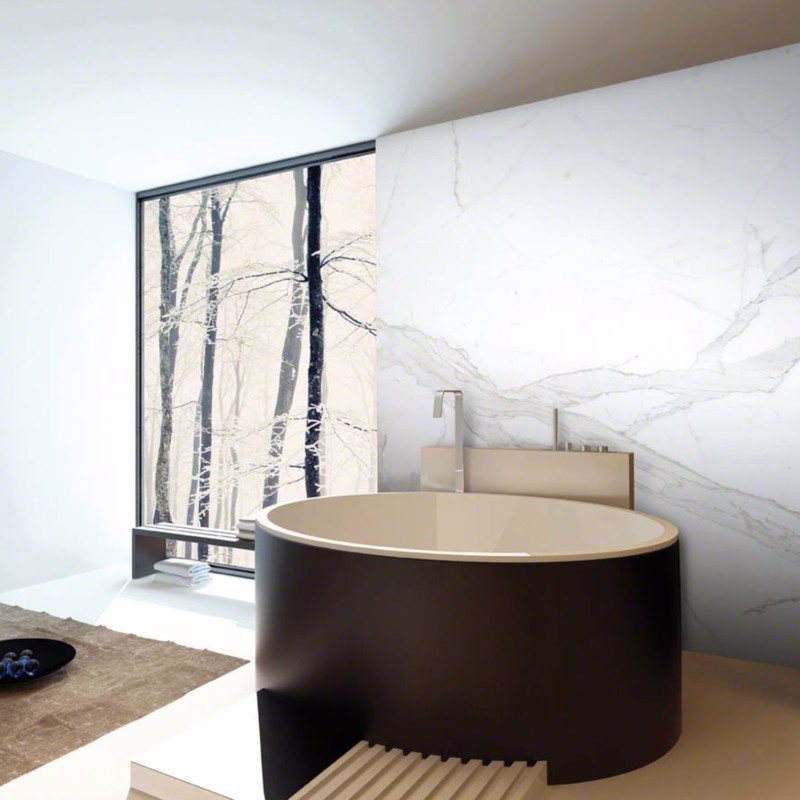 Featured: Calcutta Polished Stile Thin Porcelain
Stile Thin Porcelain Tile is so versatile that it can be cut to enhance any new construction or renovation. Calacatta Polished Porcelain, for instance, which features crisp white with gray veins and gold undertones, can be customized to create an eye-popping accent wall in entertainment spaces or powder rooms.
Sturdy and Tough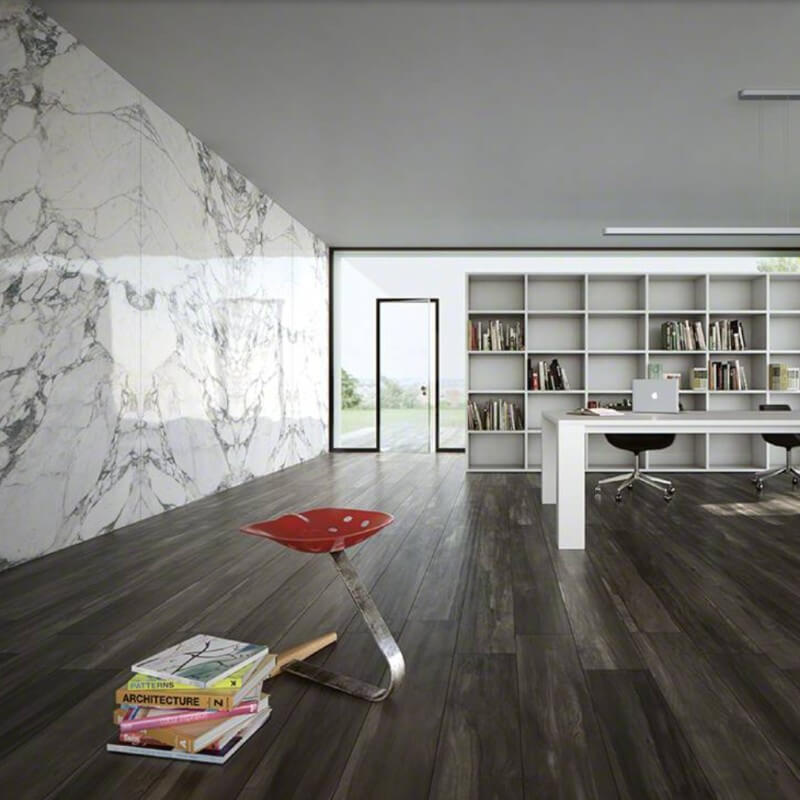 Featured: Arabescato Polished Bookmatched Stile Thin Porcelain
Thin porcelain is deceivingly durable. The surface is nonporous and stain-, heat-, and etch-resistant, making it a wonderful choice for kitchens, where it will take a beating without losing its shine.
Arabascato Polished Bookmatched thin porcelain, with gray veins over a white background, can create a gorgeous kitchen island that stands up to wine spills and tomato sauce drips. Wipe with a damp cloth, and it's good to go.
Slender for a Variety of Applications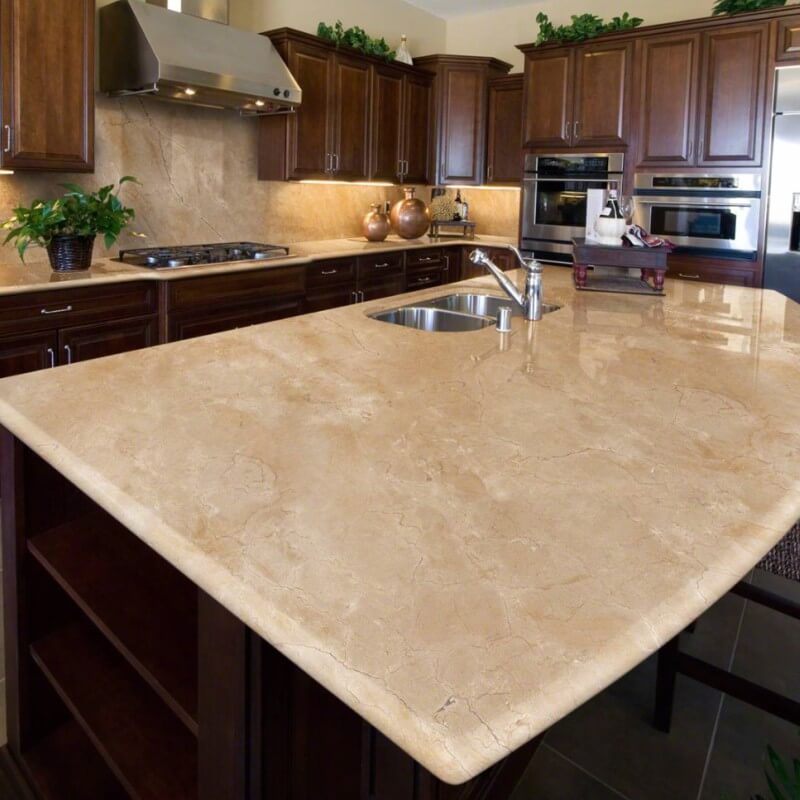 Featured: Crema Marfil Polished Stile Thin Porcelain
Stile Thin Porcelain is feather light, at least in comparison to marble and other natural stone. At only 1/8" thick—in contrast to marble slabs, which range from ¾" to 1 ¼" in thickness—it weighs far less than natural stone. A slab measuring 118" x 59" weighs only 2.81 pounds per square foot, making it a great choice for walls, surrounds, and backsplashes.
Crema Marfil Polished is a rich blend of creams, beiges with veins of light gold. Its classic good looks add Old World elegance to any room.
Remember, you can get the easy maintenance, durable product you need for your busy life, without compromising your sense of style. Check out our many options and configurations at MSI's website, and start your design today!
READ MORE ABOUT THE DIFFERENT TYPES OF PORCELAIN TILE
Textured Looks with Inkjet Printed Porcelain Tile
The Best of Fabric Print Porcelain Tile
The Look of Travertine in Porcelain Tile