Current Obsessions: Is A Quartz Countertop The Right Choice For You?
January 17, 2018
Do you find yourself questioning whether or not a quartz countertop is right for you and your home? If so, you're not alone. Many homeowners wonder if they'll regret opting for a man-made surface instead of traditional natural stone or inexpensive laminate. But there's no need to fret, because we are sure you'll love your quartz countertops for years to come!
First things first: You have to consider both style and price in any kitchen or bathroom renovation. As far as expense, a quartz countertop cost ranges from $60 to $200 per square foot. While this is certainly more expensive than laminate, you could save up to a few thousand when comparing the cost of quartz to luxurious marble. Plus, a new quartz countertop comes with a warranty when purchased from MSI. But there are even more reasons than that to love quartz, so read on to learn more about the reasons why quartz may just be the right choice for you.
Favorite Surface
When you walk into a model home, you'll find that many homebuilders are featuring quartz countertops in their kitchens and bathrooms, and for good reason. Quartz is quickly becoming the surface of choice among homeowners and designers. Its durability, low maintenance, and bacteria resistance are just some of quartz's high selling points for homeowners. And a quartz design like Calacatta Taj Quartz—with its creamy background and delicate veining—appeals to both modern and traditional design aesthetics.
Colorful Staying Power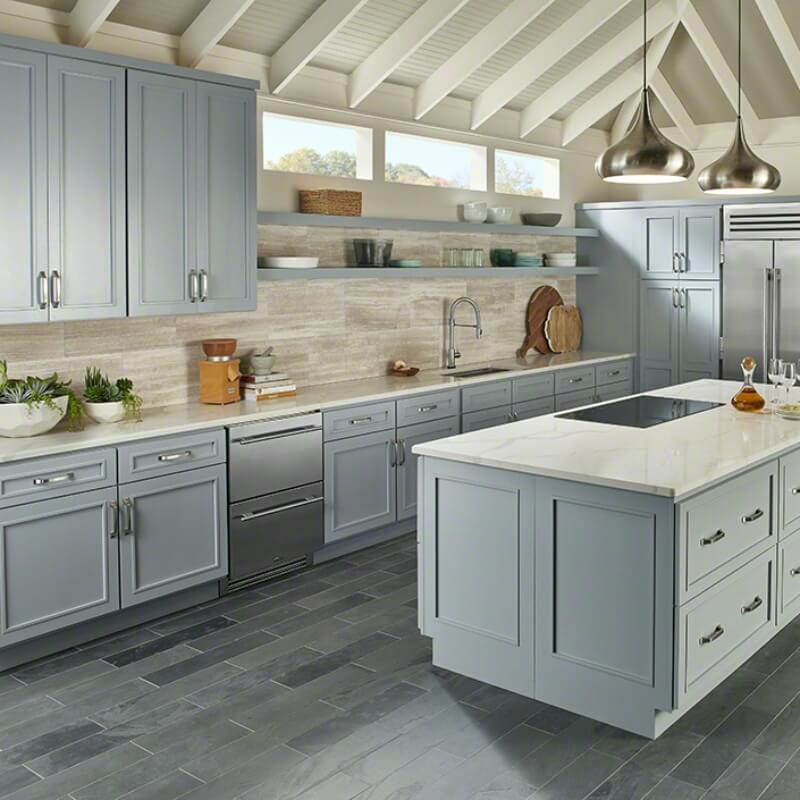 Featured: Calacatta Classique Quartz
One of the strongest appeals of this manufactured material is that you can get quartz that looks just like marble, but without the fuss that comes with high-maintenance natural stone. The colors of quartz will stay fresh and vibrant without you lifting a finger, which means your countertop won't develop a patina over time as marble does. Calacatta Classique Quartz looks exactly like Calacatta Marble, with a clean white background and authentic-looking veining. Plus, the surface will retain its fresh and new look after years of use, even in the busiest of kitchens or bathrooms!
Color Consistency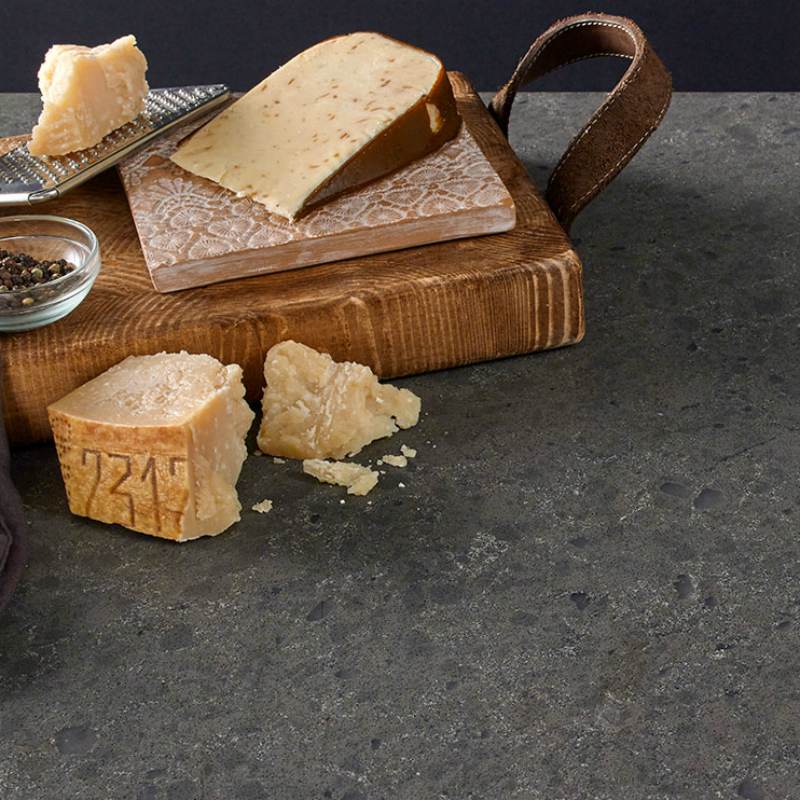 Featured: Babylon Gray Concrete Quartz
With natural stone, there's a chance that you might fall in love with a small sample piece, only to be surprised when your actual full slab looks quite different from what you ordered. However, with quartz, you can feel confident in your pick, knowing that it will be consistent in both color and design throughout the surface.
For instance, Babylon Gray Concrete Quartz is a gorgeous deep gray with lighter gray veins and dark gray specks. What you see in the showroom is what you get in your home—a beautiful countertop that will complement modern, contemporary, or transitional styles.
Works Well with Others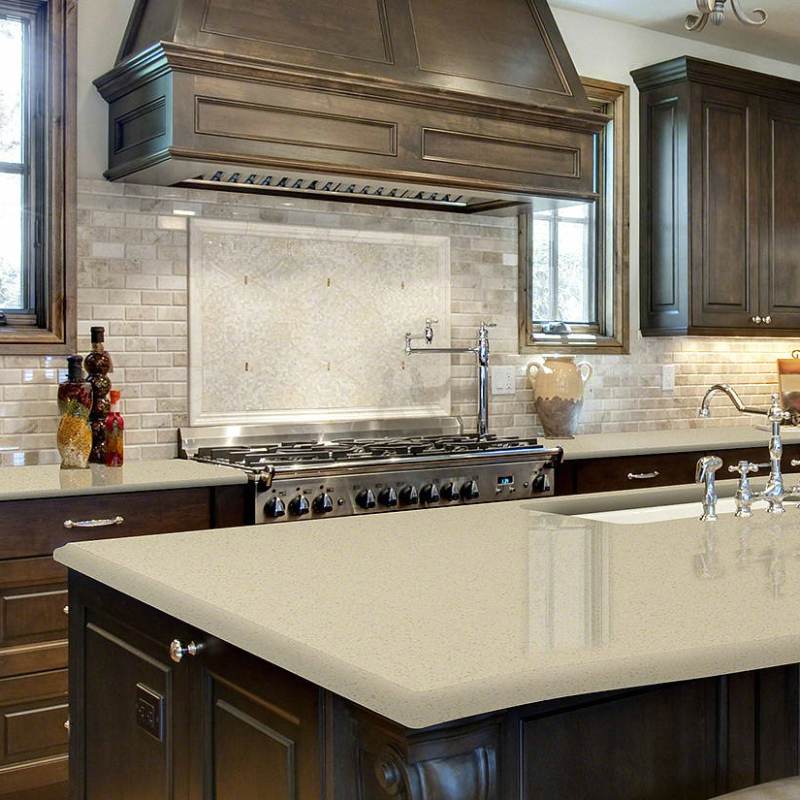 Featured: Almond Roca Quartz
From high-glamor to mod, quartz comes in a variety of designs and colors that coordinate beautifully with other floor and wall tiles, as well as with existing decor. The Almond Roca Quartz countertop in this traditional kitchen is classic in color, yet gives an updated look to the cooking space, with its ornate cabinetry and hood range. The soothing beige background that includes light highlights and dark specks pairs well with the neutral natural stone backsplash and picture frame mosaic.
Diverse Looks
With quartz, you can select a surface with a perfectly natural look that mimics stone, a slab with a more contemporary look for those wanting a modern touch, and everything in between. Blanca Statuarietto Quartz features a classically chic aesthetic with its white background and subtle gold and brown veining. It adds elegance to this bathroom, and no one ever needs to know that the cleaning ease of quartz is behind its continual show home perfection.
If affordability, practicality, and style are important to you, then consider quartz for your next design. With more than 60 colors of quartz to choose from at MSI, you're sure to find one that suits your style. And if you're still not sure what your design aesthetic is, click here for more tips on choosing your kitchen style and defining your particular taste.
Read More About Why You Should Choose Quartz Countertops:
5 Reasons to Consider Quartz Countertops
Reasons to Love Quartz Countertops