White Quartz: A Popular Alternative To Marble
March 03, 2014
Marble is a beautiful, elegant option for natural stone countertops and flooring - but it isn't necessarily the best fit for every lifestyle. If you need a highly durable surface but love the look of marble, you can indeed have both - quartz is the answer!
One of the most highly utilized surfaces in the entire home is the kitchen island:
It is an extra space for cooking - preparing foods and setting hot pots and pans.
It is an available landing spot for briefcases and diaper bags, cell phones and car keys, school books or the day's mail.
It is a spot for keeping an eye on the kids while they do crafts or enjoying a glass of red wine with a guest while dinner is simmering.
It is a place for grabbing a quick breakfast, working on the laptop, or making that messy science experiment for school.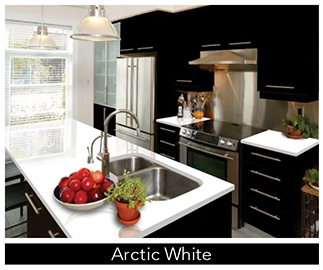 If you love marble, the common consequences of the above activities to your kitchen island could be staining, scratching and chipping. Spilling that red wine or dropping those books and car keys, over time, present real problems for a softer stone. Marble is a lovely option for the quiet household: the baker who reserves the island for rolling dough on the cool surface, the do-it-yourselfer who will take the time to learn ways to protect the stone and nurture stains from it, or the owner who enjoys the character of a well-used natural stone.For others, marble will require more care, or carefulness, than they can give on a daily basis.
Quartz is a popular alternative to marble for these reasons. It is available in an array of colors, including those that look like marble. Fairy White quartz, for example, offers a pure white backdrop and subtle grey veining - just like marble. Arctic White is another quartz option that offers a solid white appearance without any veining at all, an attribute that would be very costly if it were an actual marble. (The more pure white and less veins a piece of marble holds, generally the more expensively it is priced.) Both of these are good options for smaller areas where a lot of movement or pattern variation of a stone could be overwhelming. White quartz is a beautiful, subtle option that will compliment most contemporary and traditional designs.
More importantly, these quartz selections offer something else:
Strength
Scratch-resistance
Stain-resistance
Heat resistance
Chemical resistance
No long-term maintenance, like sealing or polishing
A smooth, non-porous surface that does not offer nooks and crannies for bacteria to grow.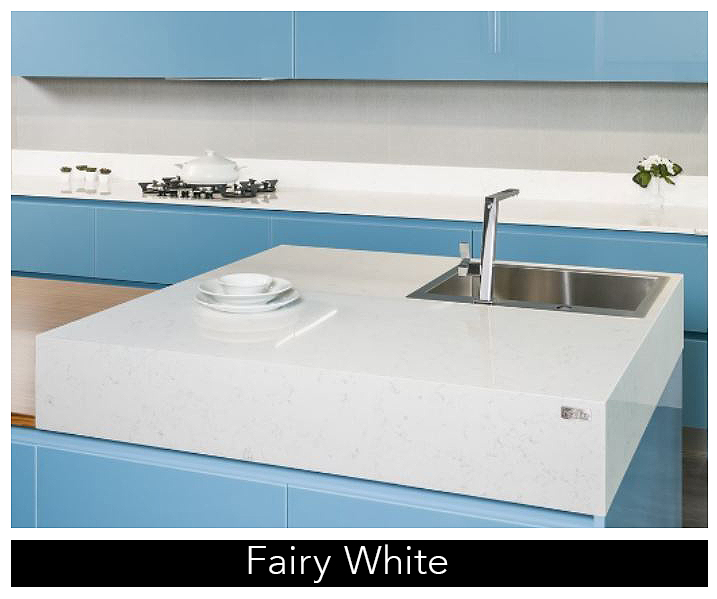 Though we have emphasized here white quartz for the kitchen in particular, other common applications include flooring, wall cladding, and surfaces in other high traffic areas throughout the home, like bathroom vanities. Makeup, oily soaps, and harsh cleansers are things to watch out for with marble in the bathroom; quartz handles these with ease.
Quartz is truly a fantastic alternative to marble, granite, or other stones as it is a natural mineral mixed with modern technology to provide a tough surface for modern living. Explore white quartz options or more than 20 other colors that offer alternatives to other common countertop surface choices.
Read More About Quartz in Natural Stone and Marble Looks:
Beautiful Marble Look Quartz Countertops
Marble Look Quartz Countertops
Is Quartz More Expensive Than Marble?
Marble Look Quartz Countertops
Marble Inspired Quartz Countertops
Are Quartz Countertops Really More Expensive Than Marble?
Best Marble Slab Alternatives in Quartz Countertops
Thinking About Marble Consider a Quartz Countertop First
Quartz Countertops That Look Like Marble
Marble Look Quartz Dominates Home Remodels Here's Why