Love Marble? Consider Marble Look Quartz Countertops Instead
April 10, 2022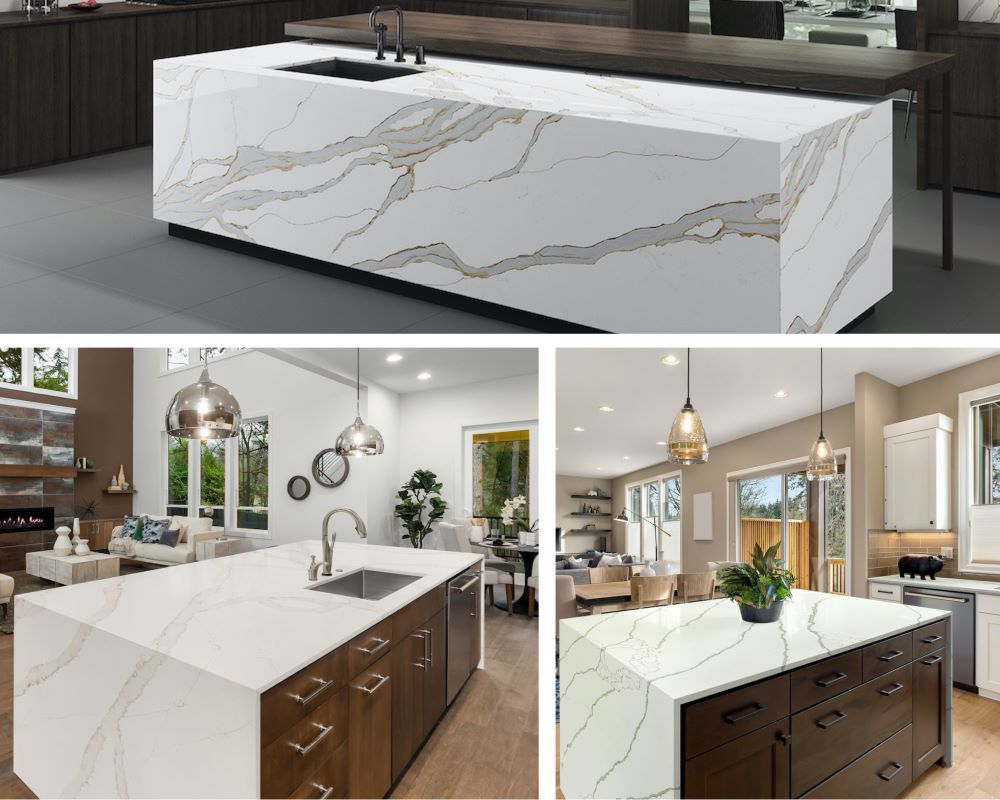 Whatever draws you to elegant, natural marble, you might be surprised to discover that you can enjoy the same beauty and even greater benefits when you choose quartz countertops with a marble look.
Marble has a classic, timeless quality that elevates the appeal of any home interior. Perhaps this is because it's associated with masterpieces like the Venus de Milo or Michelangelo's David, or it's simply related to the milky, luminescent quality of white marble.
More homeowners are turning to engineered quartz to get the appearance of the natural stone varieties they love, but in a material that offers added benefits at an attractive cost. Why should you consider eye-catching MSI quartz colors instead of marble when upgrading your home's kitchen or bathroom countertops?
Differences Between Marble and Quartz
Although engineered quartz is created rather than quarried, it is similar to natural stone for one particular reason: it contains over 90% natural crushed quartz content. The remainder is a mixture of resins and polymers that bind the material, as well as pigments used for unique colors and patterning.
While marble is quarried in slabs from the earth, it is a porous stone, which means it requires regular sealing to prevent staining and other potential harm. Quartz is nonporous, and incredibly, it's even stronger than marble and some other stone types.
Quartz is also more eco-friendly since it can sometimes be produced locally with recycled materials. Of course, marble look quartz is also designed to look a certain way, which can be helpful if you need more than one slab, say for a large kitchen remodel. Because there's so much variation in natural stone, marble can be difficult to match.
Benefits of Quartz
Countertops are an integral element in any number of modern design projects, and marble look quartz can complement your preferred color palette, whether light, dark, or saturated jewel tones, and elevate your overall design.
There are plenty of practical benefits sure to draw you to this resilient surface material, as well. What do modern homeowners love about quartz?
Strong and Durable
Like marble, granite, and other natural stone options, modern quartz is incredibly strong and durable. It's resistant to cracking, chipping, scratching, etching, staining, discoloration, and other common forms of damage, which makes it ideal for busy household settings.
Quartz is actually stronger than marble, with a Mohs hardness rating of up to 7. Marble typically falls somewhere between about 3 and 5, although natural stone exhibits greater heat resistance. If you love the look of marble but need a kitchen design that meets your practical needs, engineered quartz does it all.
Nonporous, Food-Safe Surface
One of the most notable advantages of quartz is that the bonded surface is nonporous, delivering an antimicrobial countertop material safe for food prep.
Whether you're a bit of a germaphobe, you're worried about keeping surfaces clean and sanitized for your family's health, or you simply prefer low-maintenance materials, you'll get everything you're looking for with quartz.
Easy Cleaning and Maintenance
Most households these days have two working parents, which can make it difficult to find time for considerable cleaning and maintenance tasks. Quartz is the perfect counter material for a modern kitchen because upkeep is incredibly simple.
Unlike natural stone, there's no need to seal, and you can clean it simply enough with gentle soap and water or a mild all-surface cleanser. However, you should avoid abrasive or acidic solvents that could scratch the surface and dull the polished finish.
Beautiful Marble Look Quartz to Consider
White quartz countertops offer loads of versatile appeal. In addition to the many functional qualities quartz delivers, it also goes well with a wide range of interior design styles.
Calacatta quartz can add visual interest to an all-white kitchen, create a stunning contrast in a black and white design, and even pair beautifully with wood cabinets ranging from pale blonde to rich mahogany. Which MSI quartz is right for your kitchen or bathroom upgrade?
Calacatta Goa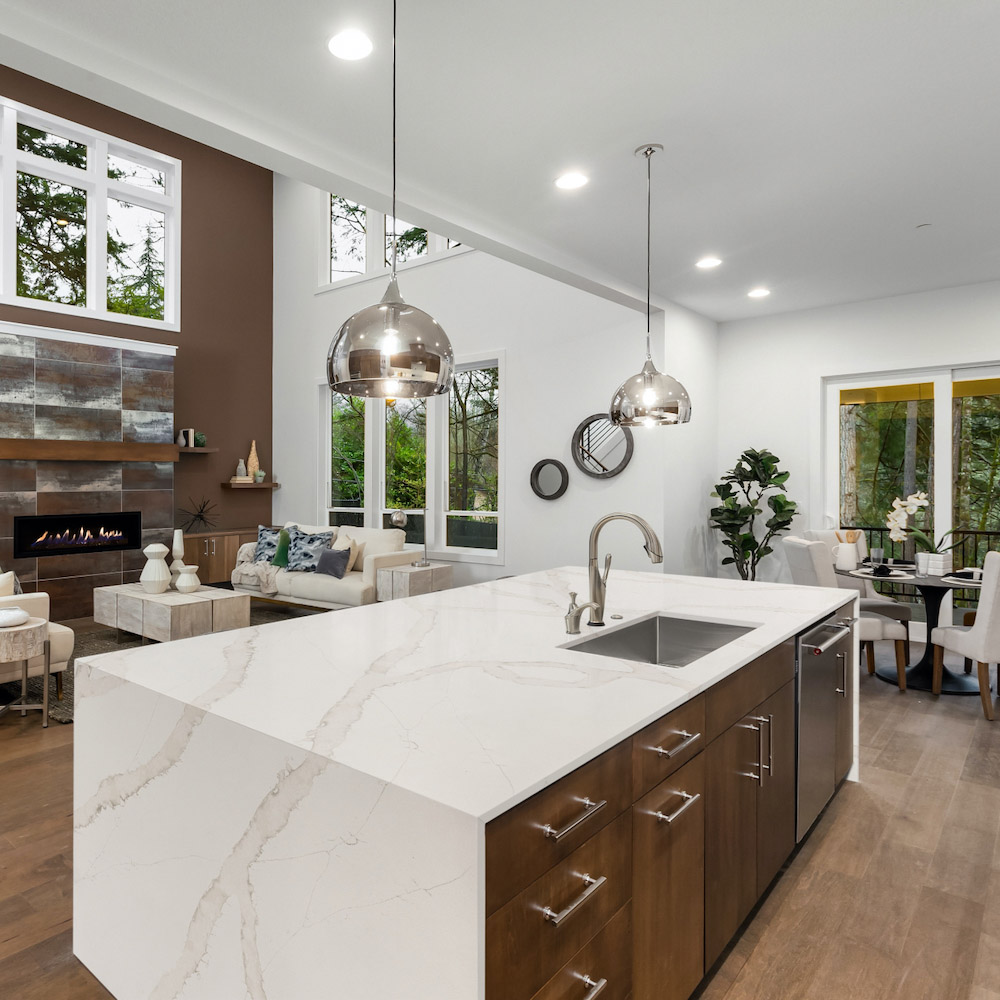 You might think that all white countertops are essentially the same, especially if they're in the Calacatta style, but nothing could be further from the truth. It's important to understand that the quartz you choose could lean cool or warm and feature different pattern types and densities, dramatically changing the visual aesthetic.
Calacatta Goa is ideal for anyone who wants to create a welcoming interior with soft, subtle patterns that deliver a soothing ambiance. The warm, white background, marked by thick, russet-tinted gray veins with watercolor appeal, offers just the right level of visual interest.
Whether you want to complement wood cabinets in your kitchen where your family gathers to connect over food, or you want a spa-like bath imbued with tranquil vibes, this quartz is a great option to kick off your design.
Calacatta Solessio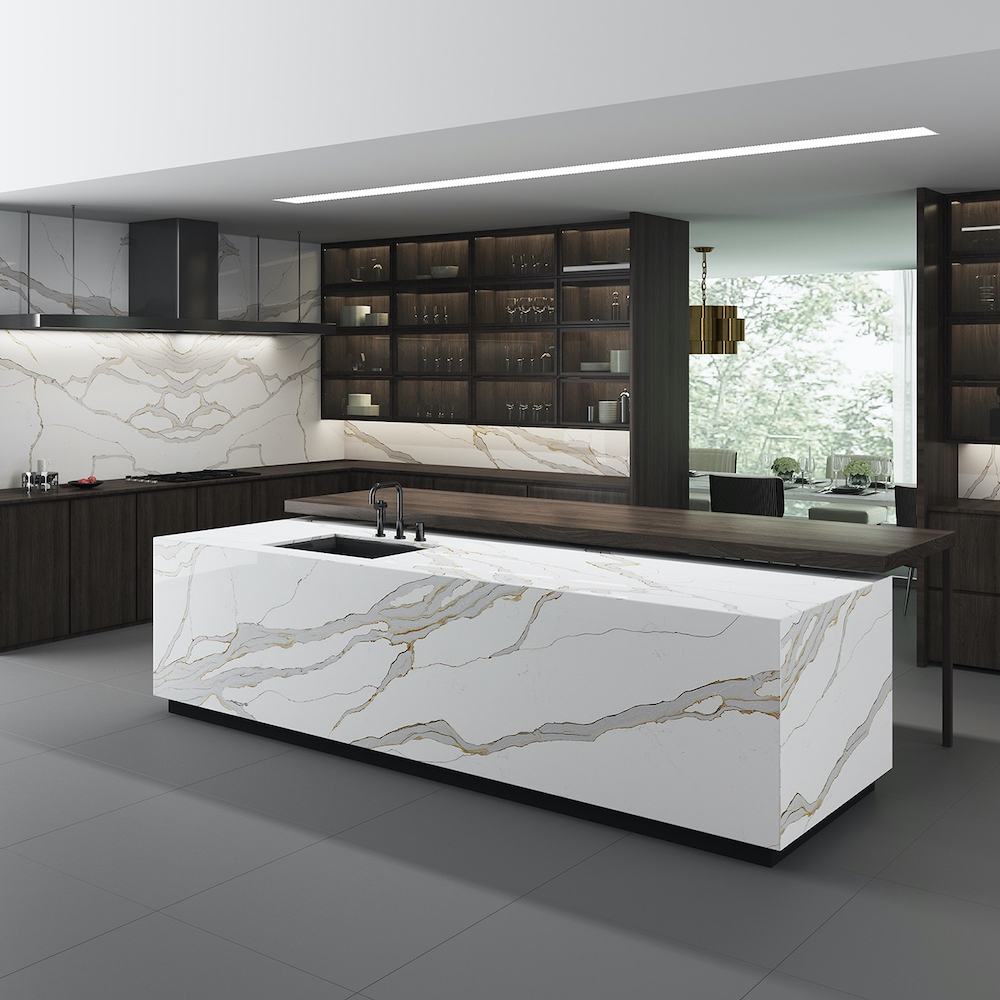 If your design plan includes white cabinets and countertops to create a tonal color scheme, you can't go wrong with cool Calacatta Solessio. This surface material features a cool white background punctuated by bold, bluish-gray veins that are bordered by golden and rust-colored pinstriping.
It's not only lovely with cool and dark palettes alike, but it adds a hefty dose of drama to any interior design.
Calacatta Laza Gold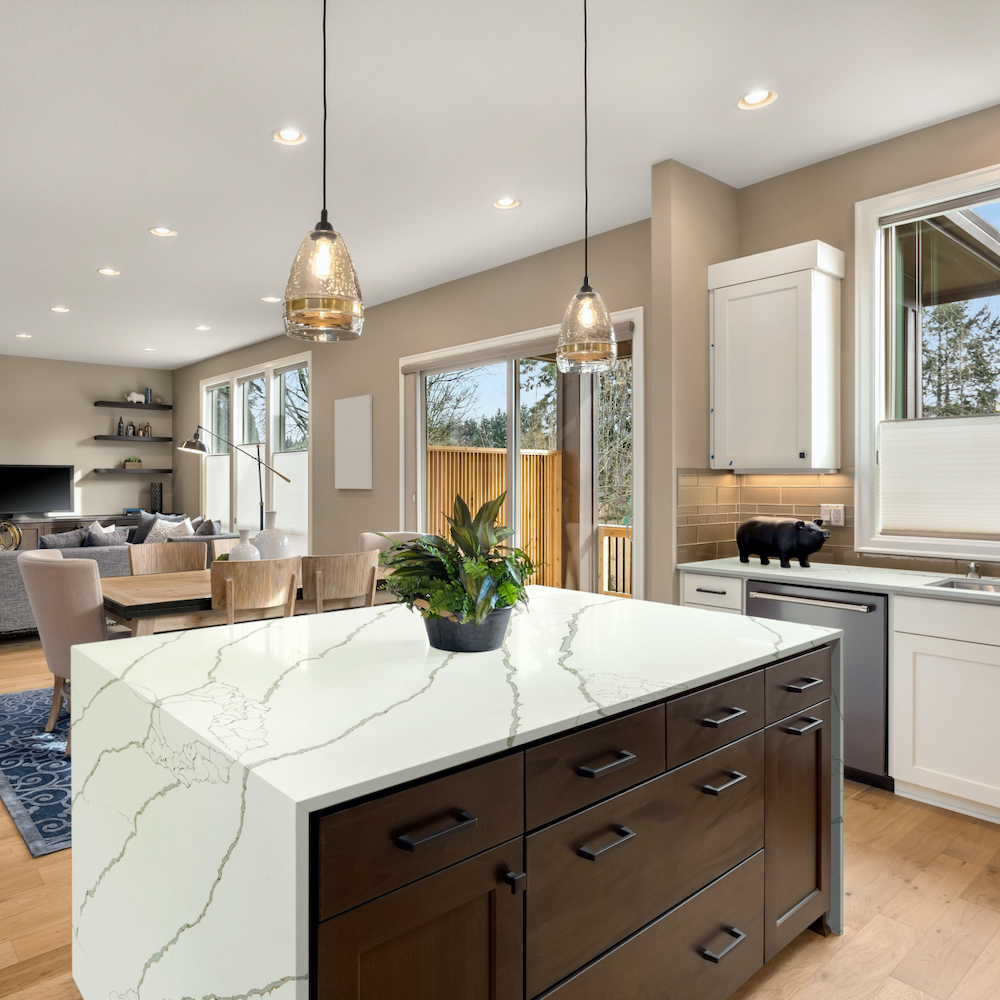 You may not want the coolness of a bluer white, but you might also prefer to stay away from a warmer, cream quartz.
In this case, Calacatta Laza Gold with a bright, pure white base, is just your speed. Gray veining is jagged yet sparse, creating movement without feeling overwhelming. Subtle streaks of gold and brown punctuate the veins, allowing for just a hint of warmth that ensures your quartz will pair with both warm and cool palettes.
You might think that only marble can provide the natural variation you crave, but there's a reason so many homeowners and interior designers are turning to engineered quartz instead: it not only passes for some of the most popular marble varieties, but it delivers incredible practical benefits along the way.
With the right marble look quartz from MSI, you'll have no trouble creating the luxury aesthetic and outstanding function modern homeowners crave.
Read More About Quartz Countertops
4 New Marble Look Quartz Countertops From MSI
Complement Your Quartz Countertop with A Quartz Backsplash
Calculate Your Countertop Cost For 10 Popular Quartz Countertop Colors
The Latest in Lumaluxe Quartz Countertops
Visit Our Online Gallery and Discover the Many Looks Of Quartz Countertops