Tile Style: 5 Looks That Will Make You Love Ceramic Tile All Over Again
February 07, 2017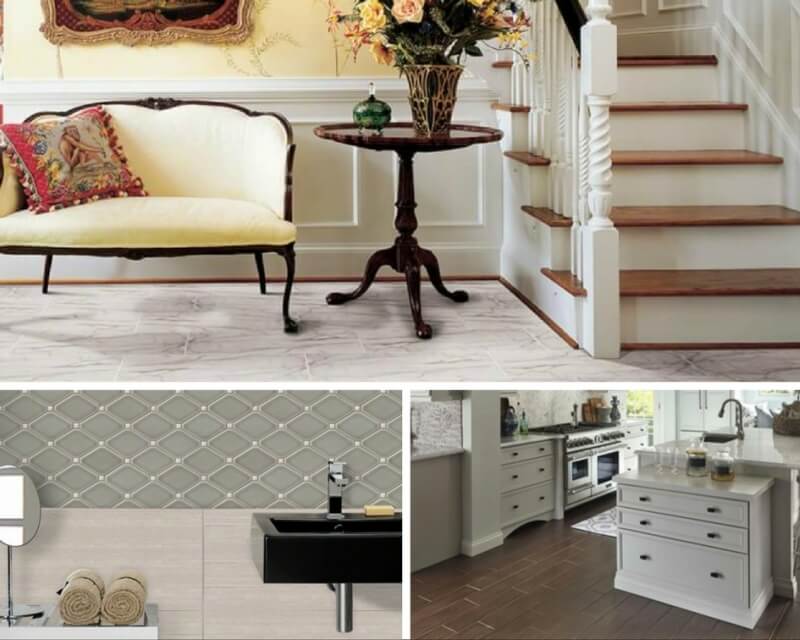 Ceramic tile… been there, done that. After all, ceramic tiles have been around just short of forever. We can list many reasons ceramic tiles have been beloved surface materials within the home for generations: They're dependable, affordable, and durable, just for a start.
But although the material and benefits remain unchanged, it's definitely time to give ceramic tiles another look – today's tiles are distinctive, elegant, and definitively on-trend stylish!
Whisper White Arabesque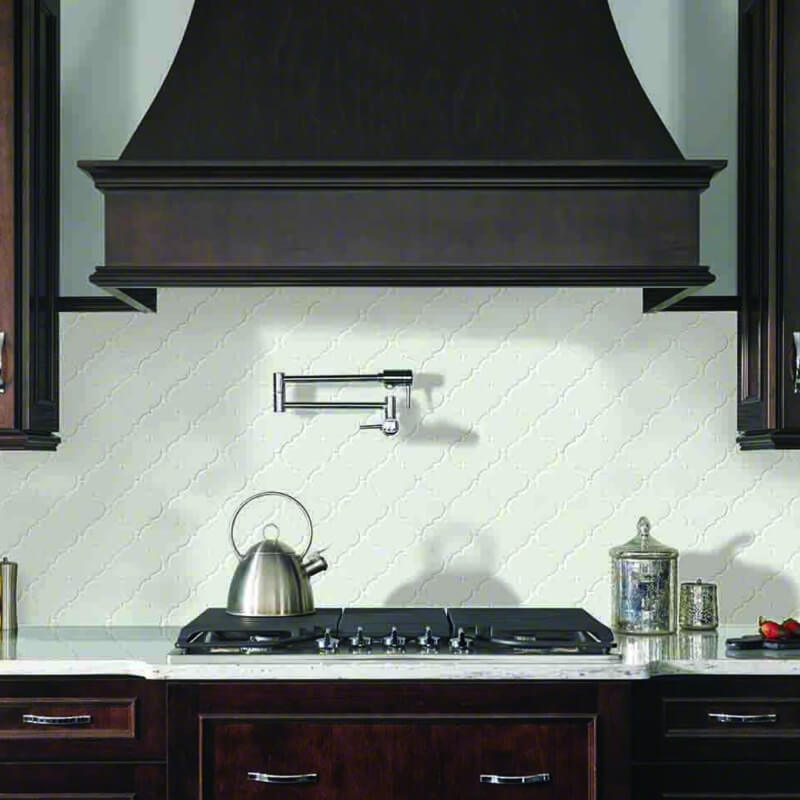 Featured: Whisper White Arabesque Mosaic Ceramic Tile
Creating a clean, yet eye-catching backsplash in this classic kitchen, Whisper White Arabesque Mosaic Ceramic Tile is an intricate mosaic of polished, snow-white ceramic tile. This classic, intricate design is ideal for accent walls, shower surrounds, or any vertical surface. Use matching grout for a subtle look, or go dramatic with a contrasting shade.
Dove Gray Diamond
Featured: Dove Gray Diamond Mosaic Ceramic Tile
Spice up your space with Dove Gray Diamond Mosaic Ceramic Tile, a ceramic mosaic in mid-tone gray and white with a crazed, crackle glaze. Available in pre-assembled sheets, this ceramic tile is much easier to install than it appears. Use this mosaic to create a dazzling backsplash, or as shown here, as an accent stripe contrasting with another type of wall tile.
Café Sygma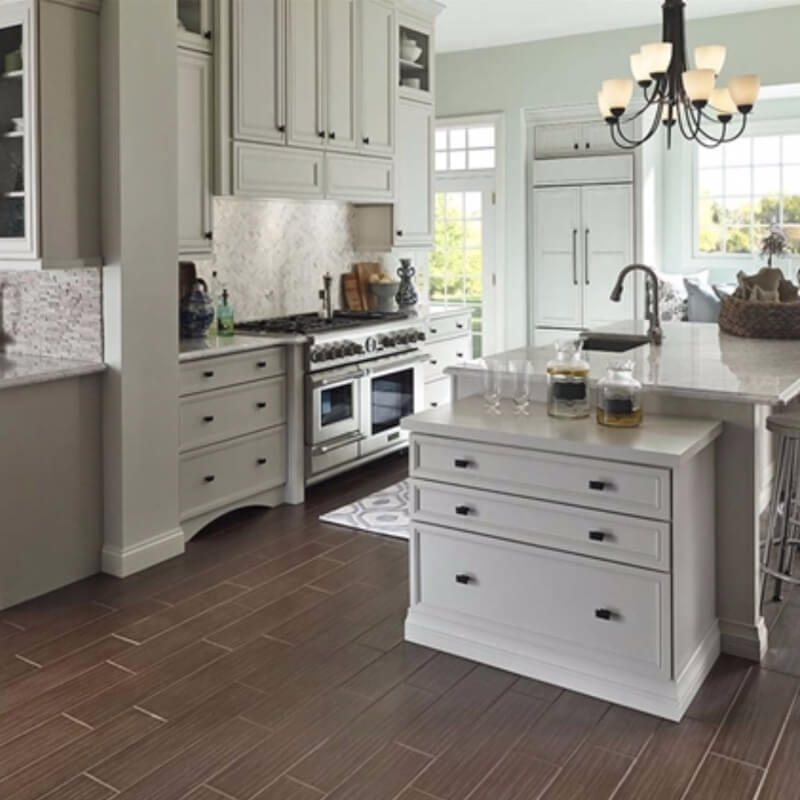 Featured: Café Sygma Ceramic Tile
Wood-look ceramic tile is definitely a modern twist on an old favorite – all the benefits of ceramic tile with all the beauty of hardwood. Use Café Sygma Ceramic Tile, as well as other tile that looks like wood MSI has to offer, in places where real wood might be troublesome, such as kitchens and baths.
White Vena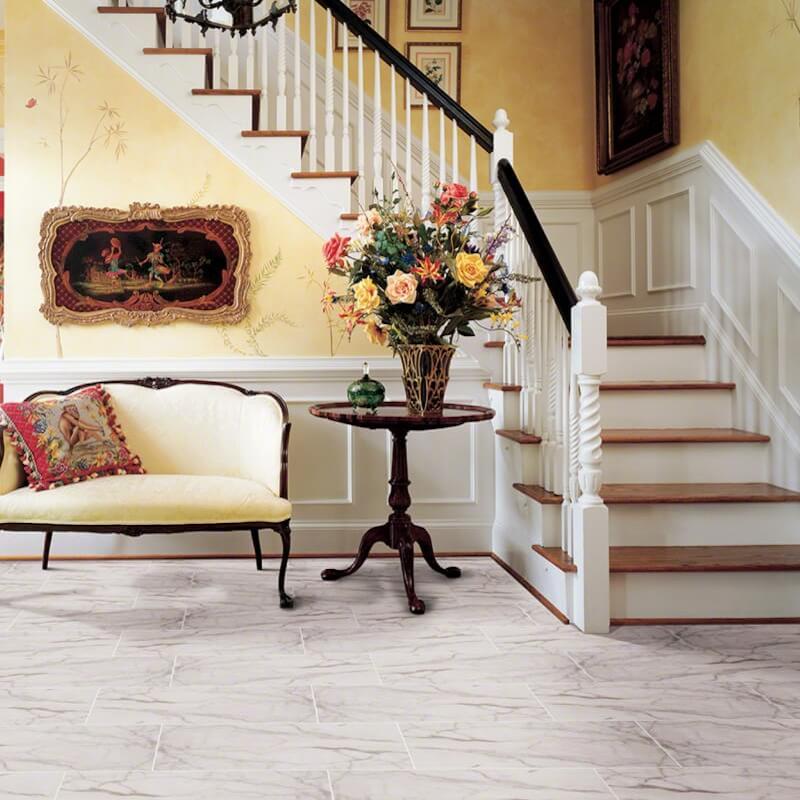 Featured: White Vena Ceramic Tile
Marble-look ceramic is nothing new, but today's ceramic tiles do it better. White Vena Ceramic Tile is incredibly realistic, featuring gray veins against a pure white background. Used as flooring, it's your secret to affordable luxury. Matching bullnose pieces are available to perfectly finish every edge.
Sand Mojave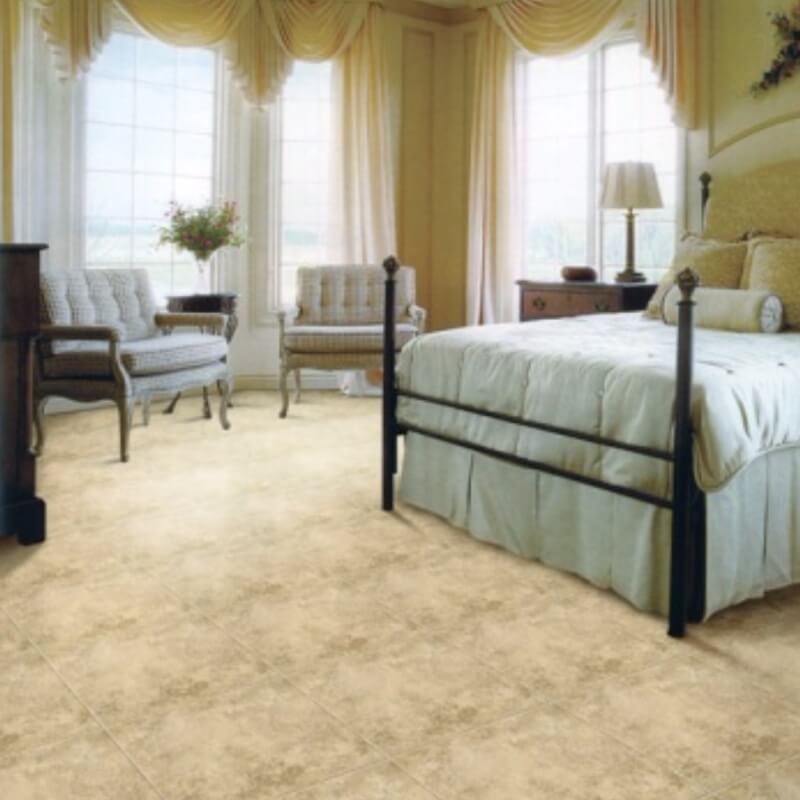 Featured: Sand Mojave Ceramic Tile
Get the look of natural stone tile with Sand Mojave Ceramic Tile, along with all of the gorgeous patterning and variation in light and dark shades of beige. Available in 20" x 20" tiles, it's ideal for tile flooring in light-traffic areas such as bedrooms, or for walls and shower surrounds. Using tiles such as these in bedrooms is ideal for those who struggle with allergies, or install anywhere you'd like a superbly easy-care surface.
With the stunning array of modern ceramic tile offered by MSI, you need to give it another serious look for use in your home. Today's tiles faithfully mimic many other surfaces such as wood, marble, and other natural stones -- with trouble-free installation and upkeep. Ceramic tiles are also surprisingly affordable, helping you to stretch your remodeling budget a bit further without sacrificing style.