Get The Look And Feel Of Real Wood With Waterproof Vinyl Plank Flooring
March 02, 2022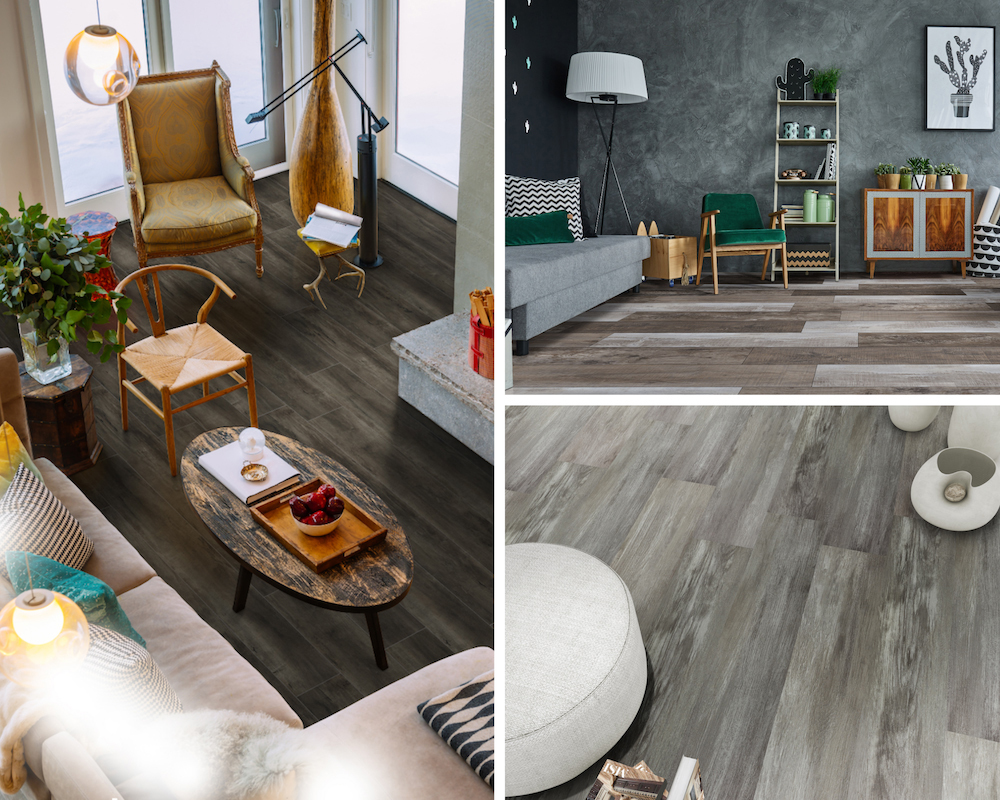 Sure MSI's Luxury Vinyl planks (LVP) mimic natural wood so well, but you may be wondering how they feel underfoot? Well, thanks to advanced technology, it's next to impossible to tell if you're walking on waterproof vinyl plank flooring or authentic wood flooring. When you choose LVP over the real thing, you get a more affordable premium surface that's almost indistinguishable in look and feel without all the monotonous, ongoing maintenance.

In this article, we'll cover the pros and cons of this flooring, the advanced technology that makes it so realistic, and some great MSI LVP products.


AN OVERVIEW OF WATERPROOF LUXURY VINYL FLOORING
Authentic hardwood flooring has been widely used for thousands of years, and it makes sense. The stuff is gorgeous, sturdy, and feels cool and smooth beneath our feet. However, when considering luxury vinyl tile pros and cons, one of the biggest pros is it effortlessly creates the look of real wood flooring for a lower price and without the never-ending tedium of regular sealing and other required upkeep.
Waterproof luxury vinyl flooring is also more durable. It stands up to fading, wear and tear, scuffing, scratches, dents, stains, and water damage. Check out this video covering MSI's Everlife® Waterproof Rigid Core flooring to learn more:

As you can see, a broom or dust mop works perfectly for the daily maintenance of this resilient flooring. If a mess requires something with more kick, all you need is a mop or moist cloth and a neutral pH cleaner.


APPEARANCE AND FEEL
Thanks to state-of-the-art technology, it's challenging to differentiate wood-look LVP from the real thing, both in appearance and feel. With a vast selection of styles and colors, all with unique patterns, graining, knots, textures, and colors, you can create any on-trend wood floor look you desire. As you saw in the above video, LVP mimics authentic wood flooring well. And thanks to advances in technology, walking on LVP feels no different than walking on the real thing. Every knot, every groove, and every plank comes to life to the point that your guests will swear you opted for genuine hardwood.

Now let's take a closer look at some leading MSI LVP and see what we uncover.
ASHTON LOTON HILL™ LUXURY VINYL PLANKS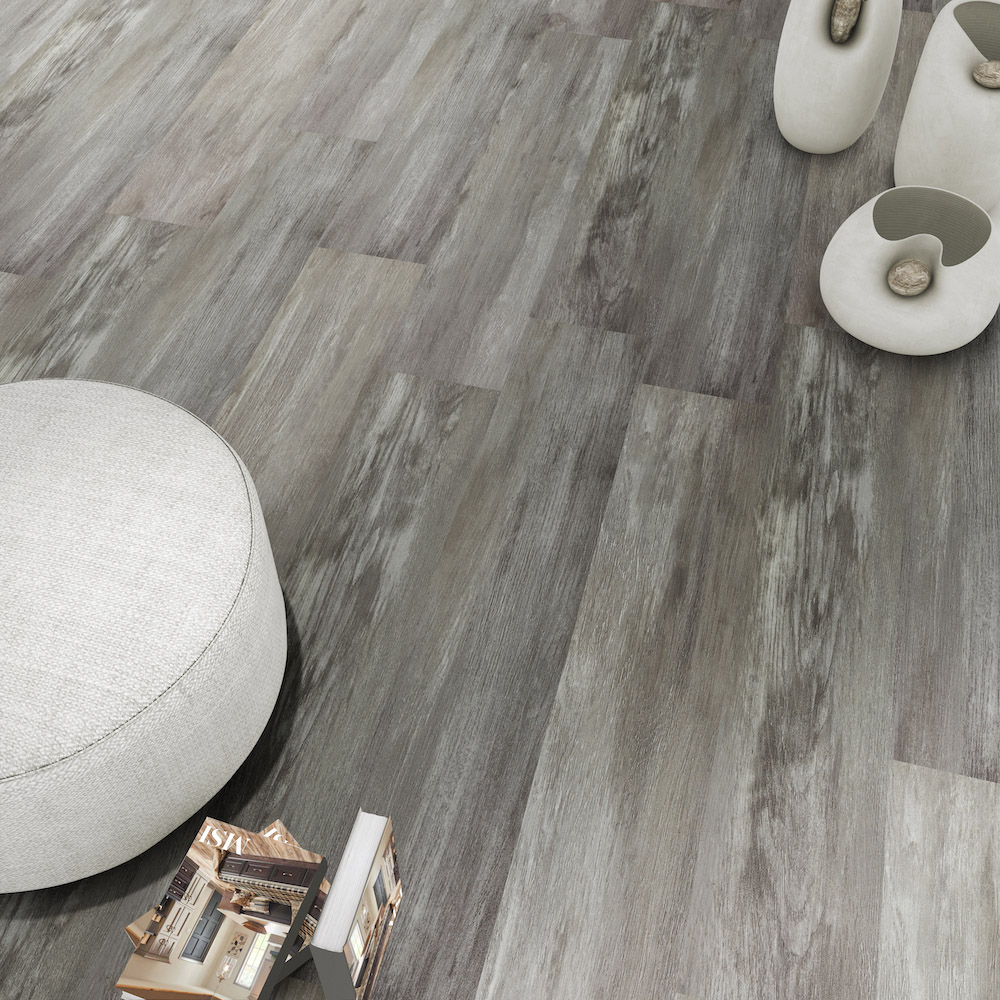 Ashton Loton Hill Luxury Vinyl Planks are part of MSI's Everlife Rigid Core Luxury Vinyl Tile Collection. When it comes to luxury vinyl tile installation, Rigid Core delivers an easy install with click-together planks. Its additional thickness adds to the feeling of authentic wood and increases durability, so your flooring stands up to the wear and tear of daily life. More often than not, an added underlayment comes into play, increasing comfort and the ability to absorb sound.
Ashton Loton Hill LVP offers up a stylish, modern look with its use of light gray and high-variation shades along with intricate grains and knots to create that sought-after hardwood look. Waterproof, stain, scratch, and dent resistant, this flooring will go the distance, even in busy households.
Imagine walking on this flooring and not being able to distinguish it from the real thing. For now, you'll have to take our word for it, but once you give it a test drive, you'll know how real LVP actually feels.
RUNMILL ISLE LUXURY VINYL PLANKS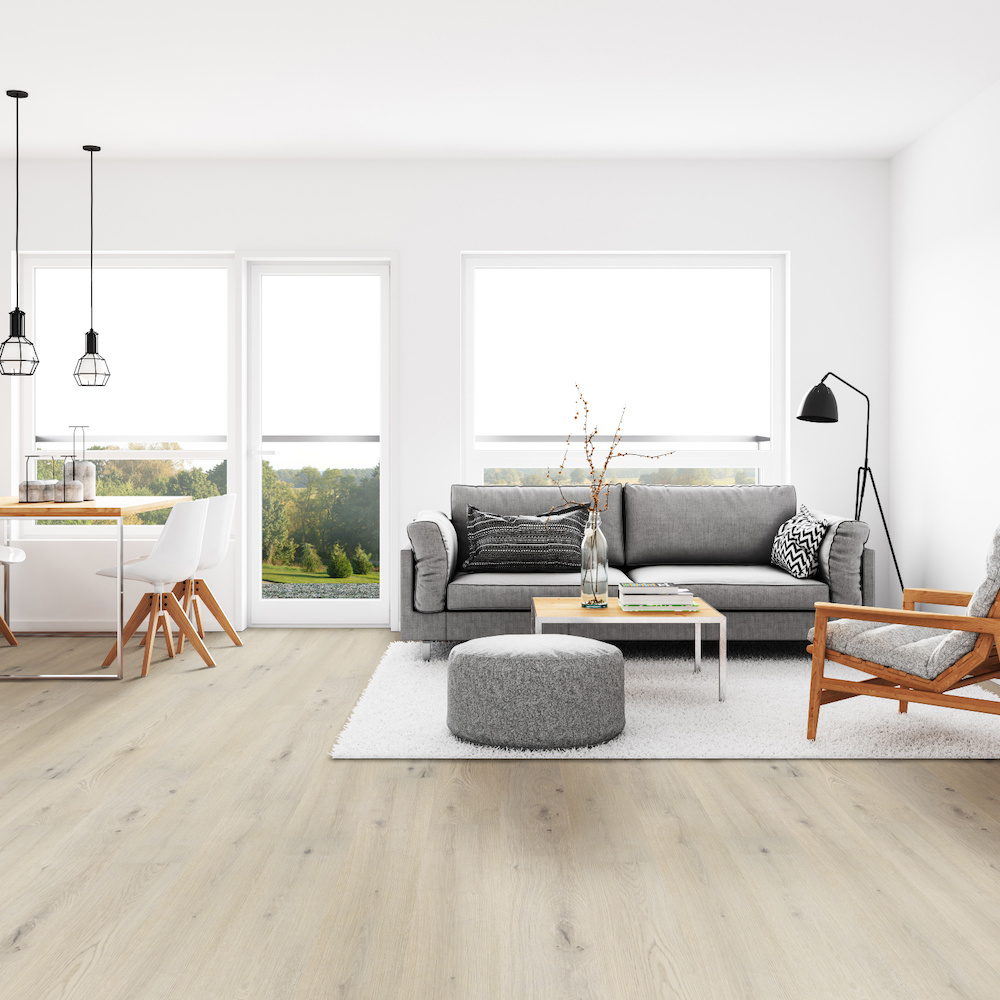 Another premium LVP from the Everlife Rigid Core Luxury Vinyl Tile Collection is the enticing Runmill Isle Luxury Vinyl Planks. Featuring stylish ashy blonde hues and understated knots and graining, this gorgeous flooring looks and feels so much like natural wood our bet is perhaps only an expert could tell the difference—and that's a big perhaps.
Easy to install with the patented tight locking system, this flooring works well in bedrooms, living areas, and even kitchens and bathrooms where it's a bad idea to install authentic wood flooring due to warping from moisture and other water damage dangers.
Take a look at how the Runmill Isle LVP pictured here fits in seamlessly to this minimalist space. Who needs art on the walls with stunning floor art like this?
BILLINGHAM® LUXURY VINYL PLANKS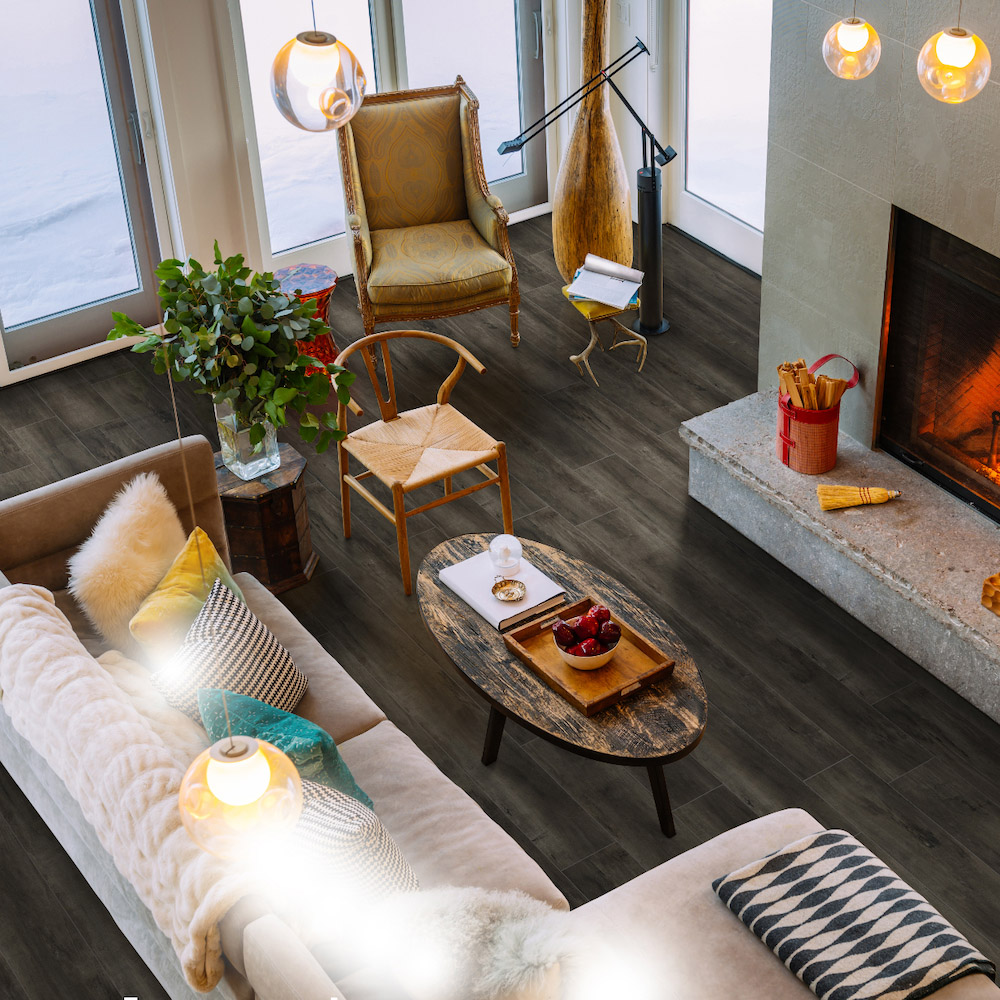 If you're in the market for a dark wood look LVP that makes a big statement, Billingham Luxury Vinyl Planks is calling your name. These awe-inspiring 7" x48" waterproof LVP feature an on-trend yet timeless dark brown color. They capture the highly coveted look of hardwood flooring in a durable Rigid Core package equipped with a wear layer that stands up to high traffic areas, pets, moisture, and more. These floors go the distance, so there's no need to fret over them the way one would with genuine wood. Premium flooring that looks this good is to be enjoyed and admired. With MSI's LVP, you can do just that.
WEATHERED BRINA® LUXURY VINYL PLANKS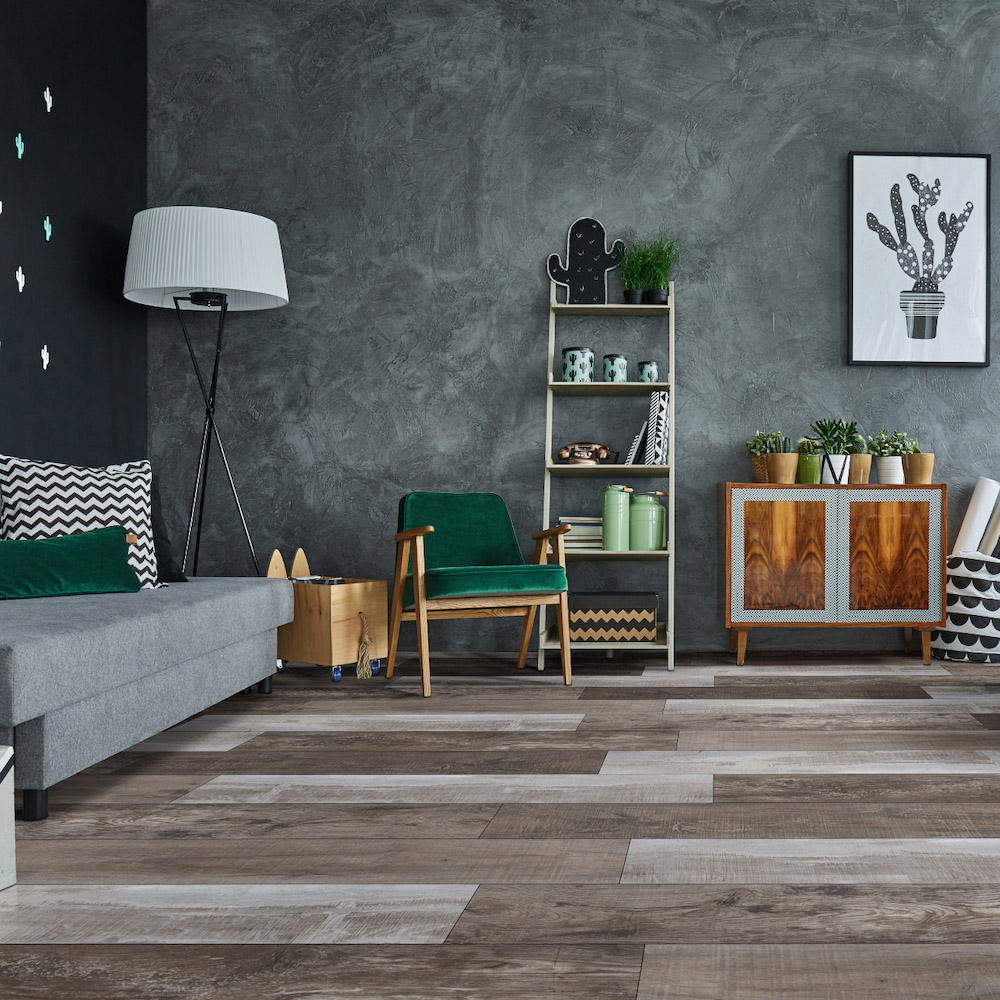 Capture the look of character-rich worn-in wood flooring with Weathered Brina Luxury Vinyl Planks. This LVP uses a blend of tans, browns, light grays, and whites to create the weathered look that will keep your guests enrapt. So enrapt that they may start inviting themselves over simply to enjoy it. Weathered Brina looks precisely like the real thing, and once you lay foot on it, you'll know it feels the same too. It's truly the star of this minimalist kitchen. Can you imagine all the warping and other water damage authentic wood flooring would experience in this setting? Good thing this household went with LVP!
HAWTHORNE® LUXURY VINYL PLANKS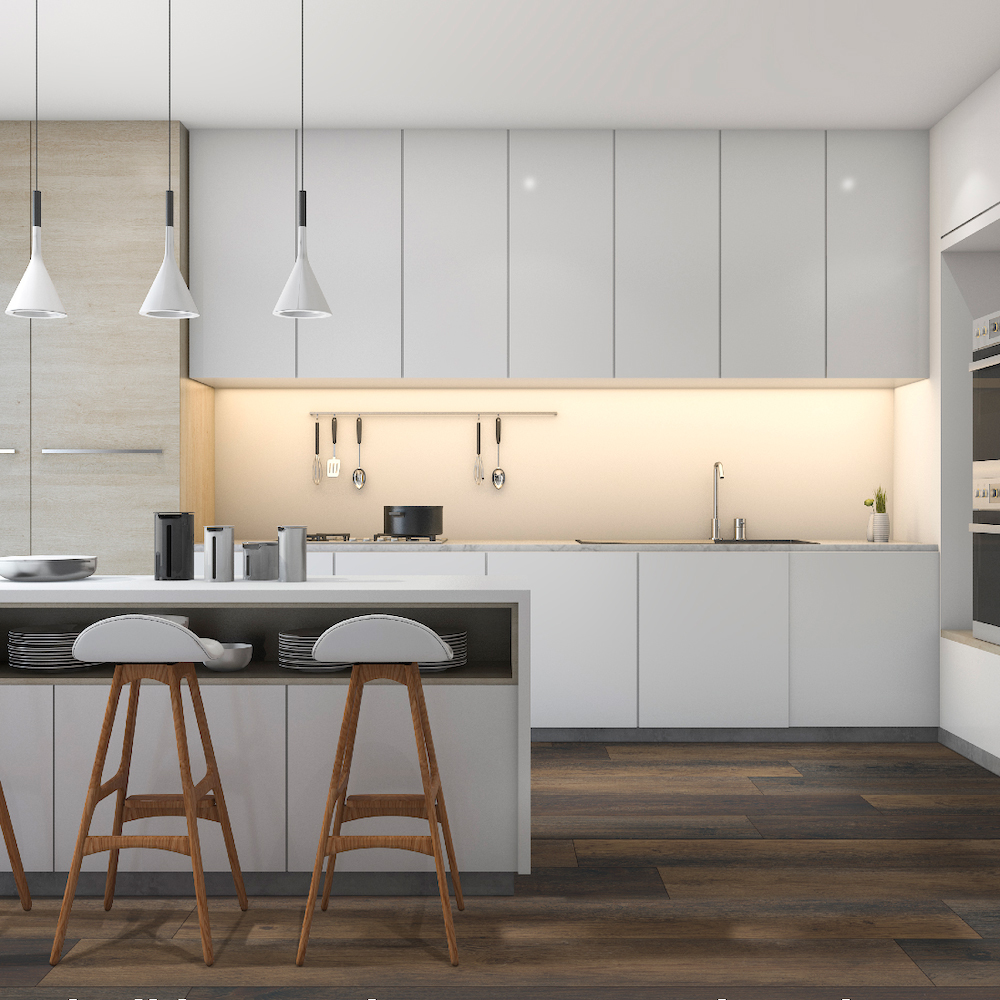 Last but never least, we have MSI's breathtaking Hawthorne Luxury Vinyl Planks. Whoever created the technology that makes LVP look and feel as real as this should receive a medal. Hawthorne LVP features dark brown tones with hyper-realistic graining and knots to produce a flooring indistinguishable from genuine wood. Not only does it look great, it's priced lower, requires less upkeep, is easy to install, waterproof, and so much more.
We're still amazed at how far this technology has come. Why pay top dollar for a hard to care for real wood flooring when a more affordable option with endless benefits mimics it down to the finest detail? We covered five of these premium surfaces in this article, but there are so many more to explore! Take a look by browsing our luxury vinyl plank gallery at your leisure.
Learn More About Luxury Vinyl Flooring
Create A Seamless Luxury Vinyl Flooring with Coordinating Stair Treads, Trims, And Transitions
How To Choose A Luxury Vinyl Flooring Style And Color That's Right For Your Home
Luxury Vinyl Flooring Looks: What's New For 2022
Why You Should Choose Vinyl Plank Flooring Over Laminate
Visualize Luxury Vinyl Planks, Backsplash Tiles, And More with Our Bathroom Visualizer
READ MORE ABOUT WOOD LOOK TILE:
Country River Collection: Naturally Elegant Wood Look Porcelain Tile
Upgrade Your Home with Porcelain Wood Look Wall Tile
Get Durable And Affordable Wood Looks with Cyrus And Cyrus XL Luxury Vinyl Planks
Is Porcelain Wood Look Tile Better Than the Real Thing?
Learn More About Luxury Vinyl Planks
Get The Look And Feel Of Real Wood With Waterproof Vinyl Plank Flooring
Why You Should Choose Vinyl Plank Flooring Over Laminate
Visualize Luxury Vinyl Planks, Backsplash Tiles, And More With Our Bathroom Visualizer
Durable And Affordable Dryback Glue Down LVP Flooring
Comparing Wood Look Tile And Luxury Vinyl Planks - Which Is Right For You?