Why You Should Choose Vinyl Plank Flooring Over Laminate
March 13, 2022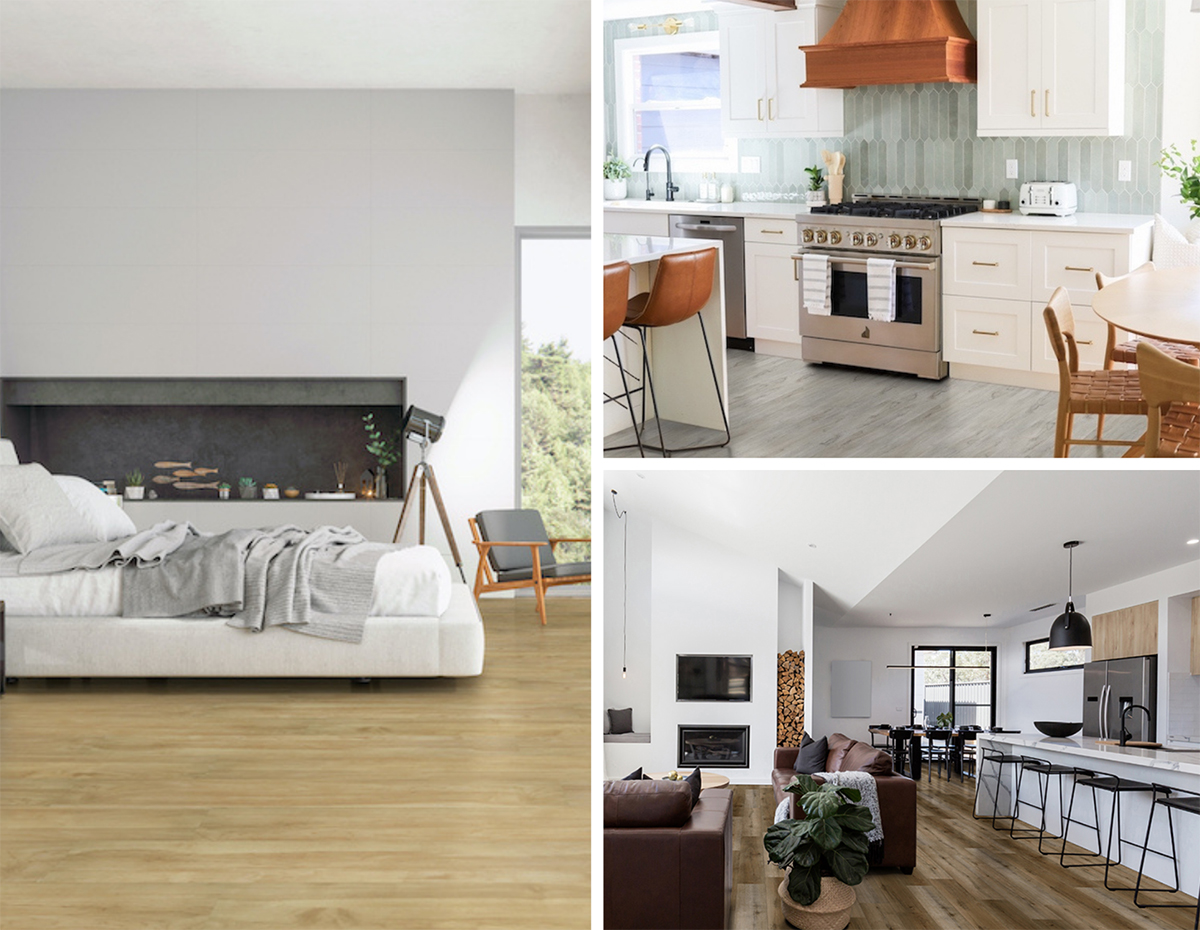 LUXURY VINYL PLANK FLOORING VS. LAMINATE
When searching for affordable, durable flooring that doesn't require ongoing maintenance like sealing—and still looks great—homeowners often choose between vinyl plank flooring and laminate. While they each have their benefits, luxury vinyl plank (LVP) flooring is the superior of the two. This article will explore the benefits of LVP and why you should choose it over laminate.
WATER-RESISTANT OR 100% WATERPROOF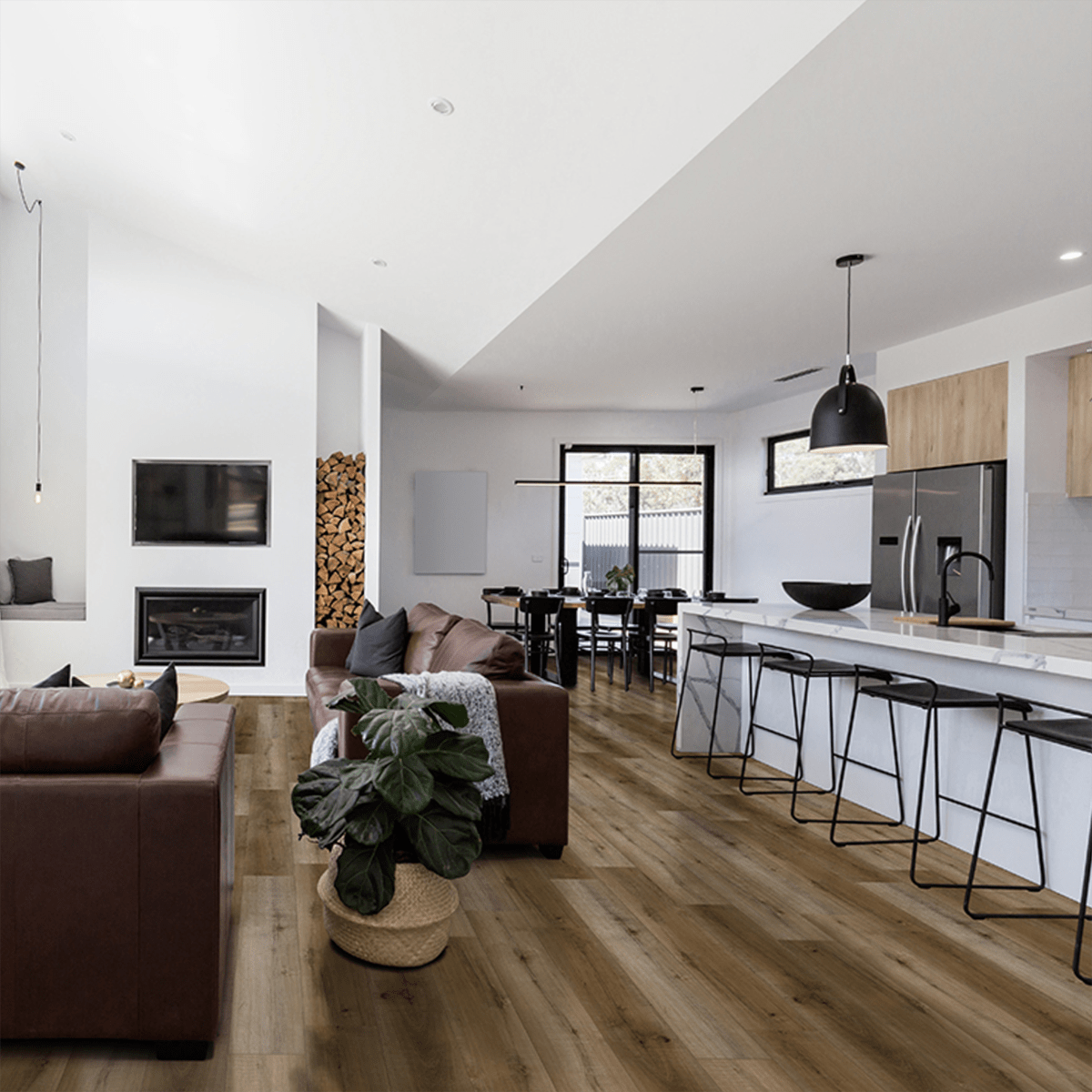 The benefits of luxury vinyl planks are numerous. One of the largest is LVP is either water-resistant or 100% waterproof. The LVP we'll cover in this article, like MSI's Blythe Luxury Vinyl Planks, is 100% waterproof. Another benefit of LVP is it mimics the look and feel of real wood flooring so well that people are often unable to tell the difference.

Luxury vinyl planks are more affordable than natural wood, easier to install, more durable, and don't require regular sealing. Blythe LVP use a backdrop of neutral brown along with dark knots and graining to deliver the sought-after look of reclaimed wood. Take one look at it, and you'll find it difficult to differentiate it from the real thing.
Since luxury vinyl like these are 100% waterproof, they're great for bathrooms and kitchens—areas that are traditionally off-limits to wood flooring due to the risk of water damage which causes warping and more.

A major con of laminate is it's not waterproof flooring. Nearly all the laminate you'll come across has a fiberboard core, primarily composed of wood fibers. Since we know wood is in the mix, we know when laminate flooring comes into contact with water, it will cause swelling along the edges and other risks. After drying out the damaged floor, this swelling will remain, and you'll need to consider replacing your flooring altogether.
EASY INSTALLATION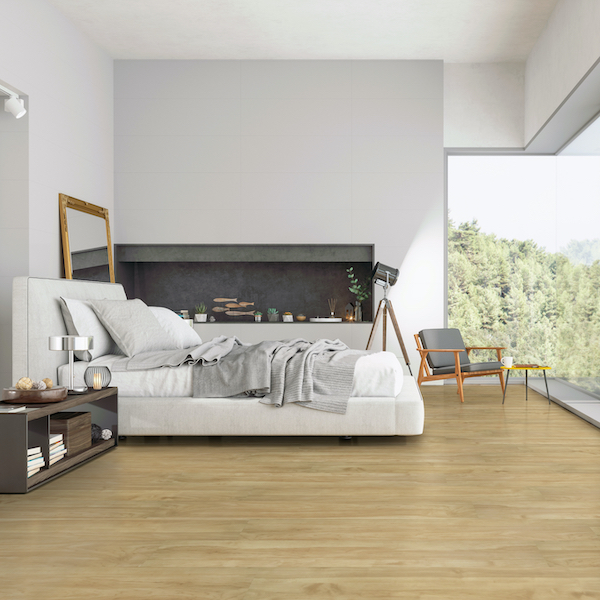 Before we get into the ease of installing luxury vinyl flooring, let's highlight the beauty of MSI's Brookline Luxury Vinyl Planks. 100% waterproof so they can take your kitchen, bathroom, or any room to the next level, these planks use golden hues, knots, and understated graining to produce a warm, wood look flooring. Luxury Vinyl Planks like Brookline feature a patented locking system which makes for an easy install, even over existing flooring.

While a seasoned DIYer can complete this job on their own, the cost to hire someone to do it for you won't be sky high due to the simple locking system.
RIGID CORE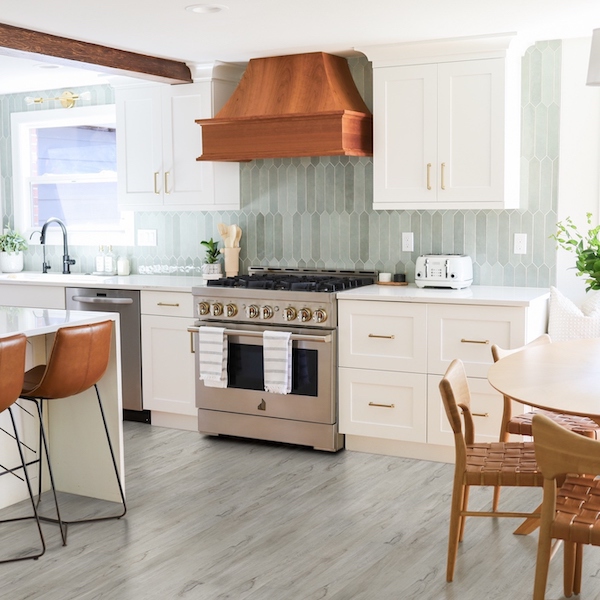 MSI's Dunite Oak Luxury Vinyl Planks and the other LVP covered here boasts a rigid core construction where laminate flooring does not. They also feature a great looking mix of beige and gray hues paired with knots and graining to deliver the look and feel of authentic wood flooring for a lower price. But what about the rigid core—what is that anyway?
An engineered product, rigid core luxury vinyl planks offer added stability due to their rigid core composition. Constructed of up to four layers, rigid core has a wear layer that stands up to stains, scratches, dents, and more to ensure your LVP flooring goes the distance, even in high traffic areas. Then there's a vinyl layer over the rigid core, which is wildly durable, so your flooring lasts longer than other options, including laminate. Finally, there is often an underlayment that creates extra comfort underfoot and further absorbs sound.
UPKEEP
When selecting premium flooring, the amount of required upkeep should be at the top of your list. We've already discussed how luxury vinyl plank flooring beats out the natural wood it mimics since there is no regular sealing required to protect your flooring. Additionally, luxury vinyl planks, with their wear layers, simply stand up to water damage, dents, staining, and scratches in a way that real wood cannot.

But what about LVP flooring upkeep compared to that of laminate? For starters, best practices for cleaning laminate flooring include dry methods only. For many homeowners, this doesn't sit right. How can one thoroughly clean a floor without employing a wet method? Therein lies the problem—the last thing you want is water sitting on your laminate floor due to the risk of water damage. So keeping laminate floors clean requires daily dry mopping or sweeping because laminate scratches easily, and the more debris that piles up, the bigger the risk of scratching and damaging your floors.

When it comes to vinyl flooring care and maintenance, wet methods are more than welcome. While the practice of using a dust mop or broom for daily maintenance is ideal, if you happen to make a mess where water is needed, go for it. All you need is a moist cloth or clean mop and a neutral pH cleaner, and your flooring looks good as new.
THE ENVIRONMENT
Luxury Vinyl Plank Flooring like Bergen Hills Luxury Vinyl Planks is GREENGUARD Indoor Air Quality Certified®. Bergen Hills also uses a stunning blend of beige, amber, and light browns along with knots and graining to create the highly coveted look or authentic wood flooring without cutting down large swaths of forest, which is great for the overall health of our planet and its inhabitants.
WRAPPING UP
There are so many quality floor options out there, and choosing the best one for your needs is often challenging. When deciding between vinyl plank flooring and laminate, vinyl plank comes out ahead every time. It's water resistant or 100% waterproof, where laminate flooring is not. It's more durable than laminate which makes it last longer. It's better for the environment and easier to install and it looks and feels almost exactly, if not exactly, like to authentic wood flooring it mimics.

If you're about to flip a coin to decide which MSI premium flooring suits your design needs best, why not give us a call or contact us online instead? Our friendly team of experts is ready to answer any questions to ensure your flooring choice is the best one to upgrade your living space and, in turn, elevate your lifestyle.
Learn More About Luxury Vinyl Flooring
Create A Seamless Luxury Vinyl Flooring with Coordinating Stair Treads, Trims, And Transitions
How To Choose A Luxury Vinyl Flooring Style And Color That's Right For Your Home
Luxury Vinyl Flooring Looks: What's New For 2022
Get The Look and Feel of Real Wood with Waterproof Vinyl Plank Flooring
Visualize Luxury Vinyl Planks, Backsplash Tiles, And More with Our Bathroom Visualizer
Learn More About Luxury Vinyl Planks
Get The Look And Feel Of Real Wood With Waterproof Vinyl Plank Flooring
Why You Should Choose Vinyl Plank Flooring Over Laminate
Visualize Luxury Vinyl Planks, Backsplash Tiles, And More With Our Bathroom Visualizer
Durable And Affordable Dryback Glue Down LVP Flooring
Comparing Wood Look Tile And Luxury Vinyl Planks - Which Is Right For You?