Comparing Wood Look Tile And Luxury Vinyl Planks - Which Is Right For You?
October 10, 2022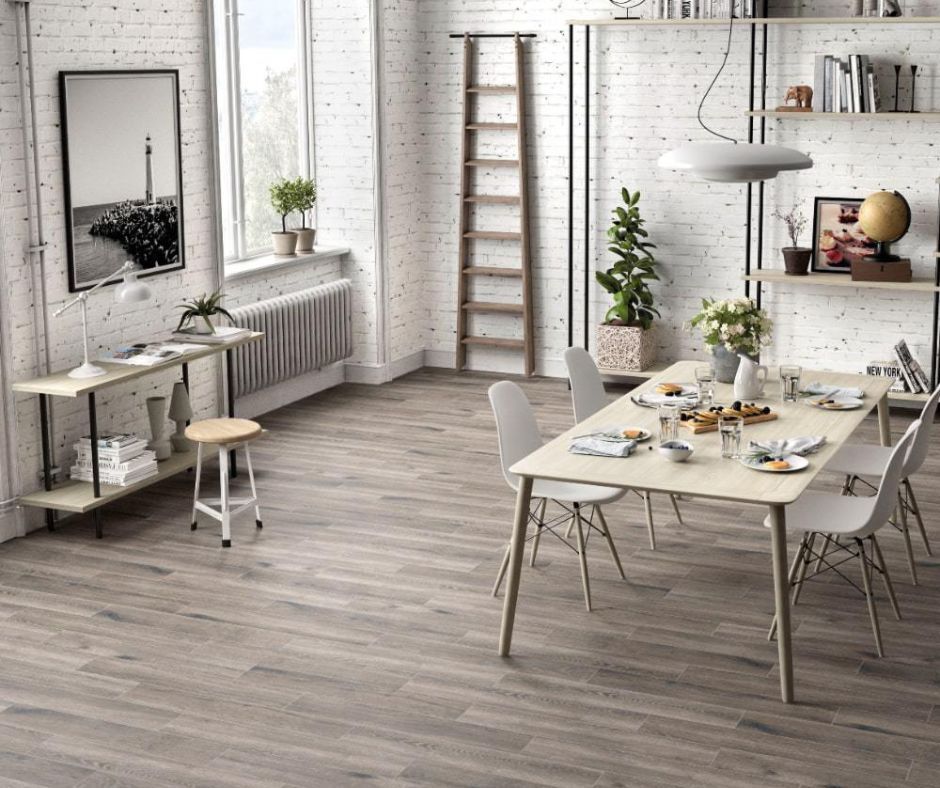 Hardwood flooring has been beloved by homeowners for centuries, and it's just as stylish today. But natural wood flooring isn't always a practical choice. It takes extra work to maintain, it's prone to scratches from everyday wear and tear, and exposure to water – or even excess humidity – can damage it beyond repair. Fortunately, homeowners have two excellent choices for enjoying the aesthetics of hardwood floors with none of the drawbacks: wood-look porcelain and luxury vinyl planks.
But can these wood-look substitutes truly perform as promised while delivering the same authentic, timeless beauty? Their rising popularity among satisfied homeowners indicates that it's true. So, which one is right for your home?
Both porcelain and vinyl tile have so much to offer. But since both products are very different, one might be more appropriate than the other for your unique situation. Therefore, learning more before choosing one over the other is essential. In this article, we'll discuss the pros and cons of LVT and porcelain tile so that you can make an informed decision.
REALISTIC WOOD LOOKS
One of the concerns you may have when substituting porcelain tile that looks like wood or luxury vinyl planks for real, natural hardwood flooring is this: How realistic is it? No matter how practical it may be, nobody wants a floor that looks like a fake version of the real thing. However, whether you pick porcelain or vinyl rigid core flooring, you'll be pleasantly surprised by how authentic they appear. Both types of flooring planks include enough variety within each box that, when installed properly, there's no obvious repeating pattern. Instead, the wood grain looks natural and random, like the real thing.
This flooring doesn't lack style or color choices, either. Both LVP and porcelain wood tile flooring are available in a vast range of colors, from pale gray or beige to nearly black. In addition, they show realistic wood graining, complete with knots and, in some cases, saw marks. Styles include refined, subtle oak- or pine-look flooring, or if you want something bolder with more character, you can choose flooring with the look of weathered, reclaimed barn wood. There's something for everyone and every style of décor.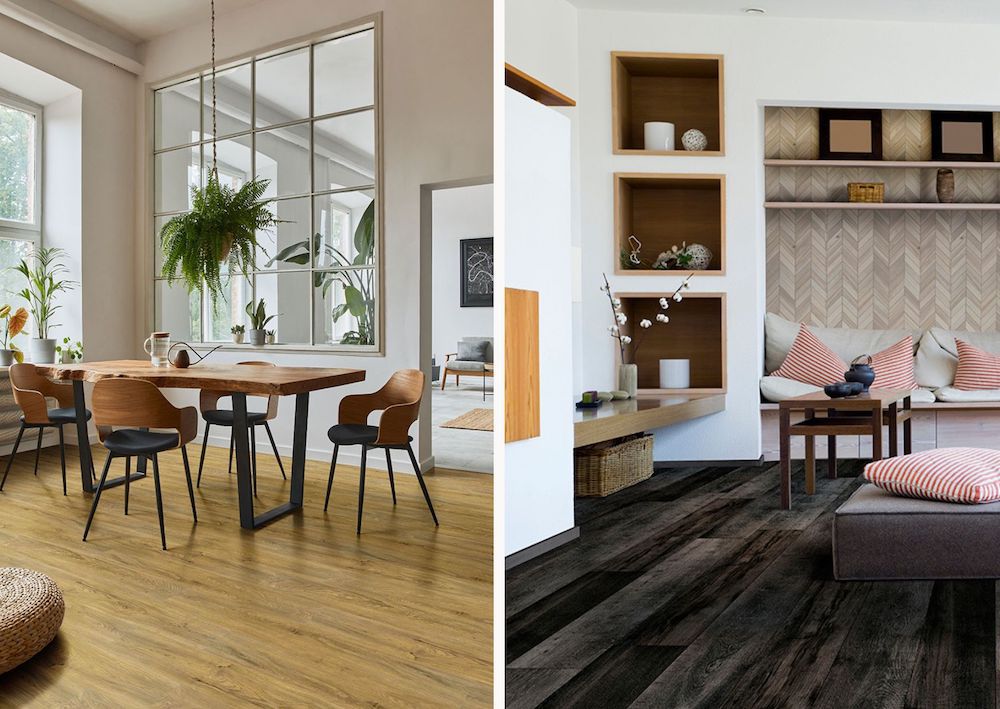 DURABILITY
No flooring is perfect when it comes to potential damage and wear and tear over time. However, wood-look porcelain tile and luxury vinyl planks are highly durable and can last for decades with everyday residential use.
Luxury vinyl planks are manufactured in several layers, including the backing, rigid core, design layer, and protective wear layer. In addition, MSI's LVT has a proprietary wear layer called CrystaLux, which provides superior protection against damage from scratches, dents, and sunlight.
Porcelain wood-look planks are manufactured with a refined clay mixture that is fired at extremely high temperatures, giving it incredible strength and durability. Many types of porcelain tiles are tough enough to withstand high-traffic areas. They can even be installed outdoors as a substitute for wood decking or stone pavers. However, porcelain is more prone to cracking, breaking, or chipping if a heavy object is dropped on it.
INSTALLATION
Whether you are a DIY homeowner or will be hiring a contractor for your flooring installation, you'll want to consider the relatively easy installation between these two types of wood-look planks.
Luxury vinyl planks are a better choice for homeowners who install their own flooring. Many types of LVP are made with a click-lock system. A tab on one side of the plank fits into a groove on the next, making installation relatively easy. This type of "floating" floor requires minimal preparation of the subfloor. They are also easier to cut as they do not require special tools.
Installing porcelain tile is also appropriate for DIY projects but requires a bit more effort and skill. First, the subfloor must be prepped, so it's completely level. Then, a wet tile saw, tile spacers, grout, and other supplies are necessary. Also, it's much heavier than vinyl planks. On the plus side, it's a better choice for creating patterns, such as herringbone or parquet.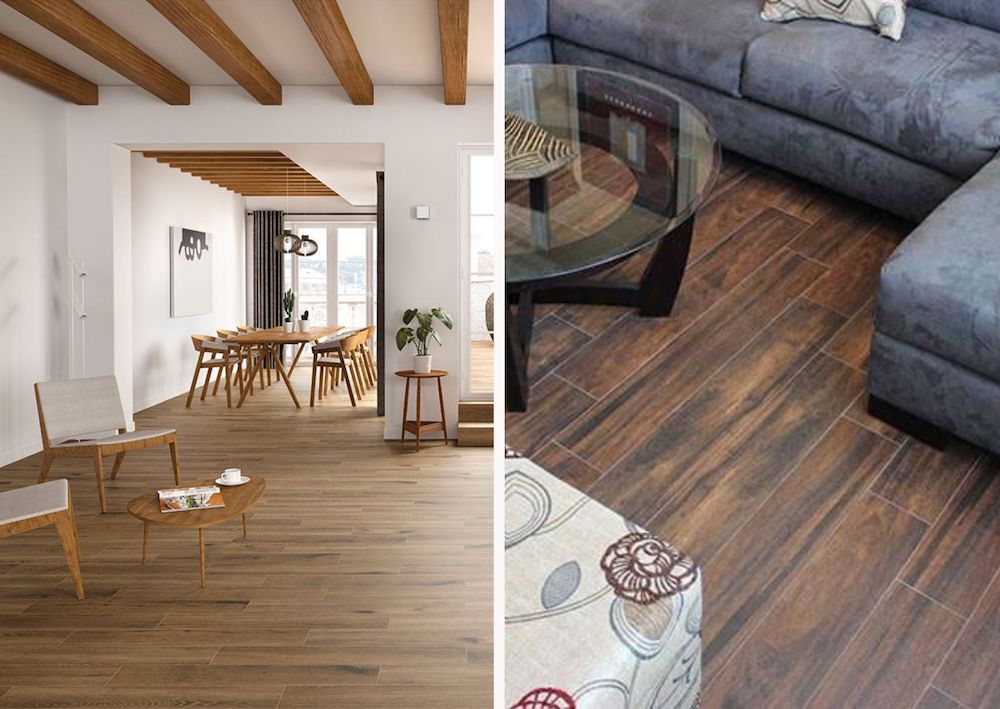 WATER RESISTANCE
One of the most popular reasons for choosing wood-look porcelain and vinyl tiles is that they are water resistant — they allow you to have "wood" flooring in areas where you'd never install the real thing, like bathrooms, kitchens, laundry rooms, and more. Both are completely waterproof flooring and will not be damaged by spills, splashes, and leaks. However, since it's possible for moisture to seep between tiles, an extra waterproof underlayment can provide additional peace of mind.
MAINTENANCE
Most "natural" flooring options have maintenance needs. That's true of stone tiles as well as hardwood. Porcelain and luxury vinyl planks, however, will make your life easier. With either, all you need is a broom for daily sweeping and a wet mop for a more thorough cleaning. Wood-look porcelain tile does have grout lines, however, which may require additional care.
COST PER SQUARE FOOT
While price shouldn't be the only consideration when choosing porcelain wood-look tile vs. luxury vinyl planks, most homeowners have a limited budget. Porcelain tiles can range from $2 to $5 per square foot, not including installation or any extra materials. Luxury vinyl plank flooring is roughly the same cost, depending on whether it's rigid core flooring or glue-down planks, the thickness of the wear layer, and other factors.
We would love the opportunity to speak with you about our porcelain wood-look tile or luxury vinyl flooring collections and to help you decide which product is perfect for your needs. So give us a call, or stop in at one of our showrooms, and one of our staff members will be happy to assist you.
Learn More About Luxury Vinyl Planks
Get The Look And Feel Of Real Wood With Waterproof Vinyl Plank Flooring
Why You Should Choose Vinyl Plank Flooring Over Laminate
Visualize Luxury Vinyl Planks, Backsplash Tiles, And More With Our Bathroom Visualizer
Durable And Affordable Dryback Glue Down LVP Flooring
Comparing Wood Look Tile And Luxury Vinyl Planks - Which Is Right For You?