Visualize Luxury Vinyl Planks, Backsplash Tiles, And More With Our Bathroom Visualizer
March 20, 2022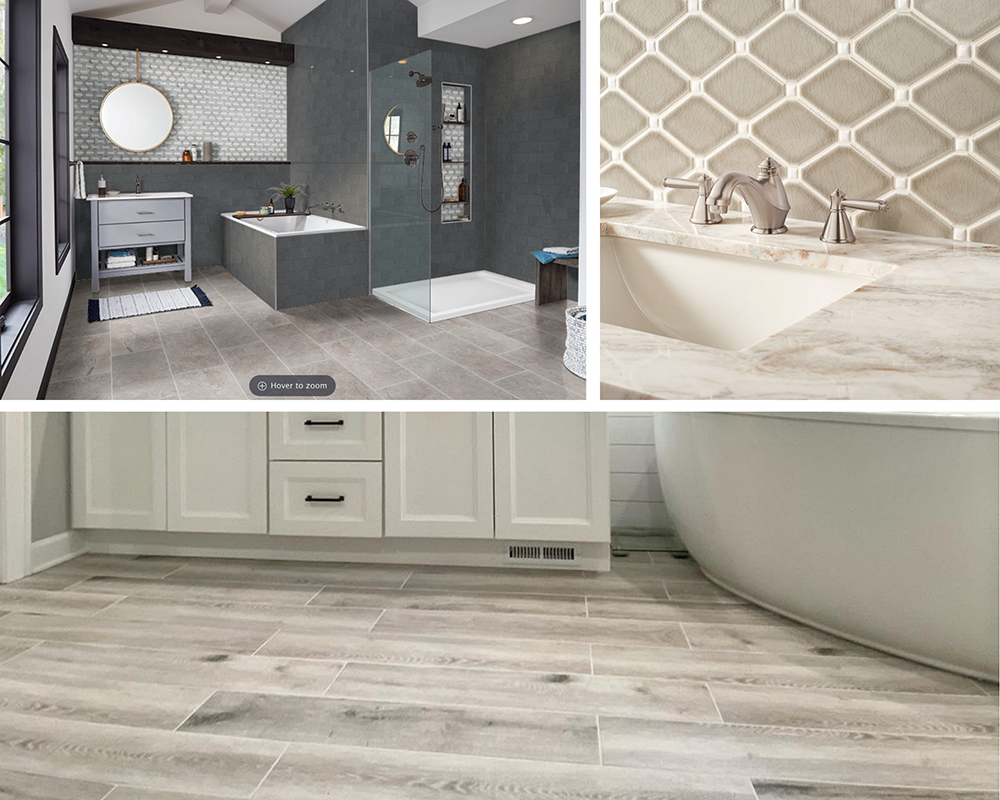 Selecting just the perfect luxury vinyl planks, or other interior surfaces, has always required the use of a healthy imagination. Ordering samples can help, and today you can obtain samples of flooring, tile, cabinetry, countertop materials and more. You can take home paint chips from the home improvement store, or even get sample-size paint jars. Despite all of these conveniences, it's still hard to visualize how all the parts will look once they're all installed — until now.
MSI offers a variety of room visualizer tools to help homeowners choose the surface materials that not only match, but also suit their decorating style and personality. The bathroom visualizer is a convenient tool for planning this challenging remodeling project — in this small, but frequently used space, it's important that every single element work together perfectly.
Here's how it works, along with some tips for making the most of this powerful tool.
Using the Bathroom Template
Your own bathroom may look completely different from the one shown in the visualizer tool — it may be set up differently, with a shower and bathtub in one unit instead of separate. You may have a larger countertop, and more traditional decor instead of the contemporary design shown here. However, this one has been carefully chosen to allow our customers a clear view of three of the most variable surfaces: the flooring, the wall tile, and the backsplash.
We are frequently adding new colors and patterns to the visualizer tool, but even the somewhat-limited selection available now will allow you to compare many different combinations. You can see if you prefer neutral colors on every surface, or if you're keen on mixing and matching various hues. Options are available for traditional colors and patterns as well as more dramatic and unusual tiles. There's even a selection allowing you to use the same tile on both the wall and the floor, which can yield some interesting combinations as well as creating a simple, cohesive design. Just click and drag the slider below the tile options, or use your arrow keys to scroll left and right.
After you've finished designing the bathroom of your dreams, use the "share" button to download it to your computer, e-mail it, or print it out, complete with all of the surface selections you have made. You can also show your creation to all of your family and friends on Facebook and Twitter, and save it to your Pinterest board.
Backsplash Tiles
Although the bathroom visualizer only includes a small fraction of the backsplash tile available from MSI, we've represented many of our more popular materials, colors, sizes, and shapes. Select from options in marble, such as Angora Polished Herringbone, Arabescato Carrara, or Calacatta Bianco. Choose one of our glass tile mosaics, such as Night Sky Interlocking or Blocki Grigio. We've also included pebble mosaics, traditional subway tiles, and exotic shapes such as arabesque and scallop.
Try our dramatic patterned tiles such as Rhombix Nero, Soho Stax, and Tetris Florita. We've also included many colors for you to compare: gray shades, beiges, black, white, and even blue and green hues. If you have a particular color in mind, use the Filter function to narrow down your choices. You can also do the same with sizes and shapes.
The backsplash area in the photo could also be considered an accent wall, and it is echoed in a small area within the shower stall — contrasting tiles can create a lovely inset area that is perfect for installing shelves to hold soap, shampoo, and more conveniently at hand.
Wall Tiles
Like the backsplash tile selections, our wall tile options include marble and ceramic. We've included many styles and colors of subway tile, as that type of wall tile has been extremely popular for a long time and continues to be a favorite. You can also choose Whisper White subway tile, which has a 3D texture.
Floor Tiles
Our bathroom visualizer includes porcelain floor tiles in various colors, some of which are inkjet-printed to authentically replicate wood, marble, and weathered metallics such as Oxide Iron. If you've never imagined creating a bathroom design with wood flooring, our waterproof and durable porcelain tiles are an easy way to do it — and you'll love the look.
You'll notice another type of flooring options you can choose for this visualizer: Luxury Vinyl Planks. Be assured that this wood-look rigid core flooring absolutely belongs in the bathroom! In fact, it opens up an entirely new world of decorating options.
Why LVT is Perfect for Bathrooms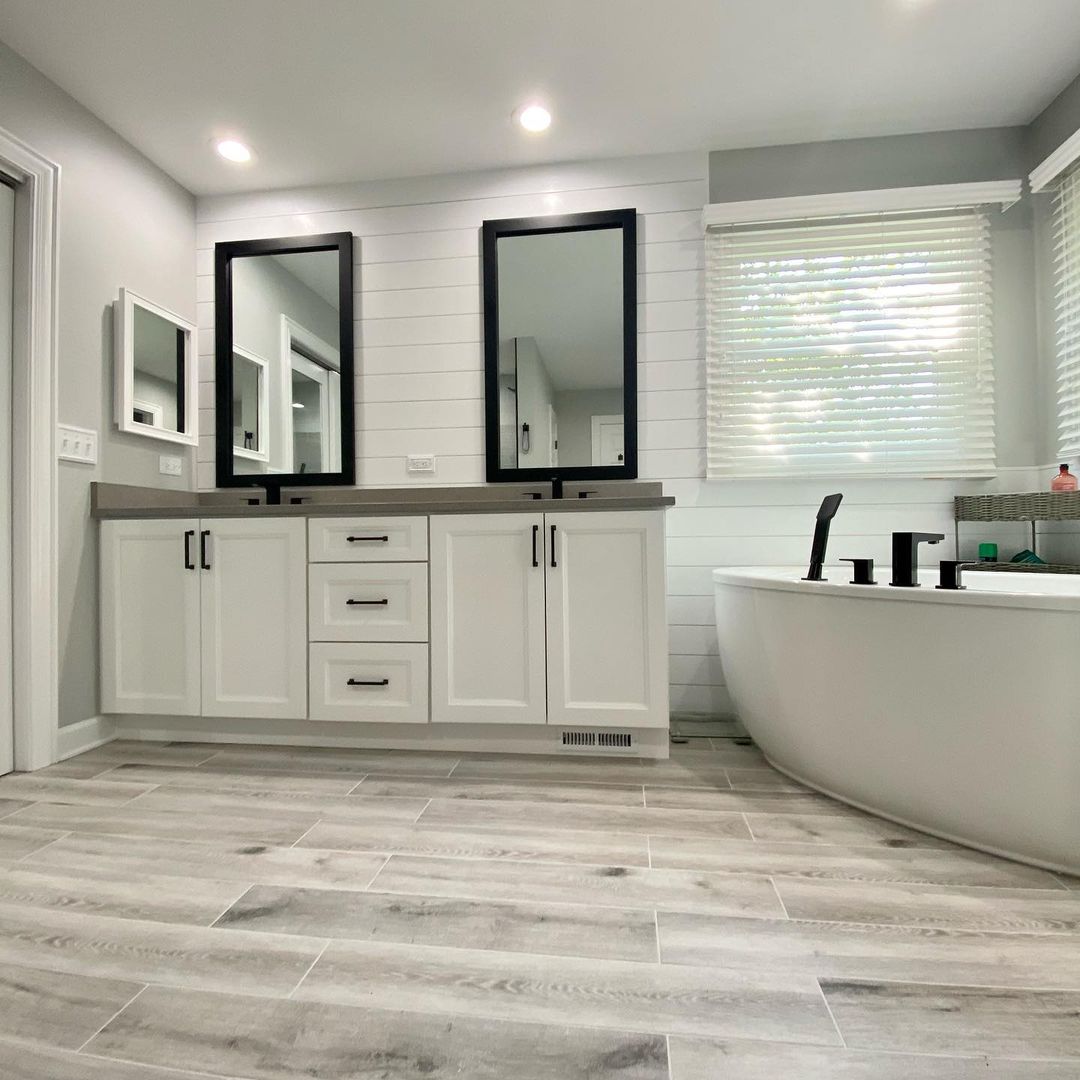 At first glance, modern luxury vinyl planks look a lot like natural hardwood flooring. They also feel more like natural wood flooring than wood-look porcelain tile, because they are warmer and more comfortable on bare feet. They also have the added benefit of absorbing sound, which will help you avoid that hollow sound so prevalent in bathrooms with only hard surfaces. But, is a vinyl flooring installation safe for use in wet areas? LVT is completely waterproof, and for added protection, you can easily install a waterproof underlayment. Your water resistant flooring will last for many years.
Quartz Countertops Is Also Perfect for Bathrooms
While considering durable, easy-care, waterproof surfaces for the bathroom, another element to consider is the quartz countertop. Quartz is an engineered, manufactured surface that, like porcelain and luxury vinyl flooring, can authentically resemble many other materials. Quartz can replicate marble, granite, soapstone, and other natural stones commonly used for countertops. Unlike natural stone, however, quartz never needs sealing to remain stain-resistant and completely waterproof — making it perfect for use in bathrooms.
We encourage you to try out the bathroom visualizer tool, along with all of the other visualizer tools provided on the MSI website: visualizer tools for the kitchen, countertop edges, and stacked stone features. Also try out our multi-surface visualizer, which allows you to upload a photo of your own room or outdoor space and try out various materials in a new, realistic interface.
If you have any questions or need additional information about the visualizers, luxury vinyl tile pros and cons, or any of our products, feel free to contact us. We want to help you design rooms that you will love.
Learn About Luxury Vinyl Flooring
Create A Seamless Luxury Vinyl Flooring with Coordinating Stair Treads, Trims, And Transitions
How To Choose A Luxury Vinyl Flooring Style And Color That's Right For Your Home
Luxury Vinyl Flooring Looks: What's New For 2022
Get The Look and Feel of Real Wood with Waterproof Vinyl Plank Flooring
Why You Should Choose Vinyl Plank Flooring Over Laminate
READ MORE ABOUT MSI BACKSPLASH TILE
Unique 3d Backsplash Tiles For Kitchen And Bath
Update Your Kitchen Or Bath With An Affordable Ceramic Tile Backsplash
Warm Wall Accents With Cool Metal Backsplash Tile
Which Cleansers Are Safe To Use On Inkjet Printed Backsplash Tile?
Learn More About Luxury Vinyl Planks
Get The Look And Feel Of Real Wood With Waterproof Vinyl Plank Flooring
Why You Should Choose Vinyl Plank Flooring Over Laminate
Visualize Luxury Vinyl Planks, Backsplash Tiles, And More With Our Bathroom Visualizer
Durable And Affordable Dryback Glue Down LVP Flooring
Comparing Wood Look Tile And Luxury Vinyl Planks - Which Is Right For You?