Popular
A Style Star Takes Shape In Geometric Tile
October 05, 2016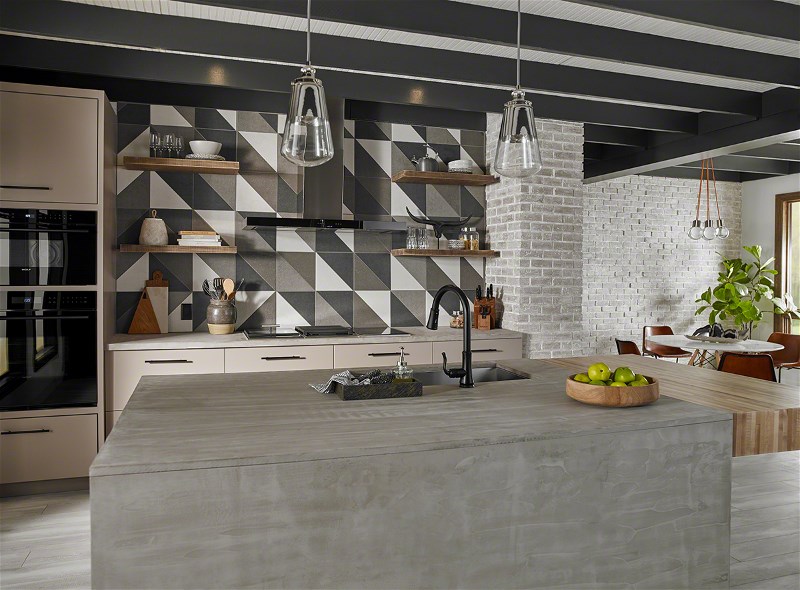 If you're anything like us, you swoon over 15th century Moroccan tile. Our affinity for geometric design is as ancient as Cleopatra. Taking inspiration from the natural world (hello snowflakes, nautilus shells, and honeycombs), craftsmen throughout the ages made incredible art forms out of these universal patterns.
For hundreds of years, geometric tiles have added character, depth, and a graphic punch to all types of living and meeting spaces. Owing at least part of its phenom staying power to its remarkable resilience, it's amazing that something can survive a century of family wear and tear and still turn heads (if we could be so lucky).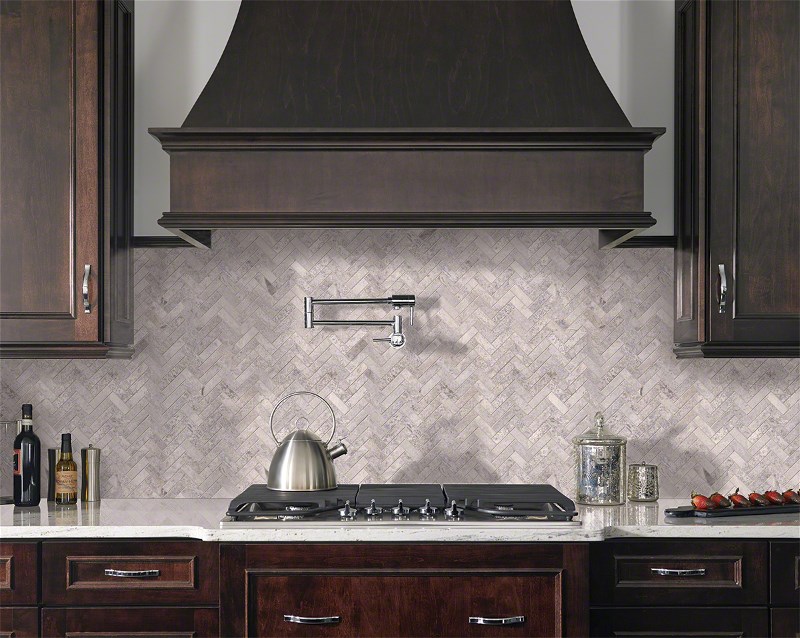 Featured: Silver Travertine Herringbone
Style icons like Carolina Herrera, Armani, and Jean Paul Gaultier have brought the mathematical elegance of geometry back into fashion again, and we're oh-so tickled that this runway sensation made its resurgence on the home front.
To explore today's geometric tile and show off its diversity, we caught up with our Director of Trend & Design, Emily Holle, to introduce today's mélange of material, patterns and colors; and help us land that long-awaited A+ in geometry. From a 1920s bungalow to a Park Avenue pied a terre, here are our favorite ways to create inspired interiors using the latest shapes, such as: arabesques, octagons, trapezoids, diamonds, hexagons, and rectangles.
#1 Dream Up Your Own Design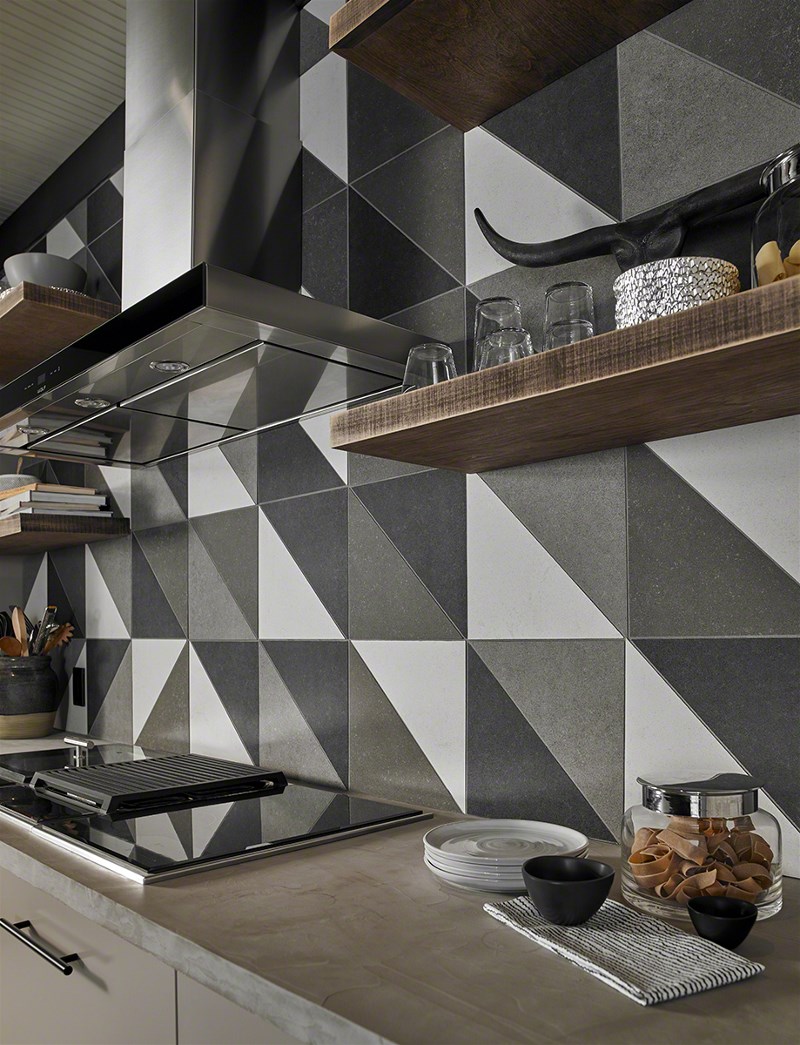 Featured: Dimensions Collection (Concrete, Glacier, Graphite, and Gris)
With inspiration all around, perhaps it's time to channel your inner creative genius to make your home more you. Designing your own version of the geometric wall in the kitchen above is easier than you think. Just cut colored 12" x 24" tiles on the diagonal and arrange them in a unique pattern. You can also create stunning graphic effects with half-hex patterns (you cut them in half as well) using these styles. Delve in and have fun!
Style hint: If the rest of the room has crisp, clean lines, your tile choice will remain the hero.
#2 Go Floor-to-Wall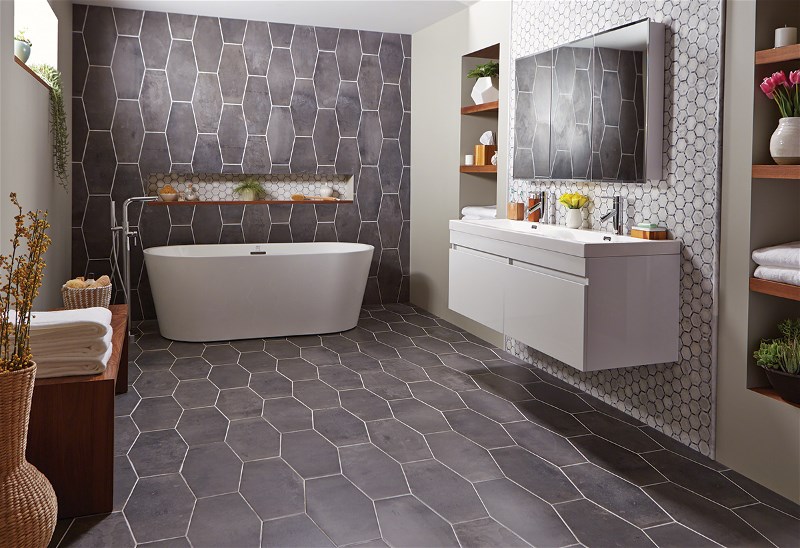 Featured: Telaio 2" Hexagon 2
We get a kid-in-a-candy-store sensation every time we see a floor-to-wall geometric treatment. Whether opting for the drama of colored tiles or keeping the focus on shapes with neutrals, you won't find a more modern or edgy style statement. The elongated hexagon pattern above proves our point nicely.
Style hint: Trying to make a small space visually bigger? Opt for using oversized tile.
#3. Add Dimension with an Accent Wall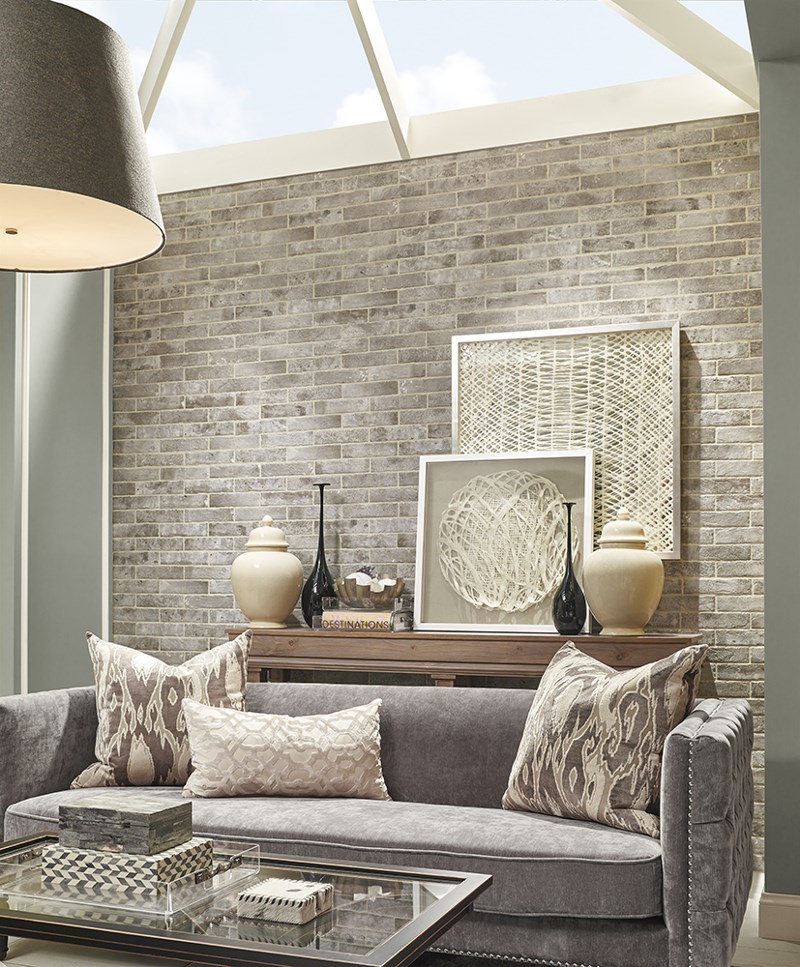 Featured: Capella Taupe Brick
There's no denying the awesome utilitarian power of tile in bathrooms, entryways, and kitchens, but we're happy it's finding a new niche as a decorative element in other parts of the home. Tile is elevated to an object of beauty when it's used as a feature wall. Whether surrounding a fireplace, or on a dominant wall, it becomes a seamless part of the architecture. We'd forgo Netflix to just stare at the texture and laid-back elegance of the brick wall treatment, above.
Style hint: Exposed brick is timeless and adds a wow factor to a wide range of interiors.
#4 Go Gray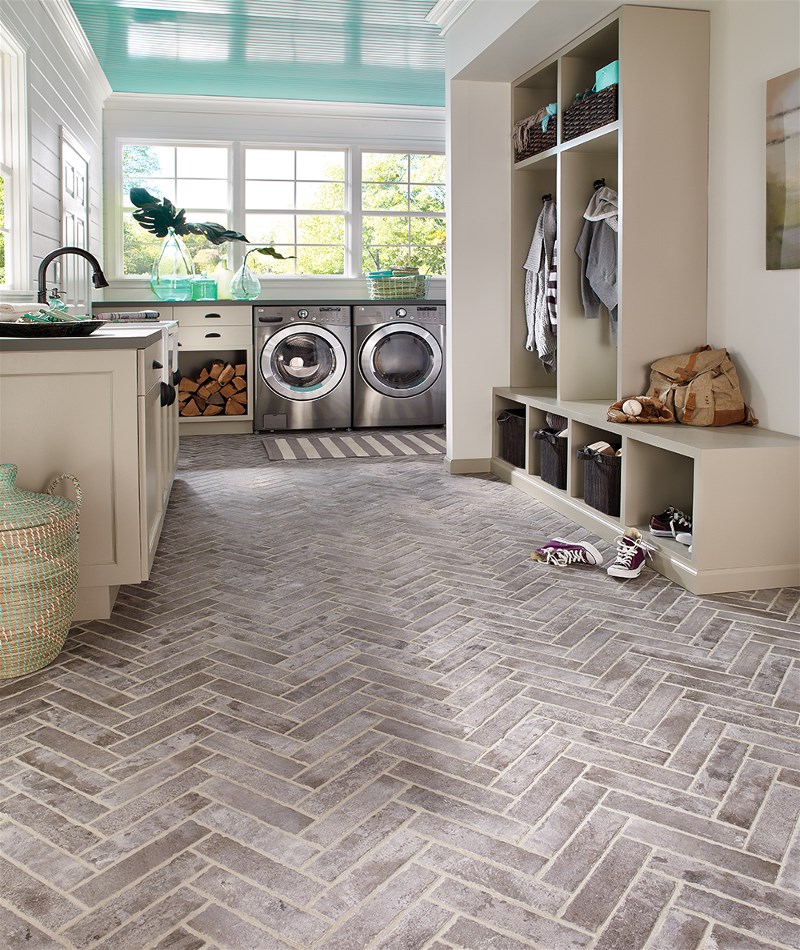 Featured: Capella Taupe Brick
From platinum to slate and all tones in between, we're smitten with the on-trend color gray. We'd look forward to wash day if we could brighten our whites in this laundry room, featuring our Capella porcelain bricks in a herringbone pattern. After a hard day of work, it would be divine to relax with a deep soak right next to this spectacular wall of elongated hexagons.
Style hint: Incorporate geometric tile in your entranceway as an introduction to your interior design color scheme.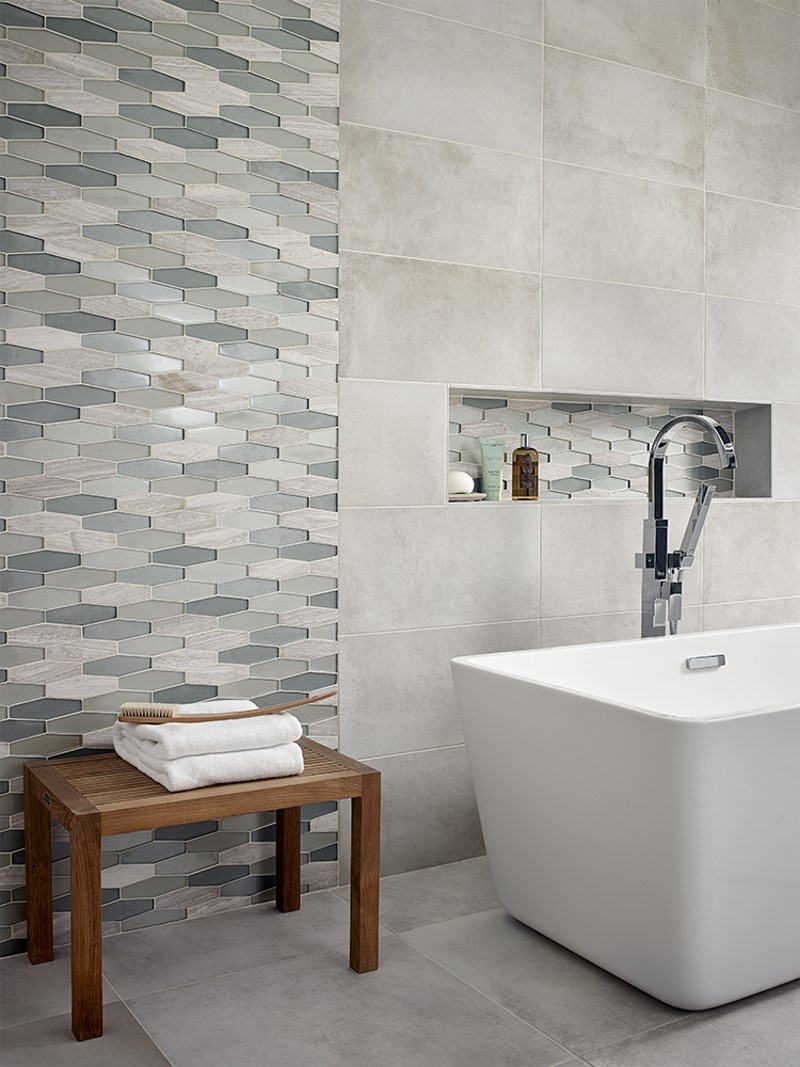 Featured: Europa Elongated Hexagon
#5 Play with Pattern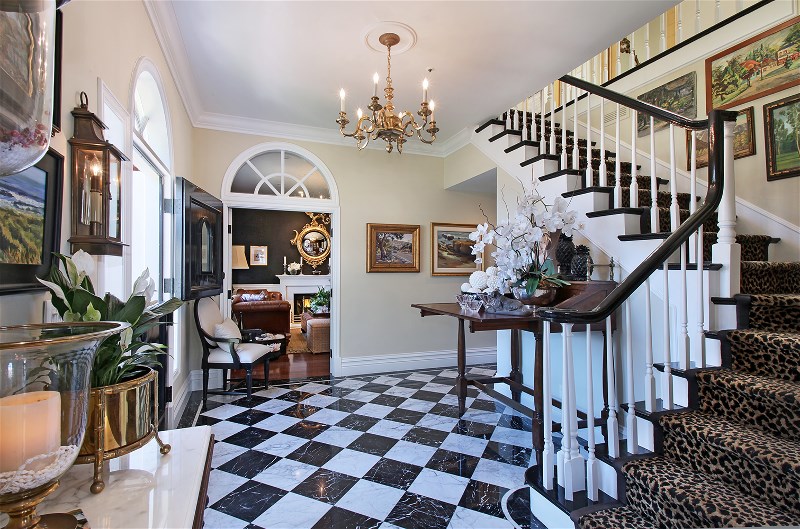 Featured: Arabescato Carrara 12x12 and China Black w/Vein 12x12

It's an understatement to say that geometric patterns play well with each other. Using a variety of textures and shapes, mosaics and concrete tiles, to name a few, create energy that moves the eye from one point of interest to another. Classic at heart? Black and white floor tiles on the diagonal add a crisp, clean element to any space. You can also make a unique back-to-nature style statement by pairing wood look tiles with a pebble mosaic, creating your own version of the look below.
Style hint: If you're feeling brave, contrasting grout colors make the shape of the tiles more obvious.
Featured: Black Pebbles
#6 Infuse a Pop of Color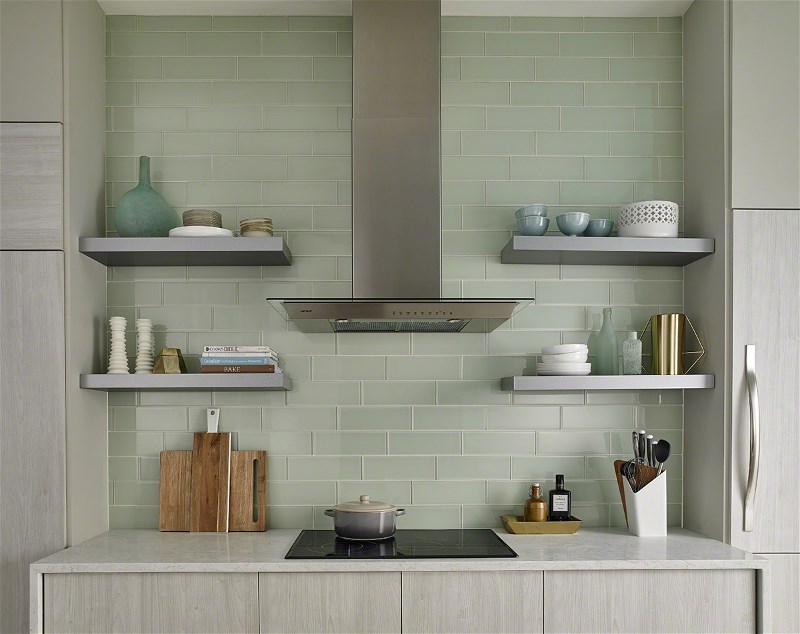 Featured: Arctic Ice 4x12
As star-struck as we are for the pale monochromatic look, when we're feeling adventurous, it's color we crave. Have FOBB (fear of being bored)? Using color tiles to mimic a rug (or its borders) is an inventive way to delineate a space in an open floor plan. Or you can use color to add drama to a neutral kitchen with a bright-hued rectangle backsplash – like this dreamy coastal-inspired large format tile above.
Style hint: If your kitchen is earth-toned, take a peek at Taos Picket.
We hope we've sparked your interest in using geometric tiles to create depth and movement in your home. To share your ideas, or to put your plans in motion, we'd love to hear from you.