From Modern To Wood Looks, Porcelain Tile Has It All!
August 21, 2022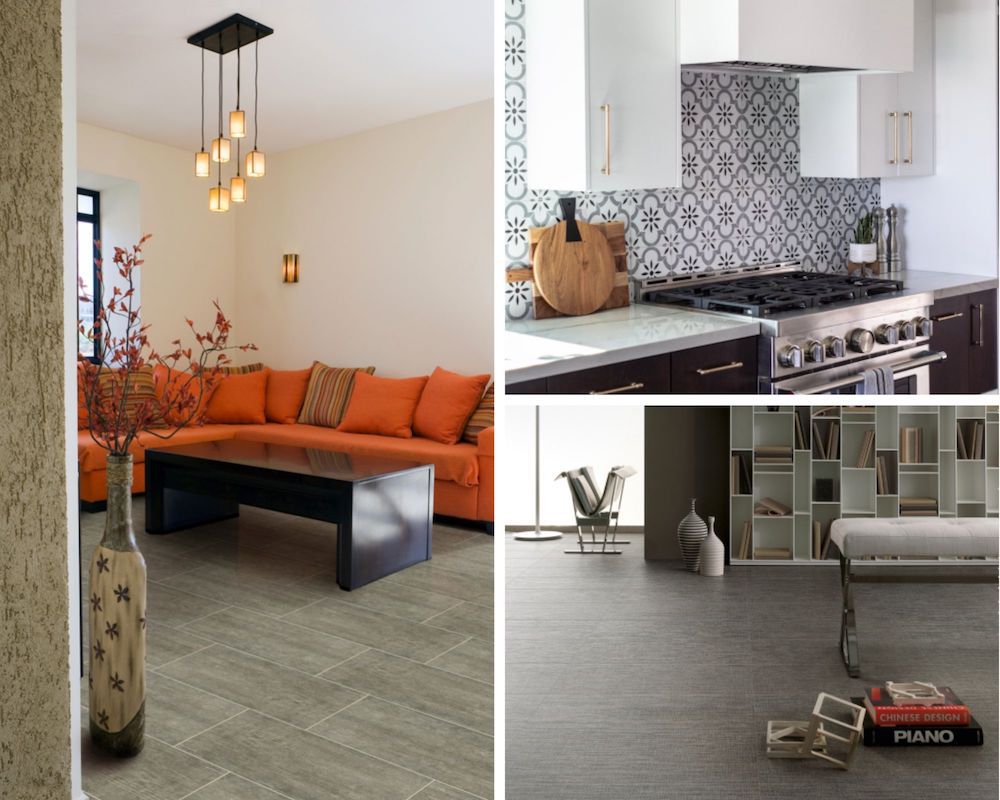 Durable and lovely, porcelain has long been a staple in home design, albeit primarily in the form of sinks, toilets, and tubs. This material has recently expanded into the realm of porcelain tile, with robust and versatile products suitable for flooring, countertops, backsplashes, and other uses.
Made from refined clay kiln-fired at high temperatures, porcelain is incredibly resilient, making it a great choice for a range of home design features. It's less porous than ceramic tile, and it's incredibly easy to clean and maintain when glazed.
Beyond the practical benefits, you're sure to love that these tiles can be made to look like an incredible variety of other materials, such as natural stone, wood, and even fabric. Which MSI porcelain tile is the perfect complement to your kitchen or bathroom design?
Stone Look
Natural stone is among the most popular choices in luxury home upgrades. Whether you prefer the milky luminescence and timeless quality of marble, the dimensionality and dynamic appeal of granite, or the serene quality of quartzite, stone slabs can add an elegant ambiance and eye-catching focal point to any room.
It can also be expensive and may require more maintenance than some busy homeowners have time for. The good news is that you can choose porcelain tile that looks like marble instead, gaining practical and aesthetic benefits in the process.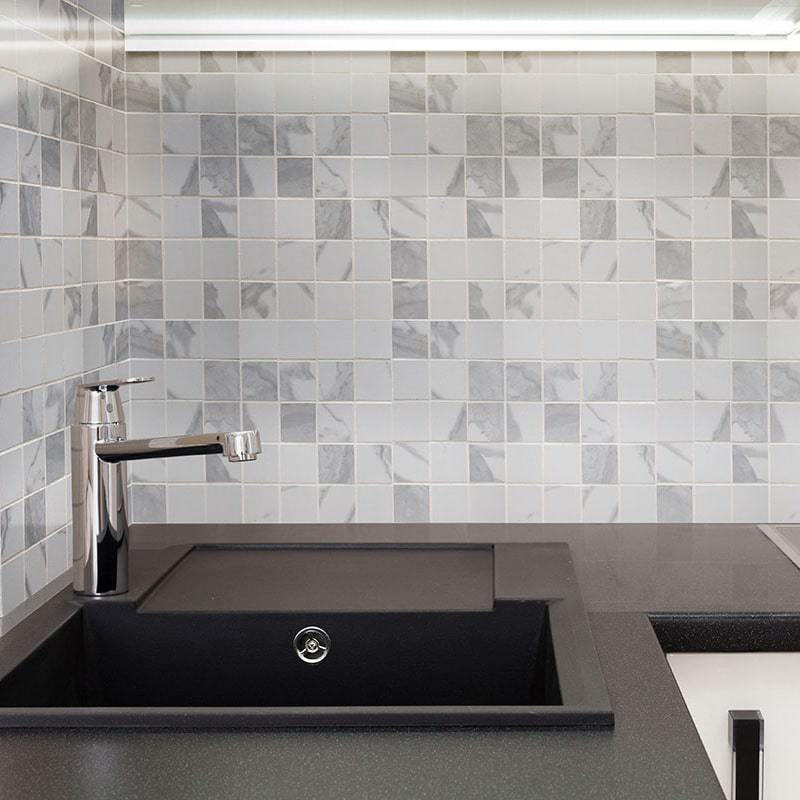 One great example is Eden Statuary porcelain tile. This beautiful marble look-alike features a cool white background and soft, pale gray veining that brings to mind popular marble varieties like Calacatta, Carrara, and Statuario.
This timeless tile is available in both polished and matte styles, depending on your preference, and it comes in a range of sizes, including trendy, large-format dimensions.
It's a lovely choice for tonal white or black and white motifs, whether you want a focal counter and full-height backsplash, you're interested in chic flooring, or you plan to install it as a shower surround.
Wood Look
Rich, warm hardwood flooring makes any space feel welcoming and adds a traditional, lived-in vibe that's familiar and comforting. While some homeowners insist on the real deal, you might be surprised by the benefits of porcelain wood tile flooring as an alternative.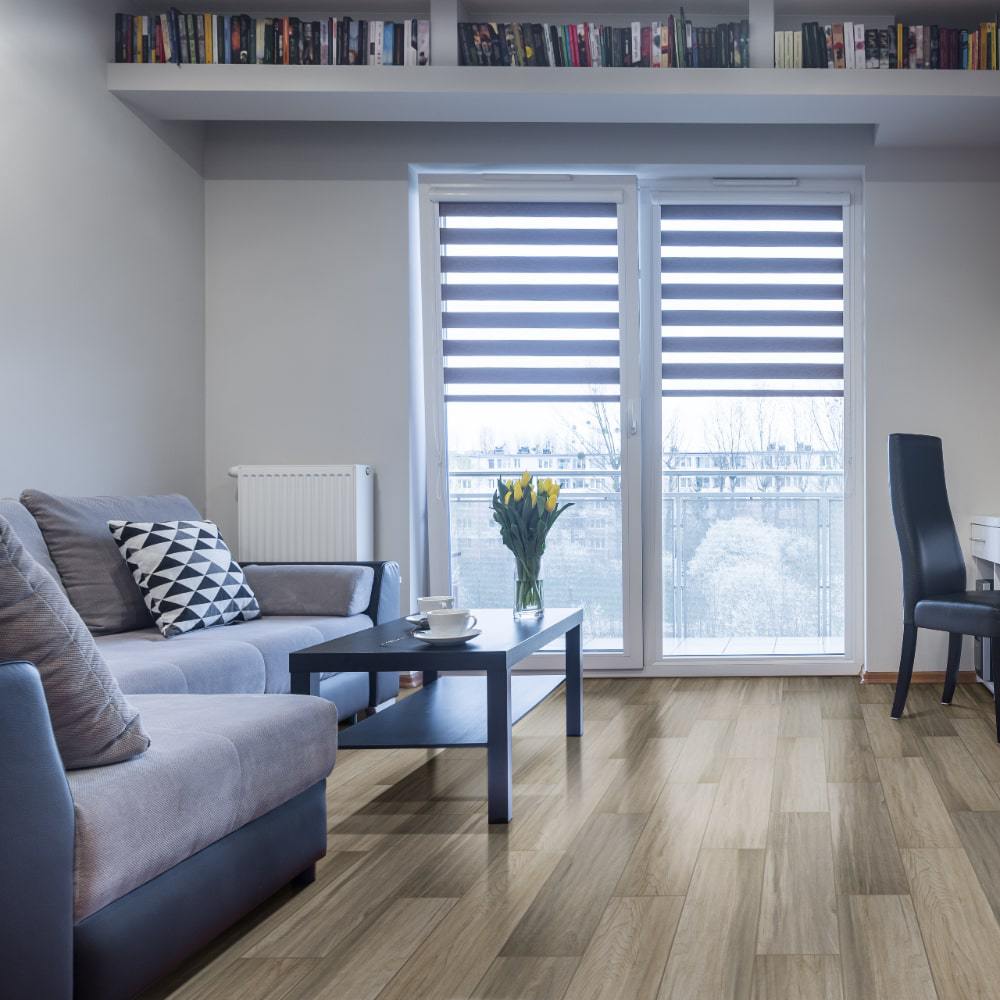 While hardwood can suffer damage like fading from sunlight and rot, warping, and mold or mildew from moisture, wood-look porcelain like Carolina Timber offers the aesthetic you love in a durable form that's resistant to water, staining, scratching, and more.
Planks come in two sizes, and the warm beige and brown tones, marked by expressive graining and knots, deliver the authenticity that elevates your interior.
This porcelain tile flooring makes for a beautiful addition to countless interior design styles, including traditional, modern, rustic, and more. A true neutral, it pairs well with both cool and warm palettes, making it a flexible choice for any home upgrade.
Concrete Look
The concrete look isn't just for ultra-modern, minimalist homes or industrial lofts anymore. While concrete flooring is certainly a modern material, it can be made to appear warm and add understated appeal to all kinds of styles.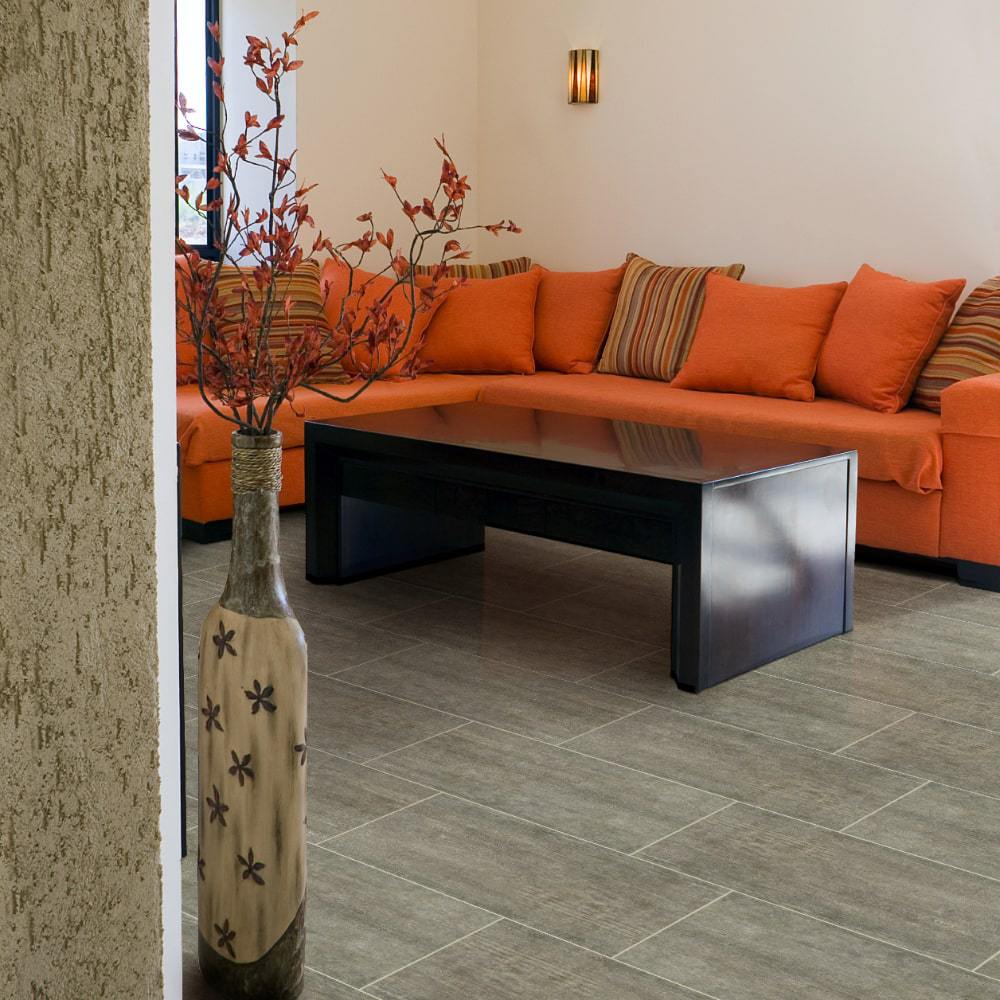 Metropolis Gray porcelain tile offers an ideal example, with a mid-tone gray hue that has warm undertones, ensuring visual versatility. It works just as well in a cool, white bathroom oasis as it does in a comfortable living room space, paired with golden lighting, wooden furnishings, and a warm color palette.
It also makes for a surprising addition to a shower wall or wet room enclosure, with two tile sizes to choose from.
Fabric Look
Much of the foundation of any given room tends to be hard in nature, insomuch as it's made up of rigid materials and straight lines. Most rooms are basically boxes. Making them more comfortable and livable requires the addition of softer textures.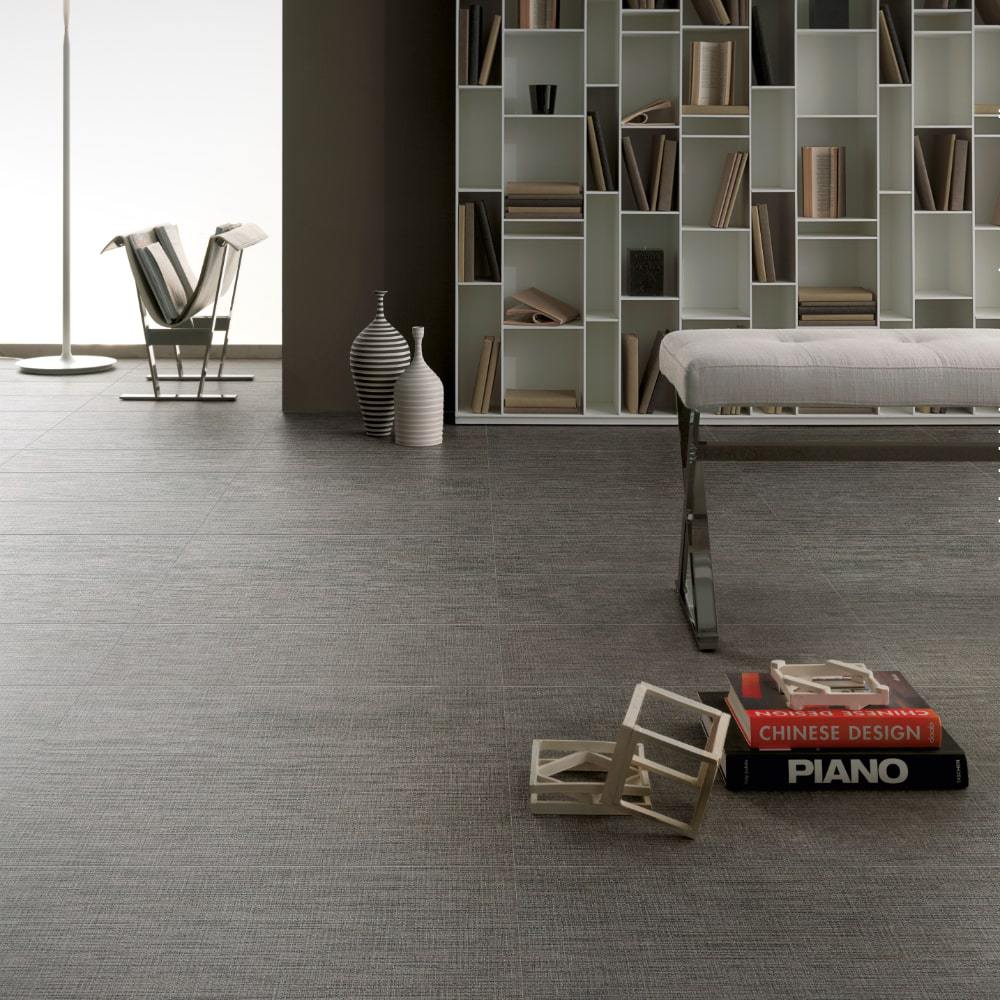 While this is typically accomplished with furnishings and décor, you might be surprised to learn that the right tile patterns can also soften up your space. Tektile Lineart Gray porcelain, in particular, delivers a subtle, crosshatch pattern associated with soft, organic textiles like linen.
Large-format tiles with a matte finish add rich yet understated texture to flooring or walls, creating the illusion of depth and softening an otherwise hard, flat surface. Fabric-look porcelain tiles offer an incredibly modern way to add visual interest and refinement to any room.
Subway Pattern
Whether you like rectangular subway tile in a vine, chevron, or herringbone configuration, there's no denying the classic appeal of this simple, traditional backsplash material. With that being said, you might want something with more resilience (not to mention more personality) than the typical flat, featureless ceramic tile.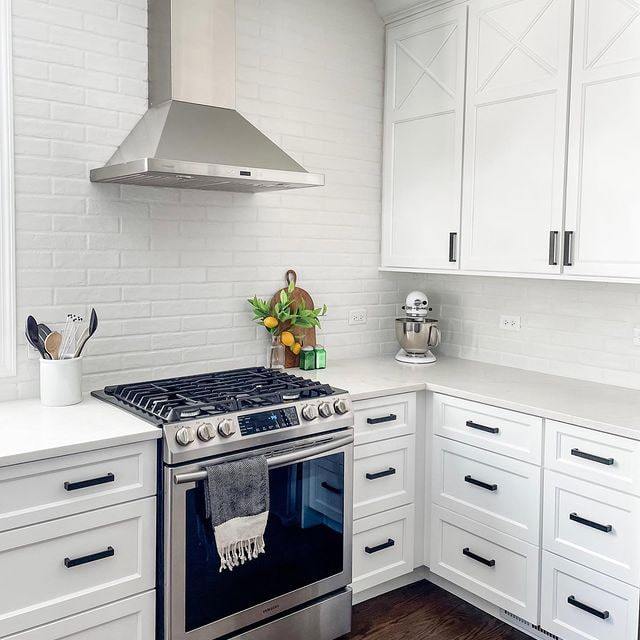 Photo Credit: @renovatewiththeroots on Instagram
Porcelain tile in Brickstone White is everything you're looking for, with a rough, rustic texture that looks like exposed masonry painted white. This brick-look porcelain brings an element of updated nostalgia to your space, complementing modern home design. It adds outstanding personality to your kitchen, soaker tub backsplash, fireplace surround, or even a full feature wall in a bedroom or living room space.
Encaustic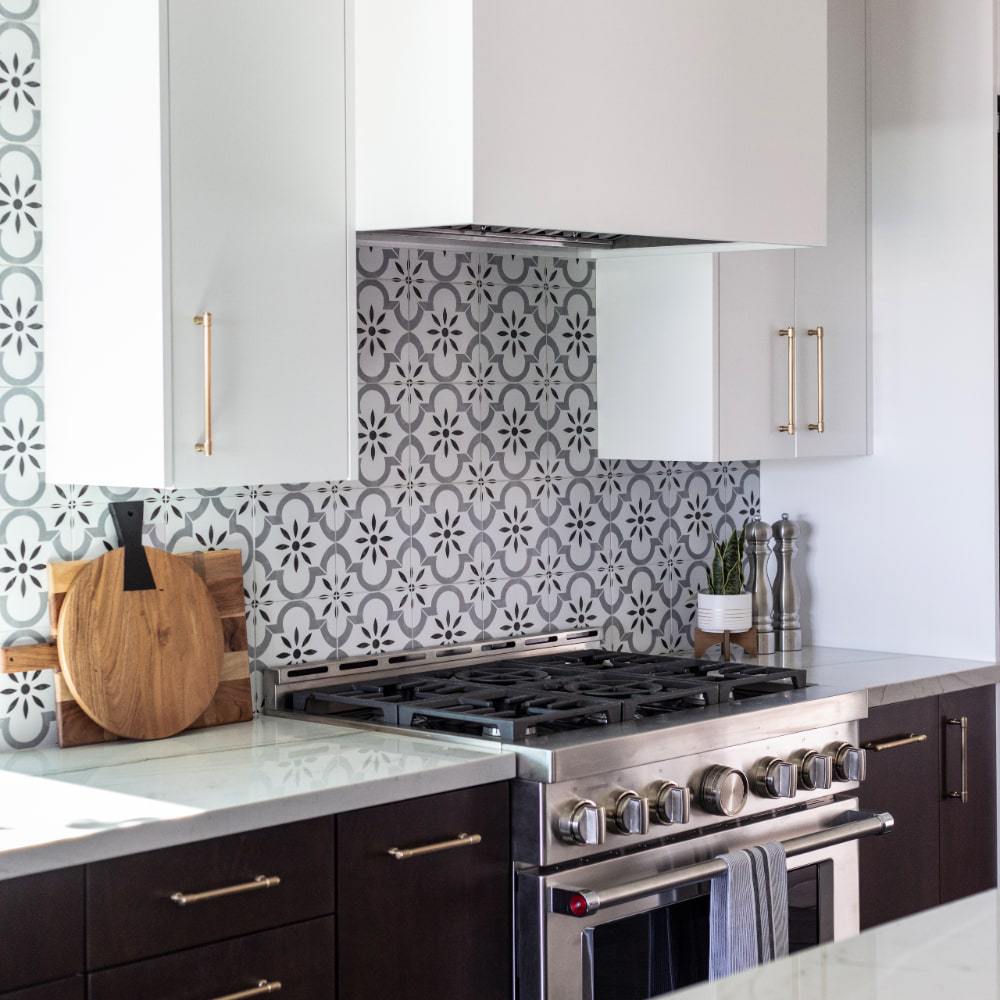 Beautiful, patterned, encaustic tile provides a wonderful way to punch up your interior design with a bold pattern. Matte-finish Kenzzi Azila porcelain tile delivers the contrast of a black and gray floral motif on a bright, white background.
While some florals can feel precious or dated, this sleek design pairs an arabesque outline in gray with a central, 8-pointed starburst-like image in black, making for a floral motif that feels simultaneously organic and geometric.
The aesthetic is traditional but timeless, so you can add it to even a modern interior. It makes for an interesting accent wall or beautiful bathroom flooring, especially in otherwise minimal designs.
Now that porcelain tile is on your radar, it's time to visit a showroom to view samples, or simply use our visualizer tools to imagine your completed project from the comfort of home. Call or use our chat feature if you have any design or product questions or need help finding an authorized MSI dealer.