The Go-To Guide To Decide On A Kitchen Backsplash
August 29, 2018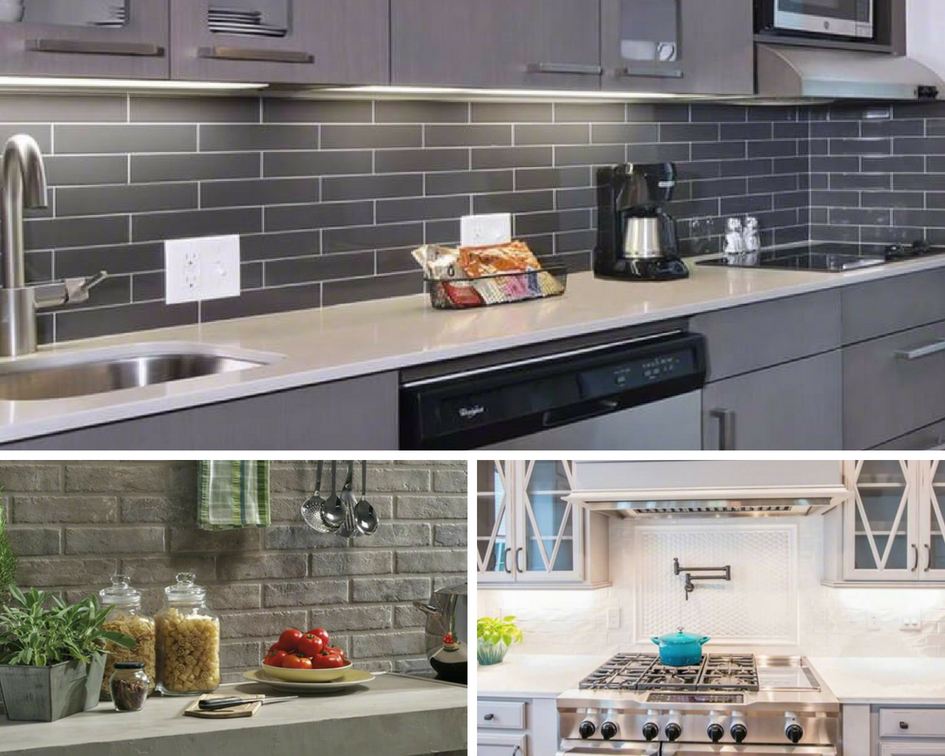 A kitchen backsplash should be a must-have for any cooking space. Not only does it protect your walls against water damage or grease splatters, but it also creates a beautiful addition to your design. There are so many materials on the market, including mosaic tiles to full slabs. If you're not sure where to start, then this guide will help you narrow down which type of tile and style is right for your kitchen.
Slab Backsplash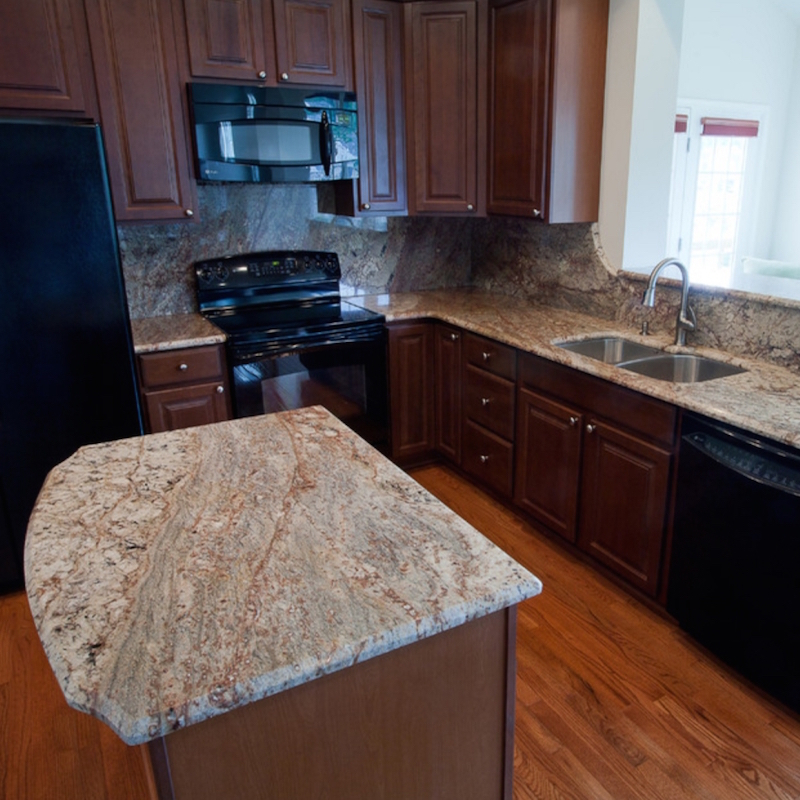 Create this look with MSI's Crema Bordeaux Granite (Photo Credit: Houzz)
One of the more recent trends is the slab backsplash. And no, we're not talking about the 4-inch countertop extension that's often used. These stunning backsplashes continue from the countertop to the cabinets and even cover the entire wall for greater impact! This kitchen includes a seamless look using Crema Bordeaux granite. Not only does it feature beautiful warm shades of red earth tones, grays, and beiges, but it also takes the guesswork out of matching wall tile with this unique and natural pattern. But, if buying more marble, granite, or quartz just isn't in your budget, you can feature a small slab only behind the stove and tile the rest of your backsplash. You can also get a similar look using large-format tile, too.
Natural Stone Backsplash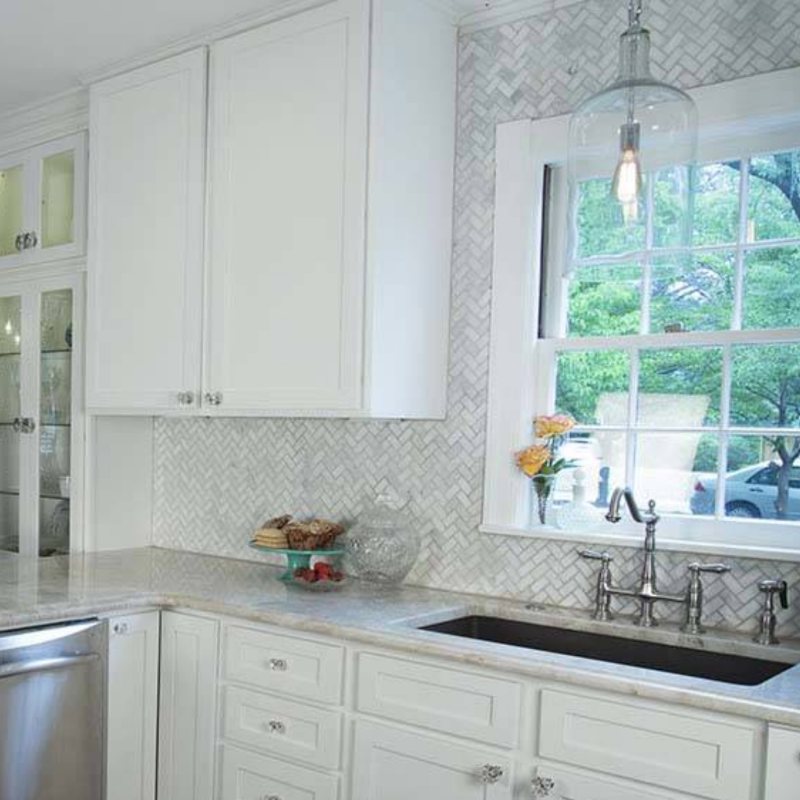 Featured: Arabescato Carrara Herringbone Pattern Honed In A Mesh Mosaic Tile
For a classic and elegant option, choose natural stone. This type of backsplash is most popular in mosaic form like seen in Arabescato Carrara Herringbone. The traditional chic kitchen is even prettier thanks to the marble backsplash with its soft white background and iconic gray veining. Also on trend are the large-format tiles for a more modern vibe, while stacked stone is another option for more rustic installs. Like with any natural stone, you'll want to check on required maintenance like sealing.
Metallic Backsplash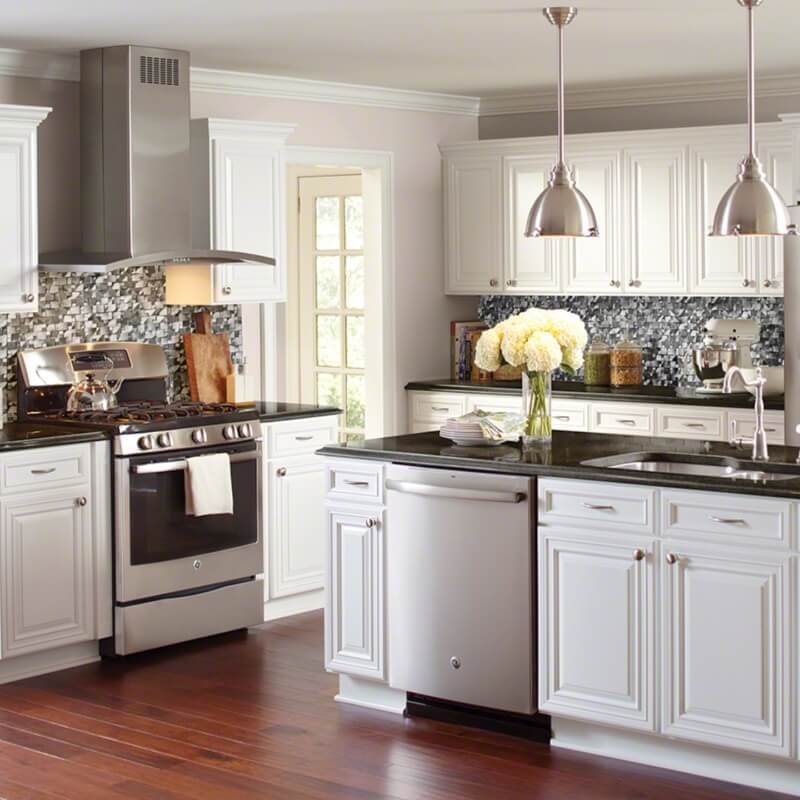 Featured: Silver Aluminum Metal 3D Pattern Wall Tile
When you want something that will match just about every style and color scheme, go with a metallic mosaic. This foolproof tile is both durable and very easy to clean, and its highly reflective characteristics add so much visual appeal. For an even more eye-catching choice, opt for a three-dimensional metallic tile like Silver Aluminum 3D. While you might expect this sophisticated and contemporary backsplash tile to be featured in a modern cooking space, you can see that it also works well in this transitional kitchen. The metallic mosaic adds so much sparkle and luminescence to this black-and-white design.
Glass Backsplash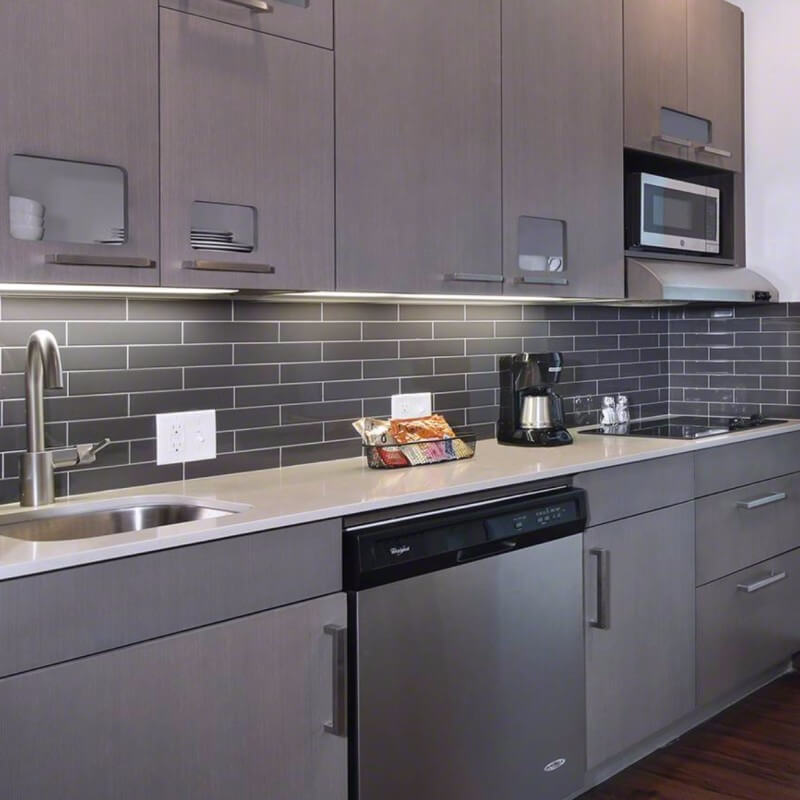 Featured: Metallic Gray Glass Subway Tile 4x12
You can't go wrong with a glass backsplash, especially since this material is the most popular one. This non-porous surface is stain-resistant and easy to keep clean. Modern glass tiles are able to mimic other types of materials or give you a completely unique look. It's also a great way to put a fresh twist on a more classic look like with a modified subway tile, such as Metallic Gray Subway Tile. The kitchen backsplash tile in this modern, monochromatic kitchen is an elongated subway shape and matches perfectly in color with the cabinetry. What's also gaining more in popularity is the glass sheet backsplash, a sheet of glass that can be painted in whatever color you desire that will stay protected against scrapes or scratches.
Porcelain or Ceramic Backsplash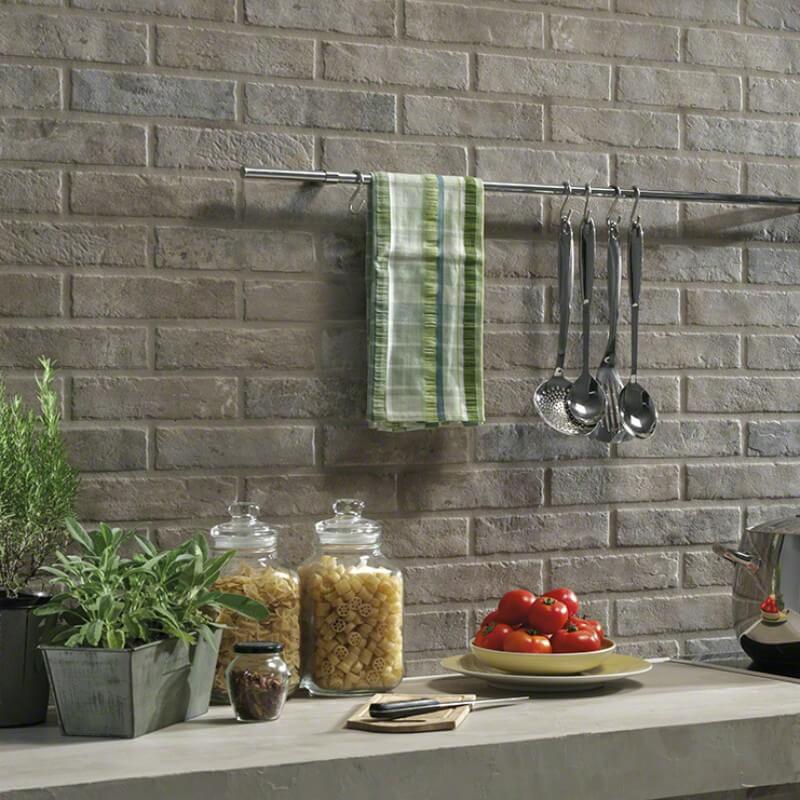 Featured: Brickstone Porcelain Tile
If you need a budget-friendly option that's the most durable, then select a porcelain or ceramic backsplash. These materials come in both mosaic and tile form, and they offer the most amount of variety in terms of their look and texture. You can even achieve a brick look but get a smooth finish using something from MSI's Brickstone Collection. This warm beige and taupe tile backsplash comes in a beautiful pattern that mimics aged brick in a matte finish.
From classic choices to on-trend styles, there are so many kitchen backsplashes to choose from, and MSI has exactly what you need. Once you've decided which one is right for your space, check out these simple steps to installing a backsplash.
More About Kitchen Backsplashes
Which Kitchen Backsplash Tiles Are Easiest To Clean?
Mosaic Monday: Steps To Prepping The Wall For A Kitchen Backsplash
Tricks To Cleaning The Grout On Your Kitchen Backsplash
Current Obsessions How To Remodel Your Kitchen With A Stacked Stone Backsplash
Mosaic Monday: The Modern Way To Tile Your Kitchen Backsplash
READ MORE ABOUT MSI BACKSPLASH TILE
Standout Kitchen Backsplashes With 3d Mosaics
Steps To Prepping The Wall For A Kitchen Backsplash
Subway Backsplash Tile Goes From Timeless To Trendy