Find The Perfect Granite Slab With Our New Countertop Visualizer
October 28, 2019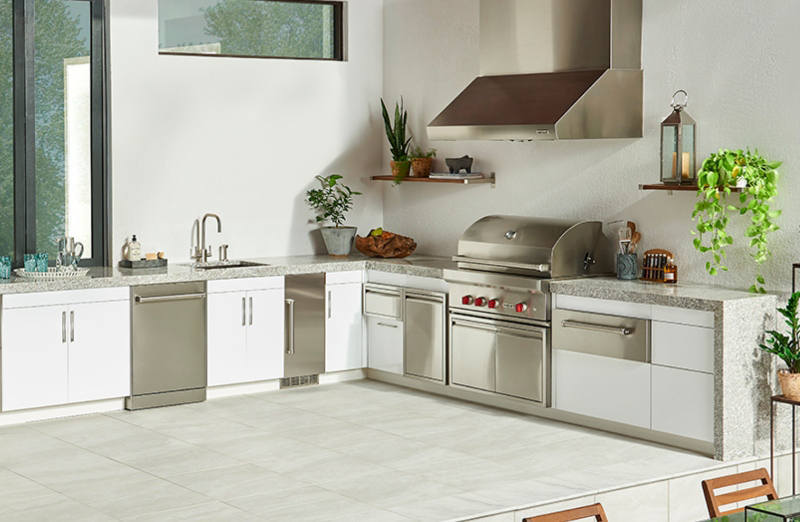 Do you have trouble visualizing the potential of your kitchen or bathroom with new granite slab countertops? A picture is worth a thousand words and can really help to cement in your mind how beautifully your home can be transformed with natural stone surfaces. Digital technology continues to advance and break-neck speeds, and now with MSI's new Countertop Visualizer Tool, consumers can get a more authentic picture of how granite counters will match your flooring, tile backsplash, and cabinetry.
Whether you are undergoing a full renovation of your home, building a new hone, or want to swap out your existing kitchen counters for something fresh and new, our new Countertop Visualizer Tool will help you see how it looks in your home before you buy. We promise, trying on countertops is nothing like swimsuit shopping! Our tool is fun, easy-to-use, and an excellent way to make envisioning your kitchen, bathroom, or outdoor space a breeze.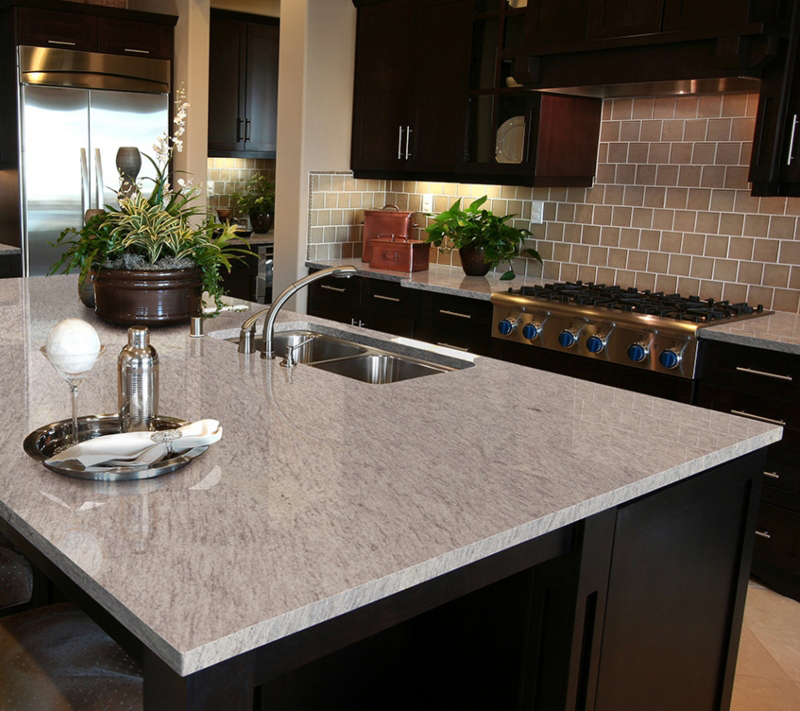 Do you love high-contrast kitchens? The dark and rich cabinetry in this elegant kitchen pairs perfectly with our Arctic Valley granite slab counters. Arctic Valley's soothing white undertone and wispy veins add brightness and sophistication to this chef-inspired kitchen. With our new Countertop Visualizer Tool, you can play with countertop edges and profiles to see what compliments your overall design. Here, the clean square cuts on the expansive island speak to the room's contemporary design.
If high-contrast kitchens and bathrooms aren't your thing, white cabinets plus gray and white granite, may be the look you long for. Some of the most iconic natural stone counters are natural marble, which isn't as durable as granite. If you live in a home where you want the freedom to spill, our Stream White granite can provide the touch of glam your seek. White and gray kitchens are the ultimate timeless combination. You can switch up the style of your kitchen easily without changing out the two most expensive items—countertops and cabinetry—just by swapping out accessories and paint color.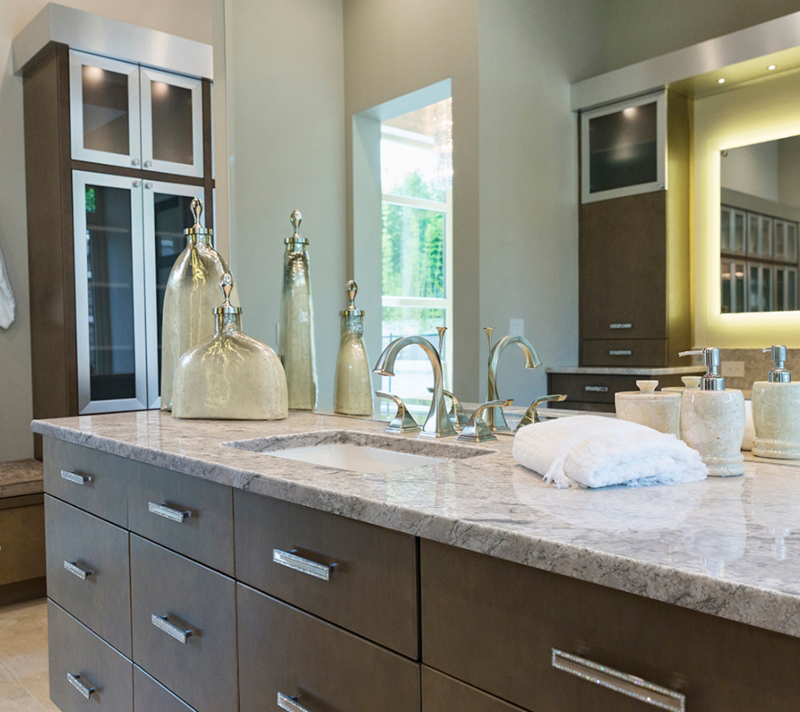 It can be incredibly challenging to choose a premium surface to match heavily grained cabinetry. The challenge, in our minds, is to find a granite slab with a pattern that echoes the colors and grains of natural hardwood, without stealing the show. In this gorgeous contemporary space, it may have been tempting to choose a low-variation countertop, but the homeowner decided to be bold by using Makalu Bay, one of the 200 new granite colors we now carry in our inventory. The result is quite simply—perfection. The undertones of the granite and the swirls and veins effortlessly complement the cabinetry and the stainless steel appliances.
Let's not forget the power of a beautiful bathroom. Your master bathroom is where you greet the new day, and where you start to sign off for the night. A bathroom can be functional—and beautiful, especially with upgraded cabinets and counters. Here, soothing light olive walls and dark cabinetry beg for a premium surface on the counter that pulls in the colors of the space and an earthy element. Sunset Canyon granite slabs do just that; their neutral undertones, splashes of white, cream, and black, as well as hints of roses and olives, give this bathroom its unique and elegant appeal.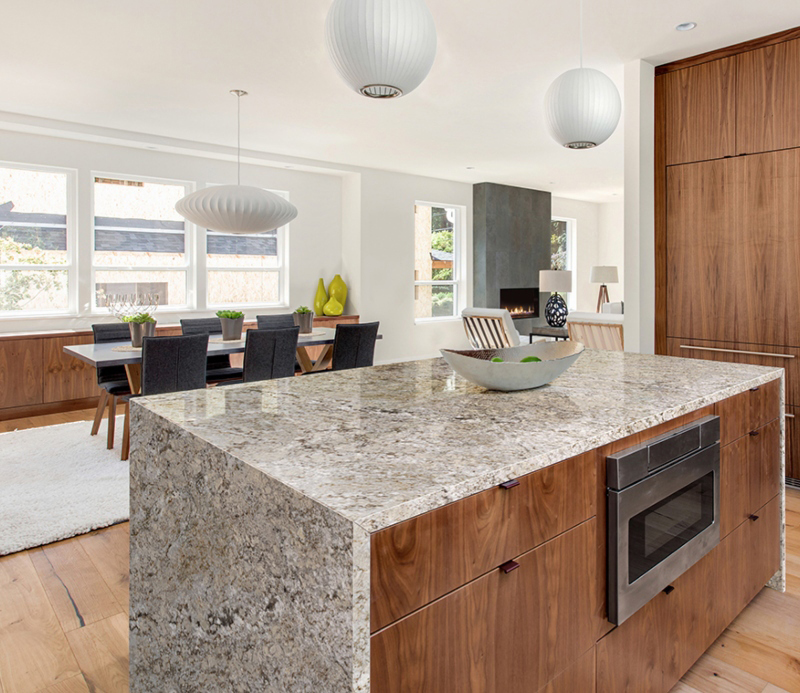 If you are ready to visualize your kitchen or bathroom in real-time, our Countertop Visualizer Tool can help you select the right granite slab for your project. Take the guesswork out of the design process and play with multiple premium surfaces for your countertop, cabinetry finishes, flooring, and tile backsplashes to find the combination that speaks to your design sensibility.
Read More about Granite Kitchen Countertops
Granite Waterfall Counters for a Dramatic Kitchen Centerpiece
Maximum Return on Investment: Granite Kitchen Countertops
Golden Granite Countertops for a Warm and Glowing Kitchen
Granite Countertops: The Workhorse of the Kitchen
5 Inspirations: A Granite Countertop for Every Style
5 Black Natural Granite Countertops for an Upscale, Luxury Kitchen
Natural Granite Kitchen Countertops to Extend Up Your Backsplash
Get the Designer Kitchen You Crave With These Granite Countertops
Choosing Your Ideal Granite Countertop: Fast-Track Your Upgrade
Stop Obsessing! Here's How to Make Sure Your Counters and Cabinets Go
6 Wow(!) Kitchens featuring Granite Countertops
Natural stone countertops add both value and beauty to your home, and with the kitchen at its heart, these gorgeous granite-clad islands are irresistible!
READ MORE ABOUT GRANITE COUNTERTOPS
Easy to Install Prefabricated Granite Countertops
Elegant White Bathrooms Featuring White Granite
Find the Perfect Granite Countertop with Our Material Selector And Inventory Slab Tool