8 Inspired Stacked Stone Fireplace Projects
December 07, 2021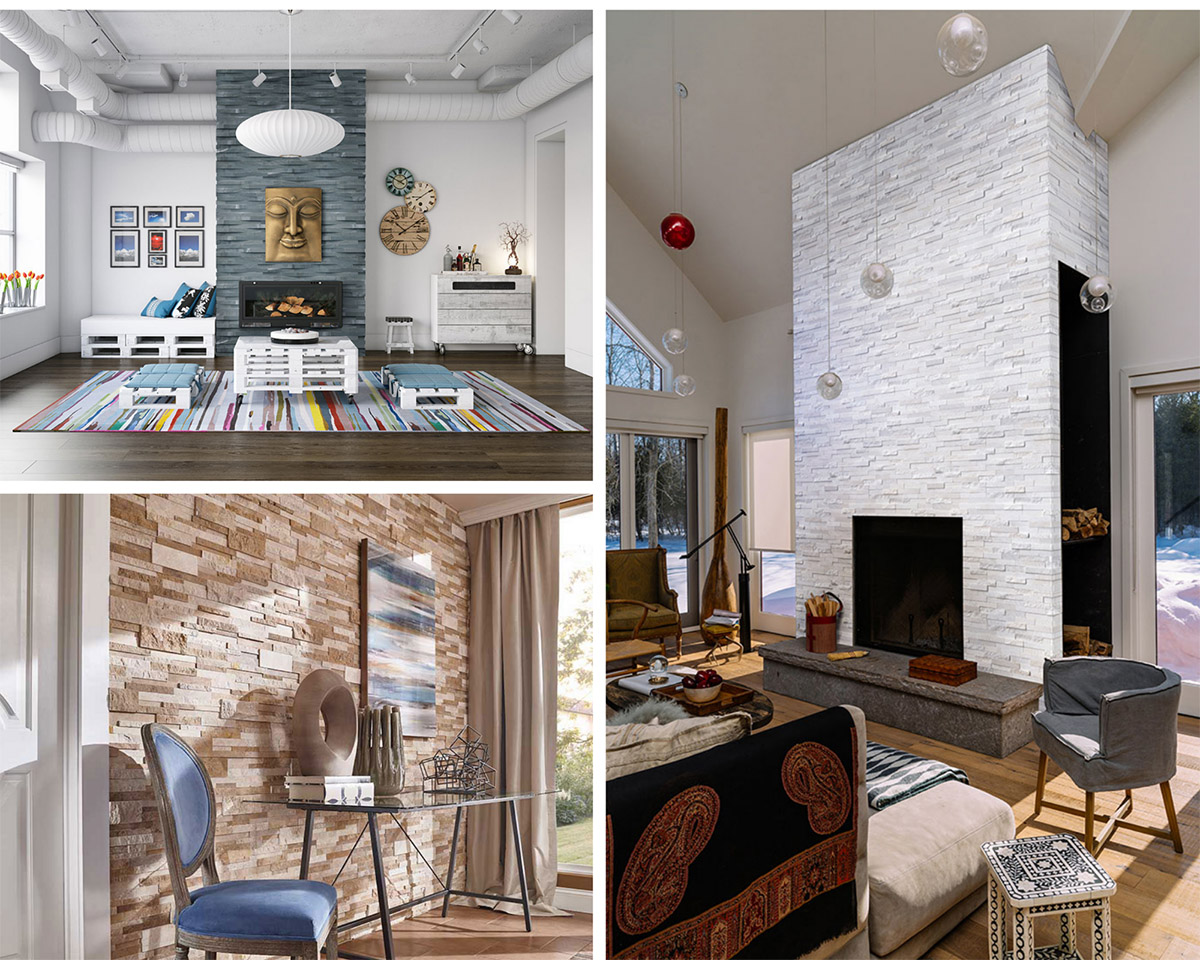 A stacked stone fireplace is a lovely addition to any home. It adds visual interest, creates an atmosphere of timeless luxury, highlights a major focal point, and allows you to imbue your space with eye-catching personality.
MSI offers a range of stacked stone looks that blend beauty and utility to ensure living spaces that meet the functional and aesthetic needs of modern homeowners.
MSI is renowned for attractive natural stone products that deliver the durability and aesthetic appeal modern homeowners prefer. While many homes feature marble, quartzite, and other kinds of natural stone countertops, you might not know that stacked stone options are available for vertical surfaces in the home, too.
When you decide a stacked stone fireplace is the perfect complement to your home interior, you'll find that MSI offers several breathtaking products for your consideration.
Here are a few inspired designs in stacked stone veneer that are sure to help you with your home upgrade.
Arctic White Multi-Finish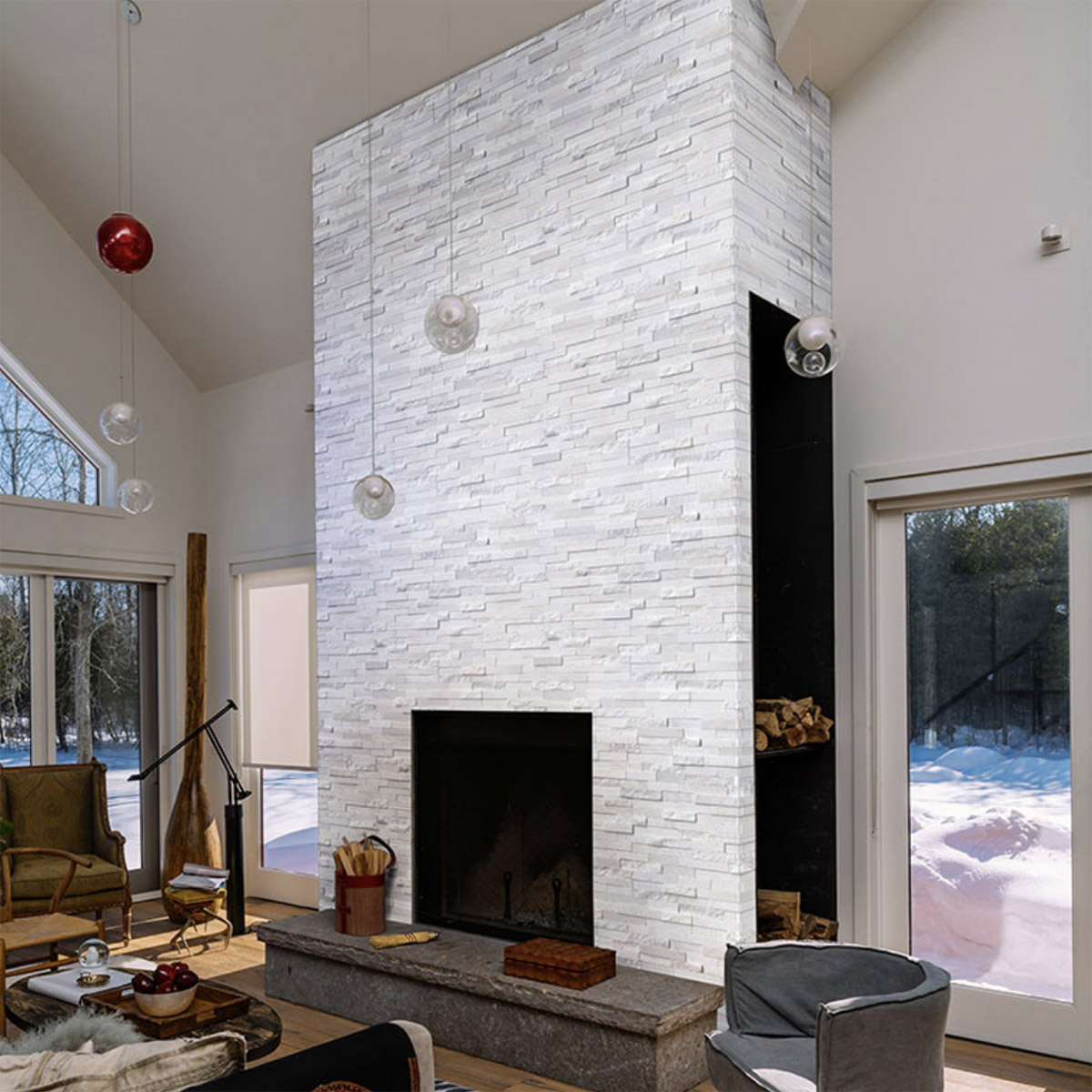 There's nothing more stunning than icy, white marble in a range of finishes, all surrounding the warm glow of a fireplace. A floor-to-ceiling stretch of MSI Arctic White ledger panels makes for a riveting centerpiece in any home setting, especially in a room with vaulted ceilings.
The juxtaposition of cold and warm could be jarring, which is why it's so important to choose other elements that reinforce your design. Golden flooring planks and wooden furniture pieces create a warm base that keeps a room from looking too sterile, while walls and accent furniture in cool neutrals like dove white and gray pick up on the cool beauty of the fireplace surround.
Casa Blend 3D Multi-Finish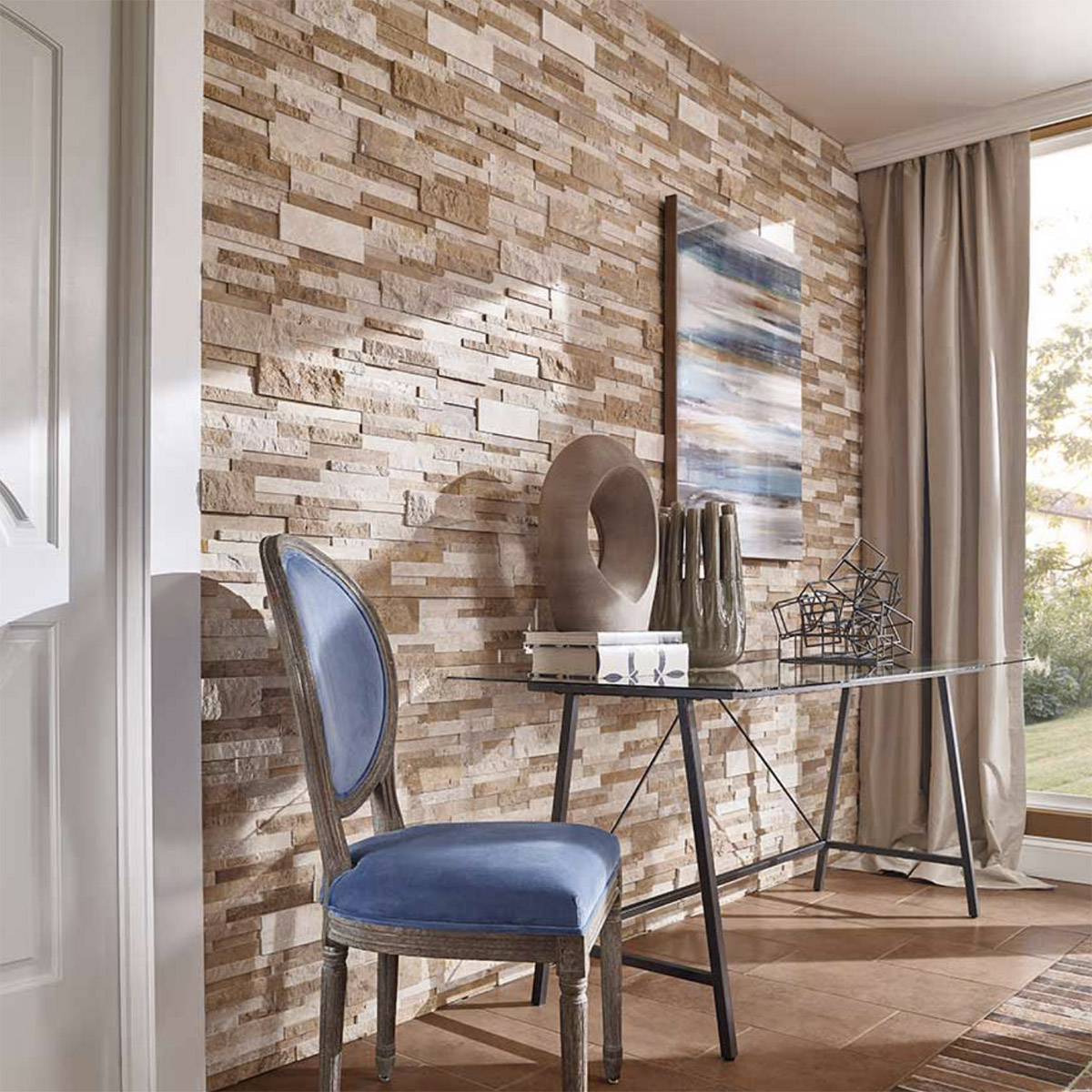 If you want to create a homey ambiance that invites you to sit and relax, you can't go wrong with the soft creams and warm beiges of MSI's Casa Blend. This stone wall, which features a staggered mix of split face and honed finish travertine offers variable textures that enhances visual appeal.
This product can work with nearly any interior setting, but you'll enjoy the most standout power when you pair it with other neutral tones ranging from light to dark. A soft, taupey carpet offers the perfect counterpoint to rough and rustic stone, as do velvety furnishings in cream. When offset by espresso leather and cabinetry, the lighter tones of this stone wall truly pop.
Cosmic Black 3D Wave
The soft, faded black of this calming marble, interspersed with creamy striations, adds a dose of elegance and masculine appeal to any interior, but it works particularly well in modern homes, converted warehouse lofts, and any setting with an industrial aesthetic. Cosmic Black is especially striking when it's set against bright white walls.
One of the best things about choosing a stacked stone fireplace in Cosmic Black is that this neutral allows you to play with all kinds of other colors and materials, such as rustic wood flooring, whitewashed furniture, and accessories in bold colors. You can even offset it against daring accent walls or add personality with colorful furnishings if you so choose.
Golden Honey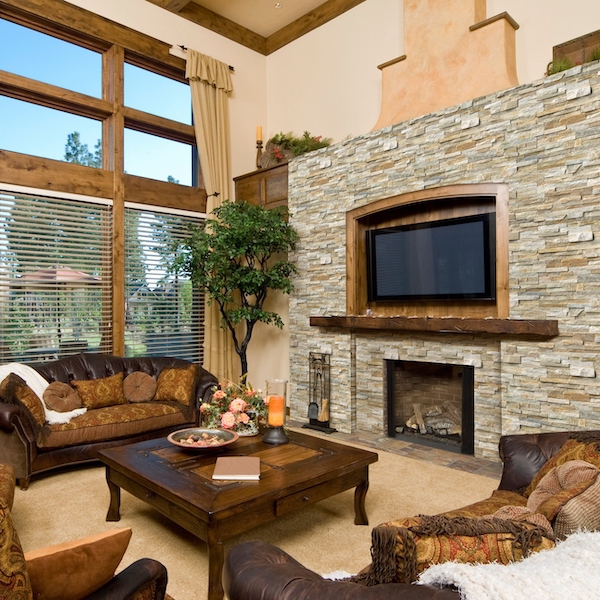 The best natural stacked stone looks require variation in color, texture, and stone size, and all three of these elements are present in Golden Honey stone panels. This popular product features quartzite in a range of subtle hues, including creams, beiges, taupes, and of course, golden tones. While it could pair with all kinds of interiors, integrating it into a warm, neutral palette is ideal.
Golden Honey is especially compatible with rich wooden surfaces and luxurious leather furnishings. As for wall color, you can emphasize any of the included hues with ease, opting for more saturated greiges, golds, or apricots, for example.
Gray Oak 3D Honed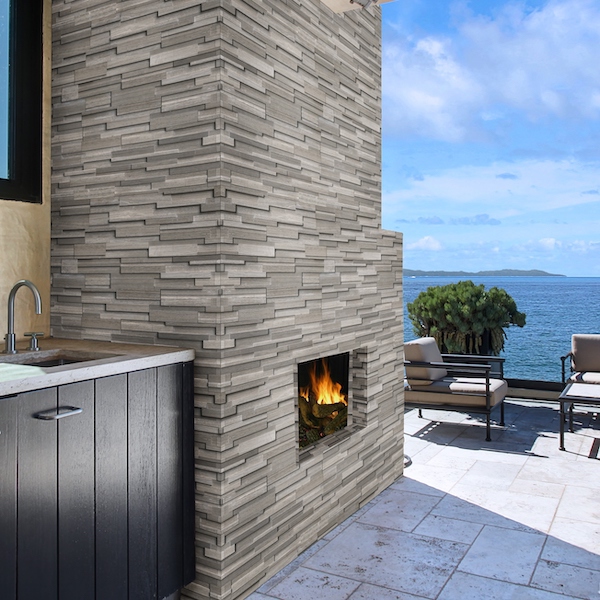 When it comes to fireplace corner pieces, you have an incredible opportunity to make a statement with the natural stone ledger you choose. You can start with the trendy neutrals of Gray Oak, which offers a range of light to mid-tone grays that are perfect for updating interior or exterior settings.
As for texture, a stacked stone fireplace in this sleek marble will deliver the appeal of sharp, clean lines. If an overly rustic look just doesn't suit your architecture or your aesthetic, you can still enjoy the look of stacked stone with this smoother, honed finish.
White Oak Split Face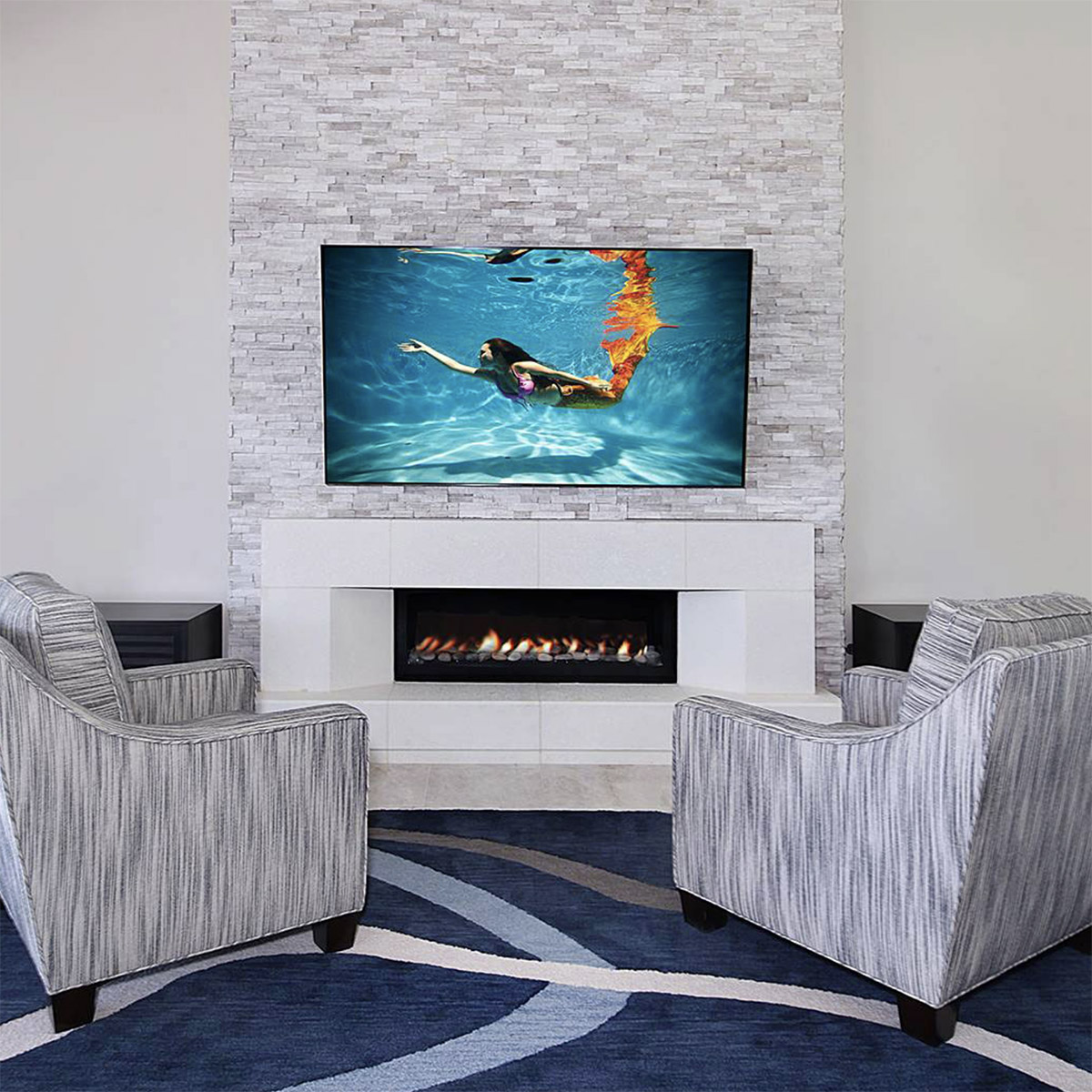 The appeal of split face wall tile is that it delivers a heavier texture than other styles, with more emphasis on the individuality of varying pieces of natural stone. In other words, White Oak looks more like true, rustic stone.
While the soft, off-white hues of this dreamy marble add a measure of sophistication and refinement to your living space, the rough texture imbues the design with a more casual vibe. When paired with a wealth of wood surfaces and plush furniture, it helps to create an upscale, chalet-like appeal.
Tuscany Scabas
This split face travertine of Tuscany Scabas makes for a beautiful addition to an interior wall, but it would look equally at home in an outdoor setting, thanks to its dynamic textures and colors. Because of its natural appeal, including hues ranging from drowsy creams to cheery oranges, it melds perfectly with other natural materials.
A stacked stone fireplace in Tuscany Scabas is right at home with heavy-grained woods, from flooring planks to ceiling beams, and of course, a robust mantel. The addition of soft furniture and curvy accessories makes for a space that's both lovely and livable.
Sierra Blue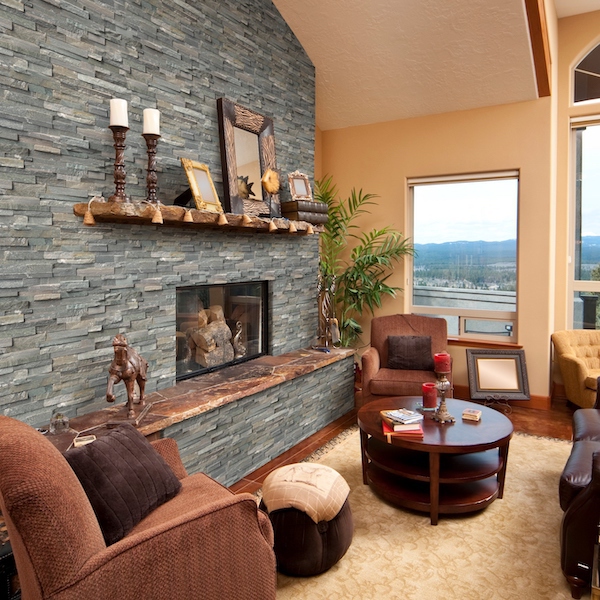 Technically, this stacked stone wall is gray, but the quartzite definitely leans heavily toward blue-gray hues with splashes of white and cream and even hints of rust. This combination of colors creates a lot of flexibility when it comes to design, as Sierra Blue pairs equally well with creamy walls, warm woods, and furnishings in chocolatey or even somewhat rusty tones.
If you're looking to add the beauty and texture of a stacked stone fireplace to your interior or exterior living spaces, MSI has options in natural stone that will deliver modern luxury and rustic appeal.