How To Find Your Perfect Backsplash Tile Pattern
October 20, 2021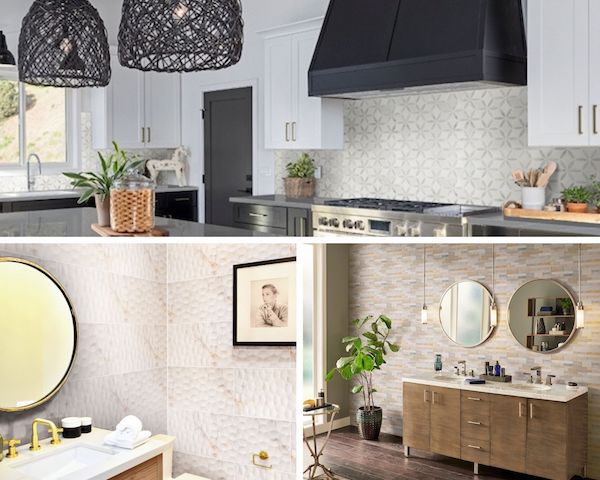 It's amazing how quickly installing backsplash tile can transform a space. Whether you're adding it to a small kitchen or applying a full floor-to-ceiling install in a large bathroom, this accent piece easily ties together a design.
From the textures, colors, and shapes, you really have plenty of options to focus on, but that can also make it confusing where to start. That's why it's imperative to select materials that complement the overall design aesthetic.
So, why not let us help point you in the right direction! From stacked stone to 3-dimensional, check out some of our favorites when choosing the perfect backsplash pattern.
Stacked Stone Backsplash Tile
For a backsplash tile that can go modern or rustic, turn to stacked stone. Whether you choose marble, travertine, quartzite, or slate, these natural stone beauties come in a wide range of authentic stone styles and tile patterns like 3-dimensional to miniature versions. Homeowners and designers are using stacked stone to update kitchen backsplashes, accent walls, and even bookshelf insets.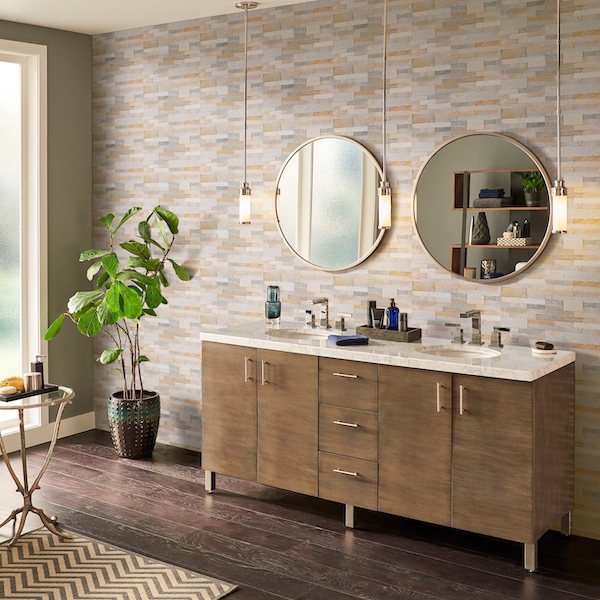 MSI's peel-and-stick Golden Honey Veneer stacked stone is a natural quartzite mosaic that features warm shades of whites, golds, honeys, and hints of grays. They're simple to install, too, since no grout or mortar is required, which makes it a dream for any DIYer! Plus, the tiles are backed with heavy-duty adhesive so that your backsplash will last.
This contemporary bathroom features the stacked stone in a floor-to-ceiling installation. Golden Honey Veneer transforms something that could be boring and turns it into something spectacular! The colors perfectly coordinate with the color palette, including the warm wood vanity, the beige countertops, and the gray walls.
Wood-Look Backsplash Tile
You may not think to use wood-look tile as a backsplash, but today's porcelain and ceramic tiles are a brilliant way to transform any wall. No longer bound by flooring installations, wood-look tiles are being featured as a kitchen backsplash, bathroom shower surround, and bedroom feature wall. From rustic to beachy to reclaimed styles, these wood-look tiles will wake up your walls!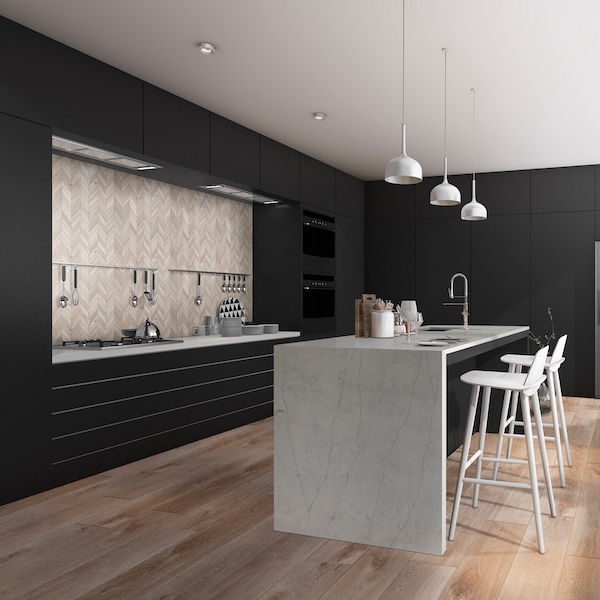 The Havenwood Dove Chevron porcelain tiles from MSI combine warm beiges and creams in a chevron pattern. The mosaics imported from Italy come in an elegant chevron pattern so that your space doesn't look like you've slapped planks on the wall. The 12x15" matte tiles easily add warmth, character, and a contemporary style to any interior design.
This ultra-modern kitchen includes the wood-look chevron tiles in a large backsplash installation that makes a bold statement over the stovetop cooking area. The floor-to-ceiling kitchen cabinets provide plenty of storage, while the light beiges in the Havenwood Dove Chevron tiles contrast beautifully with the black cabinetry. The lighter luxury vinyl planks also help warm up the sleek yet inviting space.
Pebble Mosaic Backsplash Tile
For a soothing, natural ambiance, get inspired by products straight from nature. A pebble backsplash made from marble, travertine, or limestone adds warmth and detail to your interiors, and they come in sought-after colors, textured patterns, and luxurious finishes. Not just for the outdoors, these dreamy and elegant stones are beautifying accent walls, showers, fireplaces, floors, and backsplashes, so you can easily coordinate products in one room or throughout the home.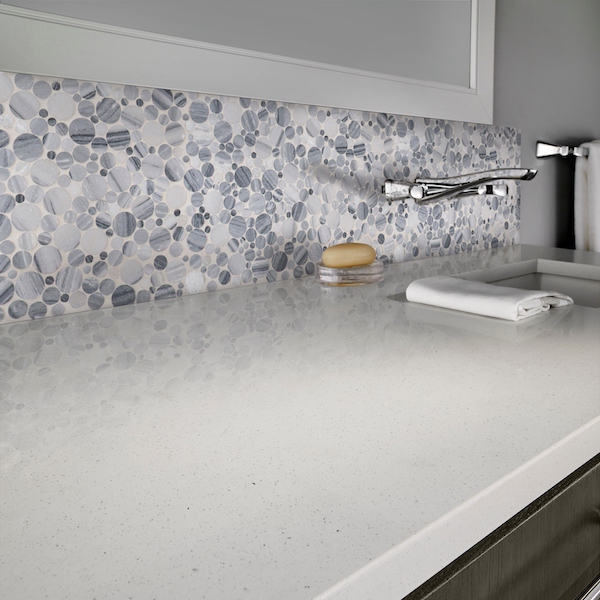 MSI's Black and White Pebbled Tumbled Pattern tiles harmoniously mix together natural marble pebbles in pure whites, warm creams, soft grays, and dark blacks. They're conveniently placed on a mesh backing for easy installation. This modern bathroom features lots of bright whites and light grays, and the White Pebbled Tumbled backsplash perfectly marries the gray walls with the sparkling white quartz countertops. The pattern creates lots of visual interest without being too overpowering.
Waterjet-Cut Mosaics
Looking for a backsplash with exquisite detail? Waterjet-cut mosaics offer cutting-edge materials in a variety of modern palettes and patterns. Choose from elegant marble or a stone-glass blend in classic silhouettes like arabesque and hexagon to pretty floral designs to retro-inspired themes. These mosaic tiles are giving walls, and floors, the attention to detail they deserve!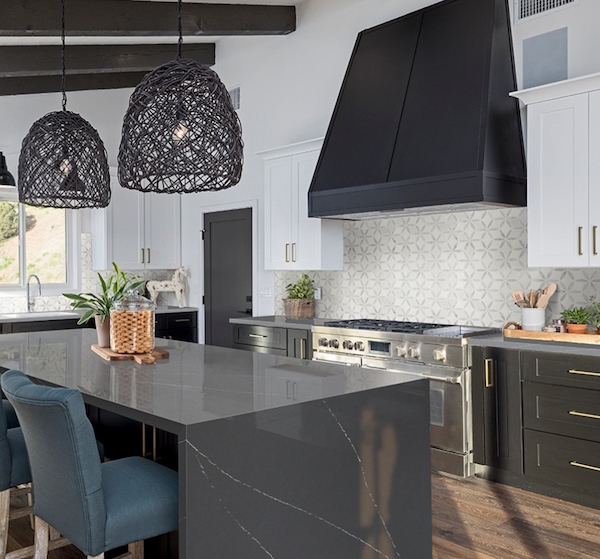 The La Fleur waterjet-cut mosaic from MSI mixes magnificent marble in a stunning white and gray combination in a unique floral pattern. While the materials are timeless, the delicate geometric design makes it feel more modern. The neutral tiles are also mesh-backed for easy installation and a professional look.
This transitional kitchen blends more traditional elements with sleek, modern features. The La Fleur mosaic backsplash is the perfect pick for such a sophisticated space. While the color scheme will always be classic, the design provides a playful pattern that's fresher than, say, subway tile.
3-Dimensional
Give your kitchen, bathroom, or feature walls the special treatment with 3-dimensional tiles. The eye-catching styles come in bold modern looks like wavy ridges and bubbly textures to subtle classics like beveled subway and herringbone. These backsplash designs are sure to add dimension, depth, and character to any room!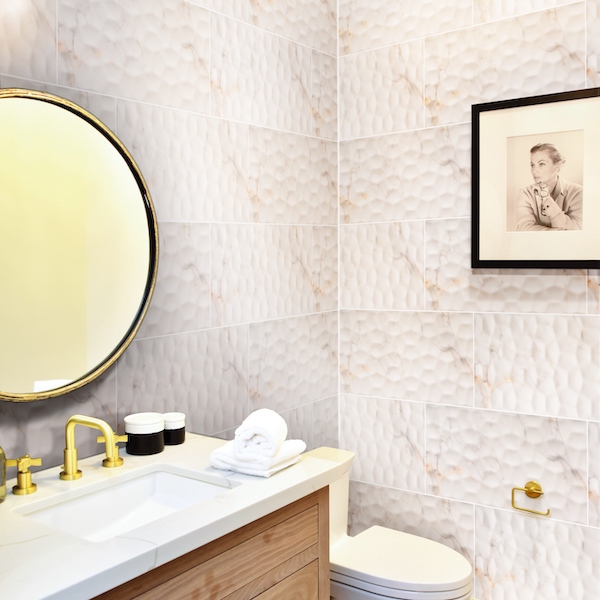 A fresh take on marble, Adella Viso Calacatta large-format ceramic tiles from MSI feature a textured relief for a unique, sculpted look. The geometric shapes bring out the warm white background and iconic gold and gray veins reminiscent of natural Calacatta marble. The tiles, which are imported from Spain, can be installed vertically, horizontally, or in a combination for even more visual interest. The large size also allows for easy floor-to-ceiling installs.
For an ultra-modern bathroom, Adella Viso Calacatta makes the most of a feature wall. With the minimalistic floating vanity and smaller mirror, the wall tile totally shines, and it coordinates beautifully with similar ceramic and porcelain tiles that feature the same color palettes and striking veining.
Which Backsplash Pattern Will You Pick?
When it comes to wall tile, there are so many materials, colors, and patterns to pick from that it can quickly get overwhelming. We hope that some of these popular backsplash patterns and specific products provide the inspiration needed to complete your upcoming project.
To find out which pattern will look the best in your space, be sure to check out MSI's backsplash visualizer. This helpful tool will bring your backsplash to life before you have to make that all-important final decision.
READ MORE ABOUT MSI BACKSPLASH TILE
Geometric Pattern Backsplash Tiles
How Much Wall Tile Do I Need? A Guide To DIY Backsplashes
How To Choose The Right Backsplash Tile For Your Quartz Countertop