Tips From The Trade: How To Keep Quartz Countertops Looking New
June 07, 2018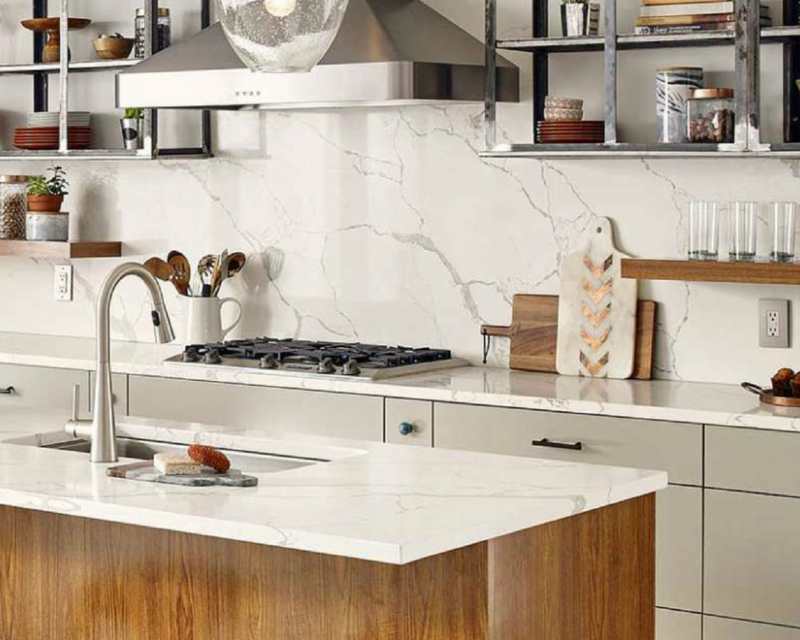 If you've ever tackled a kitchen or bath remodel, then you already know that a project like that can cause emotions and tensions to run high. From picking out new materials like quartz countertops to dealing with construction crews, the whole experience can be exciting but stressful and emotionally draining.
Still, when your design finally comes to life, it's an elating feeling to take a step back and admire your accomplishment.
The key now is to keep that feeling of pride and accomplishment from turning into worry about how to keep your new kitchen looking new!
Thankfully, with quartz counters, keeping your remodeled kitchen or bathroom looking new is incredibly easy. Not only does this manufactured surface add luxurious beauty to any space, but it also offers low-key care. Let's take a look at how to keep your quartz countertops looking pristine!
How to Clean Quartz
To keep your non-porous quartz surface clean on a daily basis, just wipe it down with a damp sponge or dishcloth. It's just as easy to keep quartz that looks like marble sparkling. You can add a mild dishwashing liquid regular cleaning or for those greasy messes, but be sure to rinse your countertop thoroughly afterward. If that doesn't do the trick, you can try a gentle all-purpose cleaner.
When cleaning your quartz, be sure to avoid anything abrasive, from harsh cleaners to gritty sponges or scrubbers.
Ways to Protect Quartz
You'll be pleased to know that quartz doesn't need the yearly sealing or waxing that is required for marble or other natural stone slabs. However, there are some ways to keep your durable counter protected. One of the main culprits is heat. To avoid damage, it's best to keep heat sources from coming directly in contact with your countertop. In the kitchen, this can be done by using trivets or hot pads underneath hot pots, pans, or even appliances like crock pots.
For the bathroom, don't place hot curling irons or flat irons directly on the counter. Another way to keep your quartz looking like new is to always use a cutting board when preparing food, instead of slicing food directly on your surface.
Chemicals to Avoid with Quartz
While many household cleaners and even chemicals won't do any harm to your modern quartz, there are some that might. For example, it's best to never use products like bleach, oil-based soaps, paint removers, silver polish, and even nail polish remover on your countertop.
Also, paint stripping, metal cleaning, or degreasing products with methylene chloride, and glue or paint thinners and oil and grease removers with trichloreothane should be avoided at all costs. Finally, avoid permanent markers and ink because they may stain your beautiful new surface.
With these simple care tips and tricks, you'll be able to keep your quartz countertops looking like the day they were first installed! Your new countertop is sure to enhance your traditional or modern design, all while offering a low-maintenance solution.
And MSI offers a wide variety of patterns and quartz colors, from solid colors to marble-look quartz, so you're sure to find just the right look for your design! For even more tips and trends, check out this article on designing a white kitchen.
Read More About Quartz Durability, Care, and Maintenance:
Is Bleach Safe to Use on Quartz Countertops
The Dos and Donts of Quartz Countertops Care
How Often Do Quartz Countertops Need to Be Sealed?
Choose These Quartz Countertops and You'll Never Stress About Counter Care Again
Helpful Hints for Up Keeping Your Quartz Countertop
Do Quartz Countertops Need a Special Cleanser?
Beautiful Low Maintenance Quartz Countertops
Easy Quartz Countertop Care and Maintenance
Simple Guide to Quartz Countertop Care And Maintenance