Striking New Marza Backsplash Tile Collection Offers One-Of-A-Kind Looks
November 19, 2021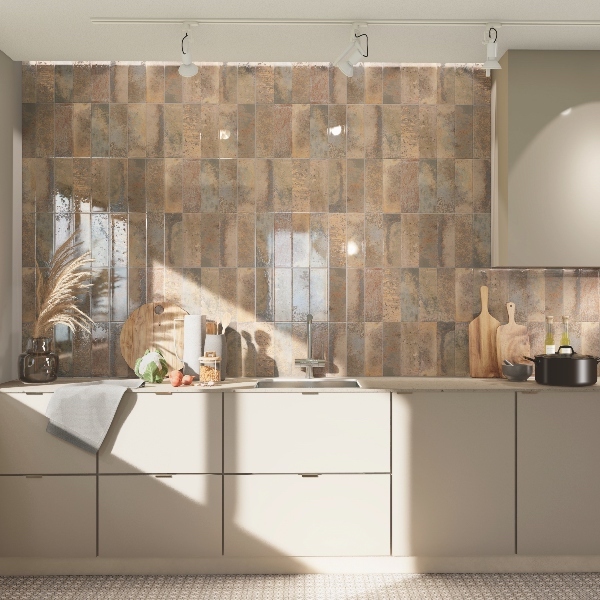 What makes a home stand out? When you think of your favorite style of home, you often don't think of the big things like how many rooms, how many bathrooms, etc... You think about the little details throughout the home.
Using vibrant subway tile to accent your house can be one of the little details that make your home stand out. The right backsplash tile in your kitchen will make your kitchen pop!
The new Marza Subway Tile Collection from MSI was painstakingly designed to bring bold color combinations along with the affordability of ceramic tile. Learn more about this collection and how it can take your home to the next level.
The Ceramic Tile Advantage
Ceramic tiles have been used in homes for years because they are affordable and strong. They are easy to clean and can hold up to spills and water. This makes them a perfect option for rooms like kitchens and bathrooms.
Ceramic tiles last for decades. They can also be designed with many different types of styles and patterns. This makes them a popular choice for interior designers.
Why Backsplash Tile?
Restaurants have used subway tiles in their kitchens for years as a backsplash. These wall tiles have helped protect the walls from liquids and heat. Tiles handle the heat and moisture of the kitchen with ease.
Their strength also protects the walls from nicks or marks that could come with the tools used in commercial kitchens. Homeowners have seen these advantages and are adding subway tiles to their backsplash designs.
Subway tiles can not only handle the rough atmosphere of the kitchen, but they can also add a great deal to your overall kitchen design.
Your Backsplash Reimagined
When people think of subway tiles, they often think of the plain white tiles seen on TV. However, subway tiles can be designed to have amazing color combinations that add vibrancy to your kitchen backsplash.
The Marza Ceramic Tile Collection from MSI has created a striking blend of colors and tones to add a unique style to their tiles. This opens up many options for designers and homeowners to use tiles throughout the house.
Marza Aqua Subway Tile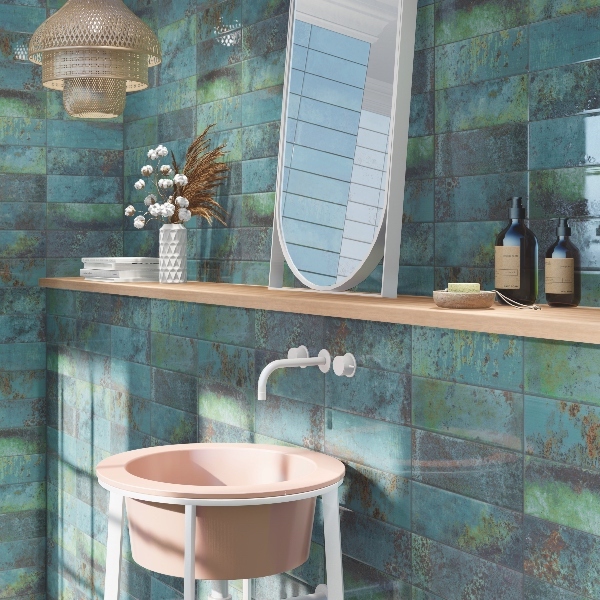 The Marza Aqua Subway Tile blends blues and greens to give a deep and vibrant color that stands out. Your shower surround or tub area will have an ethereal feel with these colors around them.
These 4x12 inch glossy tiles are scratch- and stain-resistant and will work in the kitchen or the bathroom with ease. Their colors will go with many other schemes and can be highlighted throughout the room they are located.
Marza Cobalt Subway Tile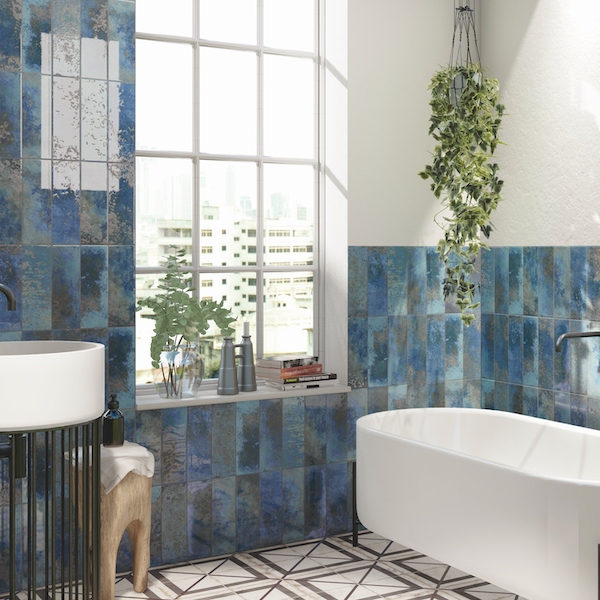 Your shower surround can stand out with the patterns of the Marza Cobalt Subway Tile. These tiles are made in Spain and feature bright blue hues accented by earthy brown tones. These tiles would shine in a Mediterranean design because of the color blend. However, they can work with any design that has blue or brown tones within it. Their deep colors will shine in the sunlight or under the glow of counter lights.
Marza Pearl Subway Tile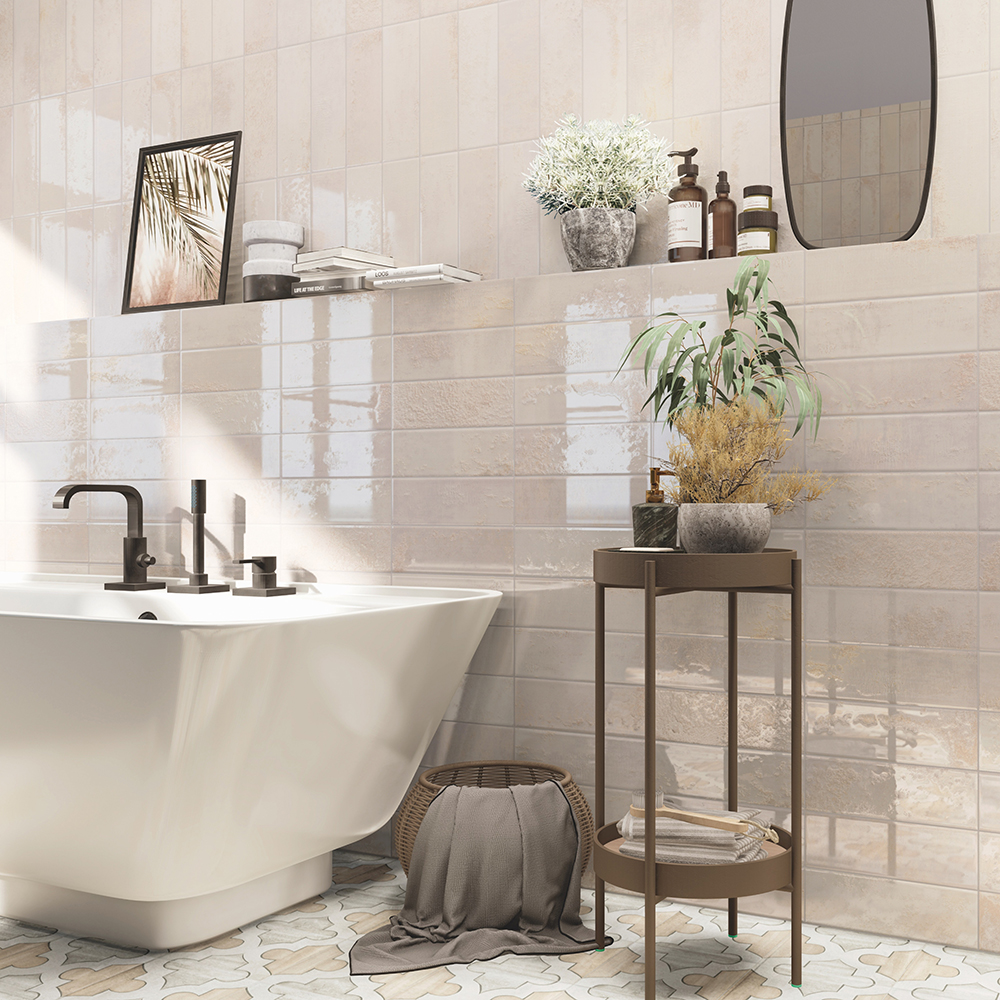 You don't have to fear a light color that is hard to maintain with the Marza Pearl Subway Tile. These glossy creamy white tiles are still scratch-resistant and stain-resistant. Your clean-up will be a breeze and these tiles will stay bright!
The benefit of a light color tile in a room is it will usually go with any design. If you change the colors of the room, creamy white tiles will still fit the design. This opens up future options across the house.
Marza Rust Subway Tile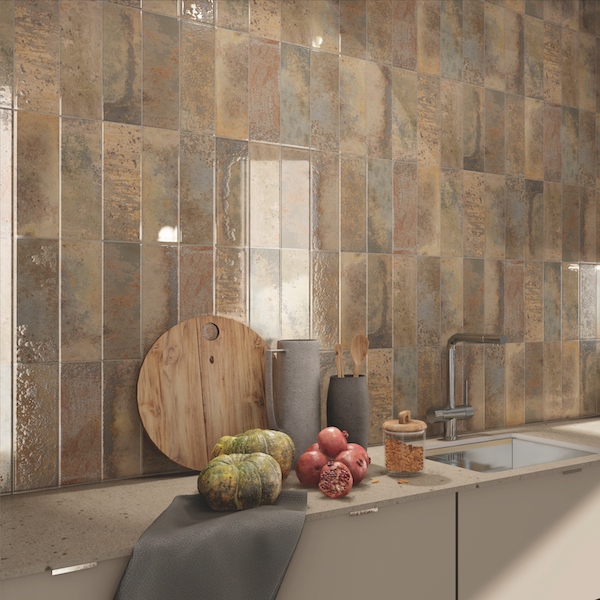 When you want a blend of colors that fit with either antique or modern, the Marza Rust Subway Tiles do the trick. They blend hues of gold, bronze, copper, and gray with a glossy oxidized appearance that will stand out.
The strength of this combination is in the mixture of colors offered. They will blend with many types of color schemes. Plus, you can accent a specific color by choosing a colored grout.
Beyond the Backsplash
With their strength and beauty, the Marza subway tiles can move beyond the backsplash and add a one-of-a-kind art form to any room in your house. With their strength and water resistance, they work great in the bathroom.
Ceramic tile shower surrounds have increased in houses and many homeowners want tiles to go from floor to ceiling. This separates the shower area and helps to prevent water damage on the ceiling.
With beautiful tile, this can create a focal point for the bathroom. The Marza tiles color options work well for this type of use. They can protect the walls and ceiling while providing amazing color for the bathroom.
Many designers are including a patterned tile design to entryways and accent walls throughout their houses. With the colors of the Marza collection, you can have the beauty and strength of tile anywhere in the house.
Your One-of-a-Kind Home
Making your home a place that stands out and you can be proud of can often come through the little details. Adding the right color to your kitchen backsplash tile can take your kitchen to the next level. The Marza Subway tiles can be used for your backsplash, but that is not all. With the strength and durability of ceramic tile and the Marza collection's color combination, any room can be transformed.
MSI helps homeowners and business professionals create beautiful spaces. Contact us about our new Marza Subway Tile Collection and how it can help your home stand out.
READ MORE ABOUT MSI BACKSPLASH TILE
Pairing Granite Countertops With The Perfect Backsplash
Should You Align Backsplash Wall Tile Vertical Or Horizontal?
Specialty Shape Backsplash Tiles Make A Modern Statement
Standard Vs. Full Kitchen Backsplash: Which Is Right For You?