Tile Style: Stunning Bathroom Designs With Ceramic Tile
January 20, 2018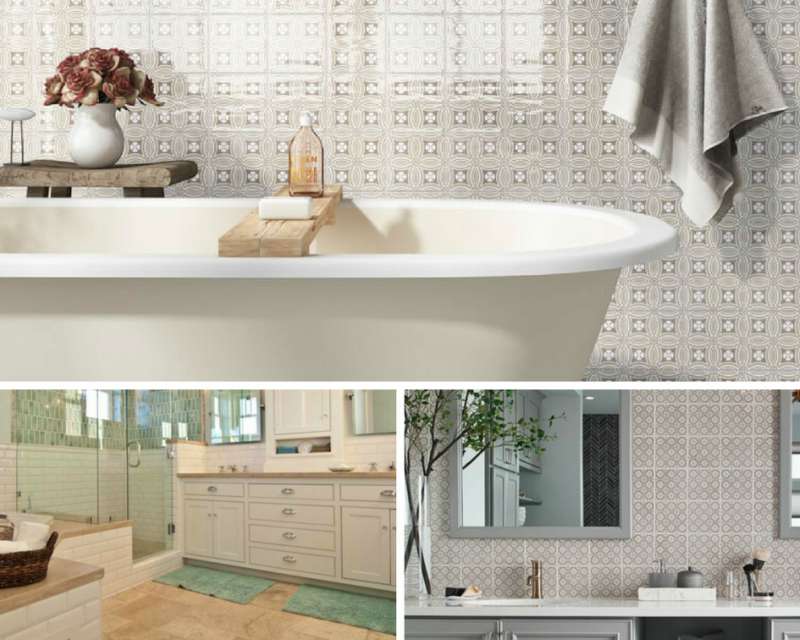 Are you a style-conscious and cost-savvy homeowner looking for ways to achieve high style in the bathroom on a budget? If so, you're going to love the featured bathrooms in this post! That's because ceramic tile is a budget-friendly and durable material that will add character to any powder room or full bath. Plus, today's priced-right tile selections mimic a number of expensive surfaces like natural stone travertine, wood grain, and even European mosaics. With that in mind, let's take a look at some of our favorite ceramics.
Beachy Beige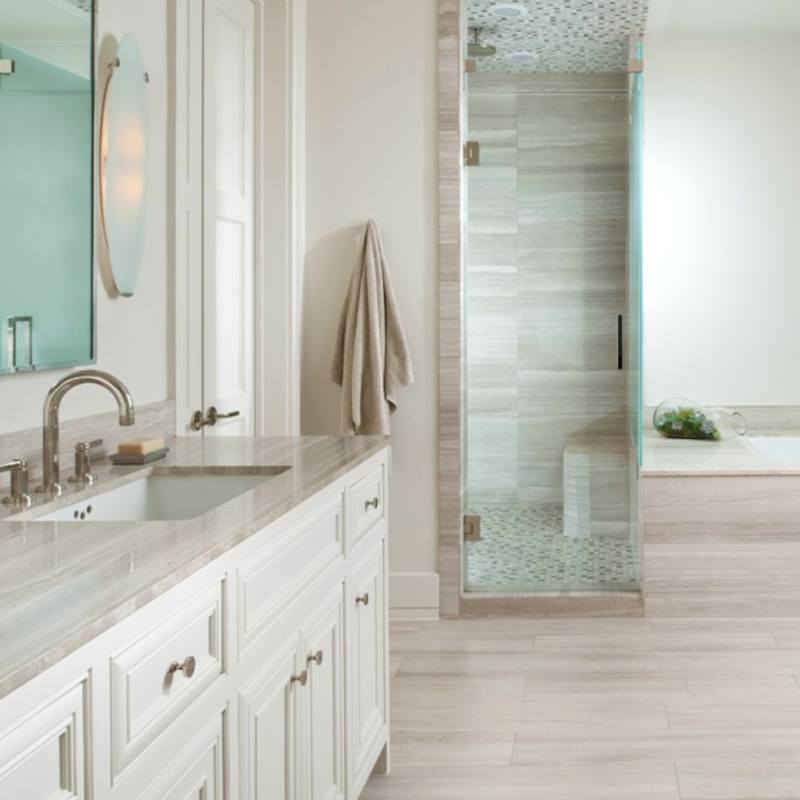 Featured: Bianco Turin Ceramic
Opt for light colors to give your bathroom the same sense of calm you feel while unwinding at the beach. Bianco Turin Ceramic is a ceramic tile with subtle wood grains, but keep in mind that changing out the size of the wood-look tile can give the pattern an entirely different design look. Instead of featuring 6x24 planks, this 12x24 bathroom tile boasts sandy layers of beautiful beiges throughout. It's as if you've transformed your retreat into your own private island!
Design Drama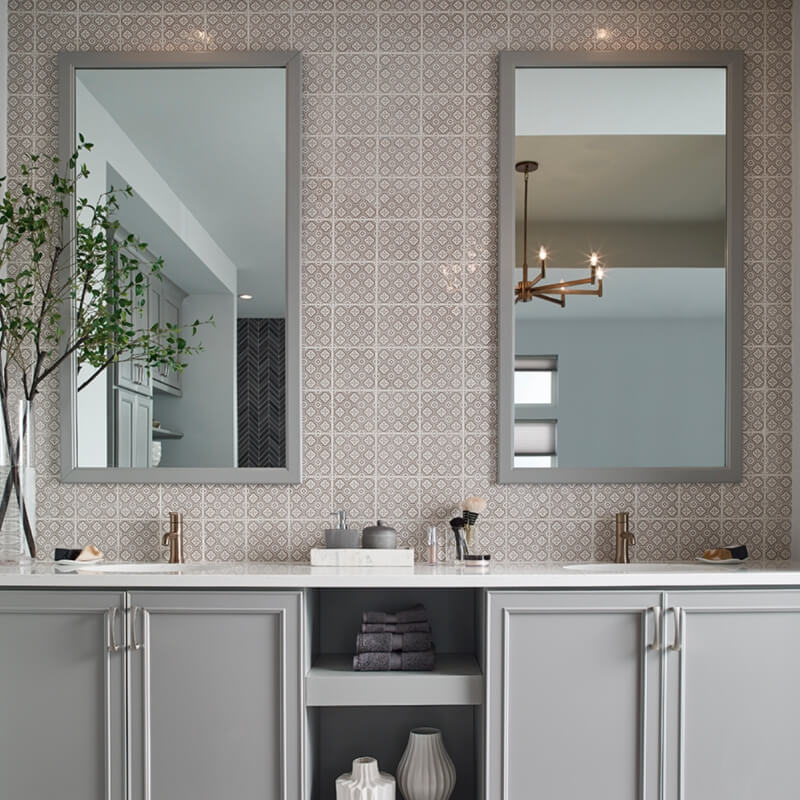 Featured: Leira Kenzzi Ceramic
Amp up the drama in your bathroom by adding a sophisticated pattern! Ceramic tile like Leira Kenzzi Ceramic is the perfect alternative to fragile wallpaper or grout-filled mosaics. Installed as a full accent wall, the 5.2x5.2 Spanish tile's white and beige pattern adds visual interest, especially paired with the simple lines of the double vanity and mirrors. The pairing takes the entire design from ordinary to extraordinary.
Antiqued White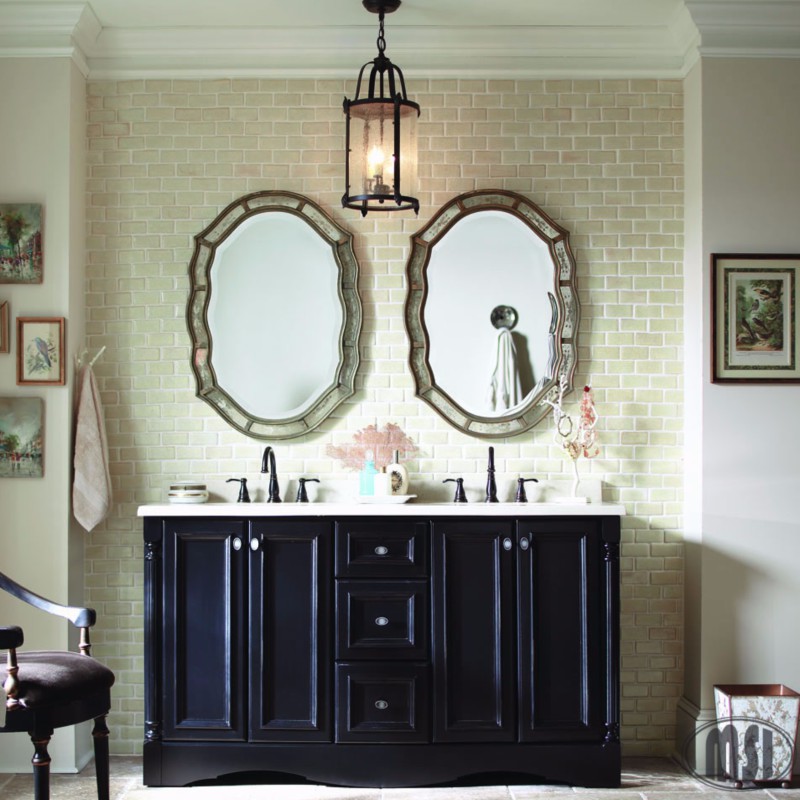 Featured: Antique White Subway
Evoke old-world charm with a new ceramic tile like Antique White Subway tile, an off-white tile with a glazed finish. The classic shape of these 3x6 tiles creates a timeless wall feature that perfectly complements the antiqued mirrors, metal light fixture, curated artwork, and chunky crown molding. The overall effect is the feeling that this charming bathroom has been there for generations.
Travertine Replica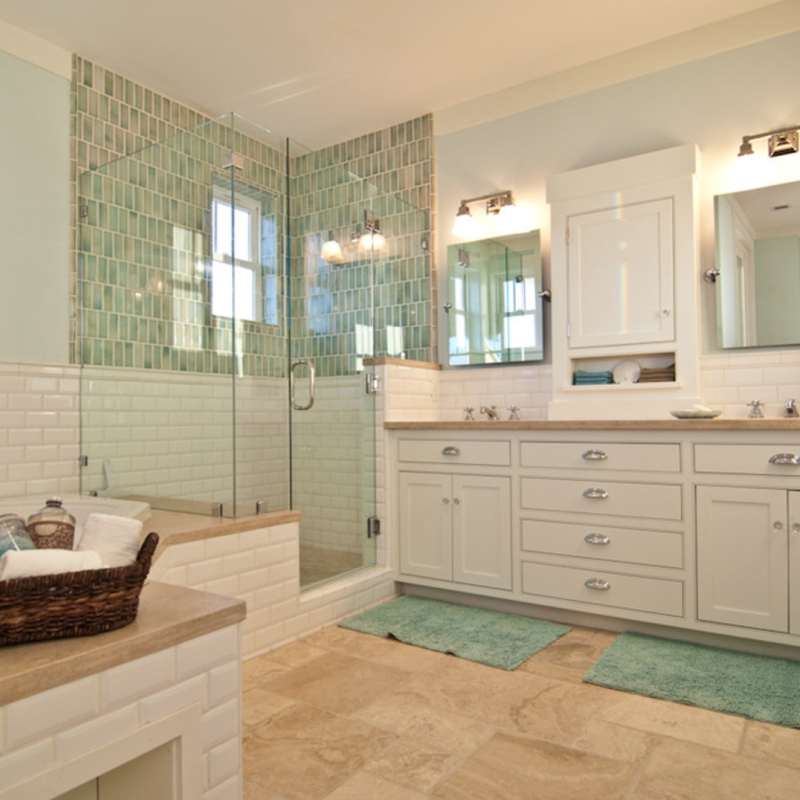 Featured: Sigaro Dunes Ceramic
Get the look of natural stone with the cleaning ease of ceramic. Sigaro Dunes Ceramic features warm creams and beiges similar to those found in natural stone travertine. The matte finish of these 12x24 ceramic tiles makes it an extremely durable choice for bathroom floors, and the elegant pattern of the floor tile plays nicely with styles from contemporary to traditional. This bathroom is proof that you can enjoy the look of natural stone, but without the maintenance hassle.
Spain-Inspired Pattern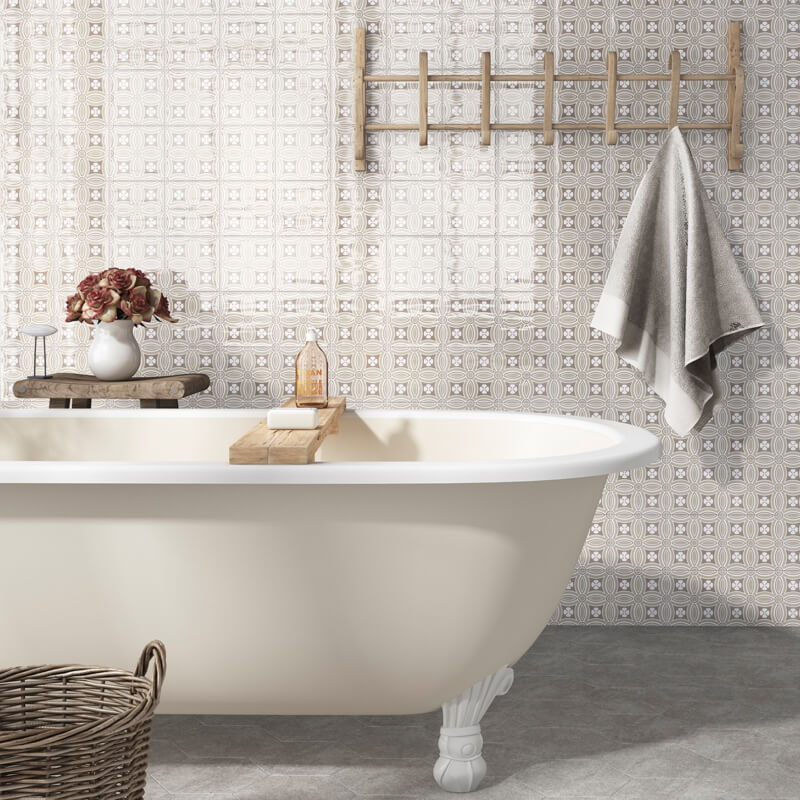 Featured: Dekora Kenzzi Ceramic
Go bold with a busy pattern in the bathroom. It's the perfect room to showcase European flair with another ceramic tile, this one from Spain. Dekora Kenzzi Ceramic features an intricate design with hues of white, beige, and camel brown. The simple concrete floors and white freestanding bathtub balance the embellished design of the 5.2x5.2 wall tile. The effect is a Pinterest-worthy bathroom everyone will want to replicate!
Ceramic tile can step up your style quotient without breaking the bank, and you'll find an array of classic to trendy options from which to choose. Check out MSI's gallery for even more ceramic tile flooring and wall ideas. And for more design solutions, check out this article for extra tips on inexpensive bathroom upgrades.