Statement Floors For Your Home
April 12, 2013
Are you looking for a great way to update your bathroom, kitchen, or entryway? Other than the traditional diagonal pattern or brick jointed tile designs for your floors consider taking it up a notch by creating a statement floor. Creating a unique floor pattern that defines a space can be dual purpose. It can simply create a focal point in the room or serve as a decorative detail that creates a zone in the room. Take a long galley style kitchen and break up the space with a rug pattern made from mosaic tiles in front of the sink. Or choose a bold pattern in classic black and white mosaic tiles to make an impact in your master bathroom.
With so many tile options available, coming up with a tile pattern that suits your style can be fun and it will really turn heads! Here are a few standout tiles that will make you dream home come to life: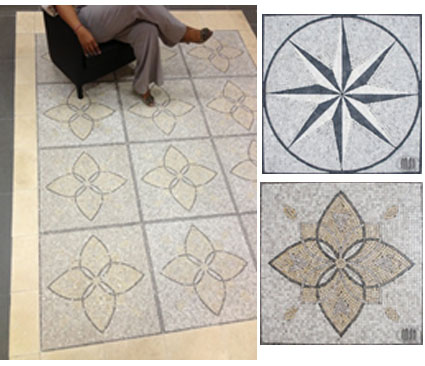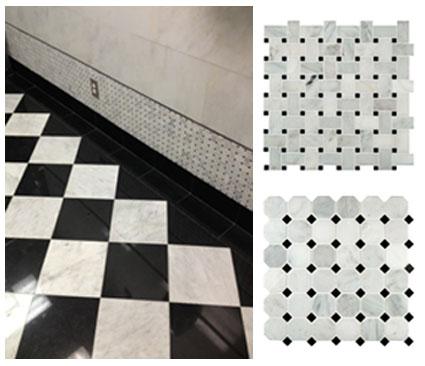 After you have selected the color palette for your home project, think about how you would like the floor tile to be laid out. Tile can be a feature that can really changes the look and feel of the room. Don't be afraid to get some graph paper and a ruler out to create a rough sketch of your floor plan. A tile contractor can help you get the exact dimensions, but be creative and treat your floor space as an integral part of the design in your room. Take a look at this tile medallion used to create a sitting area: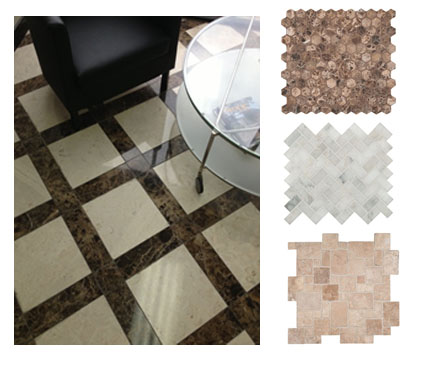 For those that are more adventurous, lets look at mixing patterns. The right mix of patterns can be key to the finishing touches of a perfectly designed room. Mixing patterns can be tricky, it's a play on scale but color is also a factor. Take a bold black and white striped drapery and pair it with a smaller scale mosaic pattern like a herringbone or octagon. Your statement tile floor can be created as an accent detail that complements the textile patterns in your room or simply mimic an architectural detail like an archway.
Geometric patterns like greek key, herringbone, and hexagon can be great shapes to introduce with the bold graphic textile patterns seen on drapery and rugs these days. The options are endless with glass mosaic tiles, beautiful stone and glass blended tiles, and natural stone tile mosaics.