Indulge In Luxurious Marble Looks With Natural Quartz Countertops
November 06, 2021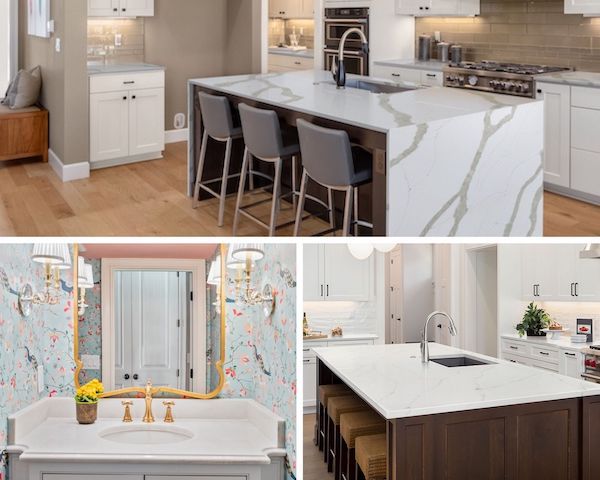 Due to their elegant, timeless look, marble countertops represent wealth and status. Their beauty is undeniable, though it comes at a price—both in the checkbook and ongoing maintenance. When you opt for a quartz countertop, you attain that luxurious marble look for less money and less hassle. Here are several reasons to choose marble-look quartz countertops over natural marble.
QUARTZ COUNTERTOPS COST LESS
Often homeowners narrow their countertop picks down to quartz vs. granite and quartz vs. marble, and often, once they discover the pros and cons of each, they choose quartz for myriad reasons. Chief among these is a lower price for the same look and less upkeep.
Quartz is an engineered surface. As such, it can replicate the stunning look of marble without the higher price point and upkeep. To the untrained eye, it is nearly impossible to tell the difference between these kitchen countertops. While both surfaces are high-end products, and the more common marble colors share a similar price range to engineered quartz, when the quality of the marble slab increases, so does the cost.
If you're in the market for more rare and exotic marble, you'll pay a higher price. This is not the case with quartz countertops. Whatever the style, pattern, or color of marble you seek, you can get it in quartz for much less. Then you can use the money saved for other upgrades to keep your luxurious kitchen the talk of the neighborhood.
LESS MAINTENANCE
Ease of care is a leading reason many homeowners choose marble look quartz over the real thing. Sure, marble is mesmerizing to look at, but it comes with a whole host of issues. Since it's porous, marble absorbs liquids which in turn lead to stains. Etching damage is another problem when marble meets liquids high in acidity like lemon juice or vinegar. Applying sealer to your marble no less than once a year can help with this, but it's far from a perfect solution. Why take the risk when you can have quartz that looks like marble without these and other problems?
DURABILITY
Authentic marble is widely known for durability, though it's not flawless. Due to the soft nature of this natural stone, cracking, chipping, staining, scratching, and more can occur. Many say these damages give the surface character, but don't you think they'd rather their countertops look as fresh as the day they had them installed?
With quartz countertops in your modern kitchen, you get a surface that matches or even surpasses the durability of marble since it repels the previously listed damages to which marble is prone.
LUXURIOUS MARBLE-LOOK NATURAL QUARTZ COUNTERTOPS
CALACATTA BALI QUARTZ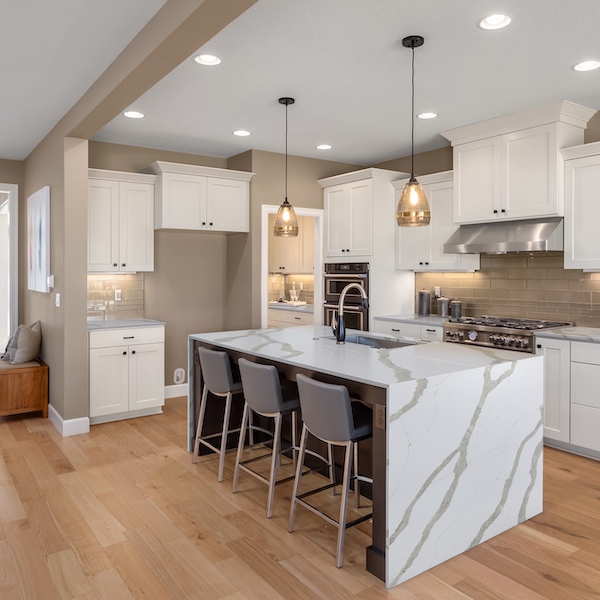 Calacatta Bali quartz countertops feature large veins that dance with thin ones against a sophisticated, welcoming white backdrop. The interplay of veins combined with the warm white surface delivers the natural look of luxurious marble. This gorgeous quartz is perfect for achieving a dramatic countertop. Use a less dramatic backsplash to really make your counters pop. Here you get everything you pay for in an authentic marble countertop but with the increased durability and low maintenance of quartz.
GLACIER WHITE QUARTZ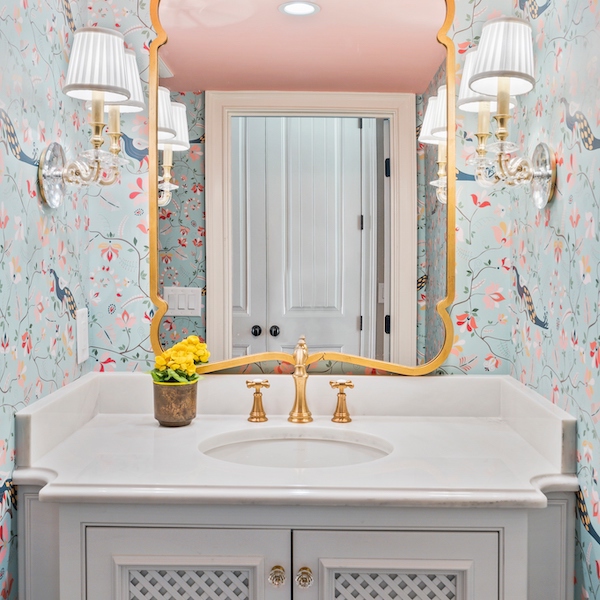 For kitchen countertops that look incredible in any light, the glistening Glacier White quartz is an excellent choice. This milky white quartz utilizes muted grays and white to capture the distinct look of marble veining. It's a bold look for kitchen countertops that never fails to impress. With the right bright light scheme, you'll create a beautiful contrast that highlights the frosty heather. Use a softer light, and this breathtaking marble look quartz serves as a focal point that brings the entire room together.
CALACATTA MONTAGE QUARTZ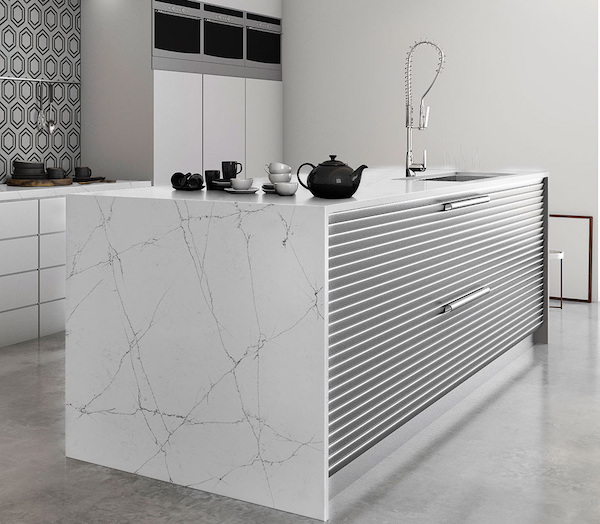 Calacatta Montage quartz is nothing if not bold with its dramatic veining. Against a soft white background that leans toward gray thin dove-gray veins naturally spread out over the surface and overlap. This helps create the highly coveted look of Italian marble at a much lower cost. Add all the time and money you'll save with the ease of care that quartz offers and this one is a no-brainer.
Calacatta Montage quartz countertops easily become a kitchen's focal point, especially with a more muted backsplash. Or pair it with the right dramatic backsplash, and the resulting interplay between the two is delightful.
CALACATTA ULTRA QUARTZ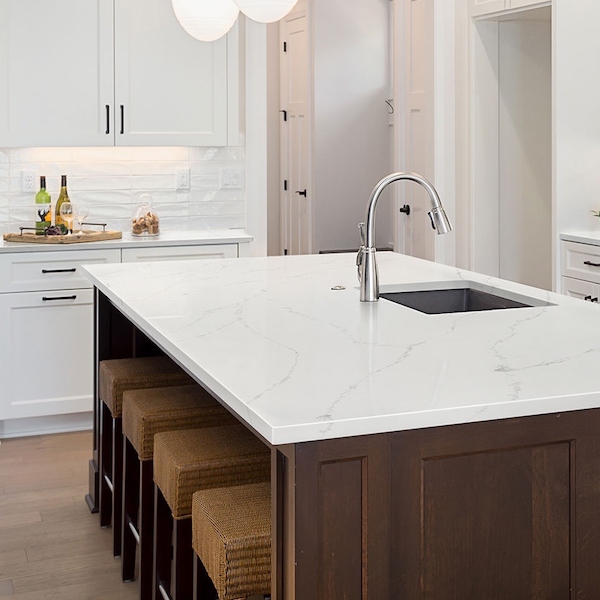 Calacatta Ultra is the modern quartz for you if your kitchen remodel calls for a slab with subtle linear veins. This veining against a cool white backdrop delivers the classic, luxurious look of marble but in a no worry engineered quartz. The warmness of this slab, strikingly beautiful in its simplicity, works well with softer lighting and design schemes that speak to comfort. While the slight veining doesn't convey the dramatic statement of Calacatta Montage, it instead possesses the power to blend effortlessly into any room and still draw attention to itself. Indeed a fantastic choice for any kitchen upgrade.
BLANCA ARABESCATO QUARTZ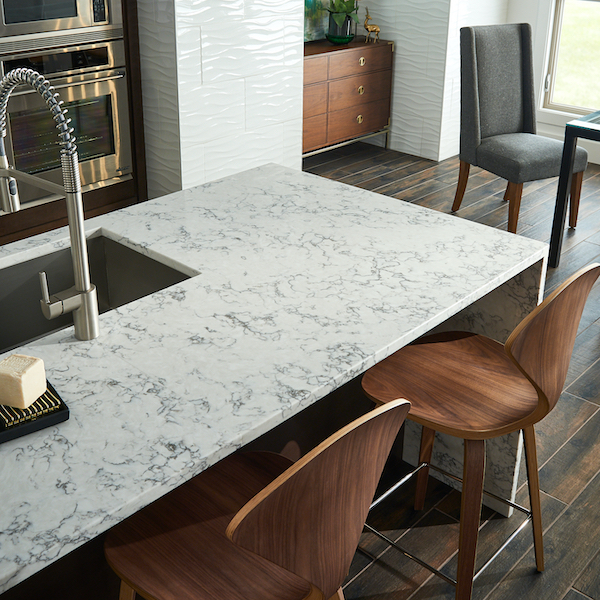 A designer and homeowner favorite, Blanca Arabescato quartz provides a natural marble look by combining a pale gray background with long and dark veins. Blanca Arabescato looks so much like natural marble it could fool even a seasoned marble enthusiast. It creates a timeless look in almost any kitchen, and its low cost, ease of care, and durability will keep you and your guest smiling for years to come.
When desiring that luxurious look of natural marble without all the headaches and steep costs, quartz countertops like those mentioned above will not let you down. They have the same look and feel as marble. They are less prone to damages like staining, chipping, and scratching and don't require annual maintenance like sealing. When you choose marble look premium quartz countertops for your kitchen, you not only show the world your excellent taste, but you also show them your wisdom when it comes to spending less for more. If you're in the market for a kitchen upgrade with that sought-after marble look, please browse MSI's extensive selection of quartz countertops in a wide variety of styles and colors.
Read More About Quartz in Natural Stone and Marble Looks:
Beautiful Marble Look Quartz Countertops
Is Quartz More Expensive Than Marble?
Marble Look Quartz Countertops
Marble Inspired Quartz Countertops