How To Care For Your Granite Countertops
December 23, 2016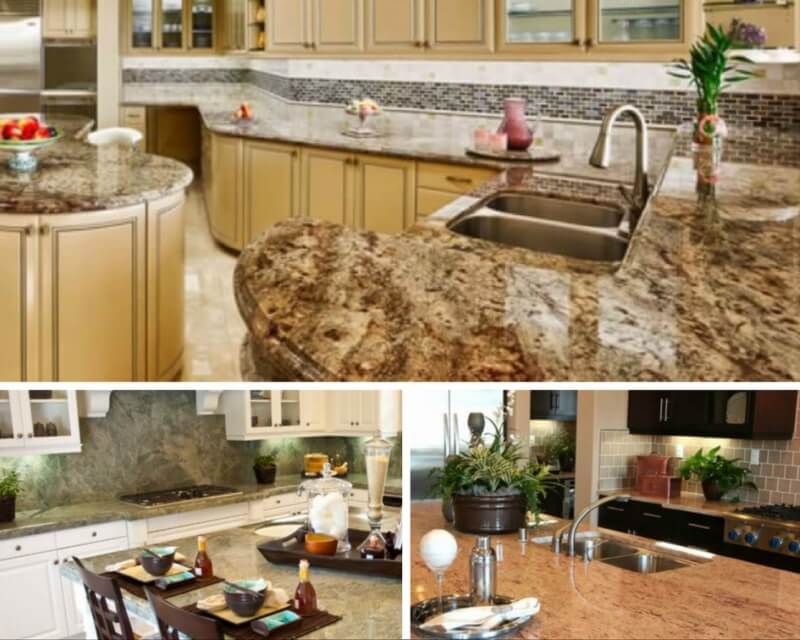 What's the best selling natural stone for countertops? Granite, of course! With over 230 colors available, from subtle to dramatic, there is a wide variety of granite colors and patterns to fit every design taste and style.
And it isn't just the natural beauty of granite countertops that makes them so popular; in large part, granite's appeal comes down to durability and maintenance. In comparison to marble countertops and other natural stone slabs, granite is easy to clean and requires little ongoing maintenance.
#1. Granite is Rough and Tumble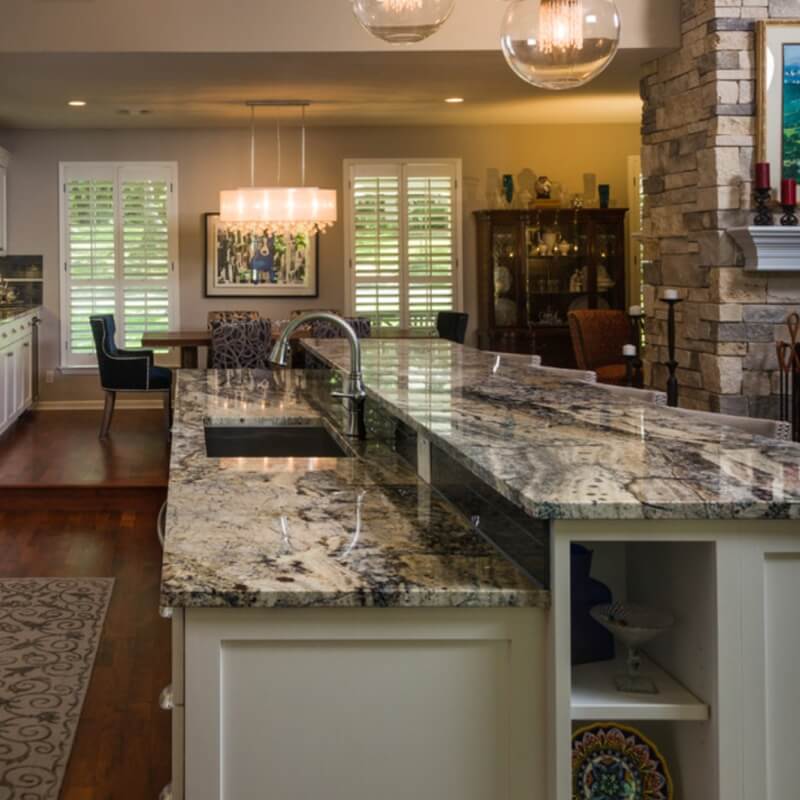 Featured: Azurite Granite
Kitchen islands take a beating every day of the week, and need to be constructed with a surface that is durable, easy to clean, and lovely. Art projects, homework, cooking, eating, and drinking can quickly stain, chip, or damage other softer stone countertops like marble and onyx. Not so with a granite slab. Here, the dramatic and earthy Azurite Granite is featured this beautiful, hardworking kitchen.
#2. Guarding Against Spills and Scratches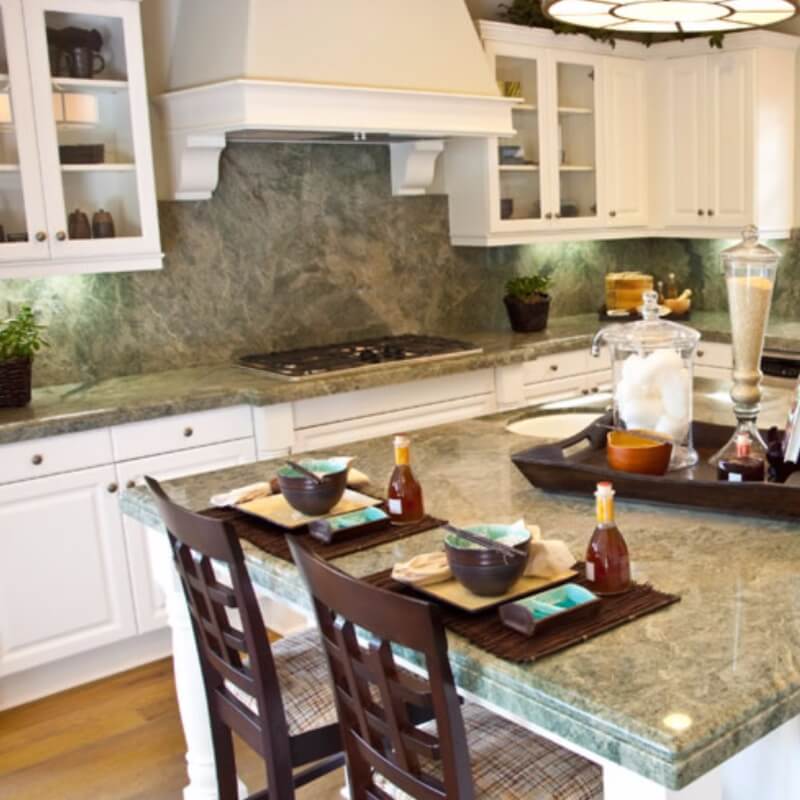 Featured: Costa Esmeralda Granite
While preparing meals, it is important to wipe up any spills quickly, especially if they are acidic liquids like citrus juice, alcohol, or vinegar. While sealed granite isn't as vulnerable to stains as marble countertops, it is still wise to use placemats when eating or drinking acidic foods, set out padded trivets for hot foods, and avoid carelessly dropping sharp tools onto the countertop.
It is easy to keep your countertop like this serene and soothing Costa Esmeralda Granite, looking its finest by paying attention to spills and protecting it from abuse.
#3. Daily Care for Your Slab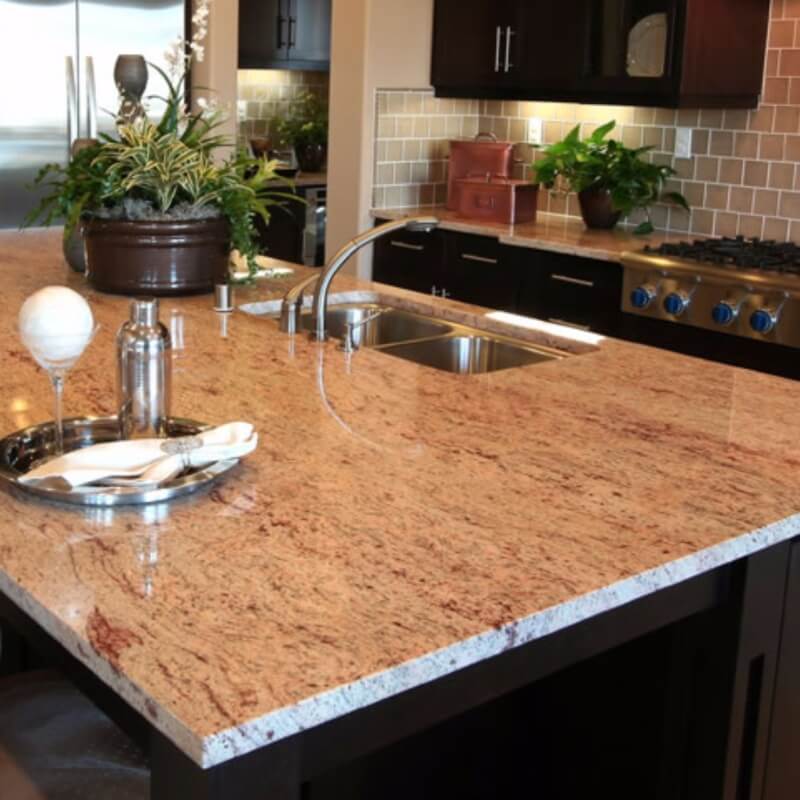 Featured: Raja Pink Granite
When it comes to daily cleaning of your granite countertops, there are a few do's and don'ts to keep in mind. First, never use a coarse or gritty cleanser on your granite or other natural stone countertops—even those marketed as "soft." Such cleansers are sure to dull the finish, and will make your beautiful countertops vulnerable to etching and staining.
In addition, avoid products that contain ammonia, vinegar, or bleach as ingredients. Instead, simply use warm, soapy water and a sponge, and then wipe dry with paper towels. Raja Pink Granite countertops will look great for a lifetime when gently cleansed and dried at the end of each day.
#4. To Seal, or Not to Seal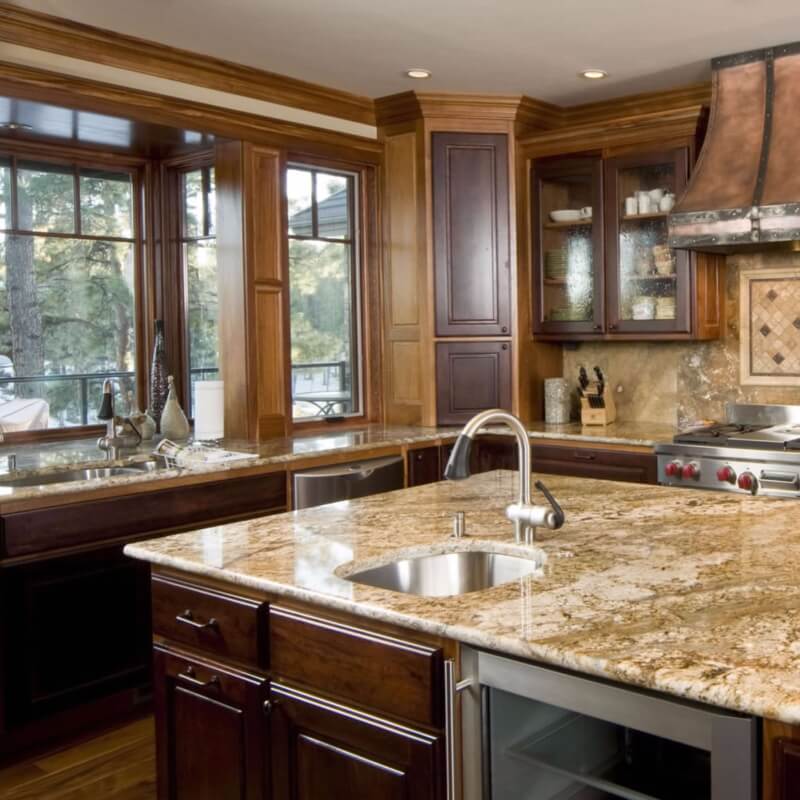 Featured: Mascarello Granite
Industry experts recommend that virtually all natural stone countertops be sealed; this includes granite, marble, limestone, and onyx. The big difference is that while some of the softer stones like marble require sealing a couple of times a year, granite countertops typically need resealing only once every year or two.
Before sealing your countertop, do a quick test to see if it's time for resealing. Wet a paper towel and leave it on the counter for 10 minutes. When you remove it, check if the area where the paper towel was is slightly discolored. If you see any discoloration, it means that some water has soaked into the granite, and the countertop should be resealed.
For some areas of your kitchen, like around the range or sink in this island adorned with Mascarello Granite, you might need to seal annually, while other counters in your kitchen that get less wet use may only need resealing every couple of years.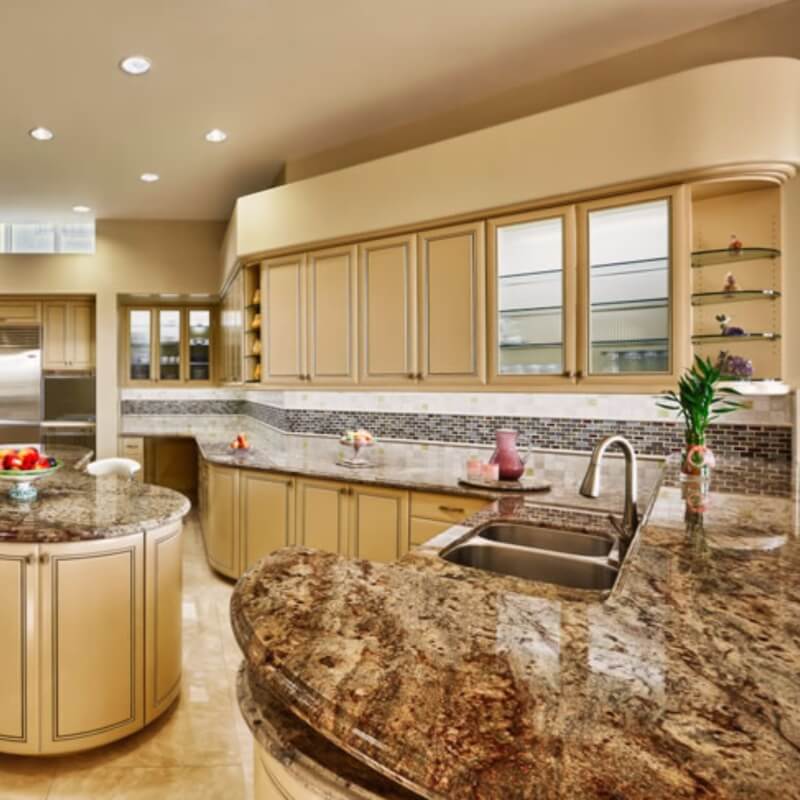 Featured: Typhoon Bordeaux Granite
Whether you select a subtle granite, or go bold with Typhoon Bordeaux Granite, protect your investment with proper daily cleaning, and sealing.
Granite countertops are the top choice of homeowners and home buyers nationwide, and with just a touch of care, they will last a lifetime free from stains, chips, and cracks.
Learn More about Caring for Granite Countertops
Granite Vs. Quartz Countertops: Which Deserves the Easy Care Trophy?
Dos and Don'ts of Caring for Granite and Quartz Countertops
Why Honed Granite Care Is Not the Same as Polished Granite Care
READ MORE ABOUT GRANITE COUNTERTOPS
Best Granite Color Options For Dark Cabinets
Cost-Benefit Analysis Of Prefabricated Granite Countertops
Easy Care And Maintenance For Granite Countertops
Granite And Quartz Countertops Compared
Quartz vs. Granite Countertops Compared