6 Modern Granite Countertops To Elevate Your Kitchen
July 13, 2023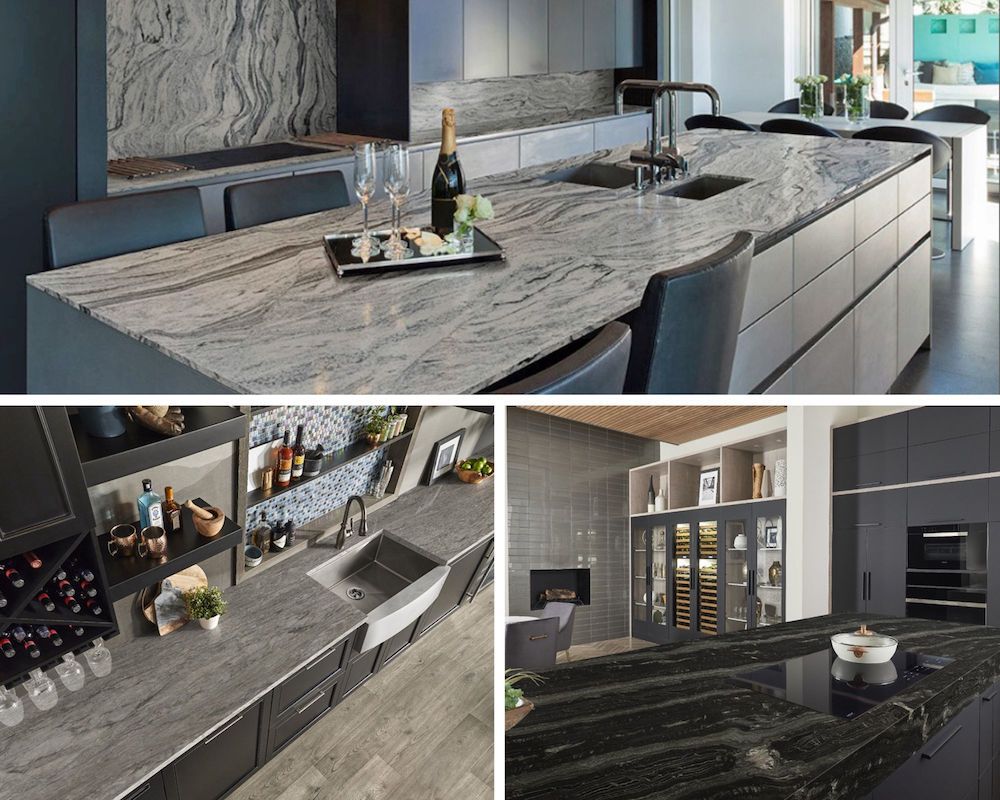 Selecting the ideal countertop material for upgrading or renovating your kitchen is an important decision. That's why you should consider our stunning selection of granite countertops to create a surface that is beautiful, practical, and long-lasting.
There have always been abundant options for kitchen surfaces, especially engineered materials such as porcelain, concrete, and laminate. But natural stone, such as granite, has been a continual favorite, and there are many reasons why.
The Many Benefits of Granite
Granite is a natural stone, an igneous rock consisting of quartz and feldspar. This combination creates its distinctive speckled appearance, contributing to its popularity for kitchen countertops. Granite countertops, sourced directly from stone quarries, are widely regarded as the top choice for kitchens of every style, offering stunning aesthetics and exceptional functionality.
This bedazzling natural stone is available in a wide range of granite colors, from light beiges to deep blacks. You'll have no problem choosing the perfect color to match your home's interior design.
Here are other benefits of choosing granite for your kitchen countertops:
Aesthetically Appealing: Granite's captivating multi-colored appearance contributes to its widespread allure. Installing granite countertops will contribute to your kitchen's overall aesthetic and design, instantly taking your home's interior design to a new level.
Durability: Granite countertops are inherently resistant to chipping and scratching. In fact, granite is the second hardest natural stone. It's also remarkably long-lasting and will outlive almost every other material in your kitchen.
Enhanced Resistance: When properly sealed, granite is highly resistant to heat, stains, and moisture. Left a hot cup of coffee directly on your granite countertop? No problem! Spilled a glass of red wine? Simply wipe it off!
Added Value: Each renovation or improvement you make in your home should add value to its worth. Upgrading your kitchen with granite countertops is a sure way to improve your home's resale value and ensure your investment is rewarding.
Unique Design Elements: Because granite is a stone created by nature, each slab is one-of-a-kind, much like a work of art from your favorite artist. That allows you to put a unique stamp on the interior design of your kitchen.
Versatility: Granite is prized for its durability and elegant appeal. That makes it a great choice for kitchen countertops and backsplashes, as well as outdoor BBQ and bar areas.
Top Granite Color Trends
We offer a stunning array of granite colors, patterns, and styles. You'll be thrilled by the choices available to match any home interior design, from traditional to modern. Here's a look at some granite options currently trending in kitchen design.


Gray is a neutral color that pairs beautifully with a vast array of hues, making it an ideal base to build upon in your kitchen. Our Virginia Mist is a soothing dark gray with swirls of black and tiny streaks of white. You'll be mesmerized by its depth of color and subtle accent tones.
This modern kitchen shows how our Virginia Mist perfectly matches the warm wood floors, dark gray cabinets, and white walls. It is an eye-catcher but subtle enough not to compete with the other elements in the room. This granite is also an excellent choice as an easy-to-clean countertop or backsplash for an industrial or modern farmhouse kitchen.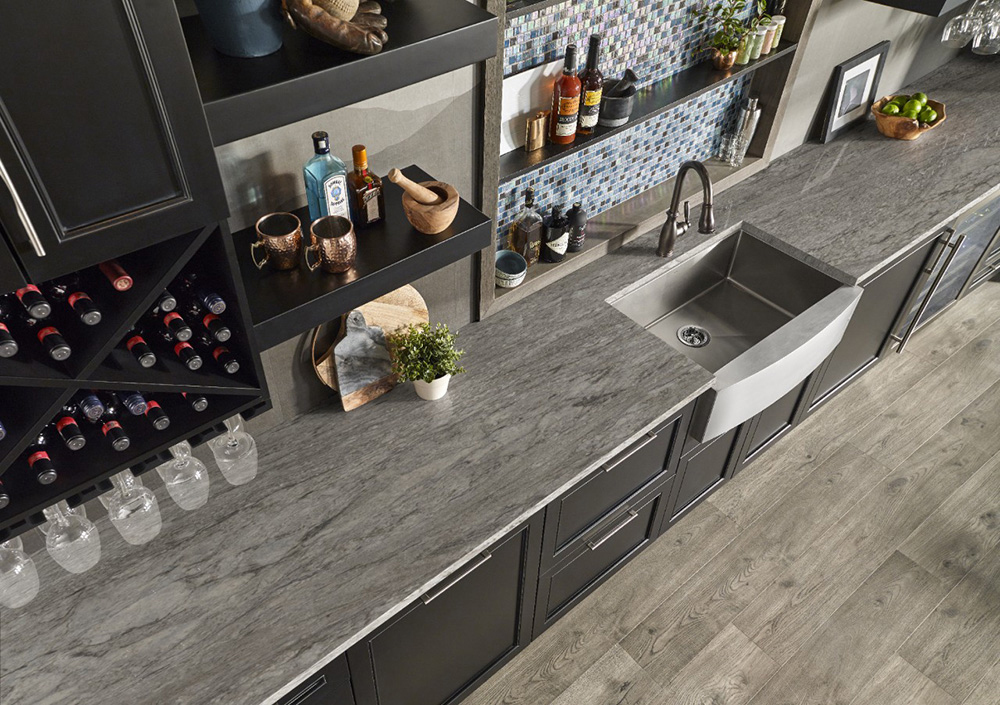 Originating from India, Azula Celeste, exhibits a harmonious fusion of cream, gray, and black hues, accented by subtle hints of blue. It's an excellent choice for an interior design scheme with an elongated countertop because its subtly veined pattern runs horizontally, creating a pleasing expanse without appearing repetitive or boring. You can repeat the look with a matching backsplash or add a contrasting accent wall to create a touch flair.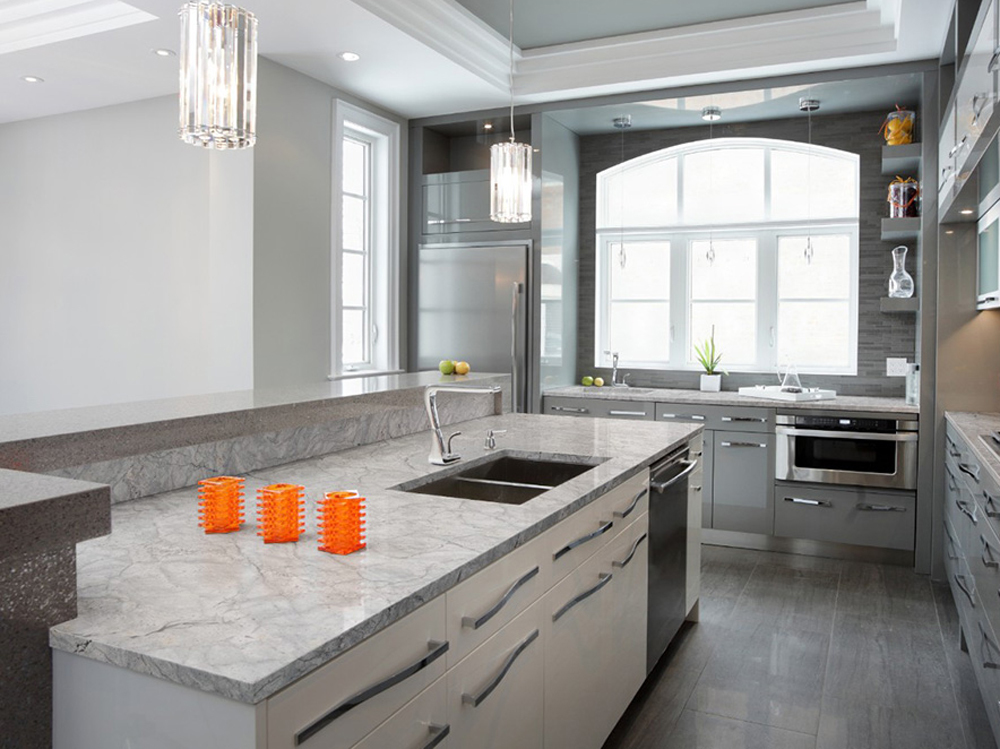 This kitchen demonstrates how our Stream White granite, with its light gray and cool white accent colors, is easy to pair with neutral and bold colors. This granite adds just a hint of color to an otherwise achromatic setting. Its swirly pattern is reminiscent of gentle clouds, offsetting the stark horizontal lines of this kitchen. Stylish but easy to clean, you can use Stream White for your sink area and backsplash too!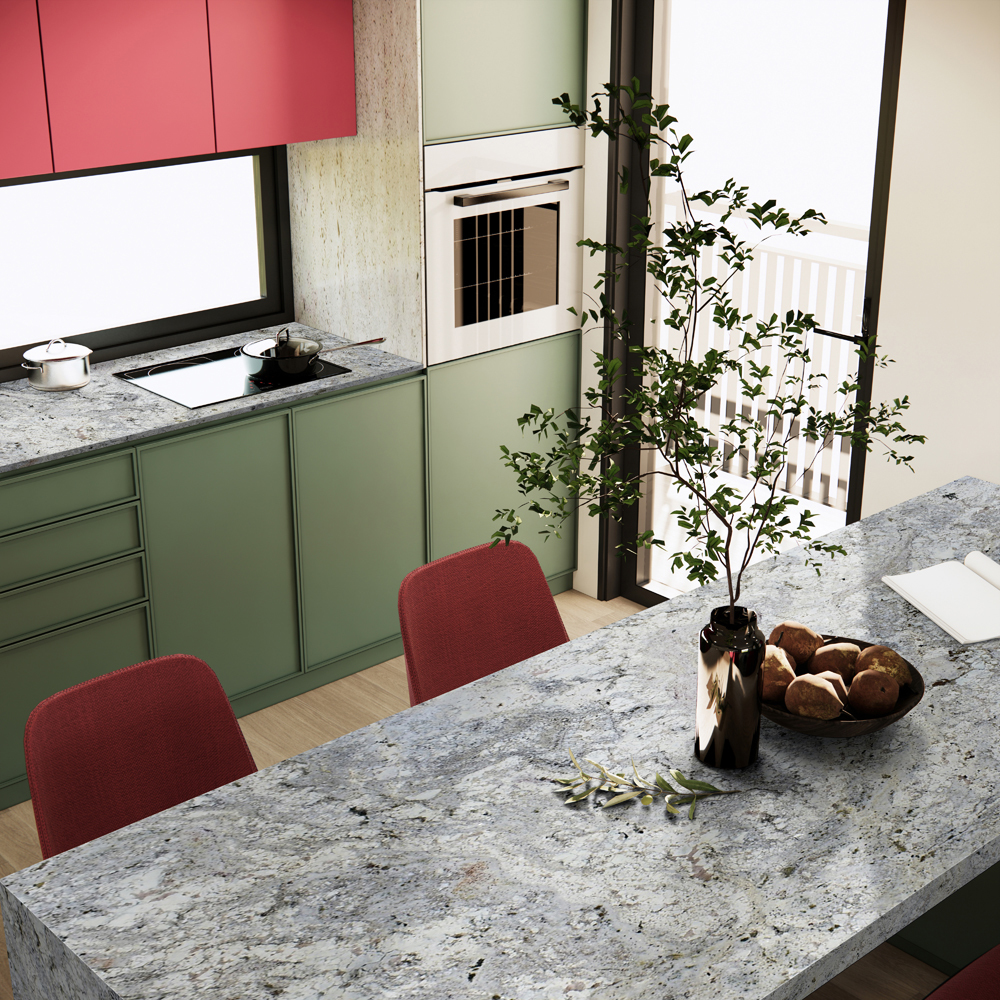 It's fun and liberating to add pops of color to your kitchen's interior design. Check out this mid-century modern kitchen. Our White Paradise granite fits in perfectly. In cool white with light gray accents, this stunning granite blends warm beiges and silver streaks with bold black flecks that work together to create a go-with-anything look. You can use it anywhere without interfering with your design scheme—on islands, countertops, and backsplashes.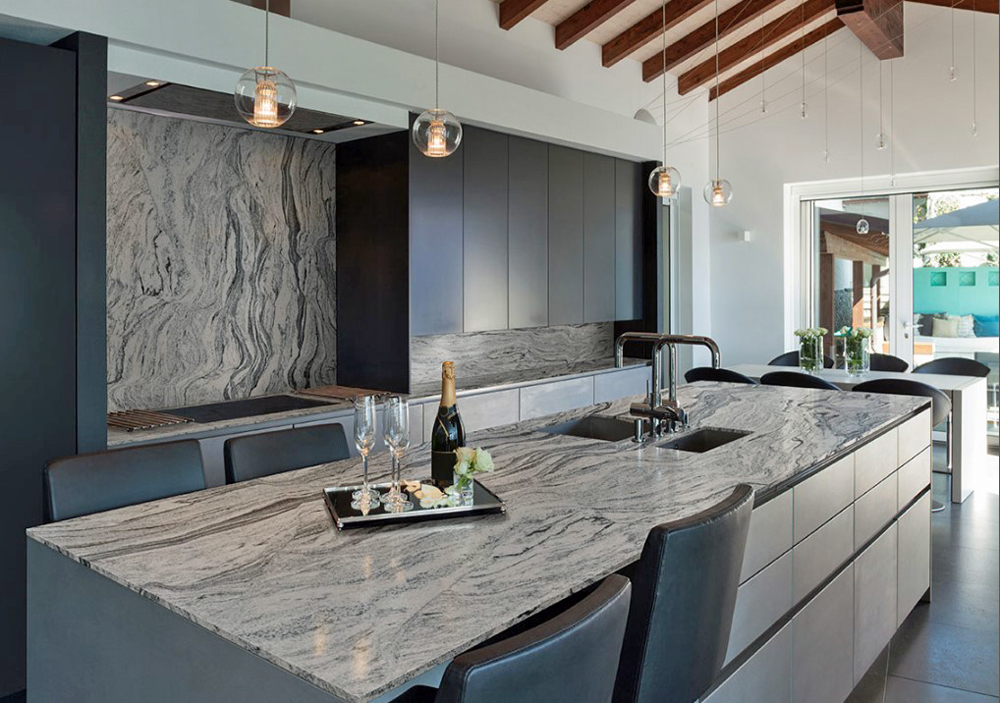 Our Silver Cloud has the go-to granite color and pattern to make a statement. In this contemporary kitchen, the island and coordinating backsplash create multiple focal points in the room. The granite top stands out with its pattern of black and charcoal gray veins wafting through a base of ivory, white, and alabaster and the backsplash completes the look.
Instead of blending in, this granite is designed to stand out. It can be paired with solid colors, neutrals, and stainless steel for a striking contrast. Plus, feel free to chop, dice, or even spill on it without worry, as it boasts exceptional durability.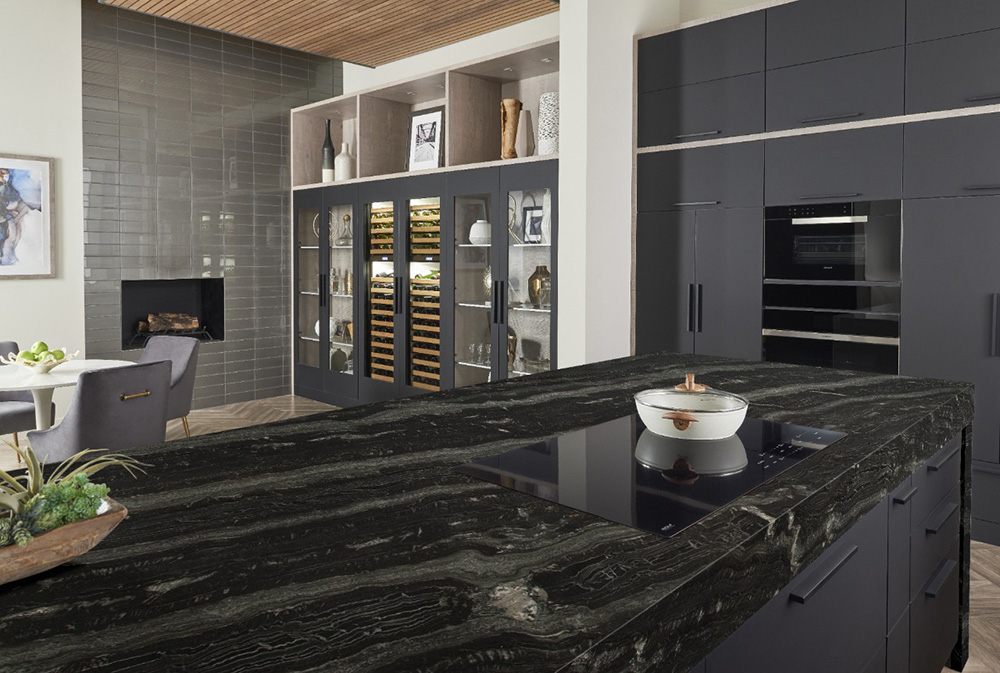 Black is yet another timeless granite color. Our Agatha Black makes a bold statement, offering dramatic textures with gorgeous nuances. Its jet-black base is streaked with a diagonal flow of wavey white and light gray veins. Perfect for classic and modern kitchen designs, this black granite goes with everything.
So go ahead and make a bold statement. Don't forget black countertops can help mask stains and blemishes, resist fingerprints, and be easy to clean.
Elevate Your Kitchen with Modern Granite
There are many options when choosing a granite countertop for your kitchen. If your kitchen is classic, industrial, or contemporary, there are many granite colors and patterns to choose from. Whether you prefer a soothing dark gray, warm white, or a subtle or dramatic pattern, modern granite countertops provide endless possibilities to elevate your kitchen to the next level.
If you're thinking about a kitchen remodel, give us a call. We'd love to help you create the beautiful and functional kitchen of your dreams. Chat with us online now, find an authorized MSI retailer near you, or visit a nearby MSI showroom.
Learn More About Granite Countertops
DESIGNING YOUR KITCHEN WITH BOLD BLACK GRANITE COUNTERTOPS
6 POPULAR KITCHEN COUNTERTOPS YOU SHOULD CONSIDER FOR YOUR REMODEL
CREATE THE PERFECT OUTDOOR KITCHEN WITH GRANITE COUNTERTOPS