Why We'Re Seeing More Quartz Countertops In The Bathroom
November 02, 2018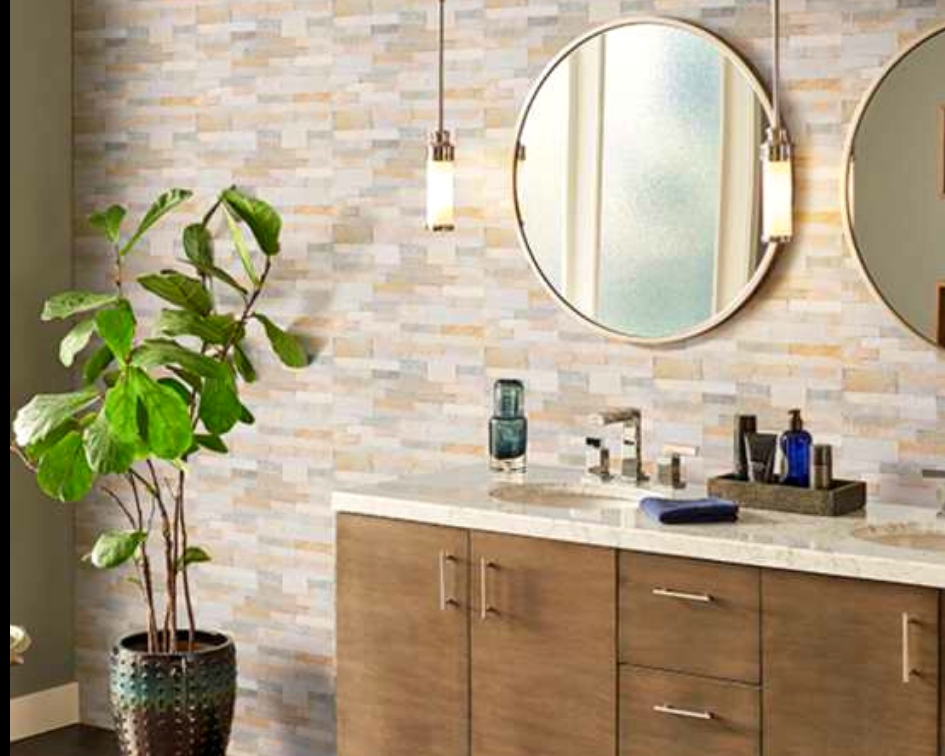 More homeowners are installing quartz countertops in their bathrooms, including powder baths to large master suites. That's because the popular surface offers a number of features and benefits that simply surpass the competition.
For decades, granite was the top choice for a high-end material in the bathroom because of its color options and durability. Marble is beautiful but much more expensive, and the softer stone is prone to stains from any and every spill or splash. While quartzite is similar in price to granite, it can etch when exposed to acidic products.
But, when quartz entered the scene, the engineered material disrupted the countertop market and dethroned granite as king. It not only offers many of the same features as the once reigning natural stone but also is available in a greater variety of looks, more resistant to stains and scratches, and a product that adds value to any home. Read on to find out more about why we're seeing more stunning quartz in the bathroom!
Style Versatility
One of the advantages of using quartz in the washroom is that it works with any design style, from traditional to rustic to ultra modern. It also comes in a large number of colors, patterns, and finishes.
Currently, some of the most popular choices include white quartz countertops and gray tones like Stellar Gray or Ash Gray, which both feature medium gray backgrounds with added flecks for a hint of detail. Gray concrete looks are also on the rise, as well as matte finishes for a more natural look. However, you can expect more colors coming into play, including a boost in bold blacks.
Quartz can realistically mimic the beauty of natural stone, and it's these nature-inspired characteristics that are right on trend. Classic marble styles like Calacatta Vicenza or Carrara Marmi won't be going anywhere anytime soon. But, buyers are also leaning more toward marble and limestone looks with warmer tones, such as Carrara Grigio with its warm white background and soft gold clouds and veins.
Reliable Durability
Not all materials can be used in the bathroom because of water or moisture issues. Quartz is a non-porous surface that is surprisingly harder than granite. As a result, the quartz countertop won't become a hotspot for bacteria and germs, an important point to consider in the bathroom. It is extremely durable and won't stain or scratch, and since it's more forgiving than the natural stone, it won't crack or chip as easily. While it's almost indestructible, remember that if you're using hot items like curling irons or flat irons, be sure to use something underneath to protect the surface.
Minimal Maintenance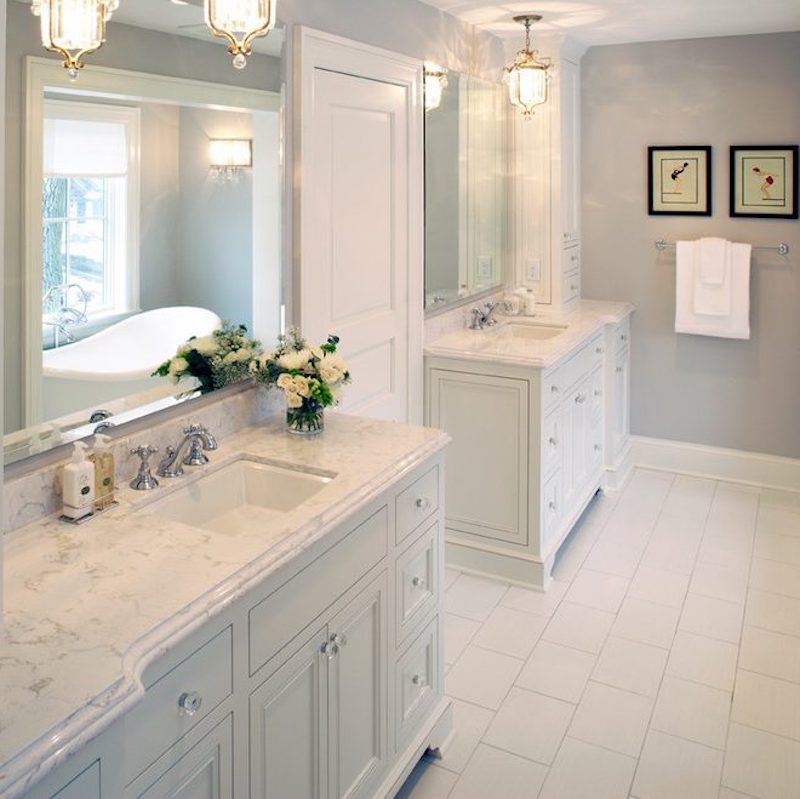 Recreate this look with MSI's Carrara Marmi Quartz (Photo Credit: Houzz)
Cleaning the bathroom can be tedious, but it'll be a breeze with quartz! Unlike natural stone that requires special cleaners and frequent sealing, your new surface does not. All it takes to keep it clean is some warm water on a soft sponge with a bit of gentle soap. And, you won't have to worry about when or if you need to reseal it again! It's an ideal choice for bathrooms of any size!
Smart Investment
Whether you're flipping a house or looking to stay long-term, remember that bathrooms and kitchens sell homes. Since quartz is one of the longest lasting products available, you can count on your investment to stay in good shape for years if not decades to come. Plus, when you purchase Q Premium Natural Quartz from MSI, you'll receive a residential lifetime warranty for your peace of mind.
Adding quartz to your bathroom will make the space easier to clean and more hygienic. It also works with any style, and the best way to select the right one for your design is to visit your local MSI showroom to touch and feel the premium products for yourself! If you're wanting quartz in your bathroom now more than ever, then check out this article on how to design the perfect bathroom with quartz.
MORE BATHROOM IDEAS
Tile Style: Beautiful Bathroom Designs Featuring Ceramic Tile
Tips From The Trade: Should You Use Stacked Stone In The Bathroom?
The Truth About Marble In The Bathroom
Perk Up Your Bathroom With Fresh Ceramic Tile
Tile Style: Which Size Porcelain Tile Is Best for Small Bathrooms
7 Bathrooms Featuring Show-Stopping Travertine Tile