Which Granite Countertop Edging Is Prone To Chipping?
August 24, 2018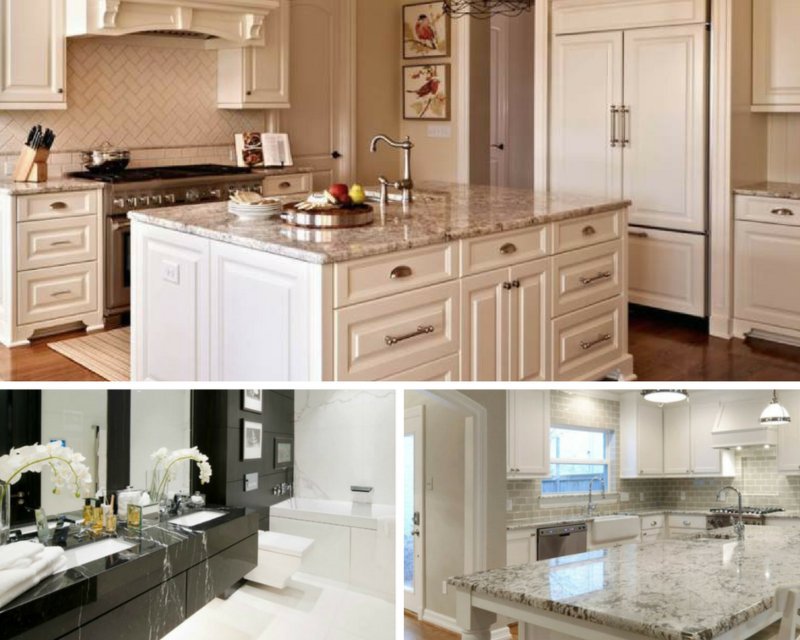 Now that you've chosen the perfect granite countertop for its durability and natural beauty, the next thing to consider is the countertop edging for your kitchen or bathroom install.
The polished standard edge, also called a squared edge, is one of the most common edges for granite; however, it's also the one profile most prone to chipping. This squared edging typically comes in a standard 2- to 3-inch thickness, and although granite is a very hard material, the sharp corners can become a weak point.
There are some ways to keep your granite looking its best. One of the reasons why you need to seal the natural stone is because it can have small cracks that aren't visibly noticeable. The sealer helps liquid from getting into those tiny crevices and prevents it from slowly damaging your surface. Try to keep piles of dirty dishes at bay, or at least in the sink, since falling dishes or other heavy items could cause a chip. For parents, don't let the kids bang their toys on your granite countertops, especially against the edge, because this may very well lead to a chip in your stone.
While the likelihood of a countertop chipping can depend greatly on the lifestyle of the homeowners, some are just more vulnerable to potential damage. If you fear the possibility of a chip, then consider softer, more rounded countertop edging options like a basic bullnose or classic ogee. To assist you in finding your kitchen style, take a look at these hard-edge alternatives.
Half Bullnose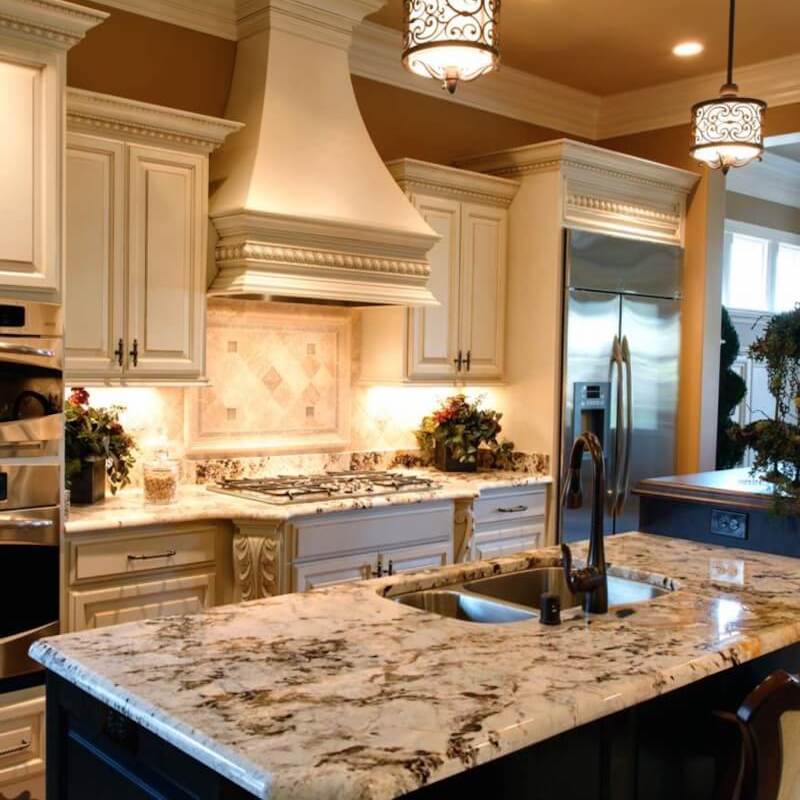 Recreate this look with MSI's Delicatus Granite (Photo Credit: Houzz)
This very traditional, ornate kitchen features gorgeous white Delicatus granite with a strong gray and black pattern and a half bullnose edge. There are already so many details throughout the design, from the cabinetry to the backsplash to the thick crown molding, that the simple edge with a curved top and flat bottom doesn't take away from the other details.
Step Half Bullnose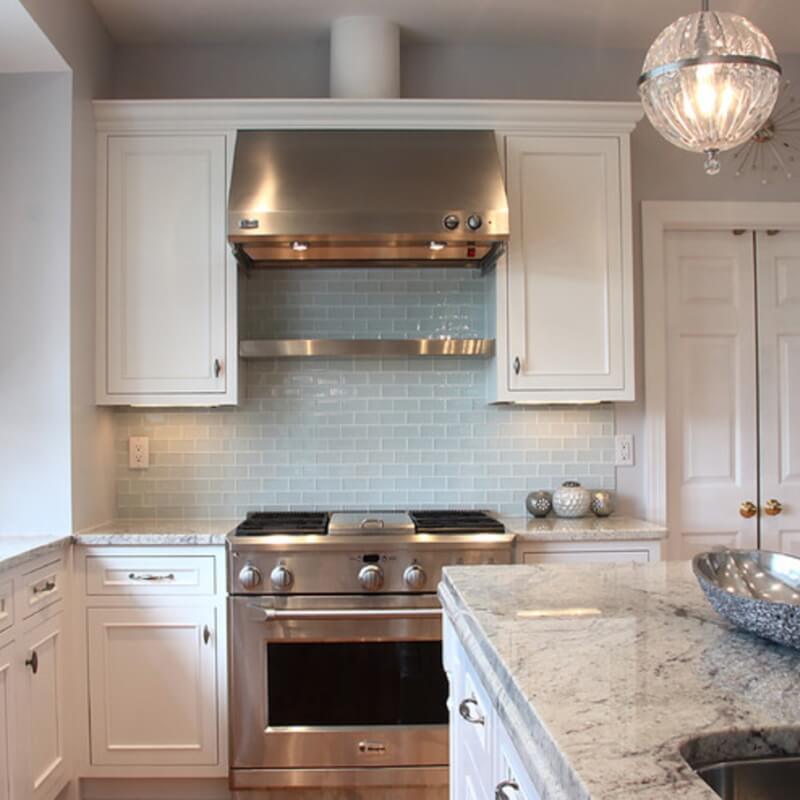 Recreate this look with MSI's Bianco Romano Granite (Photo Credit: Houzz)
This contemporary chic kitchen incorporates a lot of materials that bounce light around, and these homeowners chose an edge to reflect the three-dimensional quality. The Bianco Romano light gray granite counters are shown in the polished standard edge as well as the step half-bullnose on the island. This edge has a 90-degree step, slightly rounded edge, and flat bottom, and it gives the kitchen island a more substantial presence thanks to the thicker edge.
Classic Ogee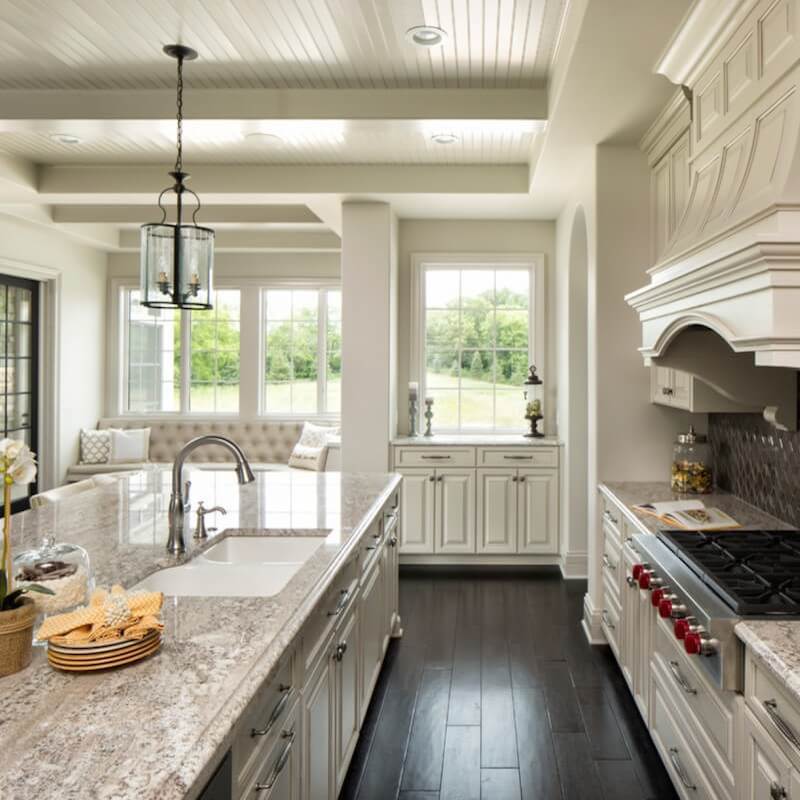 Recreate this look with MSI's White Supreme Granite (Photo Credit: Houzz)
This French country kitchen includes a number of lovely details, from the rich hardwood floors to the beautiful hood range to the white plank ceiling. Yet, the design doesn't feel overwhelming at all thanks to the flood of natural light, soft neutral color palette, and White Supreme gray granite with white veins and swirls. The classic ogee edge features a concave radius for an elegant, sophisticated look.
Quarter Round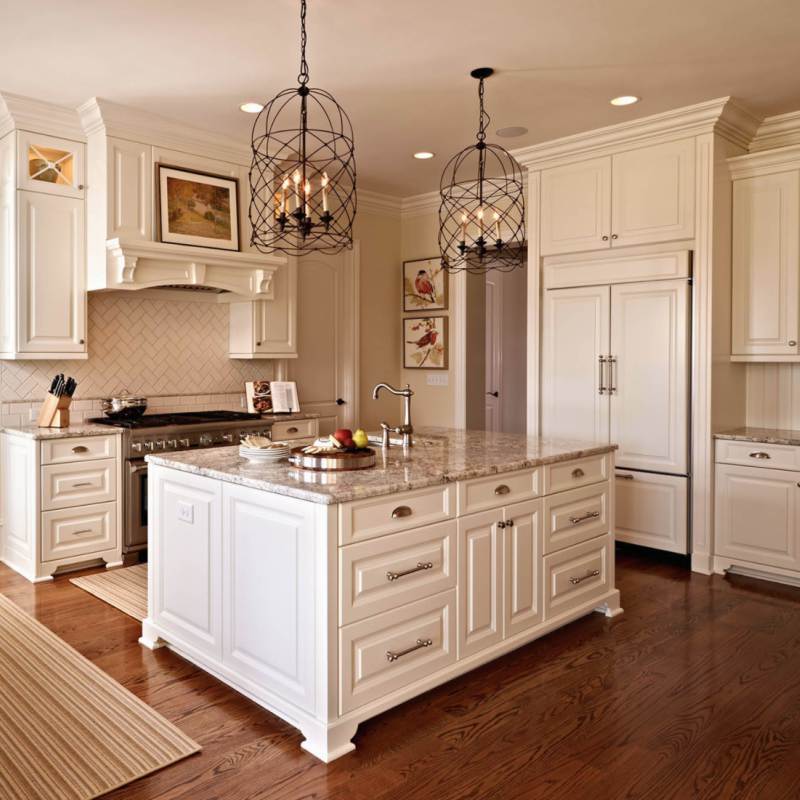 Recreate this look with MSI's Avalon White Granite (Photo Credit: Houzz)
This traditional kitchen, with its classic design and artistic accents, is most likely the hub of the home as a result of the oversized kitchen island. It combines additional storage with a large granite counter made from Avalon White, a warm white and cream background with dark veining. The quarter round edge has a slight radius, gives a sleek style for a traditional design, and also softens sharp corners.
Mitred Drop Apron

Featured: Agatha Black Granite
This ultra modern master retreat just exudes luxury as a result of the clean lines and striking black-and-white design. The Agatha Black granite on the floating vanity features a black background with gray and white wavy veins. The mitred drop apron front is made from two pieces of granite that give it an extra thick look, and with this kind of edge, the veins can be lined up to keep the fluid movement of the natural stone.
A simple detail like your countertop edge contributes to the overall style more than you might think. Finding the right edge for your kitchen or bathroom is easy with the MSI Countertop Edge Visualizer tool. It features two different granite colors in 12 of the most popular edging profiles so that you can try on different edges and get a look at which one suits your space the best.
READ MORE ABOUT GRANITE COUNTERTOPS
Why Granite Tile Is A Popular Flooring Choice
Why Interior Designers Are Coming Back to Granite Countertops
A Closer Look At Granite Countertop Edge Profiles