A Buyers' Guide To Granite Countertops
November 19, 2019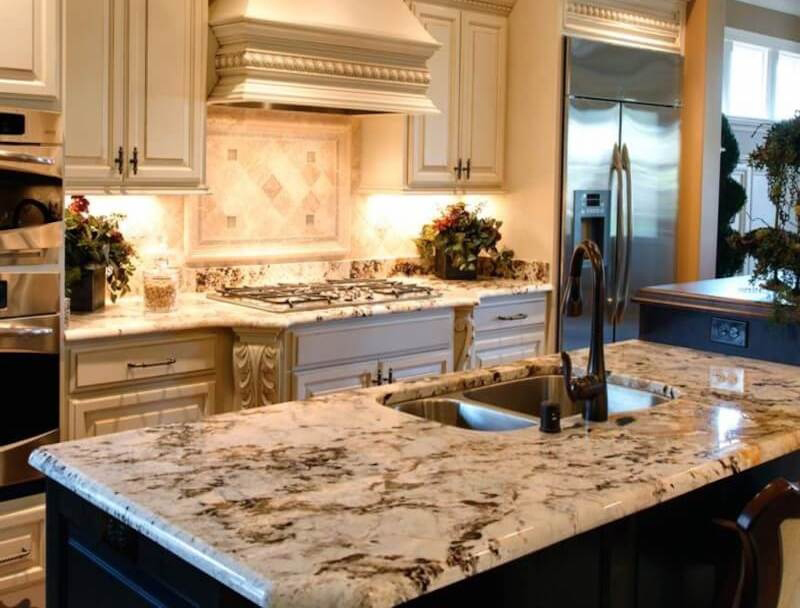 With so many excellent options for new countertops available, finally settling upon granite countertops is a grand accomplishment. But wait, there's more! Your brand-new countertops can be customized and personalized to perfectly match your aesthetic and lifestyle.
Color and Pattern
Granite comes in a wide variety of colors and shades! There are neutral colors such as black, brown, gray, and white. You can even choose between bold colors like pink, green, blue, red, or violet — all in an endless array of shades from light to dark.
Along with choosing a color comes the pattern choice, and granite offers infinite variety. Surface patterns range from subtle to bold, and designers use the following terms to describe them: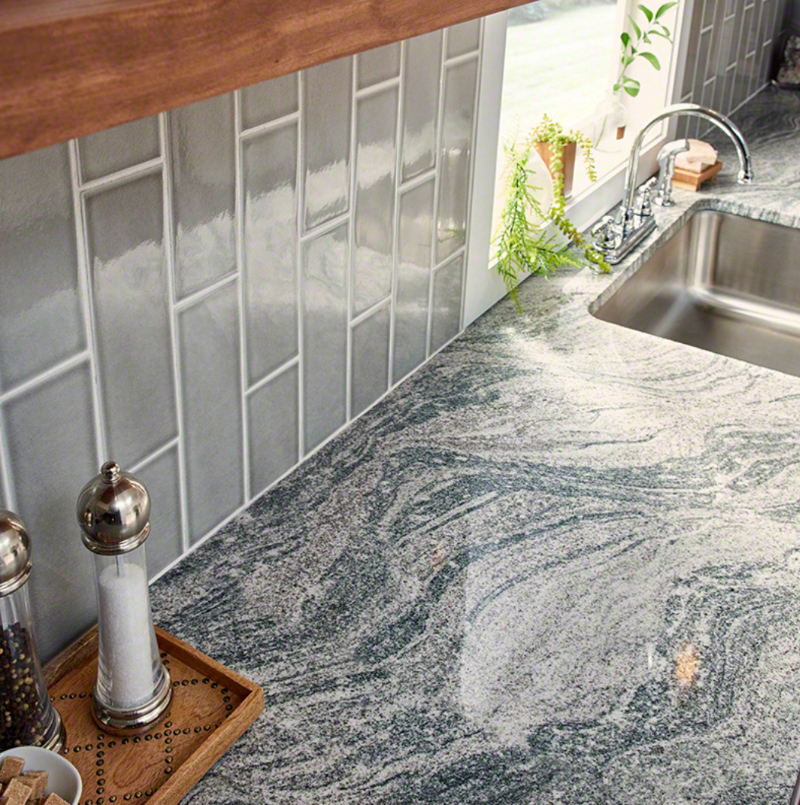 Graining: Granite often presents a coarse-grained, pebbled, speckled appearance. The size, shape, and color of the graining depends on the minerals that make up the granite, and can range from tiny flecks to large translucent crystals. These specks, or grains, can even be reflective, giving the granite a sparkly appearance.
Veining: Commonly associated with marble, veining is a feature often found in granite as well. As with graining, the effect of granite's veining can be bold or subtle and elegant depending on the contrast between shades.
Movement: The patterning seen in natural stone can be relatively uniform throughout, with little variation. It can also vary dramatically and change continually throughout the slab, and this feature is referred to as movement. Each type of granite has a different amount of movement.
Since granite is a natural stone, no two countertops are going to be identical. For this reason, many homeowners insist upon picking out the exact slab they want to install, especially when choosing an exotic color or high-movement pattern.
Visualizing Countertop Colors
Narrowing down your choices for your granite vs. quartz or another stone surface is a big step, but how do you know what it will actually look like in your home? MSI offers several visualizer tools that let you choose the bathroom or kitchen counters you have in mind and see how they look alongside your other design elements such as cabinetry and flooring. Our Virtual Kitchen Designer tool is available for iPhone or iPad, and we also have a bathroom visualizer tool available.
Viewing your premium surface on the screen of a computer or mobile device is helpful, but before finalizing your selection, we recommend ordering samples so you can see the granite color in your own home and lighting.
Finishes and Edges
For a true custom look, homeowners often order granite countertops with a specialty finish or edge profile. Along with aesthetics, the edge can affect the functionality or even safety of your countertop.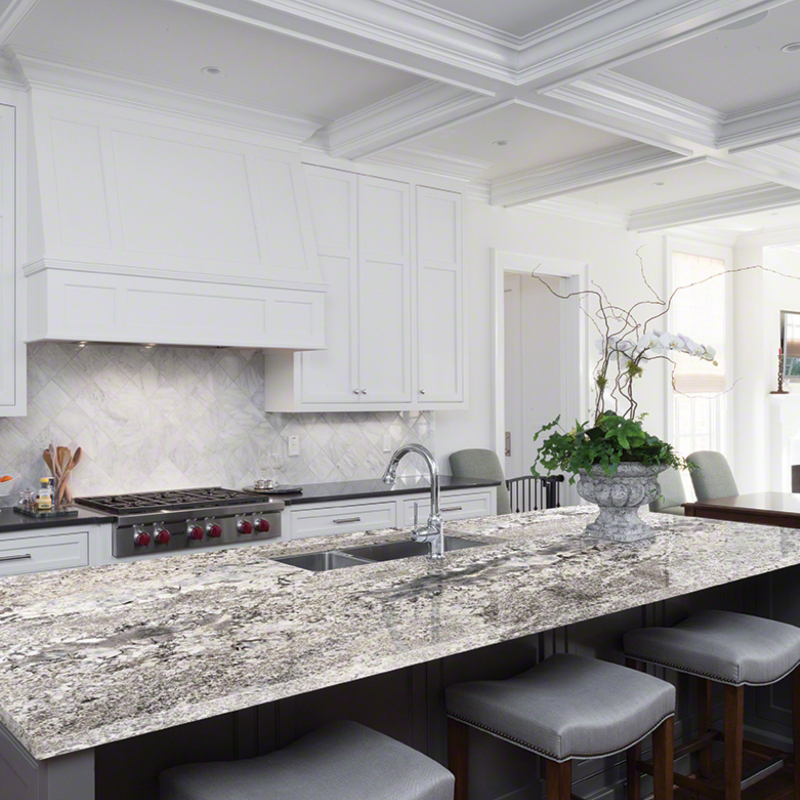 Finish options include:
Polished: The most popular choice, a polished surface creates a shiny, mirror-like appearance. It is also easier to keep clean than the other finish options and better at resisting stains.
Honed: This surface is a flat matte, with no reflective finish. It is granite's natural finish before the final step of buffing it to a polished shine.
Leathered: A newer, sophisticated finish option, a leathered finish is created by using diamond-tipped brushes to add a subtle dimpled texture.
Flamed: To create a flamed finish, granite countertops are exposed to high temperatures that cause the grains in the stone to change color. This finish is slightly textured with a faded appearance, and is popular for outdoor kitchens.
A wide variety of countertop edges are available, such as an eased edge which is slightly rounded to prevent breakage and eliminate sharp edges that could cause injury. A classic ogee profile has an "S" shape with two curves, and it is popular in traditional kitchens because of its sophisticated look. Other options include round edge, bullnose, bevel, and many more.
Staying Within Your Budget
In a perfect world, there would be no limits to the granite choices and customization you could choose for your countertops. Most homeowners, however, have a budget for their renovations and need to make those selections with the cost in mind. There are many factors that affect the final price of granite countertops, such as:
Color and Availability: The least expensive colors of granite are usually darker shades with low variation, and the most expensive are exotic colors such as blue or red or slabs with bold movement. This is because black and gray granite are the most abundantly available colors, while the exotic shades are in limited supply or must be transported a long distance.
Quality: Lower-grade granite slabs are less expensive because they are softer and easier to cut. This also means they are more susceptible to damage and wear.
Thickness: Granite countertops are typically available in 2 cm or 3 cm thicknesses. As you may expect, the thinner counter will be less expensive, but also not as strong. A professional installer can make adjustments to improve the look and durability of a thinner slab.
Fabrication: Counters that need a lot of customized fabrication will be more expensive than straightforward designs.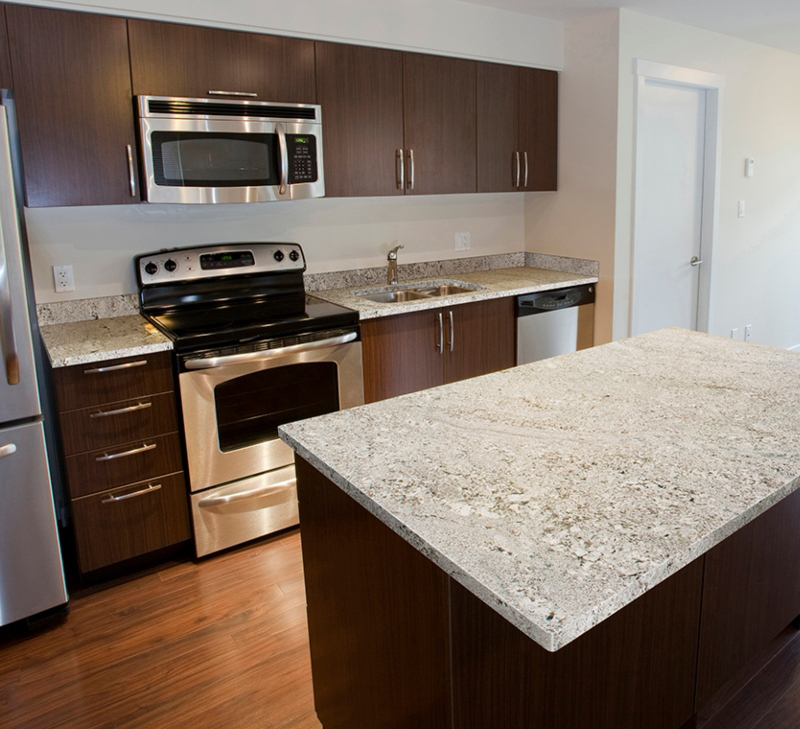 Prefabricated Countertops
Fabrication is another factor that adds to the cost of a granite countertop. Counters that need a lot of customized fabrication, such as cutouts for a non-standard-sized sink or other fixture, will be more expensive than straightforward designs.
If your kitchen has a standard setup, prefabricated countertops can save a lot of money. They are available in most popular granite colors and a variety of shapes and sizes.
Care and Maintenance
No matter what type of granite you install in your home, it's a big investment. Take care of that investment by following some basic guidelines with daily care and maintenance of your granite countertops.
First, your granite countertop should be sealed with an impregnating sealer. Granite is an extremely durable stone, but the sealer improves its resistance to moisture and stains. Some types of granite will need re-sealing only rarely, while lighter shades typically need re-sealing more often.
Daily care is easy: use a soft cloth and mild cleanser, such as diluted dish soap, to remove dust and dirt. If your counter needs heavier cleaning, use a cleanser specially formulated for use on granite or other natural stone.
One of the reasons homeowners choose granite countertops, aside from beauty, is their durability — they can easily last for decades. Knowing this, you may be under a lot of pressure to choose just the perfect color and pattern! The information presented here should make you a more confident consumer, and your granite countertops will be a true source of pride and enjoyment.
Read More about Selecting Granite for Your Project
Do Your Homework to Ensure a Perfect Granite Counter Installation
A Buyer's Guide to Granite Countertops
READ MORE ABOUT GRANITE COUNTERTOPS
6 Wow(!) Kitchens Featuring Granite Countertops
A Buyer's Guide to Granite Countertops
A Granite Slab: Is It the Toughest Material Available?
Adding Practical Luxury to Modern Kitchen Designs with Granite Countertops