Is Sealing Granite Countertops Really Necessary?
September 20, 2018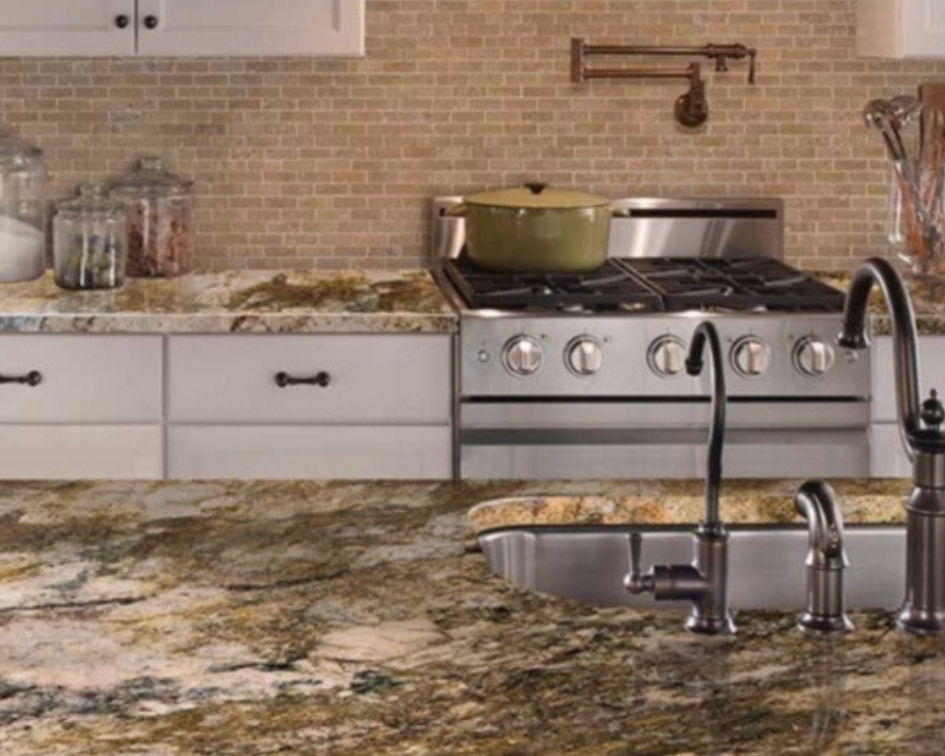 Why do homeowners consistently choose granite countertops as one of the most popular remodeling investments? If you ask someone what to consider before a kitchen remodel, they'll cite the durability, the beauty, and the luxe look granite gives every home. Granite is dense, and tough, and resistant to damage — but that doesn't mean it's maintenance-free. Like any natural stone, granite needs to be sealed regularly to keep its beauty.
However, you may hear different information regarding how often a granite countertop needs to be sealed. This is partly because granite countertops are not all the same. They have different compositions of minerals; that's what gives granite its wide variety of colors and patterns. With different colors comes different densities, different levels of porousness, which means some granite varieties simply repel water better than others, naturally. Repelling water also means repelling stains, mold, and bacteria!
Your neighbors may say their granite countertop only needs sealing once a year. But yours may need sealer applications more often. The most reliable guide to how often your granite countertop needs sealing is to do the water test: Just pour some water on the surface, wait, and watch. If the water is absorbed within 10 minutes, it needs to be sealed; apply one or two coats. If the water is not absorbed for 30 minutes or more, sealing is not needed. However, either way, be sure to test your granite regularly to make sure it's in top condition.
Here's the good news: Sealing a granite countertop is probably one of the easiest DIY projects you can take on. Simply purchase an impregnating stone sealer, available in most hardware stores. Use a clean, soft cloth to apply a thin layer to the surface, and let it dry for about 10 minutes before applying a second coat. Be sure to follow all instructions on the container of sealer.
Now that you know how easy a granite countertop is to maintain, even though they need sealer applications, consider these — just a few of our popular granite countertops.
Delicatus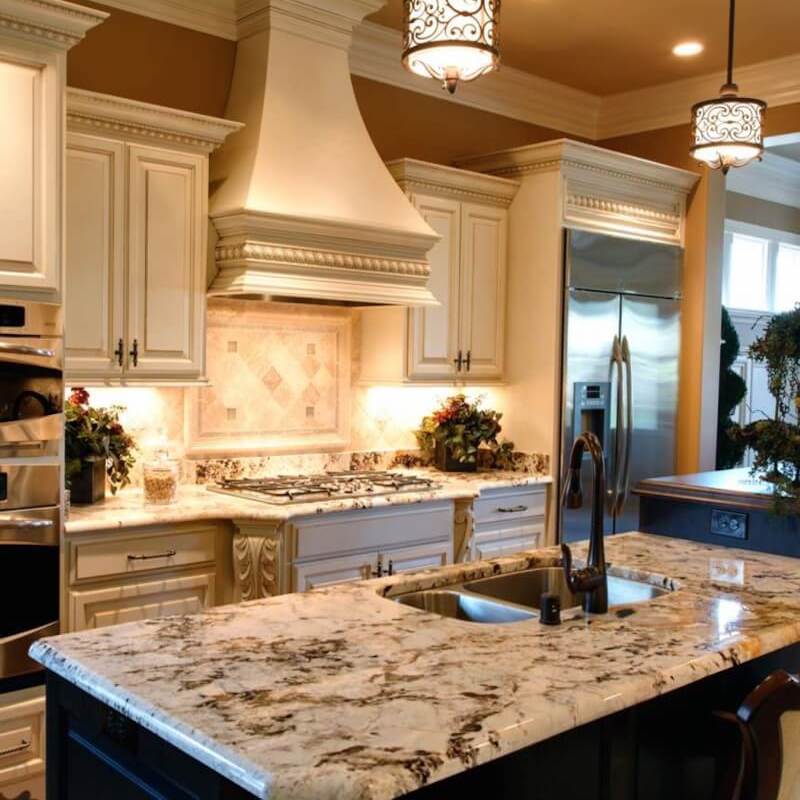 Recreate this look with MSI's Delicatus Granite (Photo Credit: Houzz)
Just because granite is a natural stone, that doesn't mean you can't enjoy bold, exotic coloration. Delicatus has a white background with subtle gray flecks, and more dramatic black veins; it's subtle enough to blend well with other colors, but it will certainly become the room's focal point!
Caledonia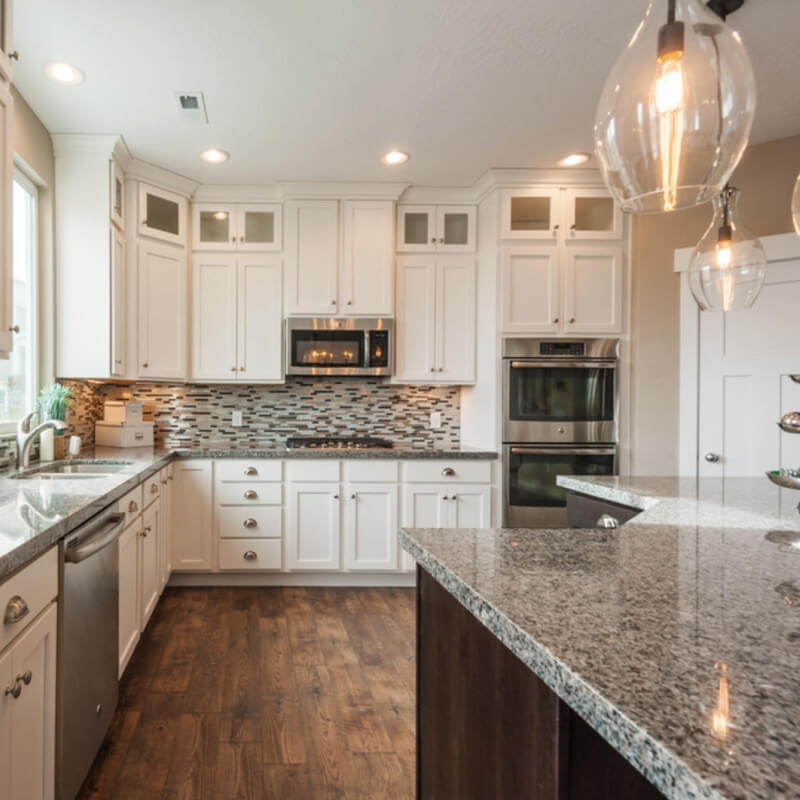 Recreate this look with MSI's Caledonia Granite (Photo Credit: Houzz)
Many homeowners choose boldly patterned granite counters such as Caledonia for their center kitchen island. Matching side counters are an option, but definitely not a requirement. With a combo of gray, brown, and white shades, Caledonia complements just about anyone's style.
Ice Blue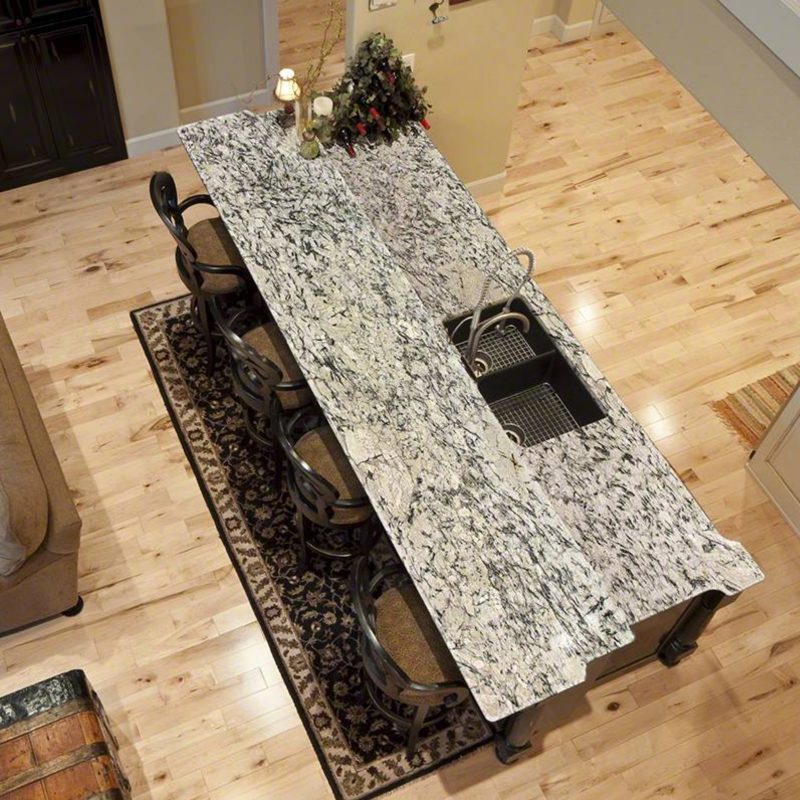 Featured: Ice Blue Granite
Granite countertops can be customized to your unique needs and preferences. In this photo, Ice Blue granite surrounds a handy sink in the center island, and it's been given unique edge shaping. With two levels, this island brings the cook and the rest of the family together.
Ganache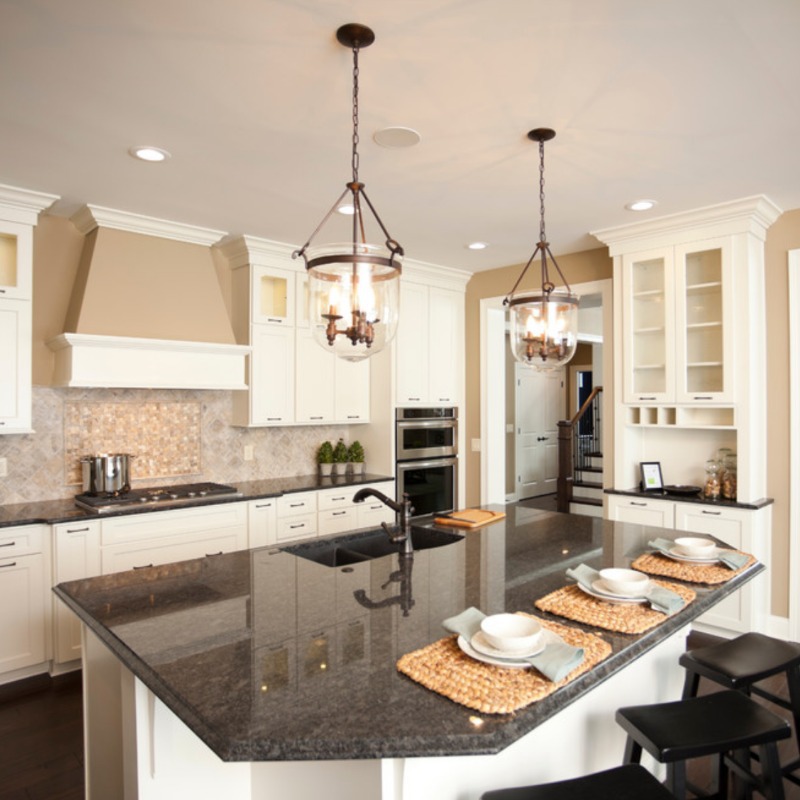 Recreate this look with MSI's Ganache Granite (Photo Credit: Houzz)
A glossy, polished surface makes the multi-shaded gray and white in Ganache granite really pop. It's important to understand that an impregnating sealer should not alter the color or finish of the granite counter. It won't make a polished surface dull, or a matte counter shiny. It's invisible when dry.
Nevasca Mist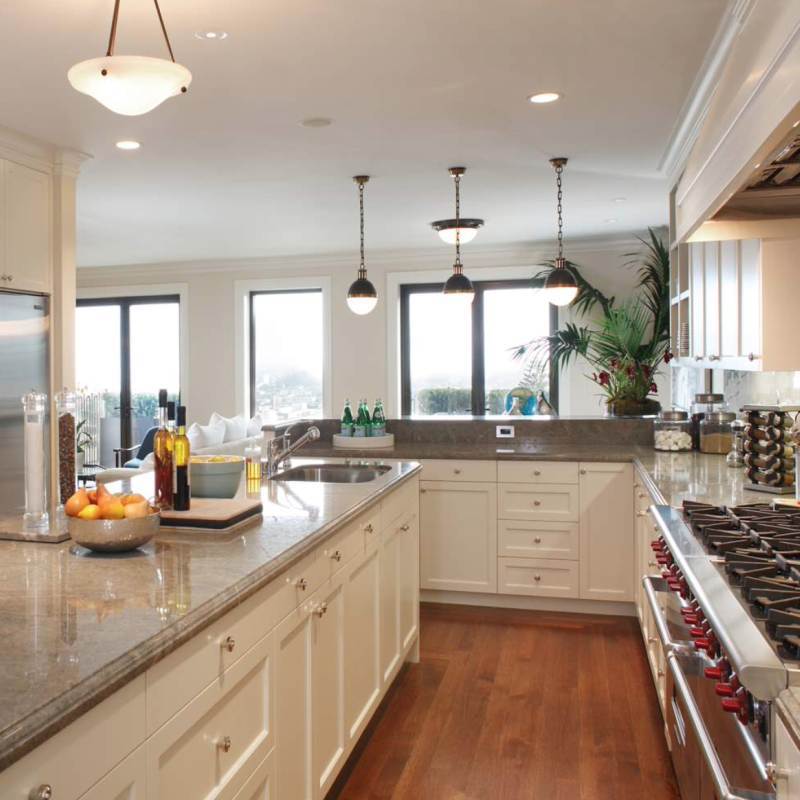 Recreate this look with MSI's Nevasca Mist Granite (Photo Credit: Houzz)
White kitchens have been a big trend this year. Nevasca Mist mixes off-white with pale gray and beige and is very complementary to the white cabinetry. Most experts agree that light-colored granite typically needs more frequent sealing than darker-hued varieties, but since it's so easy, this shouldn't affect your choice at all.
These are five great reasons to choose a granite countertop — five gorgeous granite colors. Here's the sixth reason: Even though it needs sealing, granite is still easier to care for than other types of countertop, and is an exceptional remodeling investment.
Read More about Granite Countertops
How to Prevent Etching on Granite Counters
High-Style Granite Countertop and Luxury Vinyl Flooring Pairings
Comparing Polished, Honed & Leathered Granite Countertop Finishes
Granite Countertop Edge Selection for the Win
READ MORE ABOUT GRANITE COUNTERTOPS
Look-Alike Granite Countertops In Easy-Care Quartz
Natural Adaptability: New Venetian Gold Granite
New Granite Colors Offer Endless Possibilities